The rumour mill is rife with thoughts on Apple's next version of iOS. What will we see next in Apple's next generation mobile operating system?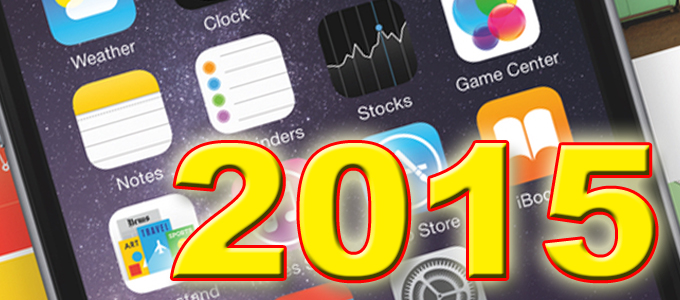 In June, we should see what Apple will be doing with iOS 9 at the annual Worldwide Developers Conference, shortly after that offering betas to developers, and then releasing it in September.
While recent years has seen the dramatic shake up that was iOS 7 in 2013 – introducing the first whole new look since the iPhone launch in 2007 – and then iOS 8 a year later, which refined the new look and added more features to both users and developers, iOS 9 isn't rumoured to follow this radical change.
Common complaints about iOS 7 and iOS 8 are their stability and poor performance, especially on older iDevices. iOS 9 is reported to change this. Rather than cramming lots of new features or gimmicks into this year's version of iOS, Apple are going to bring increased speed and much needed stability.
I am running iOS 8 on my iPhone 5 and my wife has it on her iPhone 5c; we have no issues with it. I would put this down to both devices – as with newer ones – having 1 GB of RAM. This really makes a huge difference to the operating speed.
This is shown with iOS 7 on the iPhone 4 and iOS 7 and iOS 8 on the iPhone 4s, both of which only have 512 MB of RAM. Both suffer from slower performance and lag. The dual-core processor in the 4s does make a difference to performance, but both devices are hampered by their low RAM.
While Apple has gone some way to improve performance in both the 7.1 and the 8.1 updates respectively, they still suffer from below par performance on the iPhone 4s. This is expected to some degree, as iOS 8 is optimised for their newer handsets. Giving a 4-year-old phone the latest OS is something Apple are praised for, but it needs to ensure that performance is useable.
iOS 9: The New Snow Leopard
iOS 9 is already being dubbed as the OS X 10.6 Snow Leopard of the iOS world. Rather than new features, it is going for performance – and they are doing it for a very good reason.
The mobile market has been pushing towards 64-bit for a few years. When Apple released the iPhone 5s, it was the first 64-bit smartphone, and all devices after that have also been 64-bit.
iOS 10 in 2016 is tipped to be 64-bit only, meaning it won't be offered for the iPhone 4s, 5, or 5c. With this in mind, they want to ensure that the last 32-bit version is solid, slick, and super fast – similar to how Snow Leopard is, it being the last version of OS X before Apple went fully 64-bit with OS X 10.7 Lion. iOS 9 could be the last version of iOS before Apple goes fully 64-bit in 2016.
If they offered a super slick version of iOS 9 for all devices and make it their lowest version of iOS, they could then stop support for iOS 7 and iOS 8 and maintain only one version of their 32-bit OS. This would make it easier for Apple as well as developers.
Lets face it: No one is going to turn down an OS that makes their older device run even better.
Apple had spent a few aggressive years on the OS X front upping requirements for each version by quite a lot, cutting out huge amounts of hardware. This didn't sit well with Mac users and caused a lot of ill feelings towards Apple from even the hardened fanboy.
However, since OS X 10.8 Mountain Lion they have kept the requirements the same. If your Mac can run Mountain Lion, you can run 10.9 Mavericks and 10.10 Yosemite – and rumours are that 10.11 will keep the same requirements, thus offering the latest version to a maximum audience.
This is what they are expected to do with iOS 9.
iOS 9 for the 4s?
The biggest bombshell rumour floating around the Apple forums currently is that Apple could offer iOS 9 to the aging iPhone 4s. Now before you scoff and snigger at this, it is not as ridiculous as it sounds. Of course there is a chance they will drop the iPhone 4s altogether, leaving it at iOS 8 – which is what everyone is expecting.
The 4s still has great hardware, although let down by low RAM and poor iOS performance. A slicker and more streamlined version of iOS could bring greater performance back to the 2011 iPhone 4s in 2015.
New Features
Of course, Apple will not release a new version without some new features. At the very least it will tweak some of the iOS 7 and iOS 8 features making them even better.
Conclusion
June will tell us what Apple are proposing to do with the future of iOS. For a further reading, see my accompanying article, What Could 2015 Mean for the iPhone?
---
Follow Simon Royal on Twitter or send him an Email.
Like what you have read? Send Simon a donation via Tip Jar.
---
keywords: #ios9 #techspectrum #simonroyal
short link: http://goo.gl/VUBVuB
searchword: iOS9