The PowerPC platform had a long life on Macs. The first Power Macs arrived on March 14, 1994, 10 years after the first Mac – the Power Mac 6100, 7100, and 8100, running the PowerPC 601 CPU at speeds of 60, 66, and 80 MHz respectively. The PowerPC G5 came to the iMac in August 2004, over a decade after that.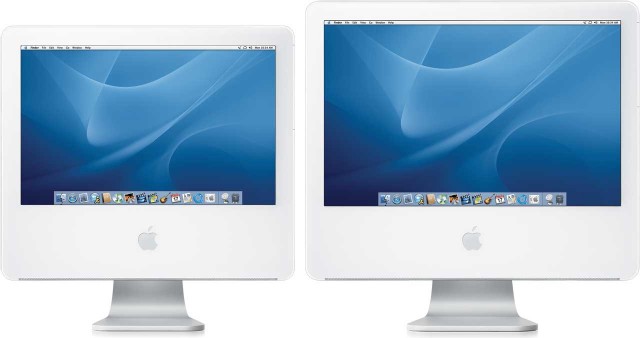 The 2004 iMac G5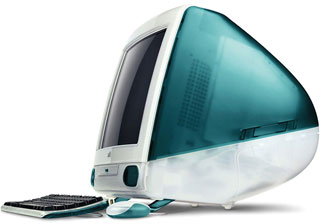 The G5 iMac introduced a new form factor to the all-in-one Mac. Where early Macs had been cute little boxes with 9″ screens, the first iMacs were curvaceous enclosures with 15″ displays, and the G4 iMacs had hemispheric bases with 15″ to 20″ screens that seemed to float above them, the iMac G5 put all the electronics directly behind the display. Not counting the stand, it was about 2.5″ thick.
The Mid 2004 iMac G5 came in 17″ and 20″ versions, using the same IBM PowerPC 970fx (G5) CPU that had already been used in the first generation Power Mac G5s (June 2003) as well as the second (April 2004). The iMac G5 has a single CPU – 1.6 and 1.8 GHz on the 17″ model and 1.8 GHz on the 20-incher.
Unlike top-end Power Macs that have a memory bus running at half of CPU speed, the G5 iMacs ran their memory bus at one-third of CPU speed, making them a bit less efficient. Here's how benchmark results compare the August 2005 iMacs with the June 2004 Power Macs using the same speed CPUs:
17″ 1.6 GHz iMac, 842
1.6 GHz Power Mac, 918
17″ 1.8 GHz iMac, 985
20″ 1.8 GHz iMac, 985
1.8 GHz Power Mac, 1047
In each case, the Power Mac G5 has a performance edge over the iMac G5 – 9% at 1.6 GHz and 6% at 1.8 GHz.
By way of comparison to previous iMacs, the 1.25 GHz 17″ iMac G4 scores 631, while the 20″ model comes in at 616. The entry-level 17″ 1.6 GHz iMac G5 has about one-third more power than the G4 it replaced, while the 20″ 1.8 GHz G5 sees a 60% gain in processing power.
Several factors contribute to this improvement. The iMac G5 clock speed is 28-44% faster to begin with. The memory bus runs at 533 or 600 MHz vs. 167 MHz – over three times as fast. The G4 has a 64 KB Level 1 cache and a 256 KB Level 2 cache as part of the CPU plus a 2 MB Level 3 cache. The G5 has a Level 1 cache with 64 KB for instructions and 32 KB for data as well as a 512 KB Level 2 cache on the CPU. There is no need for a Level 3 cache with its faster memory bus.
The 1.5 GB/s SATA drive bus in the iMac is 50% faster than Ultra ATA/100 in the G4, although the drives installed at the factory are unlikely to saturate that bus. All 17″ and 20″ G4 iMacs support up to 2 GB of system memory, as do the first two generations of iMac G5.
Curiously, all G5 iMac use Ultra ATA/133 for their optical drive – faster than the Ultra ATA/100 used for optical drives in the Power Mac G5!
For expansion, the Power Mac G5 has three USB 2.0 ports and two FireWire 400 ports, as well as analog audio-in and audio-out.
As for resolution, all 17″ G5 iMacs sport a 1440 x 900 pixel display, while the 20″ versions use a 1680 x 1050 screen. First generation G5 iMacs use Nvidia GeForce graphics and shipped with OS X 10.3.5 Panther. Bluetooth and AirPort Extreme were optional.
The Mid 2005 iMac G5
Apple moved the iMac G5 speed forward by 200 MHz in May 2005, putting 1.8 GHz and 2.0 GHz CPUs in the 17″ model and 2.0 GHz in the 20″. The new models replaced Nvidia graphics with Radeon 9600 and 128 MB of dedicated video memory.
New to the iMac was the Ambient Light Sensor, which adjusts screen brightness to its surroundings. 802.11g AirPort Extreme and Bluetooth 2.0 were now standard features, as was Gigabit Ethernet.
These were the first iMacs to ship with OS X 10.4 Tiger.
The Late 2005 iMac G5 Gets iSight
Apple shook the Macintosh world by announcing in June 2005 that it would switch from PowerPC chips to Intel x86 CPUs "within a year". Those of use using Macs were stunned. Apple had long touted the advantages of its PowerPC RISC CPUs against Intel's x86 architecture. Now it was poised to follow the PC world.
Apple didn't quit introducing new PowerPC models right away. We assumed the Intel transition wouldn't take place until May or June 2006. It came months before that in January 2006, but that didn't keep Apple from introducing one last generation of G5 iMacs in October 2005.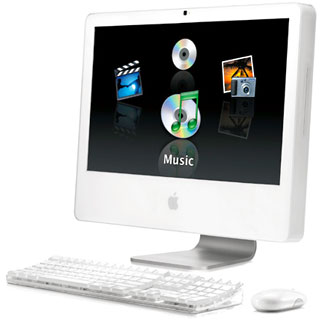 This time there were only two models – a 1.9 GHz 17″ iMac G5 and a 2.1 GHz 20″ iMac G5. New features included a built-in iSight webcam (a Mac first) and 512 MB of system memory on the logic board, allowing for a maximum of 2.5 GB. Graphics were upgraded to Radeon 9600 Pro.
These were the only G5 iMacs with an infrared sensor for use with Apple's Remote Control, which was included with the computer and designed to control Apple's new Front Row media center software. The Late 2005 iMac is also thinner than the earlier models.
Operating System
All G5 iMacs can run OS X 10.4 Tiger and 10.5 Leopard, the last version of OS X to support PowerPC Macs.
Tiger runs decently with 512 MB of memory, while Leopard really wants 1 GB. Tiger supports Classic Mode, which allows you to use software that runs under Mac OS 9. Leopard has no support for Classic Mode.
In general, Tiger will run faster than Leopard on PowerPC Macs, but with Leopard you will have access to some newer software that isn't compatible with Tiger. Unless you need to run something that requires one OS or the other, you should find both run very well on G5 Macs.
My preference is to configured G5 Macs with both, using a smaller partition (perhaps 1/4 of the hard drive) for Tiger and the rest for Leopard. Since there are some more modern browsers for Leopard that are not compatible with Tiger, I usually run Leopard – but should I need it, Tiger is available to me with a restart.
Expansion Options
Hard Drives and SSD
All G5 iMacs support one internal SATA hard drive.
Bear in mind that you cannot use hard drives larger than 2 TB with any PowerPC Mac. This is a limitation of the Apple Partition Map (APM), which is required on any drive that will boot a PowerPC Mac. This applies equally to internal drives, SCSI drives, USB drives, FireWire drives, eSATA drives, and even shared Mac volumes on your network.
For all-out speed, you can use a Solid State Drive (SSD), and its performance will only be limited by the speed of the iMac's 1.5 GB/s SATA bus. OWC is currently selling it Mercury Electro SATA Rev. 2 SSDs for the following prices:
60 GB, $42.99
120 GB, $64.99
240 GB, $112.99
480 GB, $187.99
960 GB, $344.99
I wouldn't recommend the 480 GB or larger drive in a G5 iMac unless you had a very specific reason for it. These machines almost always sell for under $100 on the used market.
If you need a lot of capacity, look at 7200 rpm hard drives, which start at about $60 for 1 TB. A 2 TB drive should cost under $100, and that's the highest capacity a PowerPC Mac can handle.
Memory
We used to say you can never have too much memory, and with memory this reasonably priced, I suggest you just go ahead and do the 2 GB upgrade.
Here are current prices from OWC:
Mid 2004 and Mid 2005 iMacs
1 GB: $17.49
2 GB: $25.79
Late 2005 iSight iMacs
1 GB: $11.99
2 GB: $20.79
And What Will You Do with It?
An iMac G5 could make a great homework machine. With OS X Tiger, install Camino as your fast go-to browser and TenFourFox (currently at version 38.2) as your workhorse. With OS X Leopard, add Stainless as a good, fast, more up-to-date alternative to Camino, and Aurora (a Leopard-only build of TenFourFox 20) for heavier lifting.
For word processing and spreadsheets, I'm still a huge fan of AppleWorks. You should be able to pick up a copy of version 6.x for $20 or less on eBay. A good free writing tool is the Bean word processor, which I use for quick writing tasks.
If you're using Google Docs and Google Sheets at work or school, you'll be happy to know that you can access your files and work on them from a G4 or G5 iMac and TenFourFox or Aurora.
If you're a Microsoft Office fan, Office: 2008 is the last version compatible with PowerPC Macs. It runs just fine on these iMacs, although it is a bit bloated – an issue with almost every edition of Office ever released. Used copies are very cheap on eBay, especially the Student &Teacher edition, and you'll pay about $75 for a fresh copy. Nice if you need 100% Microsoft compatibility, but I've survived without it for years.
A decent replacement is LibreOffice, which is no longer being developed for PowerPC, OS X Tiger, or OS X Leopard. LibreOffice 4.0.6.2 is the last version to support Tiger on PowerPC, and version 4.3 is the last for Leopard on PowerPC, but I've been unable to find a link anywhere. LibreOffice makes it difficult to find anything except for the latest version on its website. (The current version of LibreOffice requires OS X 10.8 Mountain Lion or later.)
LibreOffice is a decent free alternative to Microsoft Office, although it is slow to load even on a fast Mac. See Speed Up LibreOffice on Your Mac for tips on getting a bit more performance from this powerful freeware.
Older versions of Photoshop and Photoshop Elements will run nicely, and there is also iTunes included with OS X – an older, less cluttered, more intuitive, nicer to work with reminder of how wonderful iTunes used to be.
Low End Mac will be putting a couple of these up for sale in the near future.
Keywords: #imacg5
Short link: http://goo.gl/PlDlcZ
searchword: imacg5