Getting an old (2002) 700 MHz iMac G4 with just 512 MB of memory up and running reminded me of what a nice – and still useful – operating system Mac OS X 10.4 Tiger is, especially on that old Apple PowerPC hardware.
I wouldn't normally run Tiger with just 512 MB of memory, but that's what came with the computer, and I'm not going to throw money at it. Likewise, it has a very pokey hard drive with just 40 GB capacity, but it's not like this is going to be a production computer. (If it were, I'd transplant one of my higher capacity 7200 RPM hard drives.)
I used Tiger daily until about three years ago, when Low End Mac moved from using Claris Home Page 3.0 in Classic Mode, which requires Tiger or earlier versions of OS X, to WordPress, which is a browser-based content management system (CMS). I used Home Page when I began Low End Mac in April 1997, and it was early 2013 that I finally found and moved to a better solution.
Classic Mode is at its best on a dual-processor Power Mac, because it can dedicate one CPU full time to Classic Mode while the other handles all the OS X details. But once I retired Home Page, I no longer needed to use Tiger on a regular basis – I moved to OS X 10.5 Leopard on my Power Macs and 10.6 Snow Leopard on my 2007 Mac mini.
There was only one reason I ever switched from Tiger to Leopard – NetNewsWire had switched to using Google's RSS feed manager (since discontinued), and that version of the app required Leopard. If not for that, I would have stuck with Tiger. It was perfectly adequate for my needs, and it's still good enough for a lot of people to continue using it, especially on PowerPC Macs. (I've never used Tiger on an Intel Mac, but unless it has less than 1 GB of system memory, you're better off with Snow Leopard on Intel Macs.)
Browsers
Any Mac running OS X Tiger can run TenFourFox 38, a port of Firefox optimized in separate versions for G3 and G5 CPUs, along with two G4 versions depending on which chip variant you have. Sure, Firefox for supported platforms is at version 47 now, but TenFourFox 45.3 is in its second. (Rather than port every version to PowerPC, TenFourFox only works on the ESR, Extended Support Release, a sequence that includes 38 and 45 but nothing in between.)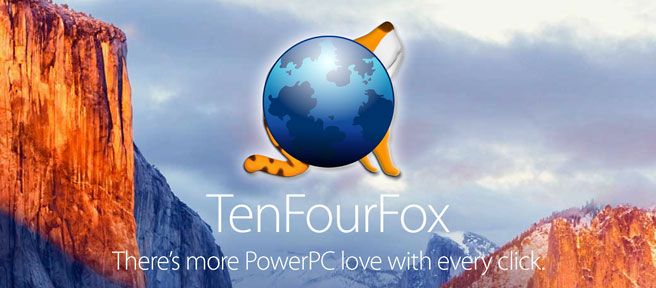 As we've said time and again, if you have a PowerPC Mac running Tiger, TenFourFox is the best browser going. You even get full screen mode, something most Mac apps didn't get until OS X 10.7 Lion or later. And Simon Royal has shared some tips on tweaking TenFourFox to be even more responsive.
Google's Chrome browser was never ported to PowerPC, Firefox officially dropped Tiger support before Firefox 4 was released, and Safari is hopelessly old and outdated at version 4.1.3 from 2010. I'd go with Camino as my alternate Tiger browser. It's a Mac-specific port of an earlier version of Mozilla, very lightweight, and pretty responsive, but without the flexibility and power of TenFourFox.
Probably the biggest problem with older browsers is that some websites, especially banking and the like, may not support your old Mac. Then again, there are parts of the company website for my current employer that I can't access on my MacBook running OS X 10.11 El Capitan. Some sites don't like Macs. Some sites don't like any browser not made by Microsoft.
Office Apps and Suites
As long as you're using OS X 10.6 Snow Leopard or earlier, you can't go wrong with AppleWorks 6. AppleWorks used to come free with every iMac, and it's the best integrated office suite ever. Working with Microsoft Office and Apple's iWork apps has convinced me of that. With AppleWorks, a single app handles word processing, spreadsheets, presentations, vector art, and more. (The database is probably its weakest component.)
Microsoft Office is powerful, but its also bloated and composed of several separate apps, unlike AppleWorks which is fully integrated. LibreOffice 4.0.2 (the last PowerPC version) is powerful but slow.
For word processing, TextEdit is free and decent, but the freeware Bean word processor is even nicer. Version 2.4.5 is the last to support OS X Tiger.
Unleash the Tiger
The best thing you can do for Tiger is run it on a dual-processor Power Mac G4 or G5 – or the truly awesomely powerful 2.5 GHz Power Mac G5 Quad – with plenty of memory. Tiger can run with less than 512 MB, but that's a realistic minimum for decent performance. 1 GB is nice, 2 GB is great, and more than that, even better, although you need a G5-based Mac if you want to access more than 2 GB of memory.
Regardless of how many processors your Mac has or what speed it runs at, more memory will always help OS X run better. That's as true for the original version as it is for macOS Sierra.
The next best thing you can do, after installing all the memory you can, is to use a fast hard drive or SSD. I've been installing 7200 RPM drives in my Macs for about 15 years now, and it really makes a difference. An SSD would be even faster, but make sure you get one that works well with PowerPC Macs – and the Classic Mac OS, if you ever plan on booting directly into Mac OS 9. Note that Tiger does not support drives over 2 TB.
Or Just Playing with Tiger
If you're just going to use the old Mac for AppleWorks, browsing the Web lightly, and some vintage Mac games (I love Sim City 2000), an old G3 or G4 Mac with Tiger works well. It's less demanding of hardware resources than Leopard, and it would make for a very nice homework machine. After all, you probably can't out-type a 16 MHz Mac II, let alone a 300 MHz G3.
I would look to slot-loading iMacs, G4 iMacs, a Lombard or Pismo PowerBook, any G4 PowerBook, or any Power Mac from the Blue and White model forward as good Tiger candidates.
Conclusion
Sure, there are theoretical insecurities in Tiger and Leopard and Snow Leopard that are never going to be fixed, and there is only one close-to-up-to-date browser for Tiger, but even the latest operating systems – including macOS Sierra, Windows 10, Chrome OS, and every flavor of Linux – has some undiscovered security issues. It's the nature of a modern operating system. I wouldn't worry too much about it.
When I set up an old G4 or G5 Mac, I partition the hard drive with one-quarter to one-third of the space for OS X 10.4 Tiger, the other partition with OS X 10.5 Leopard, which has some slightly more modern browsers, some alternative browsers (Stainless and Roccat, for instance) not available on Tiger, and can be used to run a Time Machine backup drive for your network (2 GB maximum drive size!).
But overall, I could be happily working with Tiger today. It will squeeze the most out of that old PowerPC G3, G4, and G5 hardware, and it will let you blast into the past with Classic Mode (see Low End Mac's Compleat Guide to Mac OS 9). In fact, Classic Mode gives you a browser option not available to those running OS X Leopard and later: Classilla runs very nicely under Mac OS 9.x and is set up to access websites as though it were a mobile browser, which should really speed things up.
If you've got old Macs, give Tiger a try.
Keywords: #osxtiger #macosxtiger #tenfourfox #classicmode
Short link: http://goo.gl/doxXgI
searchword: tigerstilluseful