Like clockwork, Apple introduces a new iPhone model (or set of models) every year. In September 2012, the iPhone 5 was the new one. We're now three generations beyond that. How viable is the iPhone 5 today?
I'm still using an iPhone 4S, the "new in 2011" model that introduced dual-core to the iPhone. It was a great phone in its day, but if you've used one with iOS 9, you know performance suffers with the current version of iOS. It takes too long for the keyboard to load, too long to switch apps, and way too long to show the phone screen – mine has often gone to voicemail before I have a chance to answer it.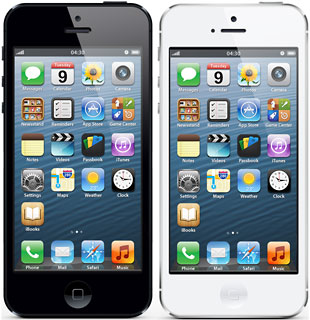 A few weeks ago, I bought a very clean 16 GB iPhone 5S from a coworker, and it was a revelation. Although it's only two generations newer than the 4S, Geekbench scores show it to be six times as powerful!
Much as I'd love an iPhone 5S, a friend had an old iPhone 5 available – the 32 GB version, which is more storage than any iDevice I've ever owned. Geekbench rates the iPhone 5 (and its twin, the iPhone 5C) as three times as fast as the 4S. But would that be enough to keep me happy for a year or more?
The Good News
This iPhone has been kept in a waterproof Lifeproof case since it was purchased, and it's in pristine condition. I was warned not to submerge the phone, since there is a small crack near the flash – not that I planned to dunk the iPhone.
This afternoon I backed up my 16 GB iPhone 4S and then restored the files to the new-to-me iPhone 5. It took maybe 5 minutes for the first step of the migration, but a lot longer once it started loading apps, music, and photos. Still, the whole thing was done inside of an hour.
One interesting discovery is that many of the apps were not up-to-date. Going to the App Store, I was able to upgrade to the latest version compatible with the iPhone 5. There were about a dozen apps upgraded in this way.
I have been very impressed with the performance of the iPhone 5. It is a huge leap forward from the 4S. Switching apps is fast. Keyboards load quickly. And once I get it set up with AT&T, I expect I'll be able to answer phone calls before they go to voicemail.
All in all, I am very impressed. While I would not recommend running iOS 9 on an iPhone 4S because of its overall sluggish performance, I would not hesitate to recommend the iPhone 5.
Compared to the 3.5″ screen iPhones, the extra line of app icons available on each and every screen is really nice. I now have almost all of my most used apps on the home page.
One additional bonus: Since it's barely taller than the iPhone 4S, it fits very comfortably in the "smartphone" pocket of my shorts, even in the Lifeproof case. Nice!
Not So Good
Apple introduced a new data port with the iPhone 5, the Lightning connector. That means the iPhone 5 isn't compatible with my boom box and iHome alarm clock, both of which use the older 30-pin dock connector. I already have a Lightning cable in the car for my wife's iPhone 5S, and I got one with the iPhone 5, so I'll still want to pick up more – one for charging at work, the other for charging on the nightstand.
The battery has seen better days. I suspect it will go 3-4 hours before hitting the 20% wall, at which point iOS begins to natter at you to charge the darned thing or switch to low power mode. I haven't tested that, but I ran it down from 100% to 67% in less than 90 minutes.
The final obstacle to completely replacing the iPhone 4S is that the iPhone 5 and later use a nano-SIM, while the iPhone 4S and earlier use a larger SIM. That means I can't just swap out the SIM and migrate to the iPhone 5. I have to go to an AT&T store, and because we're on their Friends and Family plan, they won't do it unless I have an authorized user with me. It may take a few days to work that out.
Conclusion
As nice as it can be to use old hardware as long as possible, sometimes you try to push things to hard. For instance, System 6 runs very nicely on an 8 MHz Mac, but System 7 does not. It runs, but not as smoothly. Likewise, iOS 8 was a good match to the iPhone 4S, but iOS 9 has gone beyond what the iPhone 4S can run smoothly.
At least until iOS 10 arrives, the iPhone 5 (and 5C) is a very usable phone, and used prices are very good right now. (That said, we're seeing some blowout bargains on remaining iPhone 5S inventory, so check out those prices as well.)
Keywords: #iphone5
Short link: http://goo.gl/IlrcUu