Apple introduced the Mac mini in January 2005 as the smallest consumer computer on the planet. The original version ran a 1.25 GHz or 1.42 GHz G4 CPU on a 167 MHz bus and accepts a maximum 1 GB of system memory. It shipped with OS X 10.3 Panther and also supports 10.4 Tiger and 10.5 Leopard.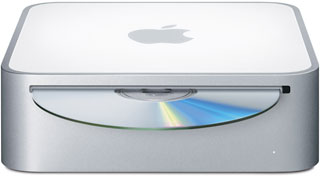 Around September 2005, Apple began shipping an upgraded version of the Mac mini, but without a public announcement. The Late 2005 model was a bit faster with 1.33 GHz and 1.5 GHz CPUs, and the only way you'd know whether you have the Early 2005 or the late one is to boot it up and check About This Mac under the Apple menu. The newer models identify as PowerMac10,2 vs. PowerMac10,1 for the original, and, of course, display a higher processor speed.

The G4 Minis have just two USB 2.0 ports, a FireWire 400 port, 10/100 ethernet, audio, and DVI video output. They may have AirPort Extreme and Bluetooth 2.0 built-in, or they may not, especially the entry-level models. And they have an external power supply.
What Good Is a G4 Mac mini Today?
First of all, upgrade to 1 GB of memory (about $13) and OS X 10.4 or 10.5, if it doesn't already have them. Tiger runs decently with 512 MB, but browsers are very demanding of resources, and Leopard really calls out for 1 GB on PowerPC Macs. For the Web, we highly recommend TenFourFox, a PowerPC optimized port of Firefox. Pick the 7450 version, which is tweaked for the CPU used in these Minis.
The Early 2005 Mac mini uses 4200 rpm UltraATA/100 (ATA-6, also known as IDE and PATA) 2.5″ notebook hard drives, which are nothing to write home about. The Late 2005 model shipped with 5400 rpm drives, which are noticeably perkier. It's hard to recommend a "legacy" parallel port SSD (Solid State Drive) when 60 GB retails at $95, although the 128 GB SSD at $119 is reasonably priced. New 60 GB 7200 rpm hard drives start at about $50 from Amazon.com, 100 GB about $100, and they are much more responsive than the stock hard drives Apple supplied.
In its day, the 2005 Mac mini, which can display 1920 x 1080 HD video, was very popular in home entertainment centers with the addition of a DVI-to-HDMI adapter. You can still use it for that. You can connect it to your stereo and listen to your iTunes library, and you can surf the Web or watch videos on your TV. There is no audio-in jack.
Even today, a G4 Mac can be a great homework computer. It shipped with iLife '05 and AppleWorks, which is a great integrated office app with word processing, spreadsheet, graphics, and more. It has USB and ethernet, so printing from it is as easy as with any modern Mac.
The 2006 Models
Early 2006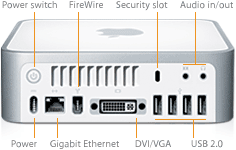 In February 2006, Apple discontinued the G4 Mac mini and introduced its first Intel-based ones. From the front, they look just like the 2005 model. But the rear has twice as many USB 2.0 ports – four of them. Bluetooth 2.0, 802.11g WiFi, and Gigabit Ethernet are standard. New are an audio-in jack and Serial ATA, a faster data bus for the hard drive.
The base model was the only Mac ever with a Core Solo CPU. The 1.5 GHz has only two-thirds as much processing power as the 1.66 GHz Core Duo version – but that's still 50% more power than the 1.5 GHz G4 Mac mini. These shipped with a barely adequate 512 MB of memory for OS X 10.4 Tiger. For any serious work, you should upgrade to 2 GB of memory (about $15).
Standard hard drives were so-so 5400 rpm 2.5″ mechanisms. You can upgrade to a 60 GB SSD for as little as $43 (SATA SSDs are far more reasonably priced than PATA ones), and $64 can get you 120 GB. That should be enough for most users.
As far as operating systems go, we strongly recommend OS X 10.6 Snow Leopard, the highest version a Core Solo or Core Duo Mac can use and the first version of Mac OS X made only for Intel-based Macs. Apple has offered OS X 10.6 on disc for as little as $19.
Again, this was a fairly popular entertainment center computer with its small size and 1920 x 1080 video output. It's also a very nice homework computer. It's biggest drawback is that the Core Solo and Core Duo CPUs can only access a maximum of 2 GB of memory. That said, it is possible to transplant a Core 2 Duo CPU for a performance boost and the do an EFI firmware update that allows it to use up to 3 GB of memory (see CPU Upgrade Options for 2006 and 2007 Mac minis). The firmware update also allows it to run OS X 10.7 Lion, which requires a Core 2 Duo and can run with 2 GB of system memory but really prefers 3 GB (about $23).
Late 2006
The Late 2006 Mac mini has the same system board and the same upgrade options as the Early 2006 one. The only difference is that it uses Core Duo CPUs, not Core Solo, and speeds are 1.66 and 1.83 GHz. Everything we said above applies to this model as well.
The 2007 Mac mini
The Mac mini was the last Core Solo holdout, and in August 2007 Apple moved the Mid 2007 Mac mini to the more efficient Core 2 Duo CPU at 1.83 and 2.0 GHz, and this model is able to access 3 GB of memory out of the box. As with the 2006 models, you can upgrade to a 2.33 GHz Core 2 Duo CPU, the fastest ever made for the socket these three models used.
Again, everything we said about the Early 2006 model in terms of uses and upgrades applies to this model as well. These are the only Intel-based Minis that allow you to upgrade the CPU.
The 2009 Mac minis
Early 2009 Mac mini
The Mac mini did not receive an upgrade in 2008, but in March 2009, Apple introduced an updated model with Intel's newer 2.0 GHz Penryn Core 2 Duo CPU and a 1066 MHz system bus (2006 and 2007 Mini have a 667 MHz bus). There was also a 2.16 GHz build-to-order option for those who wanted a bit more speed. 1 GB of memory was standard, as were 5400 rpm notebook hard drives – but now on the twice-as-fast 3 Gb/s SATA Rev. 2 bus.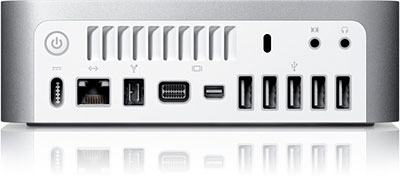 Other hardware changes include a fifth USB port on the back, 802.11n WiFi, a dedicated graphics processor, support for up to 8 GB of memory, and the new Mini DisplayPort video port in addition to a Mini-DVI port. That means the Early 2009 Mac mini can support two displays. It also replaces FireWire 400 on the earlier Minis with FireWire 800, and Bluetooth is updated to version 2.1.
This is the oldest Mac mini to support Mac OS X 10.11 El Capitan. It is not supports in macOS Sierra. It was also the last Mini to use the original form factor – 2.0″ tall and 6.5″ square. This is a great machine for those who want a more modern version than OS X 10.7 Lion but don't need Sierra. (The Early 2009 shipped with OS X 10.5 Leopard.)
You can upgrade system memory to 4 GB for $29, or the maximum capacity of 8 GB for $52. SSDs are even faster with the SATA Rev. 2 data bus, and prices are the same quoted above for the 2006-07 Minis.
Late 2009 Mac mini
The October 2009 update has the same logic board and model identifier, making it just a speed bump – or maybe I should say jump. The Late 2009 Mini came in three speeds – 2.26 GHz for 13% more power than the Early 2009, 2.53 GHz for 26% more, and 2.66 GHz giving it 33% more processing power. OS X 10.6 Snow Leopard was standard.
For those who want a Mac mini with a built-in optical drive, this was the last model to include it.
Late 2009 Mac mini Server
At the same time, Apple introduced the first server version of the Mac mini, although it had been a popular server ever since the G4 model was introduced because of its small footprint and low price. The Server version shipped with two 500 GB 5400 rpm hard drives, one occupying the spot usually taken by an optical drive, which it does not have.
In 2010 Apple switched to a new form factor for the Mac mini, just 1.4″ high but 7.7″ square. Best of all, it finally got an internal power supply. We'll cover the 2010 and newer Minis in a separate article.
Which One Should I Choose?
We're looking at current (July 2016) eBay Buy It Now prices when considering the value of these Mac minis. You can probably do better on your local Craigslist, but that varies depending on where you live. Sometimes it can be even more expensive than eBay.
Classic Mode or Just Cheap: Mac mini G4
If you need access to Classic Mode, you need to run OS X 10.4 Tiger on a G4 Mac mini. The 1.42 GHz version currently goes for $35 and up (shipped) on eBay using the Buy It Now option. Try to get one that's already been upgraded to 1 GB and OS X Tiger.
This is just a really cheap way to get a Mac that you can use with your TV and stereo – or as a homework computer. You can use any USB mouse and keyboard (see The Mac Users Guide to Using a PC Keyboard for information on remapping the Alt and Cmd keys on Windows keyboards to their usual position on a Mac keyboard.)
Still Using PowerPC Software or Just Happy with Snow Leopard: 2006-2007 Mac mini
All of the 2006 Mac minis can be upgraded to a Core 2 Duo CPU inexpensively, and once that's been done, you can update the EFI firmware so it supports 3 GB of memory and OS X 10.7 Lion – just like the 2007 Mac mini. You can upgrade to 2.33 GHz if you want to.
I've seen the Core Solo model on eBay for as little as $56 shipped, but I would avoid that model unless you plan to upgrade to a Core 2 Duo CPU. You get a lot more power even with a 2.0 GHz Core 2 Duo. Core Duo starts at about $67 for 1.83 GHz. I'd pay the little bit extra to get it instead of the Core Solo – and avoid the hassles of taking the computer apart to replace the CPU.
The most affordable Core 2 Duo 2007 Mini is currently $90 shipped. Not bad, and there are several options below $100 including shipping. (If you can get 2.0 GHz in this range, go for it. Most of these are 1.83 GHz.) There is currently a 1.83 GHz one with 3 GB of memory for $129, which might be tempting. In general, 2.0 GHz units are overpriced in comparison to the cost of a CPU transplant.
You do want to stick with Snow Leopard, though, because Lion and later no longer support PowerPC applications.
On a personal note, I've had a 2.0 GHz Mid 2007 Mac mini with 3 GB of memory for years, and I added an SSD earlier this year. It's still a very usable machine. In fact, it is my primary production computer at Low End Mac! I hope to transplant a 2.33 GHz CPU when time permits.
Completely Up to Date – Until Fall 2016: 2009 Mac minis
If you want a fantastic Snow Leopard machine or something that can run OS X 10.9 Mavericks, 10.10 Yosemite, or 10.11 El Capitan very nicely, this is what you want to look at. Seriously, a 2.0 GHz one with a Buy It Now price of $130 shipped!
If I had the money, I'd do it in a heartbeat. Boost memory to 4 GB for $29, perhaps transplant the SSD in my Late 2008 Aluminum MacBook (I seem to be stuck at 2.0 GHz) temporarily.
For 13% more speed and a bigger hard drive, there's a 2.26 GHz one for $145 shipped. Prices generally get crazy for faster CPUs and 4-8 GB of memory. (Our local Craigslist has a 2.66 GHz 2010 Mac mini with 4 GB RAM and a 320 GB hard drive for $350. Kind of high, and it's the cheapest Mac mini listed today.)
Keywords: #macmini
Short link: http://goo.gl/yxO22C