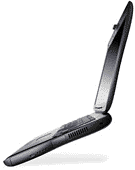 May 10 in Apple and Low End Mac History
1999
Mac OS 8.6 introduced. Uses nanokernel that added preemptive multitasking to the Mac's cooperative multitasking. Faster and more stable then 8.5 or 8.5.1.
'Lombard' PowerBook G3 introduced at 333 and 400 MHz.
2000
2001
2001
2004
A better portable solution: Bluetooth instead of wires, Adam Robert Guha, Apple Archive. Bluetooth has the potential to replace many wired connections, reduce cable clutter, and make portable computing more user friendly.
iBook repair program expanded, $190 Combo drive for DVD TiBooks, Lombard G4/433 upgrade, and more, The 'Book Review. New PB G4 video performance, using a PowerBook to watch DVDs on TV, BookEndz for 15-inch AlBook, Glide hinge maintenance kits, bargain G4 'Books from $925 to $2,599, and lots more.
2007
2010
iPad vs. anything else, iPad 3G teardown, Beat the Traffic app, slim Bluetooth keyboard, and more, iNews Review. Also AT&T requires home address for 3G service, 16 GB most popular 3G iPad, Jon Stewart calls Apple 'Appholes', new apps, and more.
Apple patents 'invisible' buttons, Quickscript gives Modbook handwriting recognition, and more, The 'Book Review. Also iPad on the road can't quite replace a 'Book, multitouch input vs. the mouse, NewerTech battery station price cut, and more.
Mac OS taking a back seat to iPhone OS?, using Chrome, Ubuntu 10.04 Lucid Lynx released, and more, Mac News Review. Also OS and browser shares for April, Google apps for Mac users, Typinator update ads search of text snippets, and more.
2011
Fuss over iPhone user-tracking information a tempest in a teapot, Alan Zisman, Mac2Windows. Someone would need physical access to your iPhone, iPad, or computer to read the cryptic location file.
Planetary for iPad: A whole new way to play your music, Austin Leeds, Apple Everywhere. Planetary uses a fresh new paradigm for accessing your iTunes library, one that you may find more intuitive and fun.
iOS updates address location database controversy, USB keyboard for Mac and iPhone, and more, iNews Review. Also Seagate planning iPad companion, e-readers eating into print market, create an Apple ID without a credit card, free new and updated apps, and more.