Where's the iPizzaBox?
Alex Allee
2001.05.10
My Turn is Low End Mac's column for reader-submitted articles. It's your turn to share your thoughts on all things Mac (or iPhone, iPod, etc.) and write for the Mac web. Email your submission to Dan Knight .
A few years ago, $899 would have been an amazing deal for a computer. But in a time of $400 PCs, $899 doesn't sound so great. Granted, for $400 you get no monitor, no technical support, and probably no software other than Windows installed on the hard drive. Add about a hundred bucks for a decent monitor, and you are set.
Enter the iLC
Apple needs a lower cost solution if they want to win any more market share. The solution? A new "pizza box" style computer that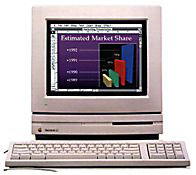 we'll call the iLC. The iLC would be about the size of the case used in the LC through the Quadra 605, but perhaps slightly taller to allow for a CD-ROM drive and room to have a PCI slot or two on a riser card.
Processor
A G3 processor of at least 333 MHz on a 66 MHz bus. This will give it enough power to do most things that a low-end user will need while keeping prices down. A lower speed would also keep the iLC from cutting into iMac sales.
Memory and Storage
64 MB of RAM soldered on the motherboard with one empty DIMM slot. 64 MB is likely enough for a lot of users, but the capability for up to 320 MB (or even 576 MB) is there. A 6 GB hard drive should be enough for all but the most hard-core MP3 junkies.
Ports
Two USB ports, one 10/100 ethernet connection, a 56k modem port, a microphone jack, and a headphone jack. Also a standard VGA connection, so a cheap VGA monitor can be purchased and can be upgraded to a larger screen. FireWire? Probably not. If you can afford a FireWire camera, camcorder, scanner, etc., then you can likely afford an iMac.
Price
Given the specs above, I would expect a base price of $400-450. This would make the iLC very competitive with entry-level PCs.
Look out, Education market, here comes Apple!
Not only would the iLC be a great first computer, it would do great in the formerly Apple-dominated education market. Does a classroom really need accelerated 3D graphics, six PCI slots, a 30 GB hard drive, a 19" display, and Windows 2000? No. The iLC would have all that a classroom would need - and nothing that it wouldn't. With such a low price, it would also be ideal for cash-strapped college students.
With an attractive case, a low price, and an aggressive ad campaign designed to show people that web browsing, email, and word processing do not need a gigahertz chip or Microsoft Windows, and some luck, Apple may be able to take a larger slice of the beginner and education pie.
And if the iLC doesn't work out, there is always the rumored SAM/iClassic/Color Classic III.
Share your perspective on the Mac by emailing with "My Turn" as your subject.
Join us on Facebook, follow us on Twitter or Google+, or subscribe to our RSS news feed
Today's Links
Mac of the Day: iMac (Late 2006), introduced 2006.09.06. Apple introduced the biggest screen ever in an iMac with a 24" 2.16 GHz Core 2 Duo model.
Recent Content
Custom Search
Follow Low End Mac on Twitter
Join Low End Mac on Facebook
Favorite Sites
MacSurfer
Cult of Mac
Shrine of Apple
MacInTouch
MyAppleMenu
InfoMac
The Mac Observer
Accelerate Your Mac
RetroMacCast
The Vintage Mac Museum
Deal Brothers
DealMac
Mac2Sell
Mac Driver Museum
JAG's House
System 6 Heaven
System 7 Today
the pickle's Low-End Mac FAQ
Affiliates
Amazon.com
The iTunes Store
PC Connection Express
Macgo Blu-ray Player
Parallels Desktop for Mac
eBay

Advertise