Going Windows Because No Mac Meets My Needs?
- 2007.01.25
Currently in the Mac lineup, there are three desktop models and three laptop models.
The desktop lines include the iMac (available in three screen sizes from 17" to 24"), the Mac mini, and the significantly more expensive Mac Pro. The notebook lineup includes the 13" MacBook, and the 15" and 17" MacBook Pro.
Each model is designed for a specific type of user, but I can't help but feel that certain users have been completely left out by Apple - including me.
Let's look at the past few laptops I've bought and the experiences I've had with each one.
iBooks and PowerBooks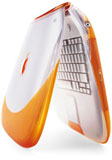 The first new laptop I owned was a tangerine 1999 iBook. It was reasonably fast at 300 MHz, but the hard drive was far too small (3.2 GB),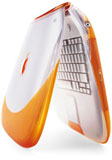 the screen had too low a resolution (800 x 600), and there was no way to connect the machine to a projector for presentations. I did, however, appreciate the rugged exterior's ability to stand up to various drops and bumps.
After the iBook, I upgraded to a 333 MHz Lombard PowerBook G3. This machine was well-built, relatively rugged, and much better in terms of screen size (14" 1024 x 768) and overall features. However, once OS X came out, it was too slow to be productive in an everyday setting.
I replaced it with a 400 MHz titanium PowerBook G4. In terms of speed and features, it was a significant upgrade. I had access to wireless networks, much better battery life, and a DVD-ROM drive. I also found it far too fragile for use as a true portable computer - just putting it in my backpack would scratch and damage the casing.
When Apple came out with the 12" PowerBook at the beginning of 2003, I was anxious to get my hands on one. It offered a good size for school and the features and speed that I needed. For the most part, it was generally a good machine.
Almost four years later, however, it's showing its age in ways that it shouldn't. The casing is scratched up near the wrist rest in a way I'd never seen before. The lid is warped and rocks from side to side when closed. The screen has several white spots in it - something I hadn't seen until this computer.
Yes, it got near daily use for four years, but still, I can't help but feeling like my Lombard or iBook would have held up better - and I even had a padded sleeve for this machine!
That being said, I got 3-1/2 good years out of the machine with no major incident. I think it was money well spent.
Windows Notebooks
After that I was using a nearly 8-year old IBM ThinkPad 600E. In terms of construction, it was up to the standard of the old Lombard. The LCD, which is as old as the computer, had no dead pixels, let alone white spots. It 366 MHz Pentium II is still fairly fast, with the exception of opening PDF files and viewing Flash-based video online, and Windows XP (I had to upgrade from Windows 2000 to run some software) actually runs well on it, even with only 192 MB of RAM. It has, however, had a new keyboard, new motherboard, and new battery - but considering the originals lasted 7 years, there's not much to complain about.
Recently I was given a Toshiba Satellite A25 notebook that had been purchased new in 2005, and I figured that I might as well use it, since it was the newest machine I own. The specs are impressive - Pentium 4 at 2.66 GHz, 15" screen, DVD/CD-RW combo drive, SD card slot, 768 MB of RAM, and 120 GB hard drive.
However, the computer itself is an ease-of-use nightmare, as many PC laptops seem to be. Nothing on it "just works", and accomplishing any task requires some playing around with settings or switches.
Wireless networking is touchy - sometimes it just refuses to connect to certain wireless networks - and this is with the latest drivers. Sometimes the sound decides not to work, and restarting the computer is the only fix. The power management drivers are flaky at best. The keyboard is not only awful to type on - the keys actually come off easily! The casing of the computer is not particularly solid, and it would probably hold up just about as well as my titanium PowerBook if dropped. It's also about 2" thick and weighs somewhere in the neighborhood of 7 lb. It doesn't even fit properly in my computer case.
It reminds me why I've been buying Macs for so long. The Mac OS is elegant, connecting to networks is simple, and the construction of the machines themselves is fairly decent. I remind myself, however, that this Toshiba was free, so even if it lasts for just six months, I come out ahead.
MacBooks Today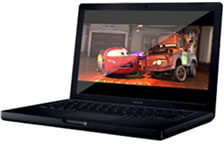 Out of the Mac laptops currently offered, I'm impressed with the construction of the black MacBook. The material has a nice soft feel to it, it doesn't bend easily, and the seams match up almost perfectly.
The screen resolution (1280 x 800), however, is not high enough for me - I find that I run out of space on the screen too easily. I also find the glossy screen to be unworkable, especially when doing photo editing, as colors are too saturated.
I like the built-in camera, and the keyboard feels very solid. In fact, it almost feels like an old G3 PowerBook in terms of overall quality.
But the screen alone is enough for me not to buy one. It's the most important part of a laptop, and if I don't have enough space to work, I wouldn't want to purchase the machine.
The 15" or 17" MacBook Pro would be decent, but the 17" screen makes the machine too big to carry around in a backpack, and I'm not particularly thrilled at repeating the whole metal-casing "looks great when new" ordeal that I went through with my TiBook and my 12" PowerBook.
Right now, the machine I'm leaning toward isn't a Mac.
Think(Pad) Different
I'm currently most impressed with the features of the new ThinkPad T60 15" widescreen. I can get it with a WXGA+ (1440 x 900) screen, which would give me a high enough resolution to get work done (they say high enough to have two pages side by side - and that's exactly what I need).
Just like the MacBook Pro, it comes with Bluetooth and 802.11n, and I can even order it with a WWAN card, which I'd have to add to the Mac. I also like the fact that I can expand the RAM up to 4 GB, and that the hard drive is easily accessed, unlike with the MacBook Pro.
The ThinkPad's drivers also tend to be better than, say, Toshiba's, and I've had a good experience with the 600E. Another nice feature is the ability to restore the system from a partition on the hard drive - I've been stuck before, away from home with no system CDs and a crashed computer.
Why Not a Mac?
Why not a Mac this time around? Apple just doesn't offer what I need right now, all OS preferences aside. I need a rugged notebook that I can throw in my backpack that has a high-resolution matte screen, as well as room for significant upgrades. The black MacBook fits the first part but not the second or third, and even though the MacBook Pro gets the second and part of the third, it totally misses the first part with it's aluminum casing.
Apple also misses me in their desktop lineup. When I purchased it, my dual 1.8 GHz G5 was the perfect machine for my needs, and it has proven itself to be expandable and reliable. For $1,600 or so, I had an expandable desktop computer with room for up to 4 GB of RAM, and two SATA hard drives. I could add my own monitor and add a new video card if I wanted to. The whole system, with a 19" LCD monitor, was under $2,000, and I've since added RAM and a second hard drive.
At $2,500, the current Mac Pro, costs much more than I would want to spend on a desktop, while the Mac mini and the iMac don't offer the expandability that I need. I'm not planning on getting rid of my G5 anytime soon, but I'm starting to wonder if I'll have to build a PC for myself next time instead of buying a Mac desktop, as much as I prefer using the Mac OS.
Two Models Apple Needs
I'd like to see two new models from Apple right now. The first would be a more rugged version of the MacBook Pro. I'd gladly pay a little bit more for a more rugged case, perhaps similar to that of the black MacBook, and I would think that people who plan to use the Mac for business (those who travel frequently) would also appreciate a stronger case. I'd also like to see it able to accommodate more RAM (2 GB isn't enough) and have better access to the hard drive in case something should happen. Think of it as a 15.4" MacBook.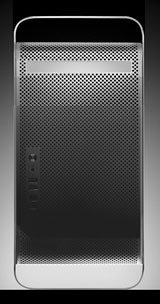 The second machine would be a sort of "entry-level" Mac Pro. Instead of two optical drives, it could have one (like the Power Mac G5 did), maybe only two PCIe slots instead of four, and a single dual-core processor instead of the two dual-core Xeon processors in the Mac Pro. I would expect that such a machine should sell somewhere in the $1,500-1,800 range, offering a lot more expandability than the Mac mini for those who need less power and expansion options than the Mac Pro offers.
In the meantime, it looks like I might end up buying a ThinkPad for my portable computing needs.
Join us on Facebook, follow us on Twitter or Google+, or subscribe to our RSS news feed
Today's Links
Mac of the Day: 14" 600 MHz iBook G3, introduced 2002.01.07. The first 14" iBook ran at a comfortable 600 MHz.
Recent Content
Custom Search
Follow Low End Mac on Twitter
Join Low End Mac on Facebook
Favorite Sites
MacSurfer
Cult of Mac
Shrine of Apple
MacInTouch
MyAppleMenu
InfoMac
The Mac Observer
Accelerate Your Mac
RetroMacCast
The Vintage Mac Museum
Deal Brothers
DealMac
Mac2Sell
Mac Driver Museum
JAG's House
System 6 Heaven
System 7 Today
the pickle's Low-End Mac FAQ
Affiliates
Amazon.com
The iTunes Store
PC Connection Express
Macgo Blu-ray Player
Parallels Desktop for Mac
eBay

Advertise