iBook Repair Extension, Pismo CPU Upgrade Tutorial, Buying a Used Laptop, and More
This Week's PowerBook and iBook News
Compiled by Charles Moore and edited by Dan Knight - 2004.12.23
iPod News
Editor's note: This is the last 'Book Review column of the year. Low End Mac will be closed next week, and new content will resume on January 3, 2005, and the next 'Book Review should be posted on Friday, Jan. 7. dk
iBook Logic Board Repair Extension Program Extended Again
NEWS: Apple's iBook Logic Board Repair Extension Program, originally announced 11 months ago and originally scheduled to end December 18, is a worldwide program covering repair or replacement of the logic board in iBook models manufactured between May 2001 and October 2003 that are experiencing specific component failures. It has now been extended for another three months.
The Expanded iBook Logic Board Repair Extension Program covers iBooks that have a specific component failure on the logic board, resulting in the computer starting up but the built-in and attached external displays exhibiting one or more of the following symptoms:
Scrambled or distorted video
Appearance of unexpected lines on the screen
Intermittent video image
Video freeze
Computer starts up to blank screen
The program is available for iBook models with serial numbers in the following range:
UV117XXXXXX to UV342XXXXXX
iBooks with the serial numbers listed above may be referred to as: iBook (16 VRAM), iBook (14.1 LCD 16 VRAM), iBook (Opaque 16 VRAM), iBook (32 VRAM), iBook (14.1 LCD 32 VRAM), iBook (800 MHz 32 VRAM), iBook (900 MHz 32 VRAM), iBook (14.1 LCD 900 MHz 32 VRAM), iBook (Dual USB), iBook (Late 2001), iBook (14.1 LCD)
The original program began on January 28, 2004. This expansion, which adds certain models, is effective immediately. The program covers affected iBooks for three years after the first retail sale of the unit or until March 18, 2005, whichever provides longer coverage for you. Apple will continue to evaluate the repair data and will provide further repair extensions as needed.
Pismo Processor Card PowerLogix G3/900 Tutorial
NEWS: Philippe Helman has posted a thorough, illustrated tutorial on installing a PowerLogix 900 MHz G3 upgrade card in his PowerBook Pismo 400.
Used Laptops: Why to Buy Them and How to Buy Them
OpEd: Notebook Review's Perry Longinotti says:
"It is tough being a geek. We're faced with a never-ending stream of interesting new technologies that we would like to try out. But the reality is that unless you are an uber-geek, chances are you do not make enough money to purchase and enjoy all of these new technologies. The good news is that you do not have to forsake food and shelter in order to be able to purchase those interesting new gadgets that you so desire. There is an easier way. This article will expose you to the seedy underbelly of used laptop buying and selling (it isn't really all that seedy actually).
"Beware! Once you have gained access to a plentiful supply of cheap used laptops there may be no going back. People in serious relationships should seek the permission of their significant others before embarking on this adventure....
"Your problem is that you want the $3,000.00 computer for the price of a $999.00 computer (or less - actually mostly less). So what can you do?
"The answer is; you turn to the used market....
"For most people a three-year-old machine is still a very useful item. Unless you are playing a lot of games or doing demanding work like photo or video editing you do not need the latest technology to enjoy your computer.
"Among laptop cognoscenti there are a few brands that standout. IBM has a well-earned reputation for building incredibly durable and sexy laptops under the ThinkPad brand.... Toshiba, Panasonic, and Fujitsu also have excellent reputations for building solid business-class laptops.
"The other brand that is worth investigating is Apple. Apple has been making good quality laptops for as long as IBM. You can run Linux on most Powerbooks, or choose from Apple's Classic or Unix based offerings. Apple's highly vertical approach to computers results in very well integrated and elegant laptops. They also tend to come right out of the box with most of the software you will need (iLife being a good example)....
TechRestore Launches Worldwide 24-Hour PowerBook & iBook Repair Program
PR: PowerBookRestore brings together the expertise of a team of technicians and product specialist that have been providing repairs and support for the Macintosh community since 1994. With an unmatched depth of knowledge in supporting both current and older PowerBook and iBook models, PowerBookRestore provides a valuable resource for Mac owners seeking a reliable and fast method to keep their systems running strong. The 24-hour turnaround on repairs and upgrades assures that users have the shortest amount of downtime possible during what could otherwise be a long drawn out ordeal.
"Over the last decade, our repair team has performed tens of thousands of PowerBook and iBook repairs," said Shannon Jean, Founder and President of TechRestore. "With our new PowerBookRestore program, Mac users worldwide can take advantage of our 24-hour turnaround time and our technicians unmatched expertise."
PowerBookRestore offers both a complete, door-to-door overnight service for U.S. customers, as well as a Self-Restore program for customers wishing to send in their system on their own and for international Mac users. The Full-Restore program starts with a phone call to 1-888-5PB-Repair or a visit to TechRestore.com. Once a repair is scheduled, a RestoreBox is sent via overnight courier to the customers home, office or school where their system is picked up and brought back overnight to TechRestore. Within 24-hours of receipt, the customer is contacted with a complete diagnosis and a repair price for their approval. The repair is completed the same day and the system is sent back to the customer's location via overnight courier.
The Full-Restore repair program cost is $99 for 24-hour turnaround, or $79 for 48-hour turnaround, which includes all overnight shipping charges, the RestoreBox and the complete diagnosis. The Self-Restore program is $19 for the diagnosis and return shipping.
"We run our entire organization on PowerBooks, and we couldn't imagine having downtime with a delayed repair," said Jean. "PowerBookRestore is the solution to the problem of long repair delays and hard to find parts for older systems. We're thrilled to bring our service to Macintosh users worldwide."
Created out of a passion for the products we sell and service, the TechRestore team has been selling and repairing mobile products since 1994. Founded in 2004, TechRestore brings together a repair and product expertise team to provide sales and support for portable electronics devices such as PowerBook and iBook computers, iPod audio players and more.
Phone: 1-888-5PB-Repair
Int: 925-689-9487
New High Capacity Replacement Batteries for G3 iBooks
PR: Other World Computing (OWC) and Newer Technology, Inc. (NewerTech) have announced availability of NuPower high-capacity replacement batteries for all 12" iBook G3 "Dual USB" models and all iBook G3 "clamshell" models.
The 3600mAh "Dual USB" battery is available for $119.99 and provides 9% more capacity than the original Apple battery, while the 4800mAh model for $139.99 provides 45% more capacity. The "Clamshell"-compatible 4400mAh battery is available for $129.99 and allows for 37.5% more capacity, with the $139.99 4800mAh model boasting 50% more capacity.
"It is a pleasure to add these outstanding batteries to our NewerTech NuPower line of replacement batteries," said Larry O'Connor, president of OWC. "They offer owners of G3 iBooks what they have been craving - longer runtimes and less dependence on a connected power source."
As with all NuPower batteries, the G3 iBook-compatible models are built in the United States using premium Li-Ion cells manufactured in Japan and/or Canada. By using only the best components and building them in the U.S., NewerTech is able to ensure that its batteries run longer at full charge and last longer compared to other batteries built to lesser standards. The high-quality cells also allow for more charge cycles than other batteries, and stringent quality control measures make sure that the batteries are built to last.
"Considering the low cost and long runtimes of our NuPower batteries, an upgrade from an aging stock battery makes good economic sense," O'Connor said. "And since we really do build these batteries to last, they make good environmental sense as well."
NewerTech's full line of the highest capacity Apple laptop replacement batteries available can be purchased through OWC and other fine retailers.
OWC and NewerTech Introduce New AC Power Adapter
PR: Other World Computing (OWC) and Newer Technology, Inc. have introduced the NewerTech AC Power Adapter.
Available online for $49.95, the 65-Watt, 100-240 volt, 50/60 Hertz auto-switching NewerTech adapter is compatible with all Apple iBook G3, iBook G4, and PowerBook G4 computers. Unlike some third-party adapters currently on the market, the NewerTech adapter provides constant wattage output to specifications that meet or exceed Apple's own adapters.
"The high standards we hold our NewerTech adapters to ensure that operation will be safe and reliable for your precious iBook or PowerBook computer," said Larry O'Connor, president of OWC. "The NewerTech product also provides proper charging of the main internal battery even while the computer is being used, which is surprisingly something that not all AC adapters do."
As with all NewerTech products, including its high-capacity PowerBook and iBook batteries, the NewerTech adapter is built not just to perform, but also to last. It comes standard with a three-year NewerTech warranty.
"The truth of the matter is that not all AC adapters and laptop batteries are created equal, and the NewerTech brand tops them all," O'Connor said. "Our NewerTech products are manufactured using only the highest-quality parts, rigorously tested and are intended to last longer than any other similar product. You can't go wrong filling your portable computing power needs with NewerTech solutions."
The NewerTech AC Adapter is available online or your favorite retailer.
Iomega Triple-Interface External Hard Drive Shipping
PR: Iomega Corporation has begun shipping three triple-interface models of the newly redesigned Iomega External Hard Drive. All three models, which come complete with backup and disaster recovery software, include FireWire 800 connectivity for Mac users who want the highest speeds available. Designed for individual Mac users or Windows users in small businesses and at home, the new drives are the fastest external hard drives ever from Iomega and are ideal for managing and protecting large files.
"This is Iomega's third-generation external hard drive design, so we have incorporated a lot of good customer feedback and insight," said Brad Nelson, product general manager, consumer products, Iomega Corporation. "More and more computer users are working with massive data files-digital photos, downloadable music, and digital video clips to name a few-and they appreciate an external hard drive because it is so convenient for storage and backup. Iomega's External Hard Drive includes award-winning backup software too, so it's a great value."
Several best-in-class features distinguish Iomega's triple-interface drives, which range in capacity from 160 GB to 400 GB. All are 7200 RPM drives and are whisper-quiet in operation. All include USB 2.0 (Hi-Speed USB), FireWire 400, and FireWire 800 interfaces. All are packaged in a sleek and functional new enclosure with a high-gloss black finish, giving users two desktop placement options: horizontal, which lets users stack drives on top of each other; and vertical, which maximizes desktop space. The vertical drive stand stows away in the drive enclosure when not in use.
Other features include a Kensington security slot for high-traffic locations and an on/off switch for powering down the drive at night or on weekends. Each drive also comes complete with Dantz Retrospect Express for Mac users, as well as the award-winning Iomega Automatic Backup software and disaster recovery software for Windows users.
Iomega Automatic Backup Software
Iomega Automatic Backup software provides advanced real-time backup that is automatic and "touch-free" - users do not have to count on remembering to push a button or run a program. They simply select the files and folders to protect, set the backup schedule, and let Iomega Automatic Backup software do the rest. And restoring data is easy - just drag and drop.
Iomega Automatic Backup software includes these advanced features:
Enables touch-free backups whenever a file changes
Allows personalized backup schedules
Supports multiple backup locations
Saves multiple file revisions (user selectable)
Supports DVD, CD, hard drives, network drives, and solid-state memory cards
Caches backup data when backup media is unavailable
Simplifies file restoration with drag and drop convenience
Also included is Windows-based disaster recovery software that lets users create a comprehensive disk image of the primary hard drive. If the system crashes, or gets a virus, or the drive ever needs to be replaced, the user can easily restore all software and settings from the disk image, without the need to reinstall the operating system or individual programs.
New triple-interface drives (USB 2.0, FireWire 400, FireWire 800) are now shipping for availability at major retailers and online, with pricing starting at $199 for the 160 GB model, $279 for the 250 GB model, and $429 for the 400 GB model. All prices are U.S. suggested retail.
iPod News
New High Capacity iPod Battery
PR: Newer Technology, Inc. (NewerTech) and Other World Computing (OWC) have introduced a new high-capacity 1800mAh Apple iPod replacement Lithium-Polymer (Li-Polymer) battery for all first- and second-generation iPod models.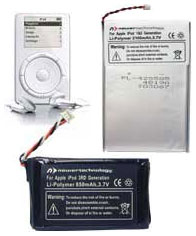 This new 1800mAh NuPower battery model offers 46% more capacity than the battery installed in first- and second-generation iPods and is available for the same $29.95 the original 1600mAh battery was offered at. The ultrahigh capacity 2100mAh NuPower offering 70% more capacity for the same models also remains available for $39.95.
"The demand for our high-capacity iPod battery line has been quite intense since its introduction a few months ago," said Larry O'Connor, president of OWC. "In keeping with our traditions, we've had no problem ramping up to supply the ever-increasing demand, and we have further improved our product line with this new 1800mAh model. The exponential growth in both our retail and dealer sales for all of our NewerTech batteries is no surprise, being that they offer the longest runtimes available."
NewerTech's replacement batteries for 1G and 2G iPods are the highest capacity iPod batteries available, and may be purchased from OWC or other fine retailers. Similarly, NewerTech's 850mAh replacement battery for 3G iPods is the highest capacity battery for that popular model of the ubiquitous music player as well. NewerTech iPod batteries, while using the same Li-Polymer technology as the Apple (Nasdaq: AAPL) iPod batteries they replace, take advantage of today's technology advances for longer runtime and operational lifetime. NewerTech iPod batteries also include two non-scratching installation tools and a detailed instruction manual to guide users smoothly through the installation process.
"This is the ultimate win-win situation," O'Connor said. "Not only are our batteries very cost effective and easy to install, they also give iPod owners more freedom to 'jam' longer without external power. We've made a lot of first-, second- and third-generation iPod owners very happy, and even make it easy to listen your iPod via your car stereo with our $19.99 RoadTrip!( FM transmitter. Now anyone can jam at home or on the road for longer than ever with the solutions by NewerTech."
For more information on the full line of NewerTech Batteries available through OWC and other fine retailers.
Bargain 'Books
There are two different versions of WallStreet running at 233 MHz, the cacheless MainStreet version and the later Series II with a level 2 cache. It's not always possible to determine from the vendor's listing which is being offered, so we've included links within this paragraph to the two models. The same goes for the PowerBook G4/667 (Gigabit Ethernet/2001) and G4/667 (DVI) and the titanium vs. aluminum 15" PowerBook G4 at 1 GHz.
12" iBook G3/500, 128/10/CD-ROM, OS X ready as well as OS 9, includes AC adapter and battery, & backup CD kit, 60 day guarantee! $429.99
12" iBook G3/500, 128/10/Combo, $529.99
Order AirPort, $79.50
Order AirPort Base Station, $39.50
add 256 MB (total of 320 MB), $41
add 512 MB (total of 576 MB), $93
Order your iBook with a Targus carrying case (lifetime warranty!) for 99¢ extra. iBooks are fully tested, and include a 60 day warranty
Special Deals: Apple Certified
Free shipping.
For more deals on current or recently discontinued models, see our Best PowerBook G4 Deals, Best iBook G4 Deals, and Best iBook G3 Deals.
Join us on Facebook, follow us on Twitter or Google+, or subscribe to our RSS news feed
Links for the Day
Mac of the Day: 17" iMac G4 (Mid 2002), introduced 2002.07.17. The iMac grows up with a 17" 1440 x 900 display.
Recent Content
Custom Search
Follow Low End Mac on Twitter
Join Low End Mac on Facebook
Favorite Sites
MacSurfer
Cult of Mac
Shrine of Apple
MacInTouch
MyAppleMenu
InfoMac
The Mac Observer
Accelerate Your Mac
RetroMacCast
The Vintage Mac Museum
Deal Brothers
DealMac
Mac2Sell
Mac Driver Museum
JAG's House
System 6 Heaven
System 7 Today
the pickle's Low-End Mac FAQ
Affiliates
Amazon.com
The iTunes Store
PC Connection Express
Macgo Blu-ray Player
Parallels Desktop for Mac
eBay

Advertise