15" PB Screen Woes, Intel Laptops and iBook Price Cuts in January?, NEC's Drive-free Laptop, and More
This Week's PowerBook and iBook News
Compiled by Charles Moore and edited by Dan Knight - 2005.12.02
This Week's PowerBook, iBook, and Notebook News
General Apple and Mac desktop news is covered in The Mac News Review. iPod news is covered in The iNews Review. News about Apple's transition to Intel CPUs and other Intel developments is covered in The Macintel Report.
All prices are in US dollars unless otherwise noted.
15" HR PowerBook Screen Problems
News & Opinion
Advice
Reviews
Products and Services
Software
Tech Trends
15" HR PowerBook Screen Problems
Apple also had screen problems - white splotches -when the first 15" aluminum PowerBooks came to market. Quality control just ain't what it used to be.
This time the problem seems to be horizontal lines about 3 pixels apart and more noticeable on some 'Books than others. No word on just how widespread the problem is, but some users report trying 2-3 different ones to get a unit without the problem. dk
New HR PowerBook Displays Having Problems?
engadget's Ryan Block reports:
"Ok, so apparently some people are having some weird horizontal line issue with those new Apple PowerBooks that have the higher res, higher brightness displays - apparently it's even something that's been spotted on display models in Apple stores. Frankly, given the gallery of pictures of the issue, we can't really see much of a problem going on there; then again, it may well be one of those things you have to eye in person to properly perceive. Anyone out there noticing this problem on their new PowerBook? Let's get to the bottom of this, shall we?"
Link: New Higher Res. PowerBook Displays Having Problems?
15" HR PowerBook G4 Screen Problems Website Launched
A new Website focused on issues with 15" PowerBook displays says:
"The screen of Apple's latest 15" PowerBook (introduced October 2005) is severely broken. So far, it seems like virtually everyone who purchased a latest-model 15" PowerBook received a unit with a bad display.
"The defect results in graphic abnomalies [sic] most people describe as scanlines. The effect is created by the fact that every second row of pixels is displayed in a slightly darker shade, giving the image on the screen a scanlined or interlaced look. Several users have complained about headaches after extended periods of use so far. Besides that, the quality of the screen does completely disqualify it for any kind of graphics work such as design or picture editing....
"People can link to this website, people can show this website to Apple employees, people can tell customer support personnel the address of this site on the phone. The main intention of this site is to make Apple aware of the problem. This needs to be fixed. Most affected users regard the quality of the screen as very poor and consider their units to be defective. Unfortunately, Apple doesn't seem to be thinking the same about this.
"And last but not least, it's a good source of information for everyone who doesn't know about the problem yet and asks 'what lines?' or 'what display problem?' in a forum. This way, people who want to learn more about it don't need to look through all the pages of the several threads on the forums to get a feeling of the probem [sic], and threads remain clutter-free because others can point people to this page instead of answering and probably creating off-topic chatter."
Link: PowerBook G4 (DL-SD) 15" Screen Problems Website Launched
News & Opinion
Apple to Launch Intel Laptops in January?
Reuters reports:
"Apple Computer Inc. could introduce its first laptop computers based on Intel Corp. chips as early as January, which, together with robust sales of video iPods, should drive earnings higher, Citigroup said on Wednesday.
"Citigroup analyst Richard Gardner raised his target on the computer maker's stock price to $71 from $51 and boosted his earnings forecasts for the next two years....
"'We are becoming more convinced that Apple will introduce its first Intel-based PowerBook at Macworld San Francisco,' Gardner said in a note to clients...."
Link: Apple May Launch Intel Laptops in January - Analyst
Apple Planning iBook Price Cut?
Knight Ridder/Tribune Business News's Tony Glover reports:
"Apple is expected to shave US$200 or more off the price of an entry-level iBook to entice customers away from rival manufacturers such as Dell, Gateway, HP and Sony. According to analysts, Apple has little alternative but to reduce the price of its entry-level laptops if it is to have any chance of competing....
"Despite being marketed as a machine that will fit into a schoolbag, the iBook range starts at US$1,000 in the United States, or 699 pounds in the UK. The price of its laptops is proving a barrier to entry for users of its iPod music player."
Link: Apple Plans iBook Price Cut - Report
Debating Final Upgrades for Aging 12" PowerBook
Mac Net Journal's Rob McNair-Huff says: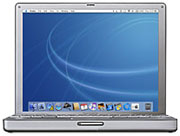 "My trusty 867 MHz 12-inch PowerBook is starting to feel a little long in the tooth, so I am at a crossroads and trying to decide whether to put some money into upgrading the machine so that it will carry me through 2006.
"The total cost for [the desired upgrades] is less than $300, and the end result is a machine that may hold me over until late 2006 or early 2007, when Apple's new Intel-based PowerBooks should be out of their infancy and have the kinks worked out. It sounds like a plan to me. But are there flaws in the logic? Offer your advice...."
Link: Debating Final Upgrades for Aging 12-inch PowerBook
Time to Put the PowerBook to Bed
MyMac's Neale Monks says: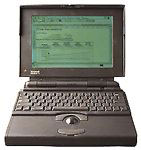 "Of all the Macs, the PowerBooks will always be my first love. Though I've used many different desktop machines over the years, all the Macs I've bought for myself have been portables, beginning with the (rather ghastly) PowerBook 150 back in 1994. So it is with a little sadness that I watch the current line-up of PowerBooks gently sinking into mediocrity....
"Of course the killer for many mobile Mac users is the knowledge that an Intel-powered PowerBook is going to be released sometime in the next year or two. So why buy a new PowerBook now? The G4 processor is not only relatively slow by modern standards, but is also likely to be dropped by the next version of the Mac OS. Even many programs available today work best, often only at all, with the G5 processor. In this light, even the recently-refurbished line up of G4 PowerBooks cannot be viewed as a must-have purchase...."
How About a Driveless Tablet PowerBook?
The Consumer Electronics Stock Blog's Carl Howe says:
"Seth Jayson over at the Motley Fool has a fascinating speculation that Apple's suddenly voracious appetite for NAND Flash RAM (that's solid state memory that doesn't go away on power down - these are the storage chips in the iPod nano) is to build instant-on computer systems based upon Intel's Robson technology.
"I'm not sure this really makes sense. Is instant-on a major marketing benefit for Apple customers? I don't know about you, but I don't reboot my PowerBook for days and often weeks at a time. When I'm not using it, it goes to sleep. When I want to use it, I open the cover and it works. Boot-up time is not one of the top 10 issues I'm always wishing Apple would work on....
"I'm betting on a new Intel-based PowerBook without any hard disk, just flash memory. It's less than half the thickness of today's PowerBook (i.e., about 0.4 inches or so), has a tablet form factor (that would finally make use of the ink capabilities built into today's Mac OS X), and would weigh about 2 pounds or so, and have a battery life of somewhere around eight to 12 hours."
For more on the cost of a flash-based laptop, see NEC Debuts Drive-free Laptop.
Link: Apple Instant-on Computers? Not Likely, But Here's Another Idea
Newer Tech Offers Battery Rebate/Recycling Program
PR: Newer Technology, Inc. has long encouraged its customers to take care of the environment by properly disposing of their old laptop batteries.
Now it's launched the NewerTech battery recycling program, designed to reward customers who help in that effort with some additional 'green.'
The new program allows customers to send in their old Apple or third-party PowerBook or iBook batteries and receive a $19 rebate for each NewerTech replacement battery purchased. The battery type sent in for rebate must be the same type as the battery purchased. If the customer wishes to return additional batteries, NewerTech will see they are properly disposed of even though the rebate will not apply.
"Improper disposal of laptop batteries can harm our environment, and we want to make it easy for our customers to do the right thing," said Larry O'Connor, president of NewerTech. "Sending your old battery to us is not only a convenient and responsible way to ensure proper disposal, but now it pays $19 for each one that is replaced with a NuPower battery."
The additional environmental benefit of NewerTech's high-capacity NuPower™ batteries lies in their exceptional quality. Using only the best available components, NuPower batteries are designed, engineered and built in the USA using superior Lithium-Ion cells from Japan and/or Canada ensures they have a longer useful life.
"Our insistence on only the highest quality for NuPower batteries is good news for our customers and for the environment," O'Connor said. "Because NuPower batteries don't need to be replaced as often as others, there's a 'green' aspect that can't be beat - less waste and less spent on replacing batteries. It's a win-win situation all the way around."
NewerTech's laptop batteries, available for most Apple iBook and PowerBook models including all current Apple models, start at $119.99 and offer as much as 50 percent more capacity than Apple's stock batteries.
These, as well as NewerTech's popular line of high-capacity replacement batteries for the Apple iPod, can be purchased online and through other fine retailers.
Timbuk2's Top 10 Holiday Gift Ideas
PR: Laptop luggage suggestions
The Custom Messenger Bag
Design your very own Custom Messenger Bag from the ground up. Select the colors and options that match your style.
Yoga Bag
Designed to inspire spiritual bliss and transport your stuff with distinctive style.
Bag In A Box
Our $100 gift card is the perfect gift for the holidays. It comes in a distinctive box that is ready to gift wrap.
Detour 2.0
Our three-in-one convertible backpack with padded laptop compartment.
Gift Certificates
Get that special person in your life a Timbuk2 Gift Certificate, and they can choose their favorite colors.
Marina Handbag
Timbuk2 introduces its first ladies handbag, featuring colorful ballistic nylon and unique no-slip shoulder handles.
Cell Phone Holster
Now available in a multitude of sizes and colors.
Laptop Zip Briefcase
The tailored shape and clean lines make this bag perfect for the corporate environment, with a variety of color options to suit your own personal ladder-climbing style.
Metro
Metro mini messenger is the perfect personal tote for urban adventures.
Cargo Tote
Fashionable alternative to the traditional canvas boat tote.
Advice
Fix Your Own Laptop, Save a Grand
oreilly.com's Giles Turnbull says:
"Laptops are never going to be cheap to repair, but if you're someone who depends on one as your primary work machine (like me, John Gruber, Jon Hicks - although his plan has fallen apart rather suddenly - and plenty of other folks), you might like to keep note of some of the hardware hacks you can use in case of breakdown.
"There's a natural fear of opening up the case of a computer, particularly a laptop. Fear of 'am I just going to make things worse?' Many repairs are not that difficult, but do require a methodical approach and a steady hand. The most attractive feature of home-grown repairs is the astonishing amount of money they can save you."
Link: Fix Your Own Laptop, Save a Grand
Reviews
17" HR PowerBook: Picture Perfect
Computerworld's Ken Mingis says:
"They heard me.
"For a while now, I've railed about Apple Computer Inc.'s refusal to bump up the resolution of its PowerBook line - especially in light of the higher-resolution screens widely available on Windows laptops.
"Whenever I asked Apple officials about the issue, the standard answer was that the company wanted to keep its screens at about 100 pixels per inch for readability reasons. At high resolutions, they said, text can get tiny.
"Well, it looks like tiny text is in.
"Last month, Apple finally came through for me - and for all of those high-res fans who've wanted the same thing. The company unveiled a tweaked 17-in. PowerBook boasting a screen resolution of 1,680 by 1,050 pixels, 36% more than before and essentially the same resolution as the company's popular 20-in. Cinema Displays...."
Link: Apple's New PowerBook: Picture-perfect Package
New 12" iBook Blurs Product Line
cnews.canoe.ca's Greg Gazin says:
"Apple Computer's release of their upgraded 12" iBook, makes the selection between the iBook and the 12" G4 PowerBook (PB) that much more difficult.
"Two years ago when yours truly was shopping for a 12" notebook, the choice was clear. The iBook was an entry-level computer. It had a G3 processor and limited upgradeability, while the PowerBook ported at the time a whopping 867 MHz G4 processor, superior graphics with an optional SuperDrive (read: DVD burner).
"While the SuperDrive is available on the iBook, but only on the 14" model, the 12", at $1249, still packs a lot of power. It now incorporates a 1.33 GHz G4 processor and ships standard with 512K (Upgradeable to 1.5 GB) of DDR 333 MHz RAM memory. Its hard disk drive is 40 GB, albeit a tad small these days, with built-to-order options through the Apple Canada's on-line Store of 60, 80 or 100 GB. The iBook also now ships with Airport Extreme, Apple's wireless high-speed Wireless-G (54mps) Internet connectivity as well as short-range wireless Bluetooth to connect to your PDA or cell phone at no extra cost. The on-board video is a respectable 32 MB ATI Mobility Radeon 9550. This unit also features Apple's new trackpad which allows you to customize its movement by allowing you to scroll vertically, horizontally or pan an active window, like full-featured mouse. Also included is Apple's new SMS - Sudden Motion Sensor, that parks the heads instantly if the unit senses a drop. Standard features also include a 56k V.92 fax/modem, Apple's Combo drive - a slot-load DVD-ROM, CD-RW drive, FireWire and USB ports, a software bundle and more.
"Let's compare this to the $1899 12" PowerBook G4...."
Link: Apple's New 12" iBook Blurs Product Line
7 Notebook Drives Compared
Storage Review's Eugene Ra reports:
"Over the past few years, a growing chorus of StorageReview readers requesting reviews of notebook drives has emerged. Given the exploding user base of notebook machines, it seemed only natural to extend StorageReview's drive-centric coverage to the smaller, 2.5 inch devices. A few obstacles remained, however. First, we were on the verge of migrating our testing from an older configuration to a newer machine; commencing notebook drive reviews on Testbed3 would have yielded results that would have rapidly become outdated. Second, power consumption remains a key factor in assessing notebook hard drives (and all portable components, for that matter). Testbed4's recent debut coupled with our associated all-new power dissipation measurements, however, has removed these barriers. The time is ripe for some SR notebook drive reviews!"
The Contenders:
Fujitsu MHT2080AH
Hitachi Travelstar 5K100
Samsung SpinPoint M40
Seagate Momentus 5400.2
Western Digital Scorpio WD800VE
Hitachi Travelstar 7K100
Seagate Momentus 7200.1
Products and Services
LaCie Brick Mobile USB 2.0/FireWire Hard Drive
PR: The original creation of world-famous designer Ora-•to, the new Brick expresses a lucid playfulness in a user-friendly, portable storage solution. Stack & Play multiple LaCie Brick Hard Drives (Mobile and Desktop) to add vibrant colors to your computing life while expanding capacity and saving desk space. Available in 3 colors (red, white and blue) and 3 capacities (40 GB, 80 GB and 120 GB), it comes with either USB 2.0 interface or USB 2.0 & FireWire dual interfaces. Use this compact and lightweight drive to conveniently back up important files on the road or share and exchange data with others anywhere - whether on PC or Mac.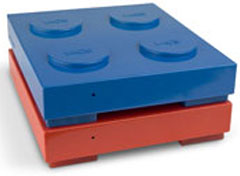 LaCie Brick Mobile Hard Drive User Benefits:
Portable: bus-powered, convenient, driver-free
Stack & Play with other LaCie Brick hard drives
Store and back up music, photos, videos & files
Add multiple colors to your computing life
Price: $329.99
Now accepting preorders. This product will ship in early January 2006.
Also Available
LaCie Brick Mobile, 40 GB, $119.99
LaCie Brick Mobile, 80 GB, $169.99
Specifications
Interface: 1 x Hi-Speed USB 2.0 port, 1 x FireWire port
Rotational Speed (rpm): 5400
Interface Transfer Rate: Hi-Speed USB 2.0: up to 480 Mbits/s (60 MB/s)
FireWire: up to 400 Mbits/s (50 MB/s)
Max Sustained Transfer Rate: Hi-Speed USB 2.0: up to: 25-30 MB/s
FireWire: up to 30-40 MB/s
Software:
LaCie '1-Click' Backup (Windows 98SE, Me, XP, 2000 or greater; Mac OS 10.2 or greater)
SilverKeeper™ Backup Utilities (Mac OS 9, Mac OS X)
Driver-free for Windows 2000, Windows XP or Mac OS X
Silverlining 98 Drive Management Utilities (Windows 98SE)
Silverlining Pro Drive Management Utilities (Mac OS 9.x)
Size: 5.1 x 4.4 x .78 in. / 130 x 112 x 20 mm
Weight: 7.9 oz. / 225 g
System Requirements:
PC or Mac with built-in powered USB or FireWire interface
Windows 98SE, Windows 2000, Windows Me, Windows XP
Mac OS 9.1, Mac OS 10.2.1 or greater;
Intel Pentium II 350 MHz-compatible processor or greater; iMac, Power Mac G3 or greater;
minimum 32 MB RAM;
* For computers equipped with a low-powered USB port, the bundled USB power-sharing cable helps turn the drive on by drawing extra power from a second USB port. An optional AC power adapter is available (sold separately) for non-powered USB hubs or boards, or for the rare computers that limit bus power.
1 Year Limited Warranty
Link: LaCie Brick Mobile 120 GB USB 2.0 & FireWire Hard Drive
surfACE Laptop Computer Support System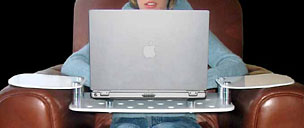 PR: edgeBlur, Inc. announces three new models of their popular surfACE line of laptop computer stands, with prices starting at $99. These items are available for immediate delivery.
Also introduced is a new hardware connector that makes it possible to attach the surfACE | 1.5 to a standard camera tripod for a height adjustable work station anywhere you would want.
The surfACE is the most versatile and expandable laptop computer support system available, its sure to increase your computing comfort and the cooling efficiency of your mobile computer.

When used in an armchair a surfACE totally supports the weight of the mobile computer on the chairs armrests, no weight, pressure or heat transferred to the users legs.
Used 'up-side-down' it serves the same function in a sofa, a bed, outside or any were.
The Side Boards gives you two surfaces for a mouse, an iPod, a cup of coffee or anything else.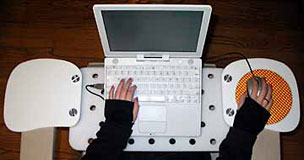 The surfACE is a system of interchangeable parts that makes it possible to upgrade and customize your basic system. By adding or detaching individual parts you can configure your surfACE to what suites you and your circumstances the best.
Additional parts and attachments will all conform to the standard size holes and hole configurations that the Main Board and Side Boards now have, so nothing will be rendered obsolete by future development.
Any brand laptop computer, with a width of no more then 16 1/2 inches (17-inch screen), can easily be accommodated.
Now shipping are these configurations: surfACE | 1.2, surfACE | 1.3, surfACE |1.4 and surfACE | 1.5, All available in either Clear and Translucent White Acrylic.
Or put together your own configuration right now, or upgrade later, by getting individual parts.
There are many ways to configure a surfACE to fit your needs, here are a few samples:
All surfACE models provides convenient input and storage areas on two sides. Perfect for a beverage or any device like a remote control or iPod, pen and paper, computer mice, digital cameras, etc.
The many holes in the Main Board (sA | 1.5) and the possibility to elevate the back of the mobile computer (sA | 1.5 and 1.4) facilitates airflow, the cooling is improved, the fan does not have to work so hard and battery life is extended. And you will not have to listen to the fan noise so often.
On the models without the holes for raisers in the back (sA | 1.3 and 1.2) the cooling is aided some by the heat being able to dissipate out through the Main Board under the laptop computer.
Crafted out of high quality materials, it comes with a lifetime guarantee for the original owner.
Ideal support for your laptop anywhere, indoors or outdoors.
For web-surfing, gaming, watching DVDs, work and much more.
Great design, quality materials and fine craftmanship.
Sturdy, durable, secure, adjustable and expandable.
Increases comfort, cooling and ergonomics.
Rests on a chairs armrests, no weight, pressure or heat transferred to the users legs.
Convenient mousing and storage areas on two sides. Many configurations possible.
Fast easy assembly and disassembly, no tools necessary.
Works with any brand laptop computer, with a width of no more than 16 1/2" (models with 17" screens works fine).
High quality materials: Acrylic, Aluminum and Rubber. Nothing that will rust or deteriorate.
Platform for a whole system
Use your surfACE | 1.5 with any standard camera tripod. Get a height adjustable work station anywhere!Click here for more information
surfACE | 1.5 - The original.
Clear $149
Translucent White $144
surfACE | 1.4 If you don't need the versatility of the original
Clear $134
Translucent White $129
surfACE | 1.3 No holes in main board
Clear $124
Translucent White $119
surfACE | 1.2 Same as surfACE | 1.3, but with less hardware pieces
Clear $104
Translucent White $99
Media Buddy Provides Photo Storage on the Road
PR: Digital Foci, Inc. has introduced Media Buddy portable digital photo storage with hard drive and card reader that lets you instantly and securely save digital photos on a hard drive wherever you go, so you can keep snapping away and not worry about running out of memory card space.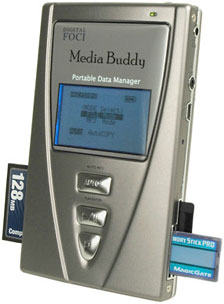 Media Buddy is the traveler's essential digital camera companion. Its built-in memory card slots let you copy and store photos directly from any digital camera card, without the need of cumbersome cabling. A lower cost alternative to Digital Foci's Picture Porter, Media Buddy is priced starting at only $229. Both Media Buddy and Picture Porter save photos on their portable hard drives, so you don't have to bring heavy laptops on the road, but Media Buddy provides a lower price by offering a backlit LCD for text-only use, instead of the Picture Porter's 2" color LCD screen for viewing photos.
Portable Digital Photo Storage
With Media Buddy's 30 GB to 80 GB hard drive versions, you'll virtually never run out of memory card space on the road again. Media Buddy frees up expensive memory card space and lets you reuse your memory card to keep snapping photos. Just insert the memory card from your digital camera into Media Buddy and download images into its built-in hard drive.
The backlit text-based LCD screen lets users view file information and operation status, including copy progress and confirmation. You can select to save a specific folder or file from your card, or you can copy the entire contents of your memory card with the convenient one-touch Auto Copy button with no computer needed. A unique folder name is automatically created to indicate media card type and copy sequence per card type to keep you organized. When you get home, simply connect Media Buddy to your computer to retrieve your saved pictures.
Works with All Media Formats
Media Buddy works with all media card formats, including CF I/II, MD, SM, xD-Picture Card, MMC, SD Card, miniSD, Memory Stick, MS PRO, MS Duo, and MS PRO Duo, so you can copy and save your precious pictures directly from any digital camera memory card. You can also make copies of photos taken from friend's and family member's digital cameras by quickly inserting their cards into Media Buddy for instant archival of special picture moments.
External Hard Drive, Data Bridge & MP3 Player When connected to your computer, Media Buddy functions as an external hard drive. Use Media Buddy to back up and archive digital images, digital music and important files from you computer through its high-speed USB 2 connection. Since Media buddy is compatible with both Windows and Mac, you can also easily transfer files between computers with the different operating systems. In addition, Media Buddy is perfect as a portable MP3 player for listening to your favorite MP3 songs on the go.
Media Buddy Features:
One-touch operation for copying pictures directly from your digital camera memory card without the need of a computer
Backlit text-based LCD screen for viewing file information and operation status
Reads directly from memory cards
Memory card format support of CF I/II, MD, SM, MMC, SD Card, Memory Stick, MS PRO, MS Duo, MS PRO Duo, and xD-Picture Card (and miniSD with adapter)
Shows copy progress and copy confirmation
On screen menu includes browse, single file copy, and delete feature
Attractive brushed anodized aluminum casing
External hard drive for backing up your computer
High-speed USB 2.0 computer interface
Compatible with both PC and Mac
Transfers files between multiple computers running different operating systems
MP3 music player
Includes Ulead Photo Explorer to edit, enhance, and organize your photos
Built-in Lithium Ion rechargeable battery
Media Buddy weighs 11 oz. (with hard drive and battery included) with dimensions of 5.8" (L) x 3.4" (W) x 1"(H). It comes in 3 stylish colors: Powder Blue, Arctic Silver, and Pearl Gray and 4 storage capacities: 30 GB, 40 GB, 60 GB, and 80 GB. Media Buddy comes complete with Ulead Photo Explorer image management software (normally a $30 value), USB cable, earphones, AC adapter, Lithium-Ion battery, carrying case, resource disk, and user's guide.
Starting at $229.95
Link: Digital Foci
Software
Bubblegym: The Tilt-controlled Game for PowerBooks
PR: Bubblegym is to my knowledge the first tilt-sensitive game for notebook computers. When Apple revised their PowerBook line earlier this year, they added Sudden Motion Sensor (SMS), a detector that is used to protect the hard drive if the machine gets dropped. Chances are, they probably weren't expecting it to be used as a video game controller...
Bubblegym utilizes the SMS (Sudden Motion Sensoring) system built in to the latest PowerBooks. The SMS system is there to lift the reader from the hard drive's track if the computer was dropped or suddenly shifted. The actual sensor is a chip built into the logic board. Thanks to Amit Singh (see below) the values can be read and used for things like this. How the sensor chip works? I dunno... A little person inside or something?
Bubblegym is donation/shareware. Feel free to use it. If you liked the program please contribute as much as you feel appropriate. By contributing you support the shareware philosophy which is a good thing. In this particular case the registration fee will be used as start for me to buy a PowerBook so more features can be tested. Unregistered, the app runs in demo mode. You will be able to move around and try out the amazing ability to control objects by tilting the PowerBook, but not be able to play the game. The registered version has no such limitations.
What's New:
Version 0.5b: Mac OS X 10.4.3 introduced a change in the Sudden Motion Sensor. If you are running Mac OS X 10.4.3 (or later) you should use this updated version which utilizes Christian Klein's driver Motion. Still not tested on all kinds of laptops, please report your experiences to feedback(at)balooba.se.
System requirements:
Tilt functionality requires Amstracker, and a computer equipped with an Apple Motion Sensor. As of March 2005 this includes only the latest generation of 12", 15", and 17" PowerBooks G4. The application was created to run under Mac OS X and was tested only on version 10.3.8.
Link: Bubblegym
Tech Trends
$100 MIT Laptop Nearing Production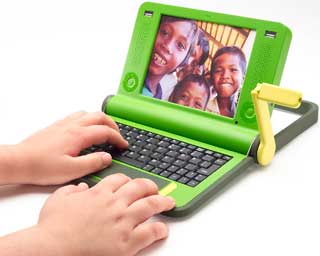 eWeek' Carmen Nobel reports:
"U.N. Secretary-General Kofi Annan unveiled the first working prototype of the $100 laptop last week at the World Summit on the Information Society in Tunis, Tunisia.
"The $100 laptop is a joint project of the MIT Media Lab and the One Laptop per Child association, which plan to distribute the computers to schoolchildren in underdeveloped nations.
"Due by early 2007, the Linux-based machine is so energy-efficient that a hand crank provides sufficient power to operate it, according to Media Lab officials."
Link: Low-Cost MIT Laptop Nearing Production
NEC Debuts Drive-free Laptop
IDG News Service's Martyn Williams reports:
"NEC has developed a laptop computer targeted at corporate users that doesn't include a hard-disk drive, the company said today.
"The 'PC Parafield' has been developed as a replacement for existing thin-client systems and combines both high data security with the ability to be used anywhere, says Hitoshi Onodera, a spokesman for the Tokyo company.
"Conventional laptop computers can work anywhere but represent a potential security threat should they be lost or stolen. Thin-client systems get around this by working off a corporate server. However they require a network connection to work properly, and such a connection is not always available, says Onodera.
"The NEC laptop aims to combine the strengths of both systems while avoiding the weaknesses, he says.
"The operating system and application software are stored locally in flash ROM, so the machine can function in the absence of a network...."
Editor's note: The PC Parafield has specs comparable to Apple's $1,499 12" PowerBook, but no hard drive or SuperDrive. By using flash memory instead, NEC has created a $3,742 thin-client laptop. Would you pay a $2,000 premium for a thinner, lighter PowerBook with limited storage and no media drive?
Link: NEC Debuts Laptop Without a Hard Disk
Laptop Design USA Brands Laptop Computers
PR: Why brand laptop computers?
To increase your company or organization's brand recognition
To prevent theft and loss of valuable information
To provide staff with a valuable marketing tool
To distinguish yourself from the competition
To use at an exhibition or special event
And many more reasons that include "looking cool!"
In the eyes of sales, marketing and public relations people, Laptop Design USA turns laptop computers into marketing tools.

In the eyes of purchasing agents, accountants and insurers, Laptop Design USA prevents laptop computers from becoming stolen goods.
In the eyes of sports fans and university students, faculty & alumni, Laptop Design USA creates a statement of loyalty and pride.
In the eyes of your customers and partners, Laptop Design USA creates the WOW factor.
Link: Laptop Design USA
Bargain 'Books
Bargain 'Books are used unless otherwise indicated. New and refurbished units have a one-year Apple warranty and are eligible for AppleCare.
There are two different versions of WallStreet running at 233 MHz, the cacheless MainStreet version and the later Series II with a level 2 cache. It's not always possible to determine from the vendor's listing which is being offered, so we've included links within this paragraph to the two models. The same goes for the PowerBook G4/667 (VGA) and G4/667 (DVI), the titanium vs. aluminum 15" PowerBook G4 at 1 GHz, and 1.25 GHz to 1.5 GHz 15" PowerBooks.
Lombard PowerBook G3/333, 128/4/CD, $319.99
Lombard PowerBook G3/400, 128/4/CD, $399.99
G4/550 processor upgrade special,valid only with machine purchase, installed, $179.99
RoamAbout wireless card, only with machine purchase, $24.99
Upgrade to a 20 GB hard drive, only with machine purchase, $49.99
One full year of coverage against issues from date of purchase, $119.99
For more deals on current or recently discontinued models, see our best aluminum PowerBook G4 deals, best titanium PowerBook G4 deals, best iBook G4 deals, best PowerBook G3 deals, and best iBook G3 deals.
Join us on Facebook, follow us on Twitter or Google+, or subscribe to our RSS news feed
Links for the Day
Mac of the Day: Lisa, introduced 1983.01.19. The ancestor of the Macintosh had a mouse, a graphical interface, and a $10,000 price tag.
Recent Content
Custom Search
Follow Low End Mac on Twitter
Join Low End Mac on Facebook
Favorite Sites
MacSurfer
Cult of Mac
Shrine of Apple
MacInTouch
MyAppleMenu
InfoMac
The Mac Observer
Accelerate Your Mac
RetroMacCast
The Vintage Mac Museum
Deal Brothers
DealMac
Mac2Sell
Mac Driver Museum
JAG's House
System 6 Heaven
System 7 Today
the pickle's Low-End Mac FAQ
Affiliates
Amazon.com
The iTunes Store
PC Connection Express
Macgo Blu-ray Player
Parallels Desktop for Mac
eBay

Advertise