2 GHz MacBook Pro vs. Upgraded PowerBook G4, MacBook Reviews, 'Simpson-proof' MagSafe, and More
This Week's Mac Notebook News
Compiled by Charles Moore and edited by Dan Knight - 2006.03.10
This Week's MacBook, PowerBook, and iBook News
New this week, TechRestore is offering our readers a $25 discount on any PowerBook or iBook in stock. See Bargain 'Books for details.
Everyone seems to be writing about the MacBook Pro this week, and Bare Feats has benchmarked the 2.0 GHz MacBook Pro against a 2.0 GHz upgraded PowerBook G4. For the most part, reviewers are impressed with Apple's latest notebook computer - one even says the new MagSafe connector "withstands Simpson-scale idiocy."
Demonstrating how the Mac is making inroads, we have three PC Cards with Mac drivers in this week's news roundup, along with perhaps the smallest USB flash drive to date. All this and more in The 'Book Review.
All prices are in US dollars unless otherwise noted.
General Apple and Mac desktop news is covered in The Mac News Review. iPod news is covered in The iNews Review. News about Apple's transition to Intel CPUs and other Intel developments is covered in The Macintel Report.
MacBook Pro News
Products
MacBook Pro News
2 GHz Shootout: MacBook Pro vs. Upgraded PowerBook G4
Bare Feats' rob-ART morgan says:
"We finally got our hands on a MacBook Pro. But what's really cool is that we got our hands on a PowerBook G4 that has been upgraded to 2 GHz courtesy of DayStar! So we compared the performance of the two 2 GHz laptops. Since the MacBook Pro has two cores, we also tested it with one disabled (using CHUD tools) to see how a 2 GHz Intel Core Solo would do against an equally clocked G4.
"In addition, we wanted to know how the new MacBook Pro compared to an iMac Core Duo running at the same 2 GHz as well as the Dual Core G5 Power Mac running at 2 GHz. So this is really a 'Two Gigahertz Bonanza.'"
Some findings:
Disabling the MacBook's second core made a big difference on some tests, none on others.
Using matching pairs of memory makes the MacBook Pro 2.5-3.5% faster.
MacBook Pro Launches OS X and Apps Faster than PowerBook G4
ZD Net's Jason D. O'Grady reports:
"The MacBook Pro is unquestionably faster than the PowerBook G4 it replaces, but exactly how much depends on how you use it. Apple sells the MacBook Pro as 'up to four times the horsepower of the PowerBook G4' but that's purely based on the SPECint and SPECfp benchmarks from Standard Performance Evaluation Corporation (SPEC). Apple's benchmarks were compiled using the IBM compiler and a beta version of the Intel compiler for Mac OS.
"But SPEC benchmarks don't tell the whole story. I tested one aspect of the MacBook Pro's speed that affects me daily and is a better barometer of real world performance: application launch times. I benchmarked the MacBook Pro (2.0 GHz) against a PowerBook G4 (1.5 GHz) while launching 14 (native and Rosetta) applications and here are the results…."
MacBook Pro 'Has Looks and Brains'
The New York Times' David Pogue says:
"Remember the famous five stages of grief: denial, anger, bargaining, depression and acceptance? if you're a fan of the Macintosh computer, meet the five stages of switching to Apple's new laptop: lust, anticipation, delight, dismay and waiting.
"Ordinarily, it's not really news when a computer company introduces a new laptop model. You don't see newspaper headlines blaring, 'Gateway's New P32-XC5 Adds Faster Processor, Third USB Port.'
"But the new Apple MacBook Pro ($2,000 and up) is a different story. Although it looks nearly identical to the company's existing 15-inch PowerBook, something radical is going on under the hood....
"Apple calls the MacBook 'the finest laptop in the world.' In truth, a more accurate description would be 'the finest laptop in the world, with a small serving of disappointment on the side.'"
Ars Technica Reviews MacBook Pro
Ars Technica's Jacqui Cheng has posted a long (seven pages) review of the MacBook Pro:
"The first generation of MacBook Pros are obviously meant to be the next step after the last model of G4 PowerBook, the 1.67 GHz G4 aluminum PowerBook that was announced in October of 2005, a mere three months prior to the official unveiling of the MacBook Pro. Alas, the low-end MacBook Pro was originally meant to also be 1.67 GHz (albeit faster because of the dual core chip), but even with the last-minute speed bump, the MacBook Pro is near identical in dimensions to its G4 predecessor in many ways. There are a few very subtle differences.
"The MacBook Pro is 0.1 inches deeper, 0.4 inches wider, 0.1 inches thinner, and exactly the same weight as the 15" Aluminum PowerBook G4. An 0.4 inch width difference is a seemingly insignificant yet important detail to make note of, as it makes squeezing the MacBook Pro into previously-owned sleeves, bags, and accessories made for other 15" Apple notebooks something like desperately trying to zip up that pair of tight high school jeans while laying on your back and holding your breath - it may technically 'fit' but, it doesn't quite, if you know what I mean.
"As a proud longtime owner of a 15-inch G4 PowerBook up until about six months ago, I had collected a number of these accessories (not the least of which being my oh-so-trendy Timbuk2 Commuter bag, specifically made for the 15" Apple notebook and bought at an Apple Retail Store) and had kept them around in anticipation of new PowerBooks, er, MacBook Pros, around the corner. Attempting to slip my MacBook Pro into the built-in sleeve in my Timbuk2 bag as I was running off to work this morning was, to put it politely, rather snug. I'm still not sure how I feel about this.
"'Honey, that sleeve does NOT make your butt look fat!'"
MacBook Pro a Promising Start to Intel-Powered Apple Era
The Wall Street Journal's Walter S. Mossberg says:
"I am writing these words on a sleek, fast laptop computer powered by an Intel processor. But unlike the vast majority of Intel-powered laptops, this machine isn't running Microsoft Windows. It's the latest Macintosh laptop from Apple Computer, and the first Apple portable to run on Intel processors. Like all Apple computers, it uses the company's excellent Mac OS X operating system instead of Windows.
"The new laptop, called a MacBook Pro, is the successor to Apple's PowerBook models, and at first glance, it looks just like a PowerBook. But the MacBook Pro is quite different, and not merely because it uses a modern, dual-core Intel chip instead of the aging G4 processor its predecessor used.
"I've been testing the MacBook Pro and comparing it to both a late-model PowerBook and a roughly similar Windows laptop, the new H-P Pavilion dv5000t. All three machines have 15-inch-wide screen displays.
"My verdict: The MacBook Pro is better than the PowerBook and better than the H-P, though it has some drawbacks. It is faster than previous Apple laptops, but the speedup isn't as great as Apple's claims suggest. At a starting price of $1,999, the same as the PowerBook it replaces, the MacBook Pro costs more than the H-P. But in my opinion, the price premium is more than justified by its superior design and features."
MagSafe 'Withstands Simpson-scale Idiocy'
Personal Tech Pipeline's Glenn Fleishman
"Call me Homer Simpson. I stand before the apotheosis of Apple's new computer architecture direction, a MacBook Pro containing an Intel Core Duo, and all I can say is, 'Cord goes in, cord goes out, cord goes in, cord goes out.'
"One of the MacBook Pro's many new features is MagSafe, a magnetically coupled power cord connection that can withstand powerful yanking without taking the computer with it. Mechanical connections wear out; this withstands Simpson-scale idiocy.
"Fortunately, Lisa Simpson kicks in at some point, and I start reveling in the speed, design, light weight, and thin form factor of this completely overhauled computer which started shipping to consumers in February."
MacBook Availability Already Priced into Shares
Forbes' Maya Roney reports:
"Piper Jaffray research analyst Gene Munster maintained an 'outperform' rating and $103 price target on Apple Computer, but said there may be downside to his fiscal second-quarter Mac sales estimates due to limited MacBook Pro availability.
"'We are recommending purchase of Apple shares, given that controversy surrounding limited availability of the new MacBook Pro appears to be priced in,' wrote the analyst in a research report Tuesday. 'Apple will ramp MacBook Pro production in the near term.'"
Products
Hubbel Book Mount Laptop Mount
PR: The Apple notebook line is one of the best in the industry. One of the purposes of our PowerBook 17" is to serve as a desktop replacement when it's at "home". However, we frequently take it out on jobs. Seems that when we come back, though, the desk is always cluttered where the PowerBook used to be and we have to clear away space again. So, to combat the problem, we designed the Book mount. A simple, yet totally effective and sturdy wall mount kit. Not only that, it's attractive and unobtrusive.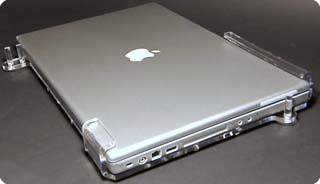 Since notebook computers are designed to be portable, a mounting kit that didn't allow you to easily mount, unmount would be kind of pointless. The Book mount lets you simply unplug your cables and slide your Apple notebook out easily. Takes less than 10 seconds to remove the computer and take it with you
Cables can be a bit unsightly streaming from the sides of the computer down along the wall. The Book mounts cable management system routes the cables behind the mount into a single channel. Moreover, when your notebook isn't docked, the cables stay put making it easy to reconnect and get up and running quickly when you put the notebook back in. If you're using a fat DVI cable, we even have a channel on the MacBook and PowerBook 17" Book mounts that let you route that cable easily along the base of the mount.
The Book mount allows you to get at each and every video, USB, FireWire, audio, power, Ethernet, and modem port on every model. No matter which Apple notebook you own , the optical drive remains accessible when the computer is mounted. You can safely eject your discs as well since the optical drive is never facing downward.
Mounts vertically or horizontally - with only two screws
The Book mount is designed so that you could mount your notebook either horizontally or vertically. Simply use the two provided wood screws and tap into a wall stud. You're done. The 1/4" (6.35mm) thick cast acrylic that the Book mount uses is a solid mounting surface that will provide years of service. The tabs and stops are positioned in such a way to provide maximum airflow around the computer. We've taken care to not block any airflow ports on any of the models.
Optional Backlight kit
Apple notebooks look cool mounted on the wall, but the backlighting simply brings everything to a new level. Simply put, it's like having a backlit piece of art on your wall.
There is a Book mount for every current Apple notebook model. Each unit was designed for the specific model of notebook, then tested to ensure correct fit and alignment. Each Book mount is designed precisely for the model of Apple notebook you mount. We then use clear acrylic for the PowerBook 12" and 17" and MacBook Pro 15". White acrylic for the iBook 12" and 14".
A PowerBook 17" mounted in the Book mount. Notice how little of the mount you actually see when the computer is docked in the mount.
PowerBook Connect a No-Surgery, Wireless Signal Booster for AirPort-Equipped PowerBooks
PR: The PowerBook Connect is the easiest way to get increased wireless performance without disassembling your PowerBook. It sets up simply using a web browser. Once setup, no extra steps or hardware are required. PowerBook Connect is only $199.95, and while supplies last customers will get their choice of a PowerBook Handle for their 12, 15 or 17 inch AL PowerBook.
PowerBook Connect allows AirPort and AirPort Extreme-enabled PowerBooks and desktops increased wireless range without opening up the computer or attaching to the internal AirPort cards. PowerBook Connect preserves your AppleCare contract. It requires power but can get that power either from USB, AC adapter or using an internal battery model ($229.95 ). It does not have to attach to the PowerBook either. It can simply sit on the desk, next to the computer. No cables or other cumbersome connections.
PowerBook Connect is between the internal AirPort card and the access point (commonly an AirPort Base Station). It ampllifies the wireless signals going in and out of the computer. You connect to different networks just like you always do - no extravagant procedures to memorize.
What are the differences between and Apple AirPort Express and the PowerBook Connect? Although they do some of the same things, they work differently. AirPort Express cannot perform this well due in part to the smaller buffer inside the AirPort Express which slows performance. It can only be powered from AC power - limiting mobility and changing networks requires a lot of extra work. PowerBook Connect eliminates all of these limitations. Also, with the PowerBook Connect you can attach external antennas, unlike the AirPort Express where you don't have to have access to the RF port connector. The PowerBook Connect generates 4-5 times more RF output and has a more sensitive receiver than the AirPort Express. The PowerBook Connect works on all 802.11b/g systems, Mac or Windows.
So how can you get five times the normal range with that tiny little antenna? That little antenna has 200 milliwatts of RF power - the rating that wireless products are measured by. Your PowerBook has about 30 milliwatts of RF power packed into that sleek PowerBook case. Not very impressive. Going from 30 to 200 milliwatts is what gives you that extra range and speed. Impress those nerds in the airport the next time you fly when you whip out your little PowerBook Connect and start really hammering the wireless network in the terminal building. You'll give those Windows guys wireless networking envy.
Want more options? How about using the PowerBook Connect with your Apple PowerBook Pismo, Wallstreet, titanium, aluminum 12, 15 and 17-inch models and even the brand new MacBook Pro Intel laptops. You can even use it with the new dual-core iMacs too. Not only can you connect to most PowerBooks, but you can also choose any access point for your wireless connection.
You also can use any popular wireless network hardware include access points from LinkSys, Belkin, dLink and of course, Apple AirPort and AirPort Extreme Base Stations. That means just about any 802.11b or 802.11g networks and your Mac OS X or later operating system. You can even move your PowerBook Connect from your PowerBook to any other WiFi ready computer - Mac or Windows.
QuickerTek's new PowerBook Connect combines a more powerful 2dBi antenna than came in your stock PowerBook, with a new design that does not require installation inside the PowerBook. You don't have to open the computer and work with the innards. And let's say that down the road you want even more power, you can add one of QuickerTek's antennas for even greater wireless performance!
QuickerTek has been a recognized leading innovator of antennas and RF products for Apple Power Macintosh, iMac, PowerBook and soon for MacBook Pro computers. QuickerTek products can be purchased online and from authorized dealers.
Petito, the Ultra Fast and Small USB 2.0 Flash Drive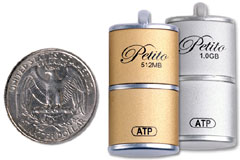 PR: Designed primarily for mobile professionals, Petito is a reliable, exceptionally high-speed and a high-capacity flash drive, featuring up to 30 MB/s (200x) data transfer rate and containing up to 1 GB data storage. Measuring at just 1.65" x 0.8", not only is Petito ideal for transporting data, digital images, and presentations, it is also perfect for you to carry on your keychain, mobile phone, or for you to wear as your necklace. ATP will exhibit the Petito as well as its latest products at the upcoming CeBIT tradeshow in Hannover, Germany (Booth location: Hall 26 Stand C67 Booth 9) from March 9 to 15.
"With a wide-ranging choice of flash drives out in the market today, Petito distinguishes itself with its stylish and compact design," said Danny Lin, ATP VP of Sales and Marketing. "Do not be mislead by its size, though, because at up to 30MB/s transfer rate and 1GB, Petito will exceed your expectations with its performances in terms of speed and capacity."
Built with ATP's distinctive System-In-Package (SIP) technology, Petito comes with superior quality and durability, an attribute shared by all ATP memory products. Complete encapsulation provides Petito with ample protection from water, shock, dust, and ESD. Another unique feature of Petito is its increased security, allowing users to create a password for a better data protection.
Key Features
Dimensions: 9.4mm x 17.6mm x 36.3mm (D x W x L)
Weight: less than 8g
Up to 30 MB/s data transfer rate, fully compatible with USB specification version 2.0 and 1.1
Powered by USB bus - no external power is required
Durable solid-state storage - 10 years data retention
Hot Plug & Play - enable you to install and uninstall Petito anytime
Security application - allow you to create a unique password
Petito is available in a variety of colors and capacities ranging from 256 MB to 1 GB. Gold and silver Petito are available immediately, while dark blue and titanium Petito will be available later in April. For more detailed product information, visit:
PowerAid 'Universal Battery' a Must Have Device
PR: US Modular, a designer and manufacturer of personal memory, power, and storage products, announced today that the company is bringing to market a universal portable battery that has the power to run any notebook computer or DC-powered device - all from one unit. The PowerAid by US Modular runs on lithium-ion technology to keep the unit lightweight but still provides the highest level of electrochemical potential and energy content.
"The PowerAid was designed after a long business trip where I found myself constantly untangling power cords for presentations and when my cell phone went dead, which carries all my files; I knew that US Modular could produce a better way to power-up," said US Modular CEO Nick Payzant. "The PowerAid will be the first of many advancements in battery technology that we hope to produce this year."
The PowerAid adapter kit includes 10 connectors to fit most laptops, as well as an automotive accessories style adapter to power cell phones, PDAs, laptops and other devices while on the road. With the PowerAid, worry and disappointment are alleviated. Small and sleek in design, the PowerAid weighs in at 8 ounces and is the size of a wallet. The product, first aimed at executives, is the perfect option for anyone who needs power while on the go.
Features:
Lithium-Ion powered
Includes AC charger, USB cable and adapter kit
Adapter kit features 10 UL-approved connectors
Special adapter to power cell phones and other devices with automotive accessory style (cigarette lighter) chargers
Incorrect: Output power: 45Wh (Watt Hours)
Output voltage: 16V,19V selectable
Incorrect: capacity: 3000mAh
LED power level indicator
Charging voltage: 16.8V
Charging time: 5 to 6 hours with AC charger
100% OEM Compatible
Priced at $99 MSRP, the PowerAid will begin shipping the first week of April.
Sewell USB 2.0 PC Card Adapter has Mac Support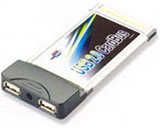 PR: The Sewell USB 2.0 PCMCIA Card is a quick, easy way to add USB 2.0 ports to your PowerBook. Just plug the card in and you are ready to go.
This is a solution for using any USB devices with your laptop. It will work with all USB devices, and up to 480 Mbps with USB 2.0 devices.
Simply plug the card into your laptop, install the necessary software (included) and you are ready to go
Specifications:
USB Versions: Compliant with USB 2.0 and USB 1.1
PCMCIA: Standard Type II, 32-bit CardBus
Ports: 2 external
System Requirements:
Windows 98 SE, ME, 2000, or XP or Mac OS 10.1 and higher Pentium 233 MHz or faster
32 MB RAM or more
Available PCMCIA Slot
Price: $29.95
Black Box USB 2.0 PCMCIA Card Compatible with OS X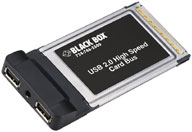 The Black Box USB 2.0 PCMCIA card lets you add 2 USB 2.0 ports to your existing laptop. The card installs instantly and is fully plug and play compatible. It also offers something that most PCMCIA adapter cards don't: the Black Box seal of quality.
Price: $79.95
Specifications
480 Mbps top transfer speed
USB 1.1 backwards compatible
2 USB 2.0 Ports
Plug and Play capability
Compatible with Windows 98/SE/Me/2000/XP and Mac OS X
Combo USB 2.0/FireWire PCMCIA Card with Mac Driver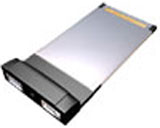 New from Unixtar:
Compliant with USB 2.0 Spec.
Supports high-speed (480 Mbps), full-speed (12 Mbps) and low-speed (1.5 Mbps) data
Compliant IEEE 1394-1995 Standard and 1394a Supplement V 2.0
Data transfer rate 100/200/400 Mbps
One USB A Type downstream and One IEEE1394 downstream port
Standard PCMCIA type II compliance
Plug-n-Play compatible
Bargain 'Books
Bargain 'Books are used unless otherwise indicated. New and refurbished units have a one-year Apple warranty and are eligible for AppleCare.
There are two different versions of WallStreet running at 233 MHz, the cacheless MainStreet version and the later Series II with a level 2 cache. It's not always possible to determine from the vendor's listing which is being offered, so we've included links within this paragraph to the two models. The same goes for the PowerBook G4/667 (VGA) and G4/667 (DVI), the titanium vs. aluminum 15" PowerBook G4 at 1 GHz, and 1.25 GHz to 1.5 GHz 15" PowerBooks.
PowerBook and iBook profiles linked in our Portable Mac Index.
I'm pleased to announce that TechRestore is offering a $25 discount to The 'Book Review readers off any PowerBook or iBook in stock. Just enter the code CWM during checkout when ordering online. The coupon code is valid from now through 2007.112.31.
used 15" PowerBook G4/1.25 GHz, 512/80/Combo, BT, $1,349.99
used 17" PowerBook G4/1 GHz, 512/60/SuperDrive, APX, $1,279.99
PowerBook 1400cs, 16/775 MB/floppy, new battery, AC, $99.99
PowerBook 5300cs/100 MHz, 8/775 MB/floppy, $49.99
Apple Newton eMate 300
Get the original while you can! Wegeners just acquired a qty of these little babies at auction. Includes ONLY the machine, stylus, the battery, and a power pack. The software is installed, and is available elsewhere for download. These have the standard, PC Card slot, etc. - a very cool web/email/communications tool, at a dirt-cheap price. Units are guaranteed working for 30 days. Batteries are included, but Wegeners can't guarantee the longevity.

eMate complete with power pack - $59.99
eMate complete NO power pack - $39.99
NEW eMate battery (Just in-new OEM batt's) - $21.99
Extra eMate charger/power pack - $19.99
refurb 12" iBook G4/1.2 GHz, 256/30/Combo, APX, $719
refurb 14" iBook G4/1.33 GHz, 256/60/Combo, APX, $899
refurb 12" PowerBook G4/1.5 GHz, 512/80/SuperDrive, APX, BT 2.0, $1,199
refurb 17" PowerBook G4/1.5 GHz, 512/80/SuperDrive, APX, $1,699
used 12" iBook G3/600, 256/20/CD, $390
used 15" PowerBook G4/667, 256/20/Combo, $625
extra 512 MB, add $89
For more deals on current or recently discontinued models, see our best 15" MacBook Pro deals, our best 17" MacBook Pro deals, 12" PowerBook G4 deals, 15" aluminum PowerBook G4 deals, 17" PowerBook G4 deals, titanium PowerBook G4 deals, iBook G4 deals, PowerBook G3 deals, and iBook G3 deals.
Join us on Facebook, follow us on Twitter or Google+, or subscribe to our RSS news feed
Links for the Day
Mac of the Day: 20th Anniversary Mac, introduced 1996.03.20. Honoring Apple's 20th anniversary, the TAM was the first flat panel desktop Mac and had a unique design.
Recent Content
Custom Search
Follow Low End Mac on Twitter
Join Low End Mac on Facebook
Favorite Sites
MacSurfer
Cult of Mac
Shrine of Apple
MacInTouch
MyAppleMenu
InfoMac
The Mac Observer
Accelerate Your Mac
RetroMacCast
The Vintage Mac Museum
Deal Brothers
DealMac
Mac2Sell
Mac Driver Museum
JAG's House
System 6 Heaven
System 7 Today
the pickle's Low-End Mac FAQ
Affiliates
Amazon.com
The iTunes Store
PC Connection Express
Macgo Blu-ray Player
Parallels Desktop for Mac
eBay

Advertise