Ego's Clamshell Notebook, MacBook Praise, Battery Update for 15" AlBook, FlashDiscs, and More
This Week's Mac Notebook News
Compiled by Charles Moore and edited by Dan Knight - 2006.03.17
This Week's MacBook, PowerBook, and iBook News
This week's lead story is the EgoNotebook, a clamshell Windows notebook reminiscent of Apple's 1999 clamshell iBook. There are also several enthusiastic reports on the MacBook Pro - and one trouble spot. It seems most wireless Internet services that don't use 802.11 WiFi require a PC Card, and the MacBook doesn't have a PC Card slot....
Apple released a battery updater for some 15" aluminum 'Books, Jason O'Grady tells how to use a Treo as a Bluetooth modem, and PlasticSmith has an intriguing new laptop stand. And then there's Memorex' FlashDisk USB, a 16 MB flash drive that looks a bit like a small CD.
All prices are in US dollars unless otherwise noted.
General Apple and Mac desktop news is covered in The Mac News Review. iPod news is covered in The iNews Review. News about Apple's transition to Intel CPUs and other Intel developments is covered in The Macintel Report.
News & Opinion
Looking at the MacBook Pro
Tech Tips and Info
Products and Services
Software
News & Opinion
Clamshell iBook Reincarnated as a Notebook PC?

Do these pictures remind you of anything? To my eyes, they certainly bear a more than passing resemblance to Apple's publicity photos of the original clamshell iBook back in 1999 (iBook SE shown at left).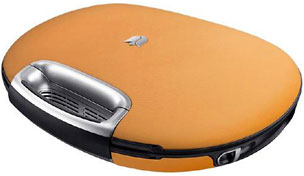 The Dutch PC-maker Ego Lifestyle B.V. introduced its new Lifestyle Notebook at the CeBIT trade exhibition in Hanover, Germany last week. Ego is claimed to have a more clever, innovative, and elegant design than the run of the mill notebooks, with its round forms and colorful case skins - the first luxury lifestyle computer for men and women with a cosmopolitan lifestyle. But Apple was there design-wise nearly seven years ago.
Of course, the EgoNotebook is a much more powerful and high-end laptop than the old clamshell iBook ever was - with all usual laptop functions and some surprising extra. It's a portable DVD player and a PDA, and it's supplied standard with an additional set of exchangeable skin coverings in the categories Classics, Specials and Trends made of materials including leather, and a bass reflex audio system with built-in subwoofer and four speakers behind the screen.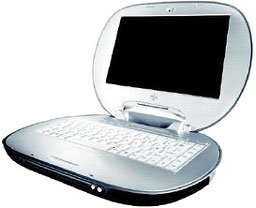 Other EgoNotebook features include an integrated camera with mirror function, antivirus software (with one year free of charge updates), speech recognition software, digital television receiver (optional), and access to Microsoft Media center over the Direct ACCESS key with which the EgoNotebook can be used like a PDA also without Windows by virtue of an embedded Linux system, among other things.
The Ego Lifestyle Notebook can be operated as portable DVD/CD player for seven hours without recharge and incorporates Phoenix Recovery Pro technology for an extremely safe backup function that stores user data on a dedicated portion of the hard drive so that will always be available even if the system needs to be reinstalled. (No help, of course, if the hard drive crashes.)
The EgoNotebook is comfortable to carry thanks to its integrated design handle (also used by Apple with the original iBook) and modest weight (2.6 kg with battery) thanks to the use of sophisticated materials like titanium.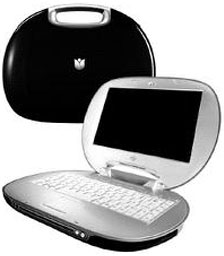 Inside is an AMD Turion 64-bit CPU with 1 GB of memory, an 80 GB hard drive, a DVD±RW optical drive, plus WiFi and Bluetooth wireless interfaces. The EgoNotebook will sell for about the equivalent of $3,975.
The EgoNotebook will available starting in April at www.egolifestyle and computer retailers, fashion/department stores, and airport boutiques in Europe, and in the future possibly through US retailers like Nieman Marcus and The Sharper Image.
MacBook Pro Users Unable to Use Cellular Internet, Some Other Wireless Options
itwire.com.au's Stuart Corner says:
"Apple Computer has a well-deserved reputation for being first to implement new technologies in its computers: first with 4 inch floppies; first to give up floppies altogether; first with wireless (WiFi) networking. This time though it has gone too far.
"The technology of mobile computing has improved by leaps and bounds in recent times. Especially in Australia. There's WiFi, there's cellular and a couple of others. It's a road warrior's paradise, but Apple has left them in Limbo for a period yet to be determined.
"Every cellular operator offers a plug in card for laptops that supports broadband communications over its 3G and 2G networks. The Optus one roams seamlessly onto Optus WiFi hotspots, and the Vodafone one on to 16 Vodafone 3G networks overseas. And in Sydney we've got Personal Broadband's iBurst and Unwired, both of which offer plug in card modems.
"But if you like being connected wherever you are, and you're a regular user of any of these networks, don't buy the new Intel based MacBook Pro because you can't use any of these wireless cards in it. Instead, you'll have to find yourself a plug-in-the-wall or a WiFi hotspot, or buy a desktop modem.
"You see, all these cards conform to the PC Card form, but the new MacBook use the ExpressCard/34 format for its expansion slot. Confused? Well, here's a quick primer."
Power Lifters - Desktop Replacement Laptops
Australian IT's David Flynn says:
"The breed of notebook known as the desktop replacement is the Arnold Schwarzenegger of mobile computing....
"It is hard to seriously refer to these big bruisers as laptops unless your reference point for calculating the standard lap is based on an East European shot-put champion with tree trunks for legs and a beer-barrel waist.
"Perhaps that's why some prefer to tag the members of this King Kong-sized category as desknotes, reflecting their hybrid desktop-notebook character.
"A desktop replacement does exactly what the label promises (a trait that in itself is a rarity in the tech world).
"In almost every measure: screen size, performance and features, it's the equal of a desktop PC.
"So why pay the average 50 per cent impost for a notebook? Flexibility of grunt in a portable is a popular reason.
"A desknote's sizeable footprint and hefty weight (add the battery charger and you've got close to a shoulder-displacing 4 kg) mitigates against it being used on the move, as might a more truly portable PC.
"These systems are more for transportability that lets you work on a dozen desks in a dozen locations, rather than airport lounge computing....
"Apple's top-shelf PowerBook G4 is the ultimate Big Mac for designers, although an Intel-powered MacBook Pro with a 17in (or larger) screen is likely by year's end."
Editor's note: I've long been an advocate of the desktop laptop concept, and having just bought a 17" PowerBook, I'm now testing it out in earnest. However, the Big Al PowerBook is actually 3.1 kilograms, and lighter than my old WallStreet G3 Series PowerBook or the old PowerBook 3400, it does have an expansive footprint. For Airport lounge computing, a 12" PowerBook or iBook is of course better suited, but for real desktop substitute use, the power, full range of features, and screen size of the 17" machine make it very compelling. cm
Mayo Researchers Use iBooks, iPods to Test 'Classroom of the Future'
PR: "Can you imagine a school without desks? A school where children are moving as part of their lessons? And most importantly, they are smiling and healthy?" asks Mayo Clinic obesity researcher James Levine, M.D., Ph.D. If so, you have imagined the latest anti-obesity concept-project from Mayo Clinic - the classroom of the future.
Obesity among the young is a national epidemic according to the national Centers for Disease Control and Prevention. More than 15 percent of children in the United States are already overweight and the problem continues to grow. It is anticipated that half the children in America are likely to have weight problems during their lifetimes. The result is increasing health problems, including a staggering rise in type II diabetes, previously prevalent only in adults. A major culprit, along with poor-quality diet, is a lack of activity at school and at home.
Dr. Levine, who directs the Active Life research team, is targeting childhood obesity. He and child researcher Lorraine Lanningham-Foster, Ph.D., are testing a revolutionary concept in how society thinks of a school classroom....
"We assembled a team of business and organization leaders who all recognize the urgency to resolve inactivity in children and realize that the future has to look different from our past," says Dr. Levine. The Rochester Athletic Club built an indoor village to house the school of the future, Apple provided iBook wireless notebook computers and iPods that play video, and America on the Move (a community-based advocacy organization) will raise awareness of the concept....
The Mayo Clinic research supporting this project has been amassed over 10 years of international studies and has been termed NEAT (non-exercise activity thermogenesis) http://mayoresearch.mayo.edu/mayo/research/levine_lab/ . NEAT is the energy a person burns during regular, daily activities. Mayo's published findings show that NEAT is remarkably important in obesity.
Looking at the MacBook Pro
MacBook Pro vs. PowerBook G4 Heat
The Apple Core's Jason D. O'Grady reports:
"One of the most popular questions about the new MacBook Pro is about its temperature. Users of previous PowerBook G4s (especially the 12-inch model) are very conscious of the ambient heat generated by their machines. It's difficult to use on your lap after running for as little as 30 minutes. This heat (and lawyers) are the reasons manufacturers don't call them 'laptops' any more - they're only referred to as 'notebooks' now....
"None of the various temperature reading applications have been updated to read the sensors in the MacBook Pro so I took matters into my own hands. The following temperature benchmarks compare a MacBook Pro 2.0 GHz and a PowerBook G4 1.5 GHz, both configured with 2 GB RAM and 120 GB, 5400 RPM hard drives. I played a DVD on each of the machines overnight and measured the temperature (using a Cooper Atkins 313K digital thermometer with a surface probe) in the morning."
Fortune Reviews MacBook Pro and Intel iMac
Fortune Magazine senior editor Peter Lewis says:
"Change is inevitable, and that's generally a good thing. Granted, you won't find many dinosaurs happy about the sudden climate change 65.5 million years ago, but in the grand scheme of things the world today is a better place because of it, at least if you ask us mammals.
"And so it is with Apple's decision to evolve the Macintosh line of personal computers, changing to Intel microprocessors and away from the PowerPC chips that have been the foundation of the Mac family for the past epoch.
"Computing dinosaurs will complain that many of their favorite Macintosh software applications and peripherals no longer work (or don't work as well) on the Intel-based Macs. Their complaints, although likely to be temporary, are valid. However, after testing two of the new Intel Core Duo - based Macs - the 15-inch MacBook Pro portable and the 20-inch iMac desktop - it is clear to me that in many ways Apple has improved on what were already two of the best computers on the planet and has built a better foundation for the future."
From iPod to MacBook Pro: A Switcher's Tale
TidBITS' Robert Movin reports:
"By now most of you have read numerous MacBook Pro reviews filled with technical specifications, startup times, benchmarks, battery life, and counts of how many times an icon bounced on the dock when an application is launched. This is not that review. Rather, this is a tale of high drama, low comedy, anticipation, disappointment, and wonder. It's the tale of a switcher succumbing to Apple's vaunted 'halo' effect (and not the one with the Master Chief). It's the tale of how someone generally satisfied with that 'other' operating system running on a very nice corporate laptop found himself refreshing live Jobsnote transcripts every 30 seconds, breathlessly clicking through the Apple Store, and dropping several thousand dollars on a shiny, new, aluminum, Intel-based laptop. This is my tale.
"Well, perhaps it's not that dramatic, but hopefully I can provide an interesting perspective on the role of Apple in today's technology world, how great product design can overcome the little annoyances that make switching far more difficult than it should be, and how the MacBook Pro may not be perfect but is absolutely worth the investment despite a few key shortcomings."
Apple's First Intel-driven Laptop: A Taste of Speed
The Seattle Times' Jeff Carlson reports:
"A new MacBook Pro laptop with Intel Core Duo processor is seen on display in January at the 2006 Macworld expo in San Francisco, where Apple Chief Executive Steve Jobs introduced the new laptop in his keynote speech.
"I'm a laptop guy. I've used a laptop as my main computer for the better part of a decade because I can take it anywhere and have enough processing power to do what I want.
"However, like most PowerBook G4 owners, I've watched with envy as Apple Computer's desktops have outpaced the portables. I can still perform most every task I need on my aging 1.25 GHz PowerBook G4, but a certain level of pokiness has crept into my day.
"Now, though, I can look forward to speedier portability. In updating its laptop line, Apple took the power out of the PowerBook name and fed it directly into the heart of the new MacBook Pro, the company's first portable computer to feature an Intel processor."
1.83 GHz MacBook Pro Reviewed
ZD Net's Justin Jaffe reports:
"The MacBook Pro delivers unparalleled style, a solid set of features and software, and a few transitional performance issues that keep it from rivalling the most powerful PC laptops.
"Apple MacBook Pro (1.83 GHz) Apple's first new laptop since the company switched to Intel processors, the 15.4-inch MacBook Pro features a Centrino Core Duo processor and, in doing so, ushers in a new era of Apple computing. Replacing the 15-inch PowerBook in the company's lineup, the MacBook Pro delivers many familiar, beloved features (a scrolling track pad, the Sudden Motion Sensor, an excellent software package), along with a few new ones."
A Few Days with the New MacBook Pro
Computerworld's Yuval Kossovsky reports:
"In my first look at Apple Computer Inc.'s new MacBook Pro, I promised a more comprehensive look at the laptop once it began shipping. I spent last weekend using this 2.16- GHz Intel Core Duo machine, and while I am still not fond of its name, I have grown to love the hardware.
"This particular model is the 15-in. version now trickling into users' hands, and came courtesy of Apple for review purposes. It was stuffed with 2 GB of RAM and an ultra speedy 256 MB of video RAM. More is better.
"As the owner of 12-in. and 15-in. PowerBook G4s (circa 2004), I haven't been able to take advantage of some of the features introduced in the PowerBook line last year - until now. The most impressive of these are the sudden-motion sensor, which locks the hard drive to prevent damage in case you drop your laptop, and my current favorite: the two-finger track pad for scrolling. This feature is (pardon the pun) really handy. Using two fingers to scroll a window up and down is easier than moving the cursor to the right, hitting scroll arrows and moving back to my page. Sure, it sounds lazy, but do that several hundred times in a day and you appreciate the innovation."
MacBook Pro a Fast Laptop
AP's Matthew Fordahl says:
"Apple Computer Inc.'s notebooks have long been highly regarded for their thoughtful designs and leading-edge features. But when it comes to performance, recent models have been lagging behind competitors that run Intel Corp.'s chips.
"Unable to beat 'em, Apple last year announced plans last year to join 'em. It recently began shipping its first Intel-based laptop, the MacBook Pro, which looks a lot like the old PowerBook G4 line it's replacing.
"Like the iMac desktop that also got a silicon brain transplant, the new notebook is fast, with decent battery life.
"Also like the old PowerBooks, it includes some very nice touches, such as an impressively bright screen, stylish aluminum body, a video camera built into the display's frame, a keyboard that lights up in a dark room, and built-in WiFi and Bluetooth transmitters."
Tech Tips and Info
Battery Update for 15" Aluminum PowerBooks
Updating battery firmware for PowerBook G4 (15-inch Double-Layer SD) and some earlier PowerBooks
This update aids the 15-inch Aluminum PowerBook battery in performing at full capacity.
This battery firmware update is required for PowerBook G4 (15-inch Double-Layer SD) computers. You will find instructions below on how to determine if your PowerBook requires this update. This firmware update is required to keep your battery life up to specification, may recover battery life in some batteries that have developed short run times, and in some cases can recover batteries that are not recognized by the system.
To run the firmware update, your PowerBook needs to be plugged in to AC power. The update may take up to 15 minutes to complete.
If your PowerBook can use this update, it will be available through Software Update (called "Aluminum PowerBook (15-inch) Battery Update"). You can also download it from Apple Downloads.
System Requirements
Mac OS X 10.3.9
Mac OS X 10.4.3 or later
Calibrating Your 'Book's Battery for Best Performance
You can calibrate your iBook, PowerBook or MacBook Pro computer's lithium ion battery for best performance.
The battery has an internal microprocessor that provides an estimate of the amount of energy in the battery as it charges and discharges. The battery needs to be recalibrated from time to time to keep the onscreen battery time and percent display accurate. With all iBooks and PowerBook G4 computers except the aluminum PowerBook G4 (15-inch Double-Layer SD), you should perform this procedure when you first use your computer and then every few months thereafter.
Using a Treo as a Bluetooth Modem with a MacBook Pro
The Apple Core's Jason D. O'Grady says:
"While it's not the fastest method of connecting to the Internet, there are times when it's convenient to use your mobile phone for Dial Up Networking (DUN). The problem is that some operator-supplied handsets (like my Treo 650 from Verizon) have the DUN profile for Bluetooth disabled.
"Use the following steps to connect your Mac to the Internet via a Bluetooth connection with your Treo 650."
Products and Services
FastMac Driverless SuperDrive Upgrades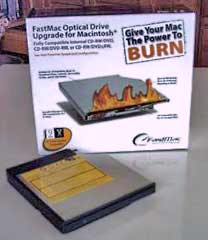 PR: FastMac has announced the availability of new slim line 8X Dual Layer SuperDrives while supplies last. The drives do not require any patching or updating for compatibility. They are 100% plug and play compatible with all versions of OS X and natively support burning directly through the Finder as well as through Apple's iLife Suite (iTunes and iDVD).
Drives start at $149.95 and come with a 1-year warranty and 30 day money back guarantee.
Drives are available for iMac G5s, G3 PowerBooks (Pismo and Lombard), G4 PowerBooks (Titanium and Aluminum), G4 iBooks, Mac minis, and PowerMac G4 Cubes. All optical drive purchases also include a free copy of Mac OS 10.3 "Panther" (a $50 value).
Drive Pricing
PowerBook G3 (Pismo and Lombard), $149.95
PowerMac G4 Cube, $199.95
G4 PowerBook Aluminum, $149.95
G4 PowerBook Titanium (That include a DVD-ROM/CD-ROM Read Only Drive), $199.95
G4 PowerBook Titanium (That include a Combo or SuperDrive), $149.95
G4 iBook, $149.95
iMac G5, $149.95
Mac mini, $149.95
PlasticSmith Lapvantage Loft Ergonomic Laptop Stand
I'm a longtime fan of PlasticSmith products, beginning with the original Lapvantage laptop stand about five years ago, which was superseded by the much more innovative Lapvantage Dome.
PlasticSmith's newest laptop stand is the Lapvantage Loft ergonomic laptop stand that will support most notebook computers and can support up to 15 pounds, which is more than twice the weight of Apple's heaviest current PowerBook. Platform dimensions are 13.62" x 11.62".
The Loft comes in either black or a silver finished laser-cut steel pedestals with its polished acrylic platform available in blue, clear or white.
There is room underneath the platform to tuck your keyboard (up to 2-3/4" thick) out of the way when it's not in use. As with the Lapvantage Dome, the Loft has a swivel base that rotates 360° for screen sharing or easier access to I/O ports.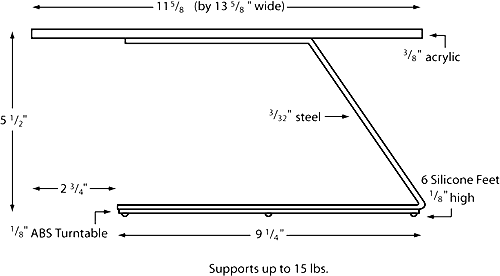 The Lapvantage Loft comes with 3M "Gumdrop" feet that attach to the top of the platform to slightly elevate the laptop and allow convection cooling via air circulating beneath.
The Lapvantage Loft sells for $79.95.
Slappa Velocity Pro Spyder Laptop Backpack
PR: Slappa has announced the launch of their new Velocity Pro Spyder laptop backpack, featuring a thick rubber exoskeleton with rainproof PRO Grade Scuba-prene offering reinforced storage protection for all of your digital gear. The Velocity Pro Spyder offers superior protection, superior design and superior materials.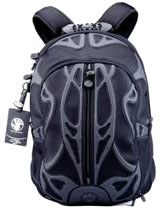 "We continue to hear from many end users who tell us they are tired of the parochial backpacks that are on the market, so we focused on engineering a backpack unlike anything else out there", says Slappa Communication Manager, Kylin Clevenger. "We as a brand continue to bring to the market top quality products and service, and listen to the requests of customers. The Velocity Spyder is a direct result of our incorporating customer feedback into product engineering."
The Velocity Pro Spyder has 4 main compartments which also include lots of sub compartments for storing all of your laptop or DJ mixing accessories. Inside the main compartment is Slappa's "Super Padded" laptop sleeve, ideal for oversized laptops up to 17". A rear compartment incorporates a stay cool inner lining for storing cold goods and keeping them close at hand. Also included are combination locks for the main zipper compartments (which feature locking zipper heads) and a removable phone/PDA/MP3 player case.
Other features include:
Xtra-padded comfort shoulder straps
Xtra-padded back support
Plush jersey inner lining
E.Z. grip Slappa handle
Industrial strength zippers
Dual rubber logo zipper pulls
Zip-stop end caps
3-D rubber name card holder
Slappa Velocity Pro Spyder sells for for $79.99.
Memorex FlashDiscs USB Flash Media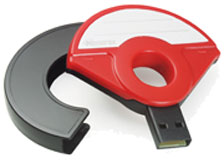 PR: Memorex FlashDiscs combine USB and flash technology in an easy-to-use media format that's made for sharing. With over 10 times the capacity of a floppy disc, use a FlashDisc to transfer and save documents, photos or digital music with plug-and-play simplicity.
No special software is required - FlashDiscs are highly compatible and work with any PC or Mac with a USB port. FlashDiscs are a cost-effective alternative to other personal storage devices, so you can afford to share them with coworkers, classmates, friends and family. The rugged, hard exterior allows you to easily mail out files - just toss in an envelope and you are done.
Each FlashDisc can typically hold:
400 documents (average file size 40 KB)
10 presentations (average file size 1.6 MB)
40 photos (average 3.2 megapixel at 1024 x 768) or
15 minutes of music (128 kbps quality audio files)
Details
Plugs into the USB port on any laptop or desktop, both PC and Mac
Save, delete, rewrite and share files, photos and music
Great for sharing at the office, school or home
As simple to use as a floppy disc, but with over 10 times the capacity
Adhesive label for easy identification of contents
Assorted pack: black/red, black/blue, and black/yellow
Available at Best Buy.
Compatibility/Capacity
USB compatible
Over 10x the capacity of a floppy disc
16 MB per disc
Software
MiniBatteryStatus Widget 2.0
PR: MiniBatteryStatus is a small Dashboard widget that monitors battery status, charge percentage and remaining battery life. Integrated with Growl to alert you when it's time to recharge your battery.
MiniBatteryStatus widget monitors battery status and charge percentage. It displays colorful information to quickly notice your battery conditions.
The widget assumes different colors depending on the remaining charge of the battery. It is also aware of battery charging and plugged status. User can choose if the widget should display percentage, remaining time, capacity (current/maximum) and cycle count or just the charge gauge.
MiniBatteryStatus is definitely a must have for all Tiger-powered iBooks and PowerBooks out there! And since MiniBatteryStatus is a Universal Binary application, you can even run it on your brand new MacBook Pro!
Features
Growl integration. Be aware of what happens to your battery even when you're not looking at Dashboard. MiniBatteryStatus tells you when it's time to recharge your battery and when you're done charging by Growl notifications.
Universal Binary. You can run MiniBatteryStatus on both PowerPC iBooks and PowerBooks and Intel MacBook Pro's.
Lots of colors. Widget color varies with continuity from green to red. Enjoy a plenty of awesome nuances from acid green to coral red.
Smaller widget size to save Dashboard real estate. iBooks and PowerBooks have limited desktop surface. Leave room to other cumbersome widgets, still monitoring your battery with style and no clutter.
New in version 2.0:
Solved compatibility issues with MacBook battery data.
System requirements: Minimum system requirements are Mac OS X 10.4 "Tiger" or later, and, of course, a battery-powered Macintosh
System support: PPC/Intel
4,99€ shareware
Bargain 'Books
Bargain 'Books are used unless otherwise indicated. New and refurbished units have a one-year Apple warranty and are eligible for AppleCare.
There are two different versions of WallStreet running at 233 MHz, the cacheless MainStreet version and the later Series II with a level 2 cache. It's not always possible to determine from the vendor's listing which is being offered, so we've included links within this paragraph to the two models. The same goes for the PowerBook G4/667 (VGA) and G4/667 (DVI), the titanium vs. aluminum 15" PowerBook G4 at 1 GHz, and 1.25 GHz to 1.5 GHz 15" PowerBooks.
PowerBook and iBook profiles linked in our Portable Mac Index.
TechRestore is offering a $25 discount to 'Book Review readers off any PowerBook or iBook in stock. Just enter the code CWM during checkout when ordering online. The coupon code is valid from now through 2007.12.31.
used 12" iBook G3/700, 256/20/Combo, 6-Month Warranty, 30-Day Refund, $499.99
used 12" PowerBook G4/867, 128/40/Combo, $649.99
used 15" PowerBook G4/1.25 GHz, 512/80/Combo, Bluetooth, TechRestore 6 Month Warranty, 30 Day Refund, $1,349.99
used 12" iBook G3/700, 128/20/CD, $399
used 12" iBook G3/700, 256/20/Combo, $439
used 12" iBook G3/700, 128/30/Combo, scratched, $449
used 12" iBook G3/700, 384/20/Combo, $449
used 14" iBook G3/800, 128/30/Combo, scratched, $459
used 14" iBook G3/900, 128/40/Combo, scratch and dent, $529
used 15" aluminum PowerBook G4/1 GHz, 512/60/Combo, APX, $1,149
used 17" PowerBook G4/1.33 GHz, 512/ 80/SuperDrive, APX, scratch & dent, $1,149
used 17" PowerBook G4/1.5 GHz, 512/80/SuperDrive, APX, $1,699
used 15" Hi-Res PowerBook G4/1.67 GHz, 512/80/SuperDrive, APX, BT 2.0, $1,599
used 12" PowerBook G4/1 GHz, 256/40/Combo, $739.99
Upgrade to SuperDrive, add $129.99
Upgrade to 8x DVD±RW SuperDrive, add $159.99
Add 512 MB RAM with purchase of machine (total of 768 MB), $49.99
Add 1 GB RAM with purchase of machine (total 1.25 GB), $189.99
1 year extended service warranty, $99.99
Add Airport Extreme card, $39.99
Upgrade hard drive to 80 GB, add $119.99
For more deals on current or recently discontinued models, see our best 15" MacBook Pro deals, our best 17" MacBook Pro deals, 12" PowerBook G4 deals, 15" aluminum PowerBook G4 deals, 17" PowerBook G4 deals, titanium PowerBook G4 deals, iBook G4 deals, PowerBook G3 deals, and iBook G3 deals.
Join us on Facebook, follow us on Twitter or Google+, or subscribe to our RSS news feed
Links for the Day
Mac of the Day: Lisa, introduced 1983.01.19. The ancestor of the Macintosh had a mouse, a graphical interface, and a $10,000 price tag.
Recent Content
Custom Search
Follow Low End Mac on Twitter
Join Low End Mac on Facebook
Favorite Sites
MacSurfer
Cult of Mac
Shrine of Apple
MacInTouch
MyAppleMenu
InfoMac
The Mac Observer
Accelerate Your Mac
RetroMacCast
The Vintage Mac Museum
Deal Brothers
DealMac
Mac2Sell
Mac Driver Museum
JAG's House
System 6 Heaven
System 7 Today
the pickle's Low-End Mac FAQ
Affiliates
Amazon.com
The iTunes Store
PC Connection Express
Macgo Blu-ray Player
Parallels Desktop for Mac
eBay

Advertise