MagSafe Up in Flames, MacBook Love, Turn iBook into Desktop, USB 2.0 Faster on Macintel, and More
This Week's Mac Notebook News
Compiled by Charles Moore and edited by Dan Knight - 2006.03.24
This Week's MacBook, PowerBook, and iBook News
Field reports and reviews continue to praise the MacBook Pro, but there are some questions about MagSafe. It is patented, which may prevent third parties from making MagSafe power supplies - but there's also some prior art. And it may not be so safe, as one cat owner discovered when he came home to a fried MagSafe connector.
In other news, Apple has a contract to supply Maine with 36,000 iBooks for educational use, Hardmac has information on turning an iBook into a desktop computer, Bare Feats finds USB 2.0 faster on Intel Macs - but still slower than FireWire, DayStar's 1.92 GHz PowerBook G4 upgrade is put through its paces, QuickerTek releases a "super" antenna for the MacBook, and Samsung shows off 32 GB internal flash drives for portable computing.
All prices are in US dollars unless otherwise noted.
General Apple and Mac desktop news is covered in The Mac News Review. iPod news is covered in The iNews Review. News about Apple's transition to Intel CPUs and other Intel developments is covered in The Macintel Report.
News & Opinion
MagSafe News
Tech Tips
Reviews
Products
Tech Trends
News & Opinion
Top 10 Reasons I Love My MacBook
Desperately Wandering's Ms. Baker says:
"I must admit, getting used to and feeling comfortable with my MacBook has been very easy to do, and has happened so very quickly. It has barely been two weeks since it arrived in Kuwait, but I now become confused and feel jarred by the harshness of Windows XP whenever I try to use my old Toshiba laptop. I am just so glad I got the MacBook Pro, it was well worth the expense and the wait (and the hassle I went through to buy it!). Here, after two weeks of being in the shoes of my newfound MacGirl persona, are my top ten somewhat technical and somewhat superficial reasons why I love my MacBook Pro:
Its smooth and silky exterior
Force Quit
The bright, beautiful, vibrant colors of the screen.
I can wirelessly stream iTunes from my MacBook to my stereo!
The calm and collected voice of "Vikki"
Spotlight
Widgets! Gotta love those widgets
The adjustable brightness of the screen and backlit keyboard
Expose and Tabs in Safari
My MacBook is so photogenic and looks so cool being shown off at airports"
Editor's Note: It's interesting that five of the 10 reasons are Mac OS X reasons rather than MacBook Pro specific. cm
Link: Top Ten Reasons Why I Love My MacBook
MacBook Pro and Cons
O'Reilly.net's Giles Turnbull says:
"I've been playing with a MacBook Pro for a few days now (Apple have sent me one on loan for review purposes). So far, there are some things I like about it and some things that I really dislike. I thought I'd share both lists with you now. I'll produce a more rounded review in a week or two.
Good stuff
Screen
Rosetta, concept and reality
Universal Binaries
Speed, mostly
It's still a Mac T
No Intel branding
MagSafe
AirPort is fine
Photo Booth
Wider trackpad
Bad stuff
Noise
Heat"
Link: MacBook Pro and Cons
MacBook Pro 'Fastest Windows XP Notebook'
The Register's Tony Smith reports:
"Want the fastest Windows XP Core Duo notebook? Then buy a Mac. According to benchmarks carried out by website GearLog, Apple's MacBook Pro running Windows XP is a better Adobe Photoshop rig than any other Core Duo laptop on the market...."
Link: Apple MacBook Pro 'Fastest Windows XP Notebook'
MacBook Pro Worth the Sticker Shock
The Washington Times' Mark Kellner reports:
"If I were shopping for a Mac portable now, I'd seriously consider the MacBook Pro, even if this configuration's $3,000-plus price tag may cause an information technology director to gasp. It's a quality machine that offers a good deal for the money.
"The MacBook Pro from Apple Computer base price US$2,499 for the speedier 2.0 GHz Intel Pentium 'Core Duo' model, succeeds in combining the elegance of the Mac operating system with the speedier power of the processors that have long powered Windows-based PCs.
"The model I tested, however, costs $600 more for an extra gigabyte of RAM, a $300 premium, and the even-faster 2.16 GHz processor upgrade, another $300 addition.
"Add $49 for an external modem, since this is the first portable Mac in my memory to not have a built-in modem."
Link: New MacBook Pro Worth the Sticker Shock
Setting Up a MacBook Pro
Gene Steinberg, the Mac Night Owl writes:
"When I had a couple of opportunities to put a prototype MacBook Pro through its paces at the Macworld Expo last January, I felt encouraged that Apple had apparently performed some near-miracles in moving its Intel transition so far along. To be sure, I couldn't detect any overt symptoms that would indicate it had undergone such an extensive reworking inside. In fact, if you didn't look too closely, you might just regard it as just another 15-inch PowerBook."
Link: I Go to Set Up a MacBook Pro
Apple Gets Contract for 36,000 iBooks
Softpedia News' Victor Mihailescu reports:
"Apple Computer, Inc was selected as the top bidder for services and equipment for the Maine Learning Technology Initiative.
"On the 13th of January, the Maine Department of Education issued a request for a four-year agreement to provide personal, portable computing devices with suitable basic applications for all 7th and 8th grade students and teachers along with upgraded wireless networks for all participating middle schools, appropriate server capacity, training and technical support....
"It is estimated that over 36,000 laptops will be deployed as part of the initiative, at the start of the new school year."
Link: Apple Gets Contract for 36,000 iBooks
MagSafe News
MagSafe Being Withheld from Third Parties?
ZD Net's Jason O'Grady says:
"One of my favorite things about the MacBook Pro is the MagSafe power connector, but the more I use it the more I am finding that things might not be as rosy as I originally thought.
"For starters the MagSafe connector comes out easily. I know that it's designed to do that, but I'm starting to think that it comes out a little too easily. Half of the time when I'm sitting on the couch with my MacBook Pro the MagSafe pops out and I don't notice until I get the low battery warning....
"The other thing that worries me about the MagSafe connector is the lack of third party options that are available for it....
"Is Apple taking their own sweet time in releasing the technical specs of the MacBook Pro in order to maximize sales of the new 85 watt MagSafe power adapters...?"
Link: MagSafe Being Withheld from Third Parties?
More on the Mysterious MagSafe Connector
The Apple Core's Jason D. O'Grady says:
"I mentioned in my posting yesterday that Apple's new MagSafe power connector is both an asset and a liability.
"There was a piece on the Japanese Mac Treasure Tracing Club Web site on 26 February 2006 that stated 'Because Apple acquired a patent for MagSafe, third party manufacturers cannot sell an adapter with with such a connector.' It also goes on to say that Apple is not going to give permission to do so.
"Ironically the breakaway power cord standard was developed years ago by Underwriters Laboratories for use on chocolate fondue fountains and countertop deep fryers."
Editor's note: The two-point breakaway magnetic AC connector approved by UL is different from the compact four-point MagSafe DC connector. dk
Link: More on the Mysterious MagSafe Connector
MagSafe Power Connector Bursts Into Flames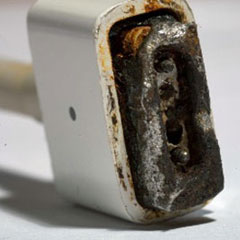 Ars Technica's Charles Jade reports:
"Set the Wayback machine to 1995 and break out the fire extinguishers! Everyone who loves Macs or hates them remembers the PowerBook 5300, also known as the 'Flaming PowerBook.' Apple Computer suffered a public relations firestorm due to a small problem with the original battery, that being it might explode when charging. Fast forward to 2006 and the Flickr account of Rogier Mulder, a user who initially posted images of his PowerBook carnage.
"'When I came home today, I found that the MagSafe connector was melted. Thank god the cats disconnected the MacBook Pro during the day (they were probably chasing each other and tripped over the wire).'
"Apple was quick to replace the damaged PowerBook."
Editor's note: Other articles indicate that the short may have taken place after the MagSafe connector was disconnected from the MacBook Pro. One theory is that the cat took a leak on it.... dk
Editor's note: Given the hysterical and mythologically persistent exaggeration of the problem with the PowerBook 5300 back in '95, it's understandable that Apple would be hypersensitive about this matter. The reality check is that, as far as I've been able to determine over the past 11 years of following this story, there was one Sony Lithium Ion PowerBook 5300 battery that spontaneously caught fire in an Apple test lab. The 1000 or so 5300s that were in distribution pipelines at the time were immediately recalled and refitted with Nickel Metal Hydride (NiMH) batteries that were already in production for the lower-priced but identical form factor 68k-based PowerBook 190, which proved completely reliable. The PowerBook 5300 had other issues, but catching fire in consumer hands was not one of them, despite it's mythological "blazing PowerBook" reputation. cm
Link: MagSafe Power Connector Bursts Into Flames
Tech Tips
How to Transform an iBook G3 into a Desktop Mac
Hardmac's Lionel reports:
"We have been reporting already several times about tips and tricks to recycle old Mac or give them a 'second life'.
"PowerBook-fr has published photos of an iBook G3 700 MHz modified into a desktop machine."
Link: How to Recycle an iBook G3
Reviews
MacBook Pro Fast, Has Descent Battery Life
The position of Associated Press (AP) is that you may not quote more than 5 words from any of its copyrighted articles without paying $12.50 or more for a "quotation license". Rather than pay this fee or risk the wrath of AP, we are removing all AP quotes from the site along with links to those articles.
We regret any inconvenience to our readers, but we will never pay for what is considered Fair Use under copyright law. We consider brief quotations in our news roundups to be Fair Use and a benefit to the site that we quoted from and linked to. (We adhere to the Open Link policy, and our Fair Use policy specifically allows quoting up to 50% or 300 words of our original content, whichever is less.)
MacBook and mini Please the Eye, the Brain, and the Budget
BusinessWeek's Stephen H. Wildstrom reports:
"As design innovations go, MagSafe isn't a big deal. It replaces the standard power cord socket on Apple Computer's new MacBook Pro laptop. With the old design, you'd send the computer flying if you tripped over the cord. MagSafe is a nifty magnetic connector that simply breaks away. History books won't celebrate this invention, but it's an example of the smart touches that distinguish Apple in an industry where design is all about slicing a buck off of the bill of materials....
"The Intel processor makes a big difference in these laptops, more so than for the new iMac desktops, which I reviewed on Feb. 13. That's because the chip in the old PowerBook was a full generation out of date. When the MacBook Pro is running programs written for the Intel chips, you get an impressive speed increase - though it falls short of the 300% gain claimed by Apple. As for the older Mac programs, they all run perfectly well, but the user won't feel any improvement."
Link: Two Juicy New Apples - MacBook and mini Please the Eye, the Brain, and the Budget
MacBook Pro Shows USB 2.0 Speed Improvement Over PPC Macs
Bare Feats' rob-ART morgan says:
"I've never been a fan of USB 2.0 for storage since it's slower than FireWire 400 - even though it's rated faster at 480 megabits per second. It's been a while since we did any USB 2.0 testing. When Other World Computing sent me a Seagate Momentus 5400.3 160 GB 5400 rpm Notebook Drive in their Mercury-On-The-Go enclosure with both FireWire and USB ports, I decided to test it on the USB 2.0 ports of the MacBook Pro, the PowerBook, and two Power Macs....
"We were pleasantly surprised to see the MacBook Pro beat the other systems in USB 2.0 performance. Maybe this Intel transition is a good thing after all."
That said, FireWire 400 is still faster than USB 2.0, even on the new Macintel models. Roughly twice as fast, in fact. dk
Link: Intel MacBook Pro Shows USB 2.0 Speed Improvement Over PPC Macs
Daystar G4 1.92 GHz CPU Upgrade for PowerBook G4
Accelerate Your Mac reader Troy H. reports:
"I bought this PowerBook new in Nov. of 2003. I upgraded it to 2 GB RAM (TransIntl) and the rest is all stock, even using the original HD. The screen back then had the infamous white spots which was then replaced under warranty. The system has been rock solid with virtually zero issues. I have 10.3.9 OS on it and it runs very good.
"In short, the only thing I desired was more speed so when I saw the announcement from Daystar that they now offered an upgrade for Al PowerBooks I decided to go for it. Jumping from the 1.25 GHz speed to 1.92 GHz would be over 50% boost in clock speed. I figured this would be very significant. Daystar also claimed that the CPU would run the same or cooler so battery life would be the same or better. I actually emailed them to verify that this was indeed true and was told it was the case. The 7447A CPUs ran cooler than the older G4."
Link: Review of Daystar G4 1.92 GHz CPU Upgrade for PowerBook G4
Products
Super Antenna for MacBook Pro
PR: No Wires, No Hassle, Quickly Tripling the Wireless Range and Strength
The MacBook Pro Connect is a super antenna now available for the new MacBook Pro. The MacBook Pro Connect is the fastest and easiest way to add superior wireless networking to the new MacBook Pro without wires. MacBook Pro Connect is $199.95 from QuickerTek dealers.
Many antenna products require that you open the computer case to attach cables to the internal wireless card. MacBook Pro Connect eliminates this requirement - making improved wireless performance within the reach of every MacBook Pro user.
MacBook Pro Connect is available in two versions - one powered by either the included AC power adapter or through USB and the other is powered through an internal battery ($229.95 model).
Rick Estes, president, QuickerTek, Inc. said, "The Connect product is perfect for MacBook Pro users because it delivers on the Mac's legendary 'ease of use' promise. No wires, no surgery and no hassle. It also extends the accelerated performance levels that has made the MacBook Pro such as hit," Estes continued.
QuickerTek has been a recognized leading innovator of antennas and RF products for Apple Power Macintosh, iMac, PowerBook and MacBook Pro computers. QuickerTek products can be purchased online and from authorized dealers.
Link: Super Antenna - MacBook Pro Connect
Tech Trends
Samsung Launches 32 GB Internal Flash Drive for Mobile PCs
PR: Samsung Electronics Co., Ltd., the leader in advanced semiconductor technology, announced at the Mobile Solution Forum that it has begun offering a 32-Gigabyte (GB) NAND flash-based solid state disk (SSD) - marking the first time that NAND flash has moved into mobile computing applications.
The 32 GB Flash-SSD, which serves the same purpose as a hard disk drive, is a sophisticated data storage medium for notebooks and other mobile computers. It uses instantly-accessible, non-moving NAND flash memory instead of the rotating discs found in hard drives; therefore can upload and download data quickly and quietly with minimal power consumption.
The Flash-SSD weighs only half as much as a comparably-sized hard drive, but reads data three times faster and writes data 1.5 times faster. The SSD uses just five percent of the electricity needed to power a hard disc drive and is noiseless. Its design is free of any motor or other mechanical parts.
The commercialization of Samsung's 32 GB Flash-SSD is a historic milestone for storage devices as it marks the initial entry of NAND flash memory in the mass mobile PC market.
Samsung sees the overall global SSD market surging from US$540 million in 2006 to US$4.5 billion by 2010.
Link: Samsung
Bargain 'Books
Bargain 'Books are used unless otherwise indicated. New and refurbished units have a one-year Apple warranty and are eligible for AppleCare.
There are two different versions of WallStreet running at 233 MHz, the cacheless MainStreet version and the later Series II with a level 2 cache. It's not always possible to determine from the vendor's listing which is being offered, so we've included links within this paragraph to the two models. The same goes for the PowerBook G4/667 (VGA) and G4/667 (DVI), the titanium vs. aluminum 15" PowerBook G4 at 1 GHz, and 1.25 GHz to 1.5 GHz 15" PowerBooks.
PowerBook and iBook profiles linked in our Portable Mac Index.
TechRestore is offering a $25 discount to 'Book Review readers off any PowerBook or iBook in stock. Just enter the code CWM during checkout when ordering online. The coupon code is valid from now through 2007.112.31.
used 12" iBook G3/700, 256/20/CD, $369.99
used 12" iBook G3/800, 256/30/CD, $429.99
used 12" iBook G3/900, 256/40/Combo, $549.99
used 12" iBook G3/900, 256/30/Combo, $549.99
used 14" iBook G3/700, 256/30/Combo, $549.99
used 12" PowerBook G4/1 GHz, 128/40/SuperDrive, $999.99
used 15" titanium PowerBook G4/1 GHz, 512/60/SuperDrive, $1,049.99
refurb 15" PowerBook G4/1.5 GHz, 512/80/Combo, APX, BT 2.0, $1,399
refurb 15" PowerBook G4/1.67 GHz, 512/80/SuperDrive, APX, BT 2.0, $1,549
refurb 15" PowerBook G4/1.67 GHz, 512/80/SuperDrive, APX, BT 2.0, $1,599
refurb 17" PowerBook G4/1.5 GHz, 512/80/SuperDrive, APX, BT 2.0, $1,699
refurb 17" PowerBook G4/1.67 GHz, 512/100/SuperDrive, APX, BT 2.0, $1,849
refurb 17" PowerBook G4/1.67 GHz, 512/120/SuperDrive, APX, BT 2.0, $1,999
used 12" iBook G3/600, 256/20/CD $390
used 15" PowerBook G4/667, 256/20/Combo, $625
extra 512 MB, add $89
used 12" iBook G3/800, 256/30/Combo, $499.95
12" clamshell iBook G3/300, 96/6/CD, $229.99
AirPort Card installed, $99.99
Upgrade with 256 MB RAM, $29.99
Upgrade with 512 MB RAM, $99.99
Order with a new 4000 mah battery, $79.99
The Apple Store Canada Special Deals (Prices In Canadian Dollars)
refurb 12" PowerBook G4/1.5 GHz, 512/60/Combo, APX, BT 2.0, C$1,319
refurb 15" PowerBook G4/1.5 GHz, 512/80/Combo, APX, BT 2.0, C$1,679
refurb 15" PowerBook G4 1.67 GHz, 512/80/SuperDrive, APX, BT 2.0, C$1,799
refurb 15" PowerBook G4/1.67 GHz, 512/80/SuperDrive, APX, BT 2.0, C$1,849
refurb 17" PowerBook G4/1.67 GHz, 512/100/SuperDrive, APX, BT 2.0, C$2,219
refurb 17" PowerBook G4/1.67 GHz, 512/120/SuperDrive, APX, BT 2.0, C$2,299
For more deals on current or recently discontinued models, see our best 15" MacBook Pro deals, our best 17" MacBook Pro deals, 12" PowerBook G4 deals, 15" aluminum PowerBook G4 deals, 17" PowerBook G4 deals, titanium PowerBook G4 deals, iBook G4 deals, PowerBook G3 deals, and iBook G3 deals.
Join us on Facebook, follow us on Twitter or Google+, or subscribe to our RSS news feed
Links for the Day
Mac of the Day: Lisa, introduced 1983.01.19. The ancestor of the Macintosh had a mouse, a graphical interface, and a $10,000 price tag.
Recent Content
Custom Search
Follow Low End Mac on Twitter
Join Low End Mac on Facebook
Favorite Sites
MacSurfer
Cult of Mac
Shrine of Apple
MacInTouch
MyAppleMenu
InfoMac
The Mac Observer
Accelerate Your Mac
RetroMacCast
The Vintage Mac Museum
Deal Brothers
DealMac
Mac2Sell
Mac Driver Museum
JAG's House
System 6 Heaven
System 7 Today
the pickle's Low-End Mac FAQ
Affiliates
Amazon.com
The iTunes Store
PC Connection Express
Macgo Blu-ray Player
Parallels Desktop for Mac
eBay

Advertise