13" Widescreen 'Books 'Imminent', Colors Possible; MacBook Available with Windows Preinstalled, and More
This Week's Mac Notebook News
Compiled by Charles Moore and edited by Dan Knight - 2006.04.21
This Week's MacBook, PowerBook, and iBook News
According to a wide variety of sources, 12" and 17" PowerBooks are in limited supply and a new 13.3" widescreen 'Book should debut shortly. The latest twist is speculation that Apple may offer the iBook replacement in one or two colors besides white.
This is the time of year that Apple has traditionally unveiled new iBooks, so we expect a MacBook announcement Real Soon Now.
On the Macintel path, more and more Windows users and dual-platform users are going with Intel Macs - especially the MacBook Pro - as their primary computer, either using Apple's Boot Camp or Parallels Workstation. ExperCom is even selling MacBooks with WinXP preinstalled.
All prices are in US dollars unless otherwise noted.
General Apple and Mac desktop news is covered in The Mac News Review. iPod news is covered in The iNews Review. News about Apple's transition to Intel CPUs and other Intel developments is covered in The Macintel Report.
'Book Rumors
News & Opinion
Tech Tips and Info
Reviews
Products and Services
Software
Tech Trends
'Book Rumors
MacBook Pro Availability Improves, New 'Books Imminent
Macworld UK's Jonny Evans reports:
"Apple's been working hard to meet demand for its new MacBook Pro notebooks.
"Today, the UK Apple Store has been updated to match the US store, with a small green circle atop the MacBook Pro listing that promises customers that their new pro notebook will ship in just 24-hours....
"Meanwhile speculation continues to grow that Apple will announce an Intel-powered replacement for its current iBook models, perhaps as soon as next week on the eve of the company's financial announcement on April 19."
Asustek to Produce 13.3" 'Books for Apple
The China Economic News Service reports:
"Asustek Computer Inc., one of Taiwan's major contract manufacturers of notebook (NB) personal computers, reportedly is ready to swallow up Apple Computer's orders for 1.2 million Intel processor-powered iBooks.
"Apple is expected to launch the new iBooks, the company's first with Intel processors, sometime in the second quarter of this year. The iBook NBs embedded with Intel processors will adopt 13.3-inch LCD (liquid crystal display) panels....
"Since the beginning of this year, Apple has been contacting Samsung, LPL, AU Optronics, and Chi Mei to supply the specialized panels. AU Optronics said it would ship between 40,000 and 50,000 13.3-inch panels to Apple per month."
New 'Books Could Get a Splash of Color
Business 2.0 Magazine's Owen Thomas and Fortune reporter Oliver Ryan report:
"Apple's new MacBook laptops may come in two colors besides white, AppleInsider reports. It's been almost eight years since Steve Jobs unwrapped the original Bondi blue iMac - and since 2002, all of Apple's computers have been either white or metallic....
"One hitch for Apple: Stocking multiple colors means producing and tracking more models, a logistical feat Apple hasn't grappled with in years. Additionally, some retailers might refuse to stock more than one color...."
Editor's note: The first Mac available in multiple colors was the Jan. 1999 iMac 266 (Rev. C), which shipped in 5 different colors. The last Mac available in multiple colors was the Summer 2001 iMac (discontinued Jan. 2002), when each iMac was available in snow/white plus one other color, either indigo/blue or graphite/gray.
Apple is very successfully selling iPods in black and white, so it shouldn't be too much of a stretch to deal with multiple colors for Macs as well. dk
Apple Readying Colored MacBooks?
The Register's Tony Smith reports:
"Apple's upcoming Intel-based iBooks - now firmly believed to ship under the MacBook brand - may see the company once again offer the product in a range of coloured cases not seen now four more than four years....
"Apple's flirtation with colour began in May 1998 when it launched the original iMac. At the time it was only available in blue and white, but the following January, Apple launched a range of colours....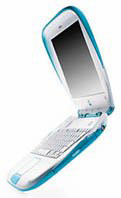 "So did the original iBook, announced in September 1999 and which originally shipped in curvaceous blue-and-white and orange-and-white cases....
"The time may have come for a return to coloured cases. We'd nominate shiny black...."
Editor's note: I second the motion. cm
A Glossy Black MacBook Would Suit Me Just Fine
In this week's The Road Warrior on MacOpinion:
"Scuttlebutt from the rumor mills last week was that the new 13.3 inch widescreen MacBook, which is expected to replace the current 12" and 14" iBooks and probably the 12" PowerBook as well soon, will come with more color choices than white. There is probable cause to imagine that this will be the case. The latest iPod and iPod nano come in both white and black models, and the black version has been a sales hit. I think a black MacBook would also do very well, and with a strong likelihood that I will eventually by a MacBook, I might opt for a black one myself if that option were available....
"Color preferences are said to be an indicator of personality characteristics, so what does your computer color preference say about you?"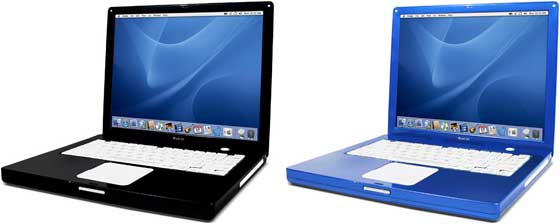 "And if you just can't wait, Color-ware Inc. has the answer for you, offering the Apple laptops (iBook and PowerBook) in a palette of 23 colors, as well as colored iPods and Mac minis."
News & Opinion
Buy a MacBook Pro with Preloaded Windows XP
The Unofficial Apple Weblog (TUAW)'s Dan Pourhadi reports:
"I am writing this at midnight, dear readers, and I can only pray that what I'm looking at is a fever-induced hallucination and I'm trapped in some sort of cruel nightmare triggered by Microsoft's secret Terror Ray XP Premium Edition....
"It seems a company called ExperCom is selling standard-specced MacBook Pros . . . pre-loaded with Windows XP...."
Switching to Mac (but Not Really)
ExtremeTech's Jason Cross says:
"For the last year or so, I've been searching for just the right notebook. My dilemma was this: I wanted something with a reasonably fast CPU, plenty of RAM, a good optical drive, and most importantly, an honest-to-goodness quality GPU. Those are all over the place, but they weigh about 6.5 pounds to 7 pounds at the best. Once you get into the 'under 6 pounds' category, you get into graphics chips that are two generations old, or graphics chips with very little RAM (expanded by the TurboCache or Hypermemory tech from Nvidia or ATI), or worst of all, integrated graphics (shudder!).
"Every now and then I would find a borderline notebook, kind of heavy but not too bad, kind of a decent GPU but not as good as I'd like, and I'd get gun shy with my credit card just looking at the awful industrial design. Last weekend I finally found just the Windows notebook I was looking for - and it's made by Apple."
Parallels Workstation Clinches Choice of MacBook Pro
anandtech.com's Anand Lal Shimpi says:
"When I first started using a PowerBook G4 over a year ago it quickly turned into the best experience I'd ever had with a notebook. My biggest issues with notebooks were always related to reduced productivity, mainly because of screen size and resolution constraints. Despite its name, Windows does an absolutely horrid job of managing lots of windows, something which looks to be on the road to getting fixed in Vista but back then there was no hope in sight. It also just so happens that when I'm getting a lot of work done and when I happen to be my most productive, I have a ton of windows open at once. The move to tabbed browsers alleviated some of the problem, but for the most part it still existed. And on a notebook, with a small lower-resolution screen and an uncomfortable to use pointing device productivity suffered.
"My experience with OS X and the PowerBook G4 changed all of that; window management under OS X was significantly improved for reasons I've outlined before (Exposé, hiding vs. minimizing windows, the zoom to fit control, etc...) and it even addressed the issue of user input. With the large number of keyboard shortcuts that existed for virtually everything in OS X, I spent far less time using the trackpad and much more time actually getting work done.
"But my PowerBook experience wasn't perfect; I opted for the 15" model because I did want to get work done and needed the large screen with its higher resolution. The problem was that the 15" PowerBook weighed at least a third more than any notebook I had used in the previous couple of years, and although initially I had no issues going to a larger, heavier notebook it eventually became a pain. I still wouldn't trade away the added productivity for something smaller and lighter, but you always want what you don't have....
"When it was finally announced that the first Intel based Macs had booted Windows XP, there was a lot of excitement from those who were on the fence about giving OS X a try. Had this all happened to me back in the summer of 2004 when I first gave Apple and OS X a try that probably would have been me showing my excitement as well. But for almost two years now I've been living a life happily as a dual user, so a hack that let me boot Windows on my Mac meant nothing to me.
"Then Apple announced Boot Camp, effectively a very handy utility to partition, boot and run Windows XP alongside OS X on any Intel based Mac. Even more people wrote me, telling me that they were extremely excited that this had happened and that they wanted a review of the experience, much like I had done OS X in the past. You see, Apple is very careful about where and when they send review hardware, so any sort of MacBook Pro article was going to require me going out and buying a unit myself - thus an extensive cost benefit analysis had to be performed every step of the way.
"But the straw that broke the cost benefit analysis model's back was the announcement of Parallels' Virtual Machine 2.1 beta. The beta would let you run Windows XP under OS X in a virtual machine with support for Intel's Virtualization Technology (VT). After that announcement I knew there was no avoiding it, an article had to be done; not only on the MacBook Pro but on Boot Camp and Parallels' solution.
"What follows is that article."
John Manzione's First MacBook Pro Impressions
MacNet's John Manzione says:
"I had no intention of buying an Intel Mac until the transition to the new chips was complete, in every way. I didn't want to run software in emulation, I didn't want to go through what I went through a few times before, so I would wait it out. Then came Boot Camp, and suddenly I had the urge...
"I was, until yesterday, firmly in the camp that was not particularly happy with Apple's decision to move to Intel processors. It wasn't that I was unhappy with Intel, and who doesn't want faster computers? It was this whole 'transition' thing. I've been a Mac user long enough to experience the PowerPC transition, the move to OS X, and now Intel. I just wanted a few years of stability. So I figured I'd sit this one out for as long as I could....
"All in all, what you gain with a MacBook Pro over a PowerBook, for the same money, is the built in iSight camera, Front Row with a remote control, a safe [power] adapter, and 2 latches instead of one. And, of course, the ability to run Windows natively. The MacBook Pro is a great value for the money....
"I was very fortunate in the timing of purchasing the MacBook Pro. I received [it] yesterday, about an hour before I was notified that Aperture 1.1 came out. (Not to mention an email I received last night from Apple alerting me to the fact that I will be getting a $200 e-credit to use at the Apple store . . . Apple lowered the price of Aperture to $299, I paid $499) . . . Aperture 1.1 on a MacBook Pro is, like we say in New England "Wicked Fast". There are not a lot of Aperture users yet, but if you are one of them you'll be happy to know that the speed increase in Aperture alone, and the added speed of a 2 GHz Core Duo Aperture will feel like a completely new application. If you use a lot of photographs in your work, and shoot in RAW the appearance of Aperture now, as a universal app, gives us 'some' relief over having to use Photoshop and Camera Raw....
"So, to be honest, if Boot Camp had not arrived on the scene I would still be using, and happily using at that, my dual layer PowerBook 15". I would have moved to the Intel processor in time, but not until CS3 was released, at the least. But, combining the release of Aperture 1.1 and Boot Camp, I think I did the right thing. I don't use video conferencing despite the fact that I have a couple of iSights sitting around, so the iSight that comes with the MacBook, while nice, is no biggie for me. (Although it might be for you). The remote control and Front Row is very useful, and fun to use."
MacBook Pro GPU Underclocked
The Register's Tony Smith reports:
"Apple appears to have underclocked the ATI Radeon Mobility X1600 graphics chip in its MacBook Pro laptop. According to one online report, the GPU's core runs 35 per cent slower than the clock speed recommended by ATI. The memory clock is 41 per cent below par.
"The speed differential was spotted by a poster on French-language site MacBidouille, the site reports. The correspondent ran ATI's ATI Tools utility - version 0.25, a beta release - running under Windows XP. The software revealed his MacBook Pro's X1600 was clocked at 310 MHz and the memory at 278 MHz (556 MHz effective)."
Tech Tips and Info
MacBook Pro Firmware Update 1.0.1
"This update is for MacBook Pro computers with Intel processors only. It now runs on localized systems that use languages that read right to left.
"File Size: 2.8 MB
"System Requirements
Mac OS X 10.4.5 or later
MacBook Pro (early 2006)"
Reviews
Aperture 1.1 Better, Faster on a PowerBook G4
oreillynet.com's Derrick Story reports:
"Aperture 1.1 was available this morning via Software Update on my PowerBook G4. I've been using Aperture on a PowerBook from the beginning, and have been waiting for the 1.1 release to provide better performance when working with big RAW files. That day is here. I downloaded the update and went to work.
"Many people will comment on the new color values readout that's available in the HUD and the Digital Loupe. Nice addition, but the three truly important changes are improved RAW decoding, faster performance on a PowerBook G4, and UB compatibility on the new MacBook Pro. After just a morning of testing, Apple appears to deliver on all three counts."
Products and Services
Marware's Protection Pack for MacBook Pro
PR: The Protection Pack consists of a Wrist Rest and a Keyboard Cover. The wrist rest is a slip of PVC leather designed to prevent scratches and provide a smooth, padded work surface.
The non-permanent special adhesive allows for effortless complete and clean removal. The dual-purpose Keyboard Cover is made of microfiber, the same material used for lens cloths. Perfect for protection against impurity transfer and for use as a screen cleaner.
$19.95
Targus Debuts Women's Radiance Totes
PR: Targus Inc., maker of the world's best-selling notebook cases and accessories, introduces the ladies Radiance Tote - a sleek option for women looking for notebook protection while traveling to work or between meetings. Designed to fit notebook computers with screen sizes up to 15-inches, the Radiance Tote is offered in three vibrant colors - Pink Petal, Sage, and Chocolate Brown - with stylish accents and space for plenty of personal accessories.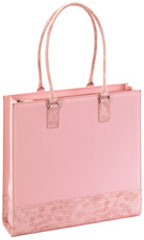 "The Radiance Tote differs from standard notebook case designs due to its feminine look and feel," said Michael Greco, director, U.S. product marketing, for Targus. "Featuring styles and colors that give the appearance of a fashionable purse, the Radiance line offers the functionality of a notebook case with ample storage for business accessories and personal items."
Constructed of durable microfiber, the Radiance Tote features hardware accents to prevent wear and tear on the handles and a padded notebook section for extra protection. Storage options include an internal zippered side pocket, pen/pencil loops, a business card/ID holder and additional card slots, a compartment for a PDA or MP3 player and a removable zippered pouch for personal items.
Although structurally identical on the inside, each color of the Radiance Totes provides a thoroughly unique exterior look. The Pink Petal tote is constructed of pink microfiber and complemented by embossed pink faux crocodile PVC near the base and on the handles. The Sage tote features light green microfiber with a complementary pale green embossed faux crocodile PVC near the base and on the handles. The Chocolate Brown tote is made from a brown colored microfiber and accented with smooth black PVC material near the base and on the handles.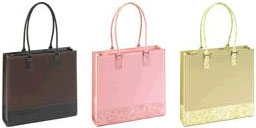 The Petal Pink (Model #TLT026US) and Sage (Model #TLT027US) colored totes measure 15.25" x 4.25" x 14.5" and weigh 2.16 lbs., while the Brown tote (Model #TLT023US) measures 15.25" x 4.125" x 14" and weighs just 1.96 lbs. All three totes come with a limited lifetime warranty and will be available at the end of April. MSRP is $39.99.
Software
coconutBattery Laptop Battery Monitor
PR: coconutBattery v2.x is completely rewritten . . . preferences menu . . . Dashboard widget . . . more languages(coming soon) . . . many groundbreaking new features are planned for the next versions . . . and it's still freeware(but donations are more than welcome)
coconutBattery is a tool that reads out the data of your notebook-battery (iBook/PowerBook). It gives you live feedback, what's going on in your battery (not only a snapshot like other tools).
It shows the current charge of your battery as well as the current maximum capacity related to its original. If coconutBattery detects that you have connected the wrong charger (i.e. an iBbook-charger plugged in a PowerBook) it will warn you! That's a cool feature!
Of course you are able to save the current maximum capacity of your battery - with just one click! coconutBattery uses Apple's new and really powerful technology named "CoreData" to realize that.
Finally coconutBattery calculates the age of your Mac exactly! So you can derive the age of your battery. And last but not least: coconutBattery is Universal Binary (you can run it on Intel-Macs! - cool!) and it is complete localizable!
Many localizations are ready to start but still need some bug fixes.
If you want to help translating coconutBattery to your language, just write me an email - but you should wait these few days until I know what localizations needs a update.
By the way: The really really cool and absolutely coconut-flavoured icon was created by http://www.afterglow.ie - really good job! Check out the webpage.
New in version 2.3:
Universal binary for MacBook Pro
New in version 2.2:
widget bug fixes and improvements,
new localizations (Finnish, Spanish, French, German),
minor bug fixes
New: in version 2.1:
much cooler widget - Chinese localization - minor improvements
New in version 2.0:
completely rewritten, added a dashboard widget, preferences menu for custom values and much much more!
System requirements:
Mac OS 10.4.3 (Tiger)
An Apple-Notebook (PowerBook or iBook)
System requirements: Mac OS X 10.4.3 or later.
Free
UnPlugged: Fast, Simple, Invisible Power Connection Monitor
PR: UnPlugged is an application to notify when the power cord of the Mac is unplugged or plugged in. Notifications are done using Growl, or with a Alertwindow, when Growl is not installed.
This App is done with Cocoa and doesn't use as much RAM and CPU usage as the other tools available.
Usage Hints:
to quit UnPlugged option click on the notification or hit the quit button in the alert panel when Growl is not installed
unplugged will show the battery status every couple of percents that the battery looses capacity, you can change this in the prefpane.
you can also specify applications where you don't want to see this kind of notifications (e.g. keynote, when doing a presentation)
New in version 1.4:
added a prefpane to control unplugged
starting unplugged when it is already running shows the current status of the battery
System requirements: Mac OS X 10.3.9 or later.
System support: PPC/Intel
Free
Tech Trends
Laptops with Flash Memory Instead of Hard Drives Coming
technologyreview.com's Kate Greene reports:
"Flash memory storage, traditionally used in cell phones, digital cameras, and MP3 players, is finding its way onto the laptop. Last October, Intel unveiled a hybrid technology in which flash is used with a conventional magnetic hard drive to increase battery life. Then, last month at the CeBIT, a technology show in Hannover, Germany, Samsung Semiconductor displayed a laptop in which 32 gigabytes of flash completely replaces the hard drive.
"Now, as storage densities rise and prices fall for flash technology, many industry experts expect that it's only a matter of time before it becomes common in laptops.
"There are numerous advantages to putting flash memory into laptops. The technology is based on transistors and has a design similar to microprocessors, making flash memory chips more compact and lighter than magnetic hard disks - which could lead to featherweight laptops.
"Additionally, flash has no moving parts...."
The drawback: Flash memory isn't nearly as cheap as hard drives.
Asus Lamborghini 'Supernote' Spec Not So Super?
The Register's Tony Smith reports:
"Asus has finally revealed what lies under the hood of its Lamborghini-branded notebook, the VX1. Unfortunately, the laptop is unlikely to impress anyone expecting the computing equivalent of the performance cars it's named after. It's also more expensive than Asus has hinted in the past.
"According to Asus, the VX1 - dubbed the 'supernote' - will contain a 2 GHz T2500 processor - alas not a top-of-the-line Core Duo .... 1 GB of 667 MHz DDR 2 SDRAM, a 120 GB hard drive and a dual-layer DVD±R/RW optical unit.
"The display, as expected, is a 15in screen, with a 1,400 x 1,050 resolution....
"Asus said the VX1 will retail in Europe for €2,700...."
Bargain 'Books
Bargain 'Books are used unless otherwise indicated. New and refurbished units have a one-year Apple warranty and are eligible for AppleCare.
There are two different versions of WallStreet running at 233 MHz, the cacheless MainStreet version and the later Series II with a level 2 cache. It's not always possible to determine from the vendor's listing which is being offered, so we've included links within this paragraph to the two models. The same goes for the PowerBook G4/667 (VGA) and G4/667 (DVI), the titanium vs. aluminum 15" PowerBook G4 at 1 GHz, and 1.25 GHz to 1.5 GHz 15" PowerBooks.
PowerBook and iBook profiles linked in our Portable Mac Index.
used 12" iBook G3/500, 256/15/CD, $325
used 12" iBook G3/700, 256/20/CD, $385
refurb 12" PowerBook G4/1 GHz, 256/40/Combo, $899
Upgrade to SuperDrive (available only with machine), $129.99
Upgrade to 8x +/- Super Drive (available only with machine purchase), $159.99
Add 512 MB RAM (available only with machine), $49.99
Add 1 GB RAM (available only with machine), $189.99
1 year extended service warranty (w/purchase of machine), $99.99
used 12" iBook G3/800, 256/30/Combo, $499.95
used 15" PowerBook G4/500, 256/30/DVD, $549.95
used 15" PowerBook G4/1.67 GHz, 512/80/SD, APX, $1399.95
news MacBook Pro 1.83 GHz, 512/80/SD, extra 1 GB, $1,999
Add Windows XP to your MacBook Pro preloaded, $199
refurb 12" PowerBook G4/1.5 GHz, /512/60/Combo, APX, BT 2.0, $1,099
refurb 15" MacBook Pro 1.83 GHz, 512/80/SuperDrive, $1,699
refurb 15" MacBook Pro 2.0 GHz, 1024/100 GB/SuperDrive, $2,199
refurb 15" MacBook Pro 2.16 GHz, 1024/100/SuperDrive, $2,399
refurb 17" PowerBook G4/1.5 GHz, 512/80/SuperDrive, APX, $1,699
For more deals on current or recently discontinued models, see our best 15" MacBook Pro deals, our best 17" MacBook Pro deals, 12" PowerBook G4 deals, 15" aluminum PowerBook G4 deals, 17" PowerBook G4 deals, titanium PowerBook G4 deals, iBook G4 deals, PowerBook G3 deals, and iBook G3 deals.
Join us on Facebook, follow us on Twitter or Google+, or subscribe to our RSS news feed
Links for the Day
Mac of the Day: Lisa, introduced 1983.01.19. The ancestor of the Macintosh had a mouse, a graphical interface, and a $10,000 price tag.
Recent Content
Custom Search
Follow Low End Mac on Twitter
Join Low End Mac on Facebook
Favorite Sites
MacSurfer
Cult of Mac
Shrine of Apple
MacInTouch
MyAppleMenu
InfoMac
The Mac Observer
Accelerate Your Mac
RetroMacCast
The Vintage Mac Museum
Deal Brothers
DealMac
Mac2Sell
Mac Driver Museum
JAG's House
System 6 Heaven
System 7 Today
the pickle's Low-End Mac FAQ
Affiliates
Amazon.com
The iTunes Store
PC Connection Express
Macgo Blu-ray Player
Parallels Desktop for Mac
eBay

Advertise