Glossy MacBook Screen, MacBook Keyboard, Fix for MacBook Pro Heat Problems, and More
This Week's Mac Notebook News
Compiled by Charles Moore and edited by Dan Knight - 2006.05.19
This Week's MacBook, PowerBook, and iBook News
All prices are in US dollars unless otherwise noted.
General Apple and Mac desktop news is covered in The Mac News Review. iPod news is covered in The iNews Review. News about Apple's transition to Intel CPUs and other Intel developments is covered in The Macintel Report.
MacBook
MacBook Pro
Other 'Books
Tech Info
Products and Services
Tech Trends
MacBook
Glossy MacBook Screen: Apple Caves to the Masses
Ars Technica's John Siracusa says:
"The new MacBook comes with what Apple calls a '13.3-inch glossy widescreen display.' The key word there is 'glossy,' and it serves as a warning to the scant few Mac users who immediately know what it means in this context....
"So, what's the big deal? Consider some synonyms for the word 'glossy.' Gleaming. Shiny. Reflective. Now you're getting it.
"When the screen is off, it's basically a mirror. Fine. Who cares what it looks like when it's off, right? Let's boot this baby up and bask in the glow of our lustrous, glistening, shimmering screen!
"...many Mac users read the phrase 'glossy display' with a heavy heart. Reflections! Glare! These are not good things!....
"Glossy displays have effectively taken over the entire laptop market. Why are they so popular? Here are three possible reasons.
They are better than matte-finish displays.
They are cheaper than matte-finish displays.
People are idiots."
John elaborates on these hypotheses at some length and concludes that:
"It seems pretty obvious to me that shiny 'looks better,' and that's why it's taken over the laptop market. This makes me sad, and not a little bitter. Thus, reason number three. People are idiots. I declare it the winner!"
Editor's note: I regretfully agree. Whatever degree of enhanced brightness afforded by glossy displays will be more than negated by maddening reflectivity. Nitwit populism triumphs over practical sensibility once again, as it so frequently does in the realm of style and fashion. cm
Link: And We All Shine On
Hands on with the Apple MacBook
Engadget's Ryan Block reports:
"With the MacBook you're getting a full fledged Mac machine: Core Duo processor - not Core Solo as some had expected - WXGA [Windows speak for 1280 x 800 - ed] display, digital video out to power that 24-incher, Bluetooth, a slot loading DVD burner (depending on your model), the whole megillah. What you aren't getting, however, is slightly more subtle. Yes, you're not getting that 15.4-inch display or the ExpressCard slot (remember, the iBook before the MacBook didn't have a PC Card slot, either) [Editor's note: neither did the 12" PowerBook, which the MacBook also replaces CM] , nor are you getting that fancy ATI Mobility Radeon X1600, but you're also forgoing that notably larger MacBook Pro power brick, mechanical latches, and a dimmer (though less reflective) display.
"One of the first things we were curious about was the keys. This Mac's keyboard was visually quite different from every other we've seen in the past, and is obviously its most aesthetically striking and distinctive feature.
"The flat square keys lack side or top ridges, making touch typing a little unusual (and possibly somewhat difficult), being that the only physical key delineation is the space between them. What made up for this, however, was the notably more tactile key feedback when compared to the PowerBook and MacBook Pro, which share the same lame, mushy keyboard."
Editor's note: I think the "lame, mushy" PowerBook G4 keyboard is excellent and second only to the 1998 WallStreet PowerBook keyboard, so I don't find this report encouraging. I detest stiff keyboards with "positive" over-center action. cm
Link: Hands on with the Apple MacBook
MacBook Keyboard Irks with 'Unfamiliar Feel'
zatznotfunny.com/ reports:
"Let me start by saying I've been anxiously awaiting the MacBook - small form factor, dual bootable, reasonable price point! But having spent about 30 minutes exploring it, I may have to pass.
"I want to love the MacBook and it suits my purposes perfectly, but the keyboard just isn't working for me . . . I type hours a day (on various devices, in various positions) and am a graduate of the ThinkPad School of Keyboards. My main complaint is what I want to call a lack of travel followed by a lack of bounce. The stroke just feels too short and too firm - it's somewhat jarring. The other problem I have is the unfamiliar feel of the keyboard; the keys aren't very concave and I'm a little too cognizant of the edges or space between them. For comparison, I like the feel of the MacBook Pro keyboard.
"Several folks wanted me to report back on the new glossy screen - I can tell you it's similar to what many PC laptops offer these days. There is more glare/reflection, but the extra contrast is nice and offsets it. (The reflection in the photo is the overhead lights in the Apple Store, my cell phone doesn't have a flash.)"
Link: MacBook Drops, Keyboard Irks
MacBook's Recessed Keyboard Protects Screen
MacUser's Dan Moren says:
"Of the features we've seen of the new MacBook, the one that strikes many people the most is the new keyboard design. And while we've mentioned the odd 'isolated key' design, and the tactile feel of the new keys, there's one subtle thing that has escaped a lot of attention, that I think roundly deserves a bit of praise.
"As you can see from the pictures floating around the web, the MacBook's keyboard is sunk into the case. If you view a MacBook from the side, you can tell that, unlike the iBooks and PowerBooks of yore, the keys don't top the sides of the case....
"For years, one of the things that bugged me about both my old PowerBook G3 and my current iBook is that the keys from the keyboard can touch the screen when the computer is closed....
"And so, for my part, I'm thrilled to finally see a laptop from Apple that addresses this problem in a simple, elegant fashion...."
Link: A Paean to the MacBook Keyboard...
Paul Thurrott Buys a MacBook
Internet Nexus' Paul Thurrott says:
"Today, Apple quietly updated its Web site to include a new line of MacBook notebooks, which 'complete the family' in Apple's words. This indicates two things: First, the iBooks are, finally, gone. Second, there won't be a 12-inch MacBook Pro. That's fine with me: I've always thought that all of Apple's notebooks should be widescreen anyway....
"After comparing various MacBook and MacBook Pro models, I opted for the mid-line (white) model but upgraded to the 80 GB hard drive. I also ordered an extra battery. I'm curious whether the performance will be good enough, but given my experience with a Core Solo processor in the Mac mini and the fact that the MacBook has a Core Duo processor, I think it will be OK...."
Link: Paul Thurrott Buys a MacBook
Disassembled MacBook
Link: Disassembled MacBook (text mostly in Japanese)
MacBook Pro
Firmware Update Fixes MacBook Pro Heat Problems
TechWeb News's Gregg Keizer reports:
"Apple Computer Inc. quietly issued a firmware update Tuesday [see below] for its Intel-based systems that users said fixed overheating problems in the MacBook Pro notebook, which has been plagued with heat and noise issues since it was introduced in February....
"Although Apple said that the update was to 'System Management Control (SMC)' firmware, it was up to MacBook Pro (MBP) users to figure out that SMC is the specialized controller that manages thermal and power conditions, and is in charge of running the portable's fans.
"Within hours of the update, users began reporting that the update seemed to increase the MacBook Pro's use of its fans, and using diagnostic tools, claimed that their machines were running up to eight degrees cooler."
Link: Apple Fixes Firmware, Nixes MacBook Pro Heat Problems
17" MacBook Pro 'a Hunk of Dual-core Goodness'
Computerworld's Ken Mingis says:
"This could very well be my favorite Apple laptop ever"
"It can rightfully be said that I am an Apple laptop fan. Going back to the late 1990s I've had a plethora of PowerBooks, including a G3-based Wallstreet, several TiBooks - so named for their
"Titanium exterior - and almost every iteration of the aluminum-clad PowerBook line. Since I like 'em big, at one time or another I've had all but one of the 17-inch PowerBook G4s.
"The missing model? That would be the last 17-inch PowerBook G4 released in October. By then, I figured I'd wait for something with an Intel chip - even if it meant waiting a year.
"My, how time flies. It's only been about seven months and already the best laptop Apple Computer Inc. has ever churned out is sitting right here in front me. The newest MacBook Pro models, unveiled late last month, are now arriving in owners' hands. This one came courtesy of Apple, ostensibly for review purposes but obviously designed to tempt anyone who uses it into plunking down a credit card - no doubt, the one with the rounded edges - and heading home with a hunk of dual-core goodness...."
Link: MacBook Pro 17 'a Hunk Of Dual-core Goodness'
17" MacBook Pro 'Almost All Good'
PowerPage's Bob Fish reports:
"I replaced my 17" PowerBook (1 GHz) with a 17" MacBook Pro. After half a day with the MacBook Pro, I've got almost all good things to say about my new machine (so far).
"The one downside is the heat when it is plugged in and set at 'Better Performance' it is almost untouchable on the bottom. I was installing all of my applications and copying my files over from my LaCie Big Disk (FW 800) and sitting wide-eyed at the speed at which my iTunes library came over when I decided to check on the heat.
"My hands are usually heat-proof pulling things from the toaster/microwave, etc., but this was a whole new level of heat! I must say that it cooled down VERY quickly when I unplugged the ultra-cool safe-mag [sic] adapter. It runs very nicely and even what I would call cool on the normal setting.
"Another small negative is that if you're using a light colored screen background, you can see a halo in both bottom corners from the backlight. This goes away with a darker background."
Link: Review: MacBook Pro 17-inch
17" MacBook Pro Avoids Flaws of Early 15" Model
Gene Steinberg, the Mac Night Owl, says:
"To be perfectly honest, I was very impressed with the first iteration of the MacBook Pro, but something was missing. No, not dual-layer DVD burning or FireWire 800, though I use the latter on my desktop Mac. No, what I wanted was a bigger screen, a 17-inch version. Well, it took nearly four months for Apple to deliver the goods, which is when I decided I needed to spend an extended amount of face with the new product."
Link: First Look: 17-inch MacBook Pro
If You Go MacBook Pro, Get 2 GB of RAM
oreillynet.com's Derrick Story says:
"The MacBook Pro 17" ships with 1 GB 667 DDR2 - 1 SO-DIMM Ram in a single chip, which I very much appreciate. The laptop only has two RAM slots, and you certainly don't want to mess around with 512 MB DIMMs . . . you might as well put potato chips in those slots.
"...I went 3 days working with the MacBook Pro on 1 GB RAM. That was 3 days too long. Don't let this happen to you...."
Link: If You Go MacBook Pro, Go 2 GBs RAM
Other 'Books
On the Declining Quality of Apple Computers
Insanely Great Mac's Remy Davison says:
"Today, I took delivery of my new PowerBook G4/17" 1.67 GHz. It's not a 17" MacBook Pro, no, but a superseded machine at a considerable discount, and a mean slab of aluminium. Put simply, it rocks.
"Except that the screen cable's dying/breaking/broken....
"That's not what you pay several $k for....
"And it wouldn't be an isolated incident. A few years ago, IGM canvassed the idea that Apple quality control had bitten the dust. And Apple even began deleting iBook logic board failure posts on its discussion boards.
"So before Apple adds piles of whizz-bang, bleeding-edge tech to its latest crop of MacBooks, we'd like to see them seize quality control issues by the scruff of the neck and reacquire that enviable reputation for gold-standard quality they had before they started buying mediocre PC components off the shelf...."
Link: On the Declining Quality of Apple Computers
Tech Info
Apple Notebooks: Operating Temperature
An Apple Knowledge Base article says:
"The bottom surface and some areas between the keyboard and LCD hinge of your Apple notebook computer can become hot after extended periods of use. This is normal operating behavior. With processor and bus speeds in portable computers often matching, if not exceeding, those of desktop systems, increased operating temperatures in portable computing products are common throughout the industry.
"For prolonged use, place your portable computer on a flat stable surface. Do not leave the bottom of the computer in contact with your lap or any surface of your body for extended periods. Prolonged contact with your body could cause discomfort and potentially a burn.
"Here are some suggestions for working with your portable computer to address any concerns you may have with the operating temperature:
"1. When using your portable computer, place it on a hard surface, such as a desktop or a tray. A hard surface allows air to flow under the computer to dissipate heat. Placing it on a soft surface such as a towel or pillow (or lap) is not recommended because it does not allow air to flow under the computer.
"2. Under the Energy Saver pane in System Preferences, set the optimization to Better Energy Savings."
Link: Apple Notebooks: Operating Temperature
MacBook Pro SMC Firmware Update
The SMC Firmware Update addresses boot issues with the MacBook Pro
The updater application will be installed in the /Applications/Utilities folder and will launch automatically after restart.
System Requirements
Mac OS X 10.4.6 or later
MacBook Pro
Link: MacBook Pro SMC Firmware Update
Products and Services
Affordable 65W Power Adapter for PowerBooks and iBooks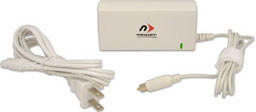 PR: The Newer Technology 65 Watt Power Adapter for PowerBook G4, iBook G3 Dual USB and iBook G4 systems provides a replacement or spare for the original equipment from Apple.
This auto-switching adapter is also great for use as a spare for travel, in the office or at home. The extra long 12 foot (4 meter) cord relieves strain. The power supply pumps out a full 65W of power to charge your battery.
Features include:
65w power output
100-240v AC input @ 50/60 Hz
Auto-Switching Power for outside USA
12 foot (4 meter) long cord
Compatible with:
PowerBook G4 "Aluminum"

12" - All Speeds
15" - All Speeds
17" - All Speeds iBook G4
12" - All Speeds
14" - All Speeds

PowerBook G4 "Titanium"
iBook G3 (Dual USB)

12" - All Speeds
14" - All Speeds
Product Specifications:
Voltage: Input: AC 100V to 240V 50/60 Hz 130 VA
Output: DC 24V 2.7A 64.8W
Size: Width: 43mm
Height: 105mm
Depth: 29mm
Weight: 190g
Warranty: 3 year
$49.95
Link: NewerTech 65 Watt Power Adapter
70 Watt AC/DC Power Adapter for Apple 'Books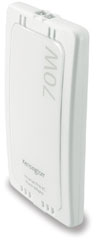 PR: With AC/DC capabilities and a design that's up to 40% smaller and lighter* than other adapters, the Kensington 70W AC/DC Power Adapter powers your Apple notebook virtually anywhere.
Features
AC and DC capabilities power your Apple or iPod virtually anywhere
Compact and lightweight design is up to 40% smaller and lighter (by volume) for more nimble portability
70 watts of anytime, anywhere power for your Apple PowerBook, iBook, or iPod
Flexible SmartTip design lets you power dozens of devices with a single adapter - just swap tips (sold separately - for more info go to: www.kensington.com)
One adapter can replace your existing power supply and give you portable power
Included in the package are the following notebook tips: N16, N23 and J3 (iPod tip)
The 70 Watt AC/DC Power Adapter for Apple Notebook is backed by the Kensington 1-Year warranty.
Price: $119.99
13.3" MacBook Laptop Screen Protector
PR: ShaggyMac has released the 13.3" MacBook ShaggyMac Screen Protector
Avoid screen damage from dirt, oils, and residue. Utilizing True Micro-Fiber Technology, the ShaggyMac Laptop Screen Protector boasts over 1 million fibers per square inch, which translates into the best possible screen protector available. They are custom tailored to fit this exact 13.3" Widescreen MacBook model. The ShaggyMac Screen Protector even doubles as a screen cleaner to safely wipe away dust & debris. Sensible insurance for your screen. Includes Free iKlear Apple Polish Single.

Colors:
Stealth Grey
Panther Black
Bottom Blue
Big Red
Specs:
Material: TrueMicro - (>1 million fibers/sq. inch)
Size: 12.5" x 8.25" (31.75cm x 20.96cm)
How thick or thin? - 0.8mm
Product of USA
13.3" MacBook Laptop Screen Protector sells for $12.95
Link: 13.3" MacBook ShaggyMac Screen Protector
iProtect Micro Screen Protector
PR: MaxUpgrades iProtect Micro Screen Protector provides protection against dust, scratches , grease and oil that gradually get deposited on the laptop keyboard and palm rest area by every day use. iProtect Micro Screen Savers is made with ultrafine microfibers effectively protect and removes dust particles, grease and finger prints that gets deposited on the the laptop, it also provides protection for laptop LCD Screen from keyboard and track pad indentation caused by the keyboard keys touching the display when the laptop is closed.
iProtect Micro Screen Protector prevents the series of faint white lines that correspond to the edges of the keys on the keyboard to appear on the the LCD Screen when the laptop is closed and keyboard key edges come in contact with the display. This oil accumulation can leave permanent marks on the screen.
iProtect Micro Screen Protector have two different surfaces designed to clean and protect laptop LCD screens. The soft vanquished surface (front surface) is designed for fine particle removal and dust cleaning. The rough and interlacing strands of the knitted surface (reverse side) is designed to clean fingerprints, grease and marks.
The iProtect Micro Screen Protector features a fringe wave design that will not scrape the LCD panel compared to the fringe stitch found commonly on most cleaning cloths.
$8.99 - $11.99
Link: iProtect Micro Screen Protector
Dr. Bott's VGAtor for ADC and DVI Displays
PR: VGAtor (pronounced "vee-gee-ator") allows the use Apple's ADC and DVI flat panel displays on any computer with a compatible VGA graphics card.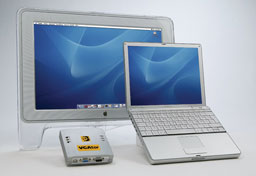 VGAtor is an electronic converter that translates analogue VGA signals to digital ADC signals used to drive Apple's ADC and DVI 15", 17", 20", 22" 23" and 30" displays in pristine "like DVI" quality. Power supply, ADC-DVI adapter and good looks included!
VGAtor to the rescue!
VGAtor converts VGA and USB signals into a single digital ADC signal, preserving the original colour and resolution and adding flicker-free digital flat-panel quality, often superior to the built-in notebook display!
VGAtor includes an original Apple power supply to guarantee the best available solution for using your Apple flat panel display with a VGA notebook or desktop.
Setup is straightforward - all necessary cables are included - just plug everything in and choose "Detect Displays" in the Displays Control Panel, and presto, your ADC monitor is up and running!
A software wizard is included so that you can fine tune image parameters such as Phase (the fuzziness on screen), horizontal and vertical position and, should you ever need to, color as well. VGAtor stores the parameters associated with your display and will remember them until you hook up a different display.
This allows you to leave VGAtor on your desk (the case is just too beautiful to hide it!) waiting for you to come back and use the extra screen real estate whenever you need it, without even rebooting your PowerBook!
Compatibility:
Video Cards

VGAtor is compatible with all PowerBooks with a built-in VGA port as well as all PC notebooks that can use a second display as additional desktop space.
Specifically, VGAtor was optimized for the PowerBook G4 12" with VGA. This PowerBook supports the full range of ADC displays in full resolution and colour depth.
The PowerBook G4 Titanium with VGA output is limited to 16 Bit color at higher resolutions and may be limited to the 15, 17 and 22" Apple ADC displays, depending on the graphics chip set and operating system your particular model is using.
Older PowerBook G3 (Pismo, Lombard and Wallstreet) models are limited to 1280 x 1024 (15 and 17" ADC Studio Displays) and video quality may be lacking at the top resolution.
PC notebooks require a chipset that is able to handle dual displays (typically this is the case for ATI and Nvidia mobile chip sets from 2003 and later as well as some earlier ones).
Certain iMac G4 and iBook models are also compatible. These computers will work out of the box if they have a built-in VGA-port (adapter in the box for iBooks, optional for iMac G4) and the screen size is 1024 x 768. These iBooks and iMacs will only allow mirroring to a 15" ADC Studio Display via VGAtor*.
Mac and PC desktop computers with VGA cards can theoretically use VGAtor. However, we have not extensively tested such combinations and there can be unexpected complications (see next paragraph on DVI cards). We are unable to provide support for such configurations!
Mac and PC computers with DVI cards should really be using DVIator. However, sometimes VGAtor is the only option - e.g. if the DVI chip on such a card has blown. This often leaves the card working well in VGA and the owner is tempted to give VGAtor a try. Unfortunately, some cards provide unexpected results - particularly Radeon 9000 Mac cards have an irritating habit of immediately shutting down the computer when they notice an Apple ADC display connected via VGA. Please contact our technical support if you require a solution.
Displays
DVIator supports the Apple 15" Studio Display, the 17" Studio Display, the 20" Apple Cinema Display, the 22" Apple Cinema Display and the 23" Apple Cinema HD Display with ADC connectors (see ADC connector on the right).
Since Sep. 1st, 2004, VGAtor ships complete with the ADC-DVI adapter DVI Extractor II. This adapter enables the use of the 20" Apple Cinema Display (DVI), the 23" Apple Cinema HD Display (DVI) and even the Apple 30" Cinema HD Display**.
**The Apple 30" Cinema HD Display is supported in Presentation Mode only. In this mode video signals are transmitted using the single-link DVI standard. The resolution is at 1280 x 800 - ideal for boardroom presentations to small and medium sized groups. We have tested Presentation Mode with PowerBook G4 with VGA output (Titanium and Aluminium models) and PowerBook G3 "Pismo", older PowerBooks do not work!
The now obsolete ADC 17" CRT Studio Display is not supported by VGAtor.
Operating System
VGAtor is independent of a specific OS, so there is no special requirement for the computer or the operating system other than requirements dictated by the video card.
The wizard software for fine-tuning display quality is available for Mac OS X and Windows 2000/XP.
Similar products
To do the reverse - run a VGA Monitor on an ADC Mac - we offer an ADC-VGA adapter called VGA Extractor.
We also have a set of products to perform DVI-ADC conversion (DVIator) and ADC-DVI conversion (DVI Extractor II).
*Other iMac G4 models and other screen sizes are not supported but can be used by applying a patch to the Firmware, which is not supported by Apple and may lead to loss of warranty. We have not encountered any issues and have enjoyed using ADC displays with iBook G4 as well as 17" and 20" iMac G4 models but there is no guarantee that your particular computer will perform this way. If in doubt, please try the patch with a VGA display first - and note that this is entirely at your own risk and we cannot help you Google for the patch on the Internet.
Link: VGAtor
Shinza.com Announces ZeroShock Case for 17" MacBook Pro
PR: Shinza.com has announced the immediate availability of a new ZeroShock case for the Apple 17" MacBook Pro notebook computer. Available in black and silver grey colors, the ZeroShock case is composed of a high-resistance polyurethane foam that provides superior absorption of external impact force. Considering the 17-Inch MacBook Pro's starting price of $2,799, the ZeroShock case offers ideal protection for this substantial computing investment. ZeroShock 17-inch MacBook Pro Sleeve $34.95 Availability: Usually ships in 24 hours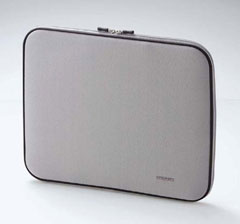 This ZeroShock Sleeve was custom designed for the 17-inch MacBook Pro. It is composed of a high-resistance polyurethane foam that provides superior absorption of external impact force. When you first pick up a notebook computer enclosed in a ZeroShock Sleeve, the exterior feels rigid and inflexible. Only when you begin to really squeeze will the ZeroShock's material yield and compress, leaving behind dents in the surface. These indentations will remain for a few minutes, before the material expands and reverts back to its previous state. The tactile feel is so different from what we normally expect from a notebook case that the effect is quite unique.
High-resistance polyurethane does not yield to external pressure as easily as neoprene or regular polyurethane foam. By compressing slowly and expanding slowly, high-resistance polyurethane is particularly adept at absorbing impact energy. Due to high-resistance polyurethane's impact-absorbing properties, it is most often used in medical devices, car seats, acoustic devices, fruit transport packaging, and aerospace development applications. Applying this technology to notebook cases results in an unparalleled shock-absorption/weight ratio. Translation? Better protection for your notebook with less weight to lug around.
Protect your notebook!
Impact shocks to precision instruments such as notebook computers can have devastating results. Not only is your notebook valuable, but so is the data contained inside. ZeroShock cases provide impact absorption on all sides, protecting the sensitive LCD screen, hard drive, and other critical internal components from external shock*. Tests were performed on the ZeroShock sleeve, comparing its ability to absorb external shocks to that of standard notebook sleeves. As the test results indicate (see related figures at right and below), ZeroShock provides dramatically superior impact protection.
*This product is not guaranteed to protect against all external shocks. Excessive impact force will, of course, cause damage.
Features:
Available colors: black and grey
High-resistance polyurethane provides superior protection against external shocks
Custom designed to fit the 17-inch Apple MacBook Pro
To ensure proper sizing, please measure and compare to interior dimensions listed below
Notebook can be used in place, without removing it from the sleeve
Low profile design that fits snugly
Two high-quality zippers with easy-to-grab rubber "mini-handles"
Designed to be carried inside a separate bag or backpack
Technical Specifications:
Dimensions

Interior (W x H): 15.4 x 10.2 inches (392 x 259 mm)
Exterior (W x H): 16.9 x 11.8 inches (430 x 300 mm)

Materials: High-resistance polyurethane
MaxProtect Protective Bag for PowerBooks, iBooks, and MacBooks
PR: MaxProtect is an impact resistant carrying bag for PowerBooks, MacBooks, and iBooks that provides maximum shock protection while carrying your computer that provides maximum shock protection while carrying your computer. MaxProtect is made of Visco-Elastic Memory Foam which exhibits excellent resistance against impact and shock.
MaxProtect tightly envelopes the whole notebook, providing padded protection on all sides from external impact or shock during daily usage.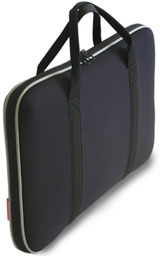 Features:
High Impact resistance polyurethane foam for shock absorption from all sides.
Thick Foam padding throughout the entire surface of the notebook.
Two zippers pull apart design.
Protected zipper closure, zippers don't come in contact with the Power book.
Handles for easy Transportation.
Tight Form fitting design for all PowerBook and iBook sizes for maximum protection.
Ultra Thin.
Unsurpassed quality.
Sizes to fit all current Apple portables 12" through 17"
Prices from $24.99 - $28.99
Link: Maxupgrades.com
InvisibleShield for MacBook Pro
PR: ShieldZone Corp., a developer of protective coverings for electronic devices, has announced the release of the InvisibleShield for the Apple MacBook Pro, Apple's first Intel-based laptop computer. The InvisibleShield is a clear protective covering designed to protect the metallic finish of the MacBook Pro from scratches and dings that can occur from everyday use.
"Apple is known for sleek design, and the MacBook Pro is certainly no exception," said Phillip Chipping, president of ShieldZone. "With this new InvisibleShield for MacBook Pro, people will be able to use their laptops anywhere and not have to worry about scratching the finish."
The InvisibleShield for the MacBook Pro comes in three designs. The standard shield protects the wrist areas, the trackpad, and the click button, as well as the outside top of the MacBook Pro. The second variety covers the bottom of the laptop, allowing the user to set it on virtually any surface without having to worry about damaging the finish. The third variety is a full-body shield, which is a combination of the standard shield and the bottom shield, giving the user maximum protection against scratches and dings.
The InvisibleShield for the MacBook Pro is available for both the 15- and the 17-inch models.
The standard shield sells for $39.95, the bottom shield for $24.95, and the full-body shield for $54.95. All three varieties are available through ShieldZone's website, as well as through ShieldZone's network of retailers. The InvisibleShield is also available for more than 400 other electronic devices, and each one comes with a lifetime replacement warranty.
Link: InvisibleShield
FireWire Depot CMX-MB452MK SATA SATA Enclosure
PR: Understanding the difficulties to get your massive data from a laptop to a desktop or vice versa, the MB452 series with a removable tray that's compatible with the MB122 & MB123 Series internal drive rack that allows storage drive interchangeabilities between laptop and desktop platforms. With its sleek exterior, solid construction, the MB452 series is one of the most convenient storage devices that enable multiple drive accessibility utilizing one simple external housing. No more clumsy installation procedures in creating a time efficient storage environment! Also, the storage drive security feature utilizes a power control locking mechanism that allows users to both power down and lock up the storage drive, making it both inaccessible and unobtainable to keep the drive fully secured and safe.
Suggested Applications
Add-on data/media files storage to laptops, graphics & video editing, on field imaging from surveillance DVR recordings, interchange of data between corporate/school/home workstations, data file backups.
Product Features:
Host : Plug & Play USB 2.0, USB 2.0 + eSATA combo
Drive Fit : Hot Swappable 1 x 3.5" ATA 133, SATA I or II
Multi-drive exchangeability & maintenance capabilities with simple removal of drive tray
Solid aluminum construction to protect your storage drive and provide the overall cooling
Warm air outtake fan cooling of drive
Horizontal/Vertical positioning options with retractable foot stands for vertical lay
Safeguard key lock capable of power control to disable data accessibility from others
Interchangeable drive capability, making data accessible as desired when using a PC platform
Optional extra LCD version tray available
Models & Specifications
Item Number: Black, MB452MK-B
Item Number: Silver, MB452MK-S
Host Interface: eSATA + USB 2.0 combo
Drive Fit: 1 x 3.5" SATA I / II
Drive Type: Standalone with horizontal or vertical positioning
Transfer Rate

3 Gb/sec. via eSATA ;
480 Mb/sec. via USB 2.0

Insert & Extract connection Via 64 pin industrial DIN converter
Structure: Aluminum body w/ partial plastic
Drive Cooling: Aluminum heat dispersion w/ 1 x rear outtake fan
Indication: Device Power & Drive Activity
LED Display Color

Green : Device Power
Amber : Drive Activity

Drive Security: 3 segment key lock
OS Requirement: Windows 98/SE/ME/2000/XP; Mac OS 9.0 or higher
Dimension (L x W x H): 240 x 162 x 46 mm
Compatible Drive Tray:

Beige, MB122SRCK / MB123SRCK
Black, MB122SRCK-B / MB123SRCK
Silver, MB122SRCK-S / MB123SRCK-S
Available mid-late May 2006 - currently only black available
CMX-MB452MK SATA SATA enclosure sells for $99.99.
Link: CMX-MB452MK SATA SATA enclosure
Tech Trends
Hitachi Touts Notebook-oriented 'Drive of Steel'
The Register's Tony Smith says:
"Hitachi's Global Storage Technologies operation today said it had begun shipping what it claims is the world's most 'technically advanced' 2.5in hard drive, the 160 GB Travelstar 5K160. The drive uses perpendicular recording technology - Hitachi modestly called its version of the technique "super-perpendicular" because it's so 'impressive'. Apparently.
"Indeed, HGST dubbed the product 'the drive of steel', thanks to its reliability and stability - as measured in the company's own tests, of course. The company claimed the drive exhibited as twofold improvement in sensitivity and precision when it came to reading data. Presumably, that's over the company's previous, first-generation perpendicular product."
Link: Hitachi Touts Notebook-oriented 'Drive of Steel'
Hitachi's New 'Super-Pendicular' Hard Drive Shows Steely Reliability
With concerted and meticulous effort to develop, test and bring to market new perpendicular magnetic recording (PMR) technology that would stand up to or exceed the reliability expectations of current longitudinal recording technology, Hitachi Global Storage Technologies (Hitachi) has achieved its goal by shipping today the most reliable and technically-advanced(1) 2.5-inch hard drive in the Travelstar 5K160. The 160-gigabyte (GB) Travelstar 5K160 is a 5400 RPM 2.5-inch hard drive designed for notebook and mobile computing.
So impressive is Hitachi's new PMR implementation that the company has dubbed the Travelstar 5K160 the "Super-pendicular Drive" for its best-of-breed reliability performance and leadership specifications. The same winning technology and process used to implement PMR on the Travelstar 5K160 will be replicated across Hitachi's product lines, including the next-generation 1.8-inch hard drive, slated for delivery in the latter half of 2006.
The top three contributors to hard-drive reliability are technologies that most strongly resist media corrosion, head instability and head/disk interference. Hitachi has addressed these factors through the following mechanisms, which have significantly impacted overall drive reliability:
Implementation of Hitachi-unique alloy combination and layer-deposition process produced PMR media with best-of-breed properties for corrosion resistance;
Use of new PMR write head greatly improved soft error rate through ability to write smaller data bits more sharply and with greater fidelity;
Use of the read-head alloy iridium-manganese-chromium (IrMnCr) showed more than a 2X improvement in field reliability among available hard drives using the new IrMnCr read sensor (separately announced today; see Hitachi's animated video for explanation of IrMnCr http://www.hitachigst.com.license2read).
Together, these technologies have seemingly produced a "drive of steel," which exhibits industry-leading drive-level reliability attributes, based on Hitachi's internal testing. These qualities are a strong indicator for an extremely fast volume ramp for the Travelstar 5K160 - potentially, the fastest of any Hitachi hard drive product - which is slated for the third quarter of this year.
"What we've achieved with the Travelstar 5K160 is a credit to our technical teams' methodical, single-minded approach to excellence, which we adopted from the start of the PMR development process," said Hiroaki Nakanishi, CEO, Hitachi Global Storage Technologies. "Our mission was to deliver PMR technology when it's of the highest value to our customers, which is when the transition from longitudinal recording would be seamless in all regards, including reliability, performance, volume ramp and cost. By all measures, that time is now."
"The move to perpendicular recording is a challenging but necessary one, which is required to support the increased demands in notebook capacity, especially as we see video applications gaining popularity," said Campbell Kan, Head of Mobile Computing Business Unit, Acer Inc. "We applaud Hitachi for its meticulous effort in rolling out this promising new storage technology and assuring a smooth transition."
The Super-pendicular Drive
The superior reliability demonstrated by the Travelstar 5K160 is due in large part to the second-generation head and media technology at work in the drive. First-generation technology was used on drives that Hitachi implemented in its PMR field test conducted since December 2004.
Second-generation technology involves major changes to both the write head and the recording media. Hitachi closely integrated development of the media and head to optimize their performance, which is a key enabler to the superior reliability results of the Travelstar 5K160.
Before product development began in earnest, perpendicular media showed lower mechanical reliability than longitudinal media. Perpendicular-media development required a rethinking of reliability metrics and anticipation of new potential failure mechanisms to help ensure the highest levels of corrosion resistance and mechanical robustness. Using Hitachi's broad experience in process, materials and equipment engineering, state-of-the-art perpendicular media was developed and transitioned to large scale manufacturing with impressive speed and stability.
Hitachi's second-generation write head acts like an extremely fine pencil-point capable of writing very sharply-defined data bits that can be packed closely together without distortion. This is important due to the high areal density of PMR drives. The increased clarity and fidelity of the written data allows the drive to deliver better bit-error-rate performance and, therefore, better reliability margin.
As a vertically-integrated company, Hitachi Global Storage Technologies has the internal resources necessary for the development, optimization and verification of the dramatic changes required for PMR. Hitachi, Ltd. provided additional support, horizontally, from across its engineering practices.
"We marshaled resources from throughout Hitachi, Ltd. to exploit the best minds in materials science engineering to achieve a product of this caliber," said Dr. Michiharu Nakamura, executive vice president & executive officer, Hitachi, Ltd., Hitachi Group CTO. "The ability to tap this breadth and depth of engineering knowledge is a powerful and unique formula for creating the world's most reliable hard drives."
"Matsushita has established a strong reputation for the quality and reliability of our systems. Hitachi's recent announcement of the 5K160 2.5-inch hard disk drive is a good example of how the hard disk drive industry continues to make excellent progress in improving not only the capacity of 2.5-inch drives for notebooks, but also the basic reliability and robustness," said Mr. Takagi, Director, IT Products Division at Matsushita Electric Industrial Co, Ltd. "Matsushita looks forward to working with suppliers such as Hitachi to continue to strengthen our leading-edge Toughbook series of notebook computer systems."
Extensive Testing
Perhaps the strongest component of Hitachi's PMR effort was the internal verification and testing process. A typical product launch might involve the production of several thousand drives, of which several hundred would go into intense stress testing. In the case of the Travelstar 5K160, Hitachi produced approximately 20,000 drives and stress-tested more than 5,000 with impressive results, demonstrating reliability characteristics which exceed Hitachi's previous notebook hard-drive generation - the Travelstar 5K100 - which has the best-of-breed reliability performance.
Hitachi also produced and tested several hundred prototype PMR products, which not only provided valuable data for the eventual production-level product, but also yielded excellent reliability results. In addition, a worldwide field test of notebook systems running Hitachi PMR drives showed outstanding performance with no end-user failures.
Leadership Specifications
In addition to high reliability and volume ramp, Hitachi's criteria for shipping its first PMR product was to offer leadership specifications. For a 2.5-inch mobile platform, this means the drive would also have to represent the best attributes for notebook and portable applications: low power, cool-running, high performance and excellent shock resistance. Hitachi has delivered that and more with the Travelstar 5K160.
The Travelstar 5K160 offers industry-leading power consumption and heat-emission characteristics, which contribute to the host system's overall battery consumption and life expectancy. In addition, the shock resistance of the 5K160 shows leadership capabilities in boundary testing. The drive also exhibits leadership performance in application benchmark testing. The Travelstar 5K160 offers 80 GB per disk platter on one- and two-disk products for an upper capacity of 160 GB.
The Travelstar 5K160 will be available in US retail locations this summer at an MSRP of $269 USD for the 160-GB product. A Travelstar 5K160 Notebook Upgrade Kit will also be available at $299 USD.
1.8-inch on PMR
Hitachi's 1.8-inch hard drive will follow its 2.5-inch brethren in adopting PMR technology in the latter half of 2006. Targeted at the consumer electronics market, the new drive is expected to offer greater capacity with the lowest power consumption of any 1.8-inch hard drive, due in large part to a reduction of the disk spin-speed to 3600 RPM from 4200 RPM. Hitachi's new 1.8-inch drive is expected to have a 20-percent improvement in read/write power consumption and the fastest power-on-to-ready time for immediacy of data delivery. Hitachi's new drive is expected to continue its reign as the lightest 1.8-inch drive with industry-leading shock robustness and acoustics.
These new 1.8-inch and 2.5-inch hard drives support Hitachi's strategy to roll out PMR first on small-form-factor mobile products to meet the demand for data-intensive video applications on handheld and mobile devices.
(1) Statements regarding expected reliability and performance are based upon Hitachi's stress, corrosion and field testing of hard drives that are currently available from Hitachi and its competitors.
Technical Specifications, Travelstar 5K160:
160/120/80/60/40 GB (GB = 1 billion bytes, accessible capacity may be less)
9.5 mm in height
102/102/95/95/95/95 grams in weight
5400 RPM
131 billion bits per square inch maximum areal density
4/4/2/2/1 recording heads
2/2/1/1/1 platter(s)
325 G (2ms) operating shock
1000 G (1ms) nonoperating shock
540 Mb/s max. media transfer rate
11 ms seek time
5.5 ms average latency
100 Ultra DMA mode-5/SATA 1.5 Gb/s
8 MB data buffer
0.80 w active idle
0.60 w low power idle
2.5/2.5/2.2/2.2/2.2 Bels typical idle acoustics
5 to 55 degrees C operating temperature
Fluid Dynamic Bearing (FDB) spindle motor
Link: Hitachi
Bargain 'Books
Bargain 'Books are used unless otherwise indicated. New and refurbished units have a one-year Apple warranty and are eligible for AppleCare.
There are two different versions of WallStreet running at 233 MHz, the cacheless MainStreet version and the later Series II with a level 2 cache. It's not always possible to determine from the vendor's listing which is being offered, so we've included links within this paragraph to the two models. The same goes for the PowerBook G4/667 (VGA) and G4/667 (DVI), the titanium vs. aluminum 15" PowerBook G4 at 1 GHz, and 1.25 GHz to 1.5 GHz 15" PowerBooks.
PowerBook and iBook profiles linked in our Portable Mac Index.
refurb 15" MacBook Pro 1.83 GHz, 512/80/SuperDrive, $1,599
refurb 15" MacBook Pro 2.0 GHz,1024/100/SuperDrive, $1,999
refurb 15" MacBook Pro 2.16 GHz, 1024/100/SuperDrive, $2,199
discontinued 15" MacBook Pro 1.83 GHz, 512/80/SuperDrive, $1,699
discontinued 15" MacBook Pro 2.0 GHz, 512/80/SuperDrive, $1,999
new 13.3" MacBook 1.83 GHz, 512/60/Combo, $1,099.99 less $100 mail-in rebate = $999.99
new 13.3" white MacBook 2.0 GHz, 512/60/SuperDrive, $1,299.99 less $100 mail-in rebate = $1,199.99
new 13.3" black MacBook 2.0 GHz, 512/80/SuperDrive, $1,499.99 less $100 mail-in rebate = $1,399.99
TechRestore is offering a $25 discount to 'Book Review readers off any PowerBook or iBook in stock. Just enter the code CWM during checkout when ordering online. The coupon code is valid from now through 2007.12.31.
used 15" aluminum PowerBook G4/1 GHz, 256/60/Combo, BT, $1,179.99
used 15" PowerBook G4/1.25 GHz, 512/80/Combo, BT, $1,229.99,
used 15" PowerBook G4/1.25 GHz, 512/60/Combo, BT, $1,249.99
used 15" PowerBook G4/1.25 GHz, 512/60/Combo, BT, $1,249.99
used 17" PowerBook G4/1 GHz, 512/60/SuperDrive, APX, $1,279.99
used 17" PowerBook G4/1 GHz, 512/60/SuperDrive, APX, $1,279.99
For more deals on current or recently discontinued models, see our best 15" MacBook Pro deals, our best 17" MacBook Pro deals, 12" PowerBook G4 deals, 15" aluminum PowerBook G4 deals, 17" PowerBook G4 deals, titanium PowerBook G4 deals, iBook G4 deals, PowerBook G3 deals, and iBook G3 deals.
Join us on Facebook, follow us on Twitter or Google+, or subscribe to our RSS news feed
Links for the Day
Mac of the Day: 17" iMac G4 (Mid 2002), introduced 2002.07.17. The iMac grows up with a 17" 1440 x 900 display.
Recent Content
Custom Search
Follow Low End Mac on Twitter
Join Low End Mac on Facebook
Favorite Sites
MacSurfer
Cult of Mac
Shrine of Apple
MacInTouch
MyAppleMenu
InfoMac
The Mac Observer
Accelerate Your Mac
RetroMacCast
The Vintage Mac Museum
Deal Brothers
DealMac
Mac2Sell
Mac Driver Museum
JAG's House
System 6 Heaven
System 7 Today
the pickle's Low-End Mac FAQ
Affiliates
Amazon.com
The iTunes Store
PC Connection Express
Macgo Blu-ray Player
Parallels Desktop for Mac
eBay

Advertise