2 GHz PowerBook Upgrade, End of PowerBook Era, 17" MacBook Pro Reviews, Cool Concerto Table, and More
This Week's Mac Notebook News
Compiled by Charles Moore and edited by Dan Knight - 2006.05.26
This Week's MacBook, PowerBook, and iBook News
There's so much 'Book news this week that we've split it down the middle. Our normal 'Book Review (this one) looks at everything except for the new MacBook, and the nearly as large MacBook special edition looks at Apple's newest notebook computer.
The PowerBook Era has come to an end, but not without a 2.0 GHz G4 upgrade for recent PowerBooks. Wegener Media has a fix for the PowerBook lower RAM slot problem.
MIT's $100 laptop has finally gone to the prototype stage and will begin production once 5 million orders have been placed, and Samsung is showing a pair of notebooks with flash memory instead of a hard drive.
Five sites take a look at the 17" MacBook Pro and find it quite impressive, if not quite perfect.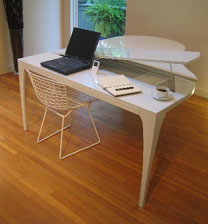 This week's coolest new product has to be the Concerto table (above), which has two speakers for your iPod, acts as a workspace for your notebook computer, can be used for informal dining, and looks like a piano. Very cool. dk
All prices are in US dollars unless otherwise noted.
General Apple and Mac desktop news is covered in The Mac News Review. News about Apple's transition to Intel CPUs and other Intel developments is covered in The Macintel Report.
News & Opinion
Tech Trends
Reviews
Products and Services
Software
News & Opinion
To Upgrade or Not, That Is the Question
PowerPage's Pierce reports:
"Recently I had the opportunity to upgrade my PowerBook G4 1.5 GHz to a 2.0 GHz Freescale 7447A CPU. Daystar Technology based in Georgia offers a MAChSpeed upgrade to PowerBook owners like me who are wanting that extra power to run Logic Pro and other CPU intensive applications like Final Cut Pro. I took the plunge in the name of technology and sent my PowerBook in a custom box provided free by Daystar to its customers.
"One thing should be noted, Gary Dailey CEO of Daystar technology takes care of each upgrade like it was his own. The customer is given a tracking number so you know where your PowerBook is at every point on this journey. There is a questionnaire inside the box for every customer to fill out in how well your PowerBook is working and other details. But the process is quite easy and made extra safe by Daystar.
Editor's note: I'll second that assessment based on my experience with a Daystar upgrade of my Pismo PowerBook to 550 MHz G4. cm
"The question that we all wanted to know was it going to be worth it upgrading my PowerBook or should I have just gotten a new MacBook Pro? It is worth it in terms of stability. The PowerBook arrived unscratched and in better condition then I sent it. There had been modifications done to the PowerBook in the process and everything ran really well."
End of an Era: No More Apple PowerBooks
PC World's Harry McCracken says:
"I've read scads of coverage of Apple's new MacBook, but so far I haven't seen anyone dwell on one side effect of its debut: With the discontinuation of the 12-inch PowerBook, Apple has put an end to one of the longest-running hardware lines in its history. (And in computer history in general, come to think of it - in 1991, when the first PowerBook appeared, even the venerable IBM ThinkPad didn't yet exist.) It was an obvious fait accompli that the PowerBook name would go away when Apple announced the MacBook Pro in January; now it's reality."
Good-bye, PowerBook (1991-2006)
Insanely Great Mac' Remy Davison says:
"A tear-jerking blog at PC World delivers tides of nostalgia for those to whom the PowerBook is more than a fond memory - it's a way of life.
"A visit to Apple's PowerBook page now redirects you to the MacBook Pro page. The last hold-out - the 12.1" Mini-Me PowerBook - is now RIP, replaced, effectively, by the 13.3" MacBook.
"The first PowerBook, the 100, appeared in 1991, following the satirical Mac Portable, a monstrous 16 lb. 'portable', proudly delivered under CTO Jean-Louis Gassée's tutelage. It was a relative success due to its Apple logo. It also cost a monstrous $6,000-plus, depending on RAM and other options."
New Community Web Site: ExpressCard-Info
PR: ExpressCard is the new PC-Card replacement standard supported by MacBook Pro. ExpressCard-Info is a website dedicated to this new technology offering resources, news, articles and forums.
ExpressCard is an exciting new PC Card standard from PCMCIA, backed by most big computer and software companies. ExpressCards are smaller, cheaper and faster than the old PC-Card.
Metalgrass website network are proud to present ExpressCard-Info.com, a new web site dedicated to ExpressCard. With daily news, forums, articles and resources, you can find all your ExpressCard related information here.
The ExpressCard-Info.com site is aimed at ExpressCard consumers, hardware professionals and software developers, who seek news, information and forums. The site also caters for people who want to learn more about ExpressCard.
Founded in 1989, PCMCIA is a nonprofit trade association that establishes technical standards for PC Card technology and to promote interchangeability among computer systems. Already a feature in almost every notebook and palmtop computer, PC Card technology empowers users to configure systems and create unique, integrated solutions to meet their computing needs. Based in San Jose, California, the association has a growing membership of 125 companies worldwide. The PCMCIA also has a specification development and copublishing relationship with the Japan Electronics and Information Technology Industries Association (JEITA) covering PC Card and Smart Media technologies.
Link: ExpressCard-Info
Tech Trends
First Pictures of the $100 Laptop
The Register's John Oates says:
"Available in fetching orange and yellow, or shades of blue and green, here's the $100 laptop, which was unveiled at the Seven Countries Task Force Meeting yesterday. Almost immediately, pictures of the machine hit the net.
"Nicholas Negroponte heads up the One Laptop Per Child organisation which hopes to get massive orders from third world governments in order to put the devices into production. The idea is to provide every child in some developing countries with one of the machines.
"Unfortunately, the organisation's website seems unable to cope with interest this morning, but it's at laptop.org when it returns."
Samsung Notebook Replaces Hard Drive with Flash Memory
ExtremeTech's Mark Hachman reports:
"Is the hard drive history?
"Samsung Electronics said Tuesday that it will launch two mobile computers in early June that will do away with hard drives altogether, replacing them with 32 gigabytes of NAND flash memory. The notebooks will be the first to use flash memory as the main storage device.
"The Samsung Q1, described as an 'ultra-computing device,' will be complemented by the Q30, a 12.1-inch notebook PC. The retail price for the Q1-SSD will be 2.3 million Korean won, (about $2,430), while the Q30-SSD will sell for 3.5 million won (about $3,700). Unfortunately for U.S. consumers, both will be sold in Korea only."
Reviews
17" MacBook Pro an Excellent Desktop Replacement
Macsimum News' Dennis Sellers says:
"Okay, let's just put the cards on the table. The new 17-inch MacBook Pro from Apple is a lousy whip-it-out-and-work-anywhere laptop. It's just too big - and forget about using it if you're flying coach. But it's a darn tootin' excellent desktop replacement. If you want/need just one Mac "for all seasons" and don't need ultimate portability, this is your baby....
"The 17-inch MacBook Pro includes a 2.16 GHz Intel Core Duo processor, has a 667 MHz front-side bus and 667 MHz of DDR2 SDRAM memory that's expandable to 2 GB. Despite its extra horsepower, the super-sized MacBook Pro didn't seem to generate as much heat as its little brother. It still gets warm, but not unbearably so.
"I'm still not happy that Apple has dumped the modem [Editor's note: Me neither. cm] (you can get an external one for $49) from all new Macs, but I've resigned myself to this fact of life. There's no PC Card slot; instead, there's a ExpressCard/34 slot, which seems like a fair trade-off to me....
"The 17-inch MacBook Pro is a marvelous, powerful beast. If you need a hybrid desktop/laptop this is your baby. Think of it as a desktop."
Macsimum rating: 10 out of 10
15" 2.0 GHz MacBook Pro vs. 17" 2.16 GHz MacBook Pro
Bare Feats' rob-ART morgan reports:
"The week of NAB 2006, Apple introduced a 17" MacBook Pro running at 2.16 GHz. Now as of this week, they bumped the 15" MacBook Pro up to 2.16 GHz. Since we have a 15" MacBook Pro 2.0 GHz in our lab, we decided to compare its performance to the new 17" MacBook Pro 2.16 GHz to see if the 8% higher clock speed provides an 8% gain in performance.
"We included results for the Intel iMac Core 2 Duo.0 with the 256 MB video memory option....
"Though the CPU clock speed advantage of the 2.16 GHz MacBook Pro is only 8%, it outperformed the 2.0 GHz MacBook Pro by as much as 43%, depending on the application."
17" MacBook Pro Shows Some Poor Design Decisions
Macworld's Henry Norr reports:
"At first glance, you could easily mistake the new 17-inch MacBook Pro (Best Current Price: $2675.00) for its predecessor, the legendary 17-inch PowerBook G4 . The new model has roughly the same dimensions - at 15.4-by-10.4-by-1.0 inches and 6.8 pounds, it's a shade wider, but a tenth of a pound lighter - and it retains the familiar aluminum enclosure and sleek design.
"Inside, however, the new top-of-the-line Apple laptop incorporates not only a completely different processor, but a slew of other changes you should consider before deciding whether - or when - this is a machine for you....
"A couple of Apple's design decisions did bother me, though. First, as in the other MacBook models, there's no built-in dialup modem. Most people won't miss it, but those of us who travel to less-developed parts of the world or stay in bed-and-breakfasts, for example, do occasionally need dialup connectivity. Apple does offer a $49 USB modem, but petite as it is, it's another item to keep track of - and possibly lose. I wish Apple would offer an internal modem at least as a build-to-order option.
"I'm also sorry that an ExpressCard/34 slot is the only expansion option for the new model; leaving a PCMCIA/CardBus slot and/or adding a larger ExpressCard/54 slot would have given customers access to some interesting options, including new wide-area wireless technologies that aren't yet available in the tiny ExpressCard/34. Besides, many digital photographers, especially professionals, still rely on CompactFlash memory cards, and there's no way to fit a CF reader into a 34mm slot (something you could do with a larger slot and an adapter).
"Last but not least, the system's battery life is disappointing."
Link: 17-inch MacBook Pro
17" MacBook Pro Impressive
PC Magazine's Cisco Cheng reports:
"For creative professionals who rely on Apple to get the job done, look no farther than the MacBook Pro (17-inch). Everyone else can shop around.
"The MacBook Pro 17-inch, the second Apple branded notebook to receive Intel's powerful Dual Core architecture, offers virtually everything a user needs....
"The MacBook Pro 17-inch keeps its weight down to an astounding 6.8 pounds - truly impressive for a desktop replacement....
"There's more surface area on the MacBook 17-inch to dissipate heat, so it doesn't get as hot as the 15-inch model. Nonetheless, the base below the keyboard is still too hot by my standards...."
17" MacBook Pro 'a Superb Notebook Computer and Desktop Replacement'
Gene Steinberg, the Mac Night Owl, writes:
"After spending roughly 10 days with Apple's latest professional desktop, my opinion stands: This is a superb notebook computer and desktop replacement. But let's look at the details."
Products and Services
The Concerto Table: When You Play Host Better Than You Play Piano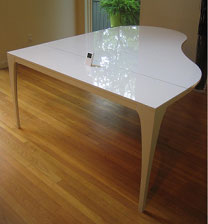 PR: The Concerto Table is designed by Nicholas Lovegrove & Demian Repucci. As well as design our conversations often flow around our shared passion for food and dining. We thought about creating the perfect furniture to compliment the perfect evening.
The inspiration came from enjoying the dramatic presence that a piano offers an interior. The organic, iconic form is a compliment to any interior.
We have also looked into the role that furniture can play in adding to the experience itself, rather than simply a horizontal flat landscape onto which a dinner party is grafted.
We have used this iconography and paired it with music through an iPod to create a modern dining experience to be shared with friends...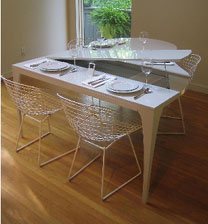 The Concerto Table is designed to be an integral part of the evening's experience. In addition to its iconic status the table also fills the room with music from within the conversation.
Simply open the sound lid in the center of the table to reveal two surface mounted speakers that ensure that every course will be accompanied by the perfect choice of music without ever having to leave the conversation.
Control the music for each course using the iPod, flush mounted in the table top or use the remote control.
In order to give you the tools to have the most perfect dining experience we have complied a playlist of music that you can download at iTunes for your iPod.
The Concerto Table recognizes that furniture has to be multifunctional. The Concerto Table comfortably doubles as the home office easily as well as still leaving room to eat and listen to music as you work.
Finished for the day? Simply place your laptop and papers in the center tray and close the lid.
The Concerto Table is compatible with all Apple iPods. Simply tell us which model you have, and we will do the rest.
Dimensions: 70" x 58" x 29"
Electronics: Apple AV Connection Kit with remote control
Speakers: 2x50 watt 2 Way speakers, 6.5"x1"
Amplification: 130 watt
Materials: Plywood surfaces, poplar, stainless steel, carbon steel
Finishes:

Bright white/high gloss
Natural
Link: Concerto Table
Wegener Media Offers Fix for PowerBook Lower RAM Slot Failure
PR: Wegener Media's Dave Wegener writes:
Charles,
Greetings from SC. Hope life on the frozen tundra has gone well for you this spring! Summer has definitely hit here in SC - we're in the low 90's (F) all week. agggg. At least I can ride the bike to the office every day and save some gas.
I was perusing some of your older writings recently, and I realized that we have something which may be of service to a bunch of your readers.
You've written several times about the G4 PowerBook (Aluminum series) RAM slot failure.
This has continued to be a serious issue. While my own G4 (1.67 SD) hasn't died, mine is the ONLY one in our shop which HASN'T! It's happening pretty rapidly. One of our shipping guys had his die FOR THE SECOND TIME this week. Fortunately his is under AppleCare, so they're covering it for him.
Anyway, this wasn't an email to complain - but to let you know that we're able to offer a repair solution for the PowerBook Aluminums which are afflicted by this issue, and we can repair them if they're NOT covered by Apple's extended warranty.
There is a page on our site outlining the details. Cost is $249.99, and it it covered by a 6 month warranty (which is a bit better than Apple's 90 day warranty when they do the repair at $650)..
The details (if you want to check it out are at http://www.wegenermedia.com/alumramslot.html
Anyone wishing to have the repair done will need to call our office to arrange a service tag - or email at service@wegenermedia.com to get a service tag setup.
We're presently turning these in 12-24 hrs, so it's a pretty fast solution...
Anyway, I thought you might like to know this. All the best!
Thanks,

David

2115 Commerce Dr

Cayce, SC 29033

803.926.1555 - office

(212) 857.4931 - fax
Targus Notebook Carrying Cases Ideal Graduation Gifts
PR: Targus Inc., manufacturer of notebook cases and accessories, is offering a selection of hip, stylish alternatives to the traditional black notebook carrying case for college graduates moving from campus to the corporate world.
"Targus offers a variety of notebook carrying cases designed to appeal to college graduates who are entering the professional world, and want to trade in their backpack for a more sophisticated yet trendy carrying case for their notebook computer, digital accessories and mobile gear," said Michael Greco, director, U.S. product marketing for Targus. "All Targus cases offer extra protection for the notebook, as well as plenty of pockets for carrying mobile essentials and personal accessories."
Targus is recommending the following notebook cases, now available at major retailers, or on the Targus website.
radius Leather Messenger (Model #TSM015US)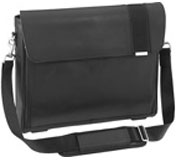 Designed specifically for the Apple iBook or PowerBook notebooks, the radius Leather Messenger features multiple pockets for all essential mobile accessories and digital devices and will accommodate Apple notebooks with up to 15-inch screens, or 14-inch PC notebooks. Delivering the ultimate in style, convenience and protection, the black leather exterior and faux orange suede interior create a bold fashion statement and its front zip down workstation's multiple pockets make organization easy.
Featuring a custom retractable airline ticket/travel document holder, a padded removable notebook slipcase and interior compartment for superior protection, the radius Leather Messenger also offers a back slip pocket for files, as well as compartments for a cell phone, keys, pens/pencils, and business cards or ID. Business travelers will find the large slip pocket a handy place to carry newspapers and magazines. The padded adjustable shoulder strap is designed to provide a comfortable fit for travel.
Measuring 15.4" x 3" x 12.5" the radius Leather Messenger weighs 3.54 lb. The removable slipcase measures 14" x 1.5" x 10.5" and MSRP is $119.99.
Prism Messenger (Model #TLM007US)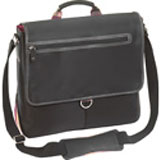 Fashionable and functional, the black nylon Prism Messenger carrying case is ideal for the traveling businesswoman. Detailed with contrast stitching, colorful pink lining and plaid accents on the exterior and removable slipcase, the design incorporates a subtle touch of color into a modern, executive case. The zip down workstation includes compartments for a cell phone, PDA and business cards, as well as pen holders and a key clip. Additional files and personal accessories can be carried in the back slip pocket.
The shoulder strap can be adjusted to ensure a comfortable fit, or can be removed to carry the bag by hand. Measuring 15.75" x 4" x 13.25" the Prism Messenger weighs 3.06 lb. MSRP is $69.99.
Urban Messenger (Model #TSM005US)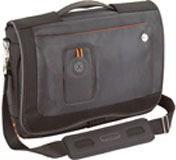 The Urban Messenger's edgier appeal offers a unique and stylish alternative to traditional notebook cases. Designed to accommodate notebooks with screen sizes up to 15.4 inches, the Urban Messenger features a removable padded slipcase, file section, pen/pencil holders, ID holder and key clip. For media enthusiasts, this case also includes a six-slot CD/DVD sleeve, an iPod/MP3 pocket with a headphone port and a removable accessory pouch. The ergonomically designed handles and padded, slip-resistant shoulder strap allow for maximum comfort and versatility.
Constructed from quality nylon and featuring rugged, weather-resistant bottoms, the Urban Messenger measures 16.5" x 4.25" x 12.25" and weighs 3.31 lb. MSRP is $59.99.
Getta Tote (Model #TLT029US)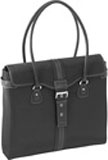 The elegantly designed, easy-access Getta Tote offers a protective padded notebook compartment that fits notebooks with up to 15.4-inch screens. The Getta Tote maintains the integrity and durability synonymous with the Targus brand, yet also incorporates the style and functionality that women appreciate. The light beige lining makes it easy to find travel accessories and personal items. Interior storage includes pockets for a PDA, cell phone, pens/pencils, ID or business cards, as well as zippered pockets for personal items, travel accessories and a removable mini bag.
Available in black nylon, the Getta Tote measures 15.87" x 4.25" x 13" and weighs 1.98 lb. MSRP is $59.99.
Solitaire Messenger (Model #TLM006US)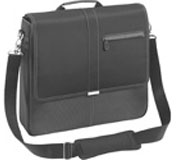 The Solitaire Messenger provides the ideal combination of a conservative two-tone nylon exterior with a fun and fashionable lining, ideal for young female executives. Designed to protect notebook computers with screen sizes up to 15 inches, the Solitaire Messenger's front pocket workstation features a notebook compartment with petal pink faux suede lining and compartments for files, a cell phone and PDA. Also included are pen/pencil loops, a key clip, and back slip pocket for additional file folders.
The Solitaire's padded/removable shoulder strap provides extra comfort and the integrated carry handle provides an additional carrying option. The Solitaire Messenger measures 15" x 3" x 13.25" and weighs 1.9 lb. MSRP is $49.99.
Jak Messenger (Model #TSM019US)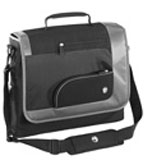 The Jak Messenger blends fashion and function and offers a unique combination of amenities critical to mobile professionals, including a pocket lined with scratch-resistant fabric to store sunglasses, a hidden water bottle pocket and a removable accessory pouch. Designed to fit notebooks with up to 15.4-inch screen sizes, the front pocket workstation features a business card/ID holder and pen loops. The back slip pocket provides additional storage space for files and documents. Constructed of 420D nylon and 600D polyester, the black and gray Jak Messenger includes a water-resistant bottom.
The Jak's padded shoulder strap is removable for additional carrying options, and the handle is wrapped in neoprene for extra comfort. Measuring 16.5" x 4" x 13" the Jak Messenger weighs 2.62 lb. MSRP is $49.99.
All Targus notebook carrying cases come with a limited lifetime warranty.
Link: Targus
FirmTek Serial ATA PC Card for Laptops
PR: FirmTek, LLC, a pioneer and leader in Serial ATA (SATA) storage solutions for the Macintosh platform, is now shipping their anticipated SeriTek/1SM2 PC Card adapter and SeriTek/2EN2 dual bay enclosure targeting Apple PowerBook and Windows notebook users. Together these solutions, announced at Macworld Expo in January, deliver the speed, storage capacity and flexibility needed to power mobile video production applications to new levels of effectiveness and productivity.
A compact, hot-swappable enclosure to deliver storage without limits
The SeriTek/2EN2 is a dual bay external enclosure that utilizes the very latest technology to reach a blistering top transfer rate of up to 3.0 Gbs. With performance surpassing that required for most video work, the enclosure's hot-swap capability erases the limits of storage, as capacity is only limited by the number of drives a user has available. In a matter of minutes or less, a drive is easily slid out of the SeriTek/2EN2 and another slipped into place, all without restarting or rebooting the system.
To assist customers in maximizing their productivity and obtaining maximum benefit from their FirmTek solutions, FirmTek offers drive trays for $22.99 each, without any additional purchases required. This enables customers to keep an unlimited number of drives on hand and ready for action.
Enabling Truly Mobile Serial ATA Storage
The SeriTek/1SM2 is a full-featured CardBus 32 Serial ATA adapter with hot-swap capabilities. This card installs in seconds into any CardBus 32 equipped Macintosh G4 notebook, as well as Windows notebooks with comparable hardware. This important solution gives notebooks a storage subsystem just as powerful as those found on most desktop systems, a key criteria for taking video production and other storage-hungry applications out of the office. The SeriTek/1SM2 works with the SeriTek/2EN2 and other FirmTek hot-swappable enclosures, bringing the PowerBook into the family of systems easily benefiting from the flexibility, performance and security of FirmTek SATA solutions.
The SeriTek/2EN2 and SeriTek/1SM2 are available starting this week as a bundle for a special price of $279.95. The SeriTek/2EN2 enclosure is also available separately for immediate delivery at $199.95, and can also be ordered bundled with other leading FirmTek host adapters. The SeriTek/1SM2 will be available separately in early June for $89.95. To order, or for more information, please visit FirmTek's website.
Link: FirmTek
ComputerRentals.com Now Carries MacBook and MacBook Pro
PR: Enabling customers to "try before they buy," CRE - Computer & AV Solutions now has available the all new Apple MacBook and MacBook Pro which are based on the Intel Core Duo chipset. These powerful laptop computers are designed to run the latest in software for the demanding creative professional or road warrior. The superlative processing power, portability and durability of these machines make it an ideal addition to ComputerRentals.com's laptop rental fleet.
CRE- Computer & AV Solutions stocks it's laptop rental inventory with the all new Apple MacBook and MacBook Pro. These powerful laptops, based on Intel's Core Duo technology, meet the demands of rental customers nationwide. Whether used for on-the-fly video editing or attached to an LCD Projector for a corporate presentation, the MacBook line of computers can meet just about any mobile professional need.
Designed for connectivity, whether to a wireless network or the latest in high end peripherals, the MacBooks can satisfy any laptop rental customer. Built-in AirPort Express networking enables the computer to connect to any 802.11 G compatible network. The MacBook makes it easy to check your email at the corner coffee shop hot spot or the office WiFi network. The FireWire and USB 2.0 ports enable just about any digital electronics connection. It couldn't be easier to attach digital cameras or card readers, DV cameras and MP3 players. Video Professionals will find the MacBook a perfect rental solution for their fast-paced workplace.
The MiniDVI port is a perfect solution for the professional Presenter. Connecting to just about any monitor or projector is as simple as plugging the appropriate MiniDVI adaptor. The MacBooks support DVI, VGA and S-Video making it a snap to connect to a video device. If the preference is to watch video on the ultra sharp Wide Screen display, simply pop a favorite DVD into the slot loading optical drive.
These computers also offer the new MagSafe Power Adaptor technology which will prevent the rental Mac from flying off the desk when a coworker accidentally trips across the cable. The cable will break away cleanly leaving both the computer and the adaptor safe from damage. Additionally Mac OS X has superior power management ability ensuring long battery life.
As with any new technology in the marketplace, consumers may exhibit concern about compatibility, functionality or capability. Renting a newly introduced product enables customers to examine the technology before making a purchase commitment. Chicago-based Network Administrator Scott Zeitlin explained the advantage of renting equipment. "Our network is comprised Mac OS, Windows and Linux computers. Whenever we introduce a new operating system, or computer, we need to perform compatibility testing to make sure the new technology doesn't crash the network. Renting a computer lets me test the machine without a serious impact to my budget."
The MacBook joins CRE-Computer & AV Solutions ( www.computerrentals.com ) extensive inventory of Apple technology. Other recent additions include the Intel-based iMac, 30" Apple Cinema Display and the incredibly powerful PowerMac G5 Quad and Dual Processor models. The Power Mac G5 Dual and Power Mac G5 Quad feature dual-core PowerPC processors, a PCI Express expansion bus, and workstation level graphic capability.
ABOUT CRE: Founded in 1980 in Los Angeles, California, CRE - Computer & AV Solutions is a nationwide leader of computer and laptop rentals, audiovisual rentals, plasma rentals and more for corporate and special events with services throughout the U.S. and Canada.
Link: ComputerRentals.com
Software
Launch2net Uses Mobile Phone for Internet Connection
PR: Use your mobile phone for mobile Internet connections on your MacBook.
Nova Media has unveiled launch2net version 1.1.9, with support of new mobile phones from Nokia, Samsung, and Siemens-BenQ and the new MacBook from Apple.
launch2net is a "wizard" that helps users set up cellular connections via HSDPA, 3G UMTS, EDGE or GPRS through their Mac and a compatible mobile phone or PC Data card. The software supports many mobile phones and most PC Data cards and already includes more than 300 connection settings for HSDPA, UMTS, EDGE and GPRS networks around the globe. This eliminates the need for complicated manual setup procedures of mobile Internet connections.
Version 1.1.9 adds support for BenQ-Siemens EF81, Nokia N91, N71, E60 as well as Samsung SGH-D730, D600E, D800 mobile phones and includes compatibility with the new MacBook form Apple.
"Configuration details are different for each mobile device and network operator," states Jan Fuellemann, PR spokesperson at nova media. "Most network operators are not Mac-friendly and Mac customers are often rejected from the operators support centers. For these customers, this means a long and tedious search for settings and configurations. This is why we developed launch2net with automatic device and network detection and connection settings already included."
Other features allow the use of custom connection settings, display of connection time and -speed, a connect button for instant connections and more.
launch2net requires Mac OS X 10.3.9 or 10.4.x and is compatible to PowerPC and Intel-Macintosh Computers. The software is available today for Euro 75,- plus VAT. The update is free for existing launch2net users.
Link: Nova Media
SideTrack 1.4 PowerBook and iBook Trackpad Driver
PR: SideTrack is a replacement driver for Apple PowerBook and iBook trackpads. With SideTrack installed your standard trackpad becomes a powerful multibutton scrolling mouse.
Leave your external mouse at home and take full control over your trackpad:
Vertical scrolling at left or right edge of pad.
Horizontal scrolling at top or bottom edge of pad.
Map hardware button to left or right click.
Map trackpad taps to no action, left click, left click drag (with or without drag lock), or right click.
Map trackpad corner taps to mouse buttons 1-6 or simulated keystrokes.
Extensive control over accidental input filtering.
SideTrack is multiuser aware and fully compatible with MacOS X fast user switching (FUS). Every user on your laptop can have different settings depending on their needs.
SideTrack supports most G3 and all G4 model PowerBooks and iBooks. SideTrack 1.3.1 does not yet support the MacBook Pro introduced in February 2006. A MacBook compatible update is planned and will be released as soon as possible.
Extended control over the trackpad button and tap gestures. Use trackpad taps for left click, drag gestures, or right click. Complete scrollwheel mouse emulation with customizable scrolling speed. Place your scroll zones on either side of the pad, or both sides simultaneously.
Turn the corners of your trackpad into independent tap actions. Use the corner zones to emulate up to a 6 button mouse or generate custom keystrokes. Customize SideTrack's sensitivity and accuracy. Calibrate to your own trackpad style and adjust filtering to reduce accidental taps while typing. Choose from several mouse acceleration options.
System Requirements
Apple PowerBook or iBook (for specific supported PowerBook models see the FAQ)
MacOS X 10.2 (Jaguar), MacOS X 10.3 (Panther), or MacOS X 10.4 (Tiger)
Leave your external mouse at home and take full control over your trackpad:
Vertical scrolling at left or right edge of pad.
Horizontal scrolling at top or bottom edge of pad.
Map hardware button to left or right click.
Map trackpad taps to no action, left click, left click drag (with or without drag lock), or right click.
Map trackpad corner taps to mouse buttons 1-6 or simulated keystrokes.
Extensive control over accidental input filtering.
New in version 1.4:
[FEATURE] Support MacBook and MacBook Pro models (Universal Binary).
[BUG] Fix USB threading on multiprocessor/multicore kernel.
[BUG] Better auto adjust of "keep moving" edge size and corner size on wide pad models (17" PowerBook, 13" MacBook, 15" MacBook Pro).
System requirements: Mac OS X 10.2 or later.
System support: PPC
$15 Shareware
Link: SideTrack
CoreDuoTemp 0.8
PR: Monitor the temperature of your Intel Macintosh with CoreDuoTemp.
Required configuration: iMac 2006, Mac mini 2006, MacBook Pro, MacBook.
CoreDuoTemp uses SpeedIt.
New in version 0.8: New features - window position saved, menu extra indicator, new panel prefs, correction of the English translation, German language added (thanks to Christian Maus).
New in version 0.7: Auto login option at launch with KeyChain Access method to avoid the password every boot. New Icons Set, thanks to Kevin O'Shea!
New in version 0.6.1: Correction of an error message bug
New in version 0.51: Corrected a major memory bug.
System requirements: Mac OS X 10.4.6, iMac 2006, Mac mini 2006, MacBook Pro, MacBook.
System support: Intel
Free
Link: CoreDuoTemp
Bargain 'Books
Bargain 'Books are used unless otherwise indicated. New and refurbished units have a one-year Apple warranty and are eligible for AppleCare.
There are two different versions of WallStreet running at 233 MHz, the cacheless MainStreet version and the later Series II with a level 2 cache. It's not always possible to determine from the vendor's listing which is being offered, so we've included links within this paragraph to the two models. The same goes for the PowerBook G4/667 (VGA) and G4/667 (DVI), the titanium vs. aluminum 15" PowerBook G4 at 1 GHz, and 1.25 GHz to 1.5 GHz 15" PowerBooks.
PowerBook and iBook profiles linked in our Portable Mac Index.
PowerBook Titanium G4/1 GHz, 256/60/Combo, $699.99
Upgrade to a 2x SuperDrive, $79.99 installed
Upgrade to a 8x SuperDrive, $139.99 installed
Upgrade to 1 GB RAM, $189.99
Upgrade to 512 MB RAM, $59.50
Upgrade to 80 GB hard drive, $109.50
Upgrade to 100 GB hard drive, $169.50
Add an AirPort wireless card, $129.99
PCMCIA 108mb extreme wireless card, $44.99
Targus carrying case, with lifetime warranty, $.99
12" iBook G3/500, 256/15/CD, $305
12" iBook G3/700, 256/20/CD, $349
15" PowerBook G4/667 VGA, 256/20/Combo, $625
12" iBook G3/900, 256/40/Combo, 6 month warranty, $519.99
15" PowerBook G4/1.67 GHz, 512/100/SuperDrive, 6 month warranty, $1,499.99
Kanga PowerBook G3/250 MHz, 96/2/floppy, $229.95
Lombard PowerBook G3/333 MHz, 128/3/CD, $329.95
15" PowerBook G4/500, 256/40/DVD, $599.95
15" PowerBook G4/1.67 GHz, 512/80/SuperDrive, $1,399.95
refurb 15" PowerBook G4/1.33 GHz, 256/60/Combo, APX, $1,299
refurb 15" PowerBook G4/1.5 GHz, 512/80/Combo, APX, BT 2.0, $1,399
refurb 15" PowerBook G4/1.5 GHz, 512/80/SuperDrive, APX, $1,499
refurb 15" MacBook Pro 1.83 GHz, 512/80/SuperDrive, $1,599
refurb 15" MacBook Pro 2.0 GHz, 1024/100/SuperDrive, $1,999
refurb 15" MacBook Pro 2.16 GHz, 1024/100/SuperDrive, $2,199
refurb 17" PowerBook G4/1.67 GHz, 512/100/SuperDrive, APX, BT 2.0, $1,849
For more deals on current or recently discontinued models, see our best 15" MacBook Pro deals, our best 17" MacBook Pro deals, 12" PowerBook G4 deals, 15" aluminum PowerBook G4 deals, 17" PowerBook G4 deals, titanium PowerBook G4 deals, iBook G4 deals, PowerBook G3 deals, and iBook G3 deals.
Join us on Facebook, follow us on Twitter or Google+, or subscribe to our RSS news feed
Links for the Day
Mac of the Day: 600 MHz iMac G3, introduced 2001.02.22. The fastest iMac to date, the Early 2001 model introduced flowers and spots, hit 600 MHz mark.
Recent Content
Custom Search
Follow Low End Mac on Twitter
Join Low End Mac on Facebook
Favorite Sites
MacSurfer
Cult of Mac
Shrine of Apple
MacInTouch
MyAppleMenu
InfoMac
The Mac Observer
Accelerate Your Mac
RetroMacCast
The Vintage Mac Museum
Deal Brothers
DealMac
Mac2Sell
Mac Driver Museum
JAG's House
System 6 Heaven
System 7 Today
the pickle's Low-End Mac FAQ
Affiliates
Amazon.com
The iTunes Store
PC Connection Express
Macgo Blu-ray Player
Parallels Desktop for Mac
eBay

Advertise