MacBook a Bargain, MacBook Pro a Dream, Daystar 1.4 GHz G4 Upgrades, Thin 16 GB Flash Drive, and More
This Week's Mac Notebook News
Compiled by Charles Moore and edited by Dan Knight - 2006.06.16
This Week's MacBook, PowerBook, and iBook News
All prices are in US dollars unless otherwise noted.
General Apple and Mac desktop news is covered in The Mac News Review. News about Apple's transition to Intel CPUs and other Intel developments is covered in The Macintel Report.
News & Opinion
Products and Services
News & Opinion
MacBook a 'Shocking Bargain'
Media Workstation's Dave Nagel says:
"The 13-inch MacBook from Apple is a budget-priced laptop that offers screaming-fast performance and features that you won't find on any laptop from any manufacturer for anywhere near the price....
"In all the time I've been a Mac user (since 1986 for those of you compiling notes for my biography), there has not been a Mac like the 13-inch MacBook. Certainly there's never been a Mac notebook like it. With processing power to rival desktops and even high-end quad Opteron workstations, this machine blazes through CPU-intensive tasks like rendering 3D scenes and After Effects sequences, applying Photoshop filters, encoding MPEG-2 and H.264 and even rendering out video from applications like Final Cut Pro and Motion.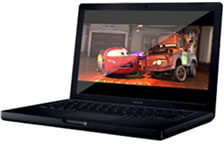 "What's more, the 13-inch MacBook is only the second line of Macs capable of running both Mac OS X and Windows XP natively (the first line being the MacBook Pro).
"What's even more, it's fully loaded with just about all the goodies you'd want in a notebook, from built-in 802.11g wireless networking (at no additional charge) to digital optical audio in and out (plus analog lines in and out).
"And on top of all that, it's a shocking bargain. The 13-inch MacBooks start at $1,099 and range up to $1,499. The model we're reviewing today is just $1,299. That's not just cheap for a fully-loaded Mac. That's cheap for a laptop offering these kinds of features from any manufacturer.
"All of these aspects of the MacBook make it not just a fantastic machine but the best bargain for a Mac that I've encountered in my 20 years as a Mac user."
MacBook Pro Wholeheartedly Recommended
BusinessWeek's Cliff Edwards reports:
"Apple's switch of its mainstream products to Intel chips was completed in May with the release of the MacBook.* I've been testing its more expensive sibling, the MacBook Pro, for a couple months and am reviewing it as part of a series on high-end notebooks....
"There's little not to like about the MacBook Pro. It doesn't look much different from the now-retired PowerBook. The same sleek silver casing is there, with white trim beneath the cover. The only noticeable differences are the built-in iSight camera above the display and a new power-cord technology called MagSafe....
"It's what's under the hood that sets the MacBook Pro apart."
* Edwards seems to forget the Power Mac, which is definitely a mainstream product and still based on PowerPC technology. dk
17" MacBook Pro 'a Dream'
reviews.cnet.co.uk's Michelle Thatcher says:
"Following on the heels of the 15.4-inch MacBook Pro and replacing the 17-inch PowerBook G4, the 17-inch MacBook Pro delivers many of the same beloved features as its little sibling, such as a scrolling track pad, the Sudden Motion Sensor and an excellent software package, and adds a huge, bright 17-inch display that's great for graphics work.
"Better still, our fully loaded test configuration powered through most of CNET Labs' performance tests, exhibiting only a few of the growing pains encountered by other Intel-based Apple laptops and desktops, such as the iMac Core Duo. Of course, such performance doesn't come cheap - the 17-inch MacBook Pro's default configuration costs £1,899 (upgrades on our review unit brought the price up further still). But for graphics professionals and other Mac users who have money to spare, the 17-inch MacBook Pro is a dream."
Keeping Your Laptop Like New
NoteBook Computer Guru's Ismael D. Tabije says:
"Laptops are expensive. Therefore you need to take real good care of it. And laptop maintenance is not a one time thing. It should be a regular exercise. To prevent your notebook's LCD from becoming smudged or dirty you should clean it regularly. We recommend spraying a diluted window cleaner onto a soft, non-abrasive cloth and then lightly wiping the screen with it. It might be simpler to just spray the detergent directly on the screen but it's not recommended as the fluid can trickle down into the bezel at the screen's bottom which could in turn damage the computer's circuitry.
"When it comes to getting rid of dust, dirt and food crumbs off the keyboard, a vacuum cleaner's brush attachment is ideal. There are handheld vacuum cleaners, specifically intended for PCs that can remove the dust and food from in between the gaps on the keyboard....
"However, there's more to the maintenance of a laptop than just making sure that the exterior is clean and neat."
On the Death of the Laptop
Gene Steinberg, the Mac Night Owl, writes:
"I know that I sometimes take a little while to get to the point, but this time I'll try to be brief. Way back when, you could accurately refer to a portable personal computer as either a laptop or a notebook. The vision of sitting on the beach, with the computer in your lap, was a common reality."
Products and Services
Daystar 1.4 GHz Upgrade for 12" PowerBook G4/867
PR: 1.4 GHz upgrades for the 12" PowerBook G4/867 now shipping! Daystar's newest XLR8 PowerBook CPU upgrades delivers over 50% more speed - Runs cooler, faster and longer with all shipping and labor included.
Daystar Technology has added the 867 PowerBook G4 12" to its list of PowerBook Aluminum Upgrades.
New 1.4 GHz PowerBook 12" CPU Upgrade Option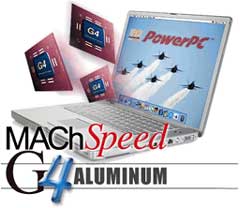 The new MAChSpeed G4 CPU Upgrade allows any 12" PowerBook G4/867 to be upgraded to supercharged 1.4 GHz speeds. The upgrade doubles the size of the internal cache, and also delivers up to 60% more speed. Like other XLR8 PowerBook CPU upgrades, the 12" version is factory installed by Daystar's Apple Certified Technicians.
3-Way Shipping Included... Free
Daystar has also simplified the 3-way shipping choices;
Container to customer,
PowerBook to Daystar, and
PowerBook back to customer. Free US Ground shipping is now included. 3-way 2-day, 3-way overnight and Daystar's Weekender service are available at an additional cost.
Pricing
12" PowerBook G4/867: $449
3-way shipping, all parts, labor, testing and detailing is included. Easy one step ordering is available online.
Daystar Titanium PowerBook 1.25 & 1.4 GHz Upgrades Coming
PR: Order an upgrade now and save 10%
Gary Dailey of Daystar Technology tells me:
"We will be announcing the Titanium Upgrades in the next week or so: We have them running great in the labs: The 550-667 (VGA) are upgraded to 1.25 GHz, the 667-1 GHz DVIs are upgraded to 1.4 GHz. These are done in partnership with Wegener Media, so users will have the opportunity to order and have completed by either of us.
"XLR8 MAChSpeed Control is required for operation on the 1.4 GHz upgrades (it uses XLR8's Virtual Firmware to manage the L3). Our price will be $469, shipping included.
"Anyone that wants to get their Titanium upgraded before the official announcement, can send me an email. We'll upgrade immediately at 10% off."
1/8" Thin Credit Card Sized USB Drive with 16 GB Capacity
PR: PQI Corporation, a leading manufacturer of digital media solutions, has introduced Card Drive™ U510, a state of the art portable storage device with breakthrough in USB technology and innovative design. The drive itself is only 0.12 in. thin credit card sized, holds a maximum capacity of 16 GB.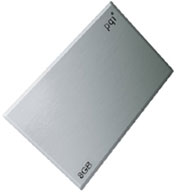 Card Drive uses PQI's own patented Intelligent Stick technology; it is compatible with USB 2.0/1.1 ports. The Card Drive with Intelligent Stick retractable connector can be stowed away to retain a credit card format. "For consumers who crave for flash based storage device with large storage capacity and sleek design, Card Drive™ is the perfect choice," said Lindy Chan, Product Manager of USB Drive at PQI. With 16 GB capacity, Card Drive™ is many times the storage capacity of the largest USB drive available on the market today. Light and durable, its shock proof and low power consumption characteristics outweigh traditional hard drives.
Card Drive comes preloaded with USB Notebook Professional- Personal File Manager software. With the file synchronization center, users can configure the drive to one's needs to store portable personal emails, personal backup, IE favorites, web accounts and security functions such as password protection and host lock functions.
PQI Card Drive will be available in silver, grey, and limited soccer ball edition. Available now are 1 GB at $49.99, 2 GB at $89.99, and 4 GB at $139.99 (MSRP). The 8 GB and 16 GB version of Card Drive U510 are expected to ship early next month with suggested retail prices to be announced.
Card Drive U510 Features:
Interface: Intelligent Stick (compatible with USB 2.0/1.1)
Capacities: 16/8/4/2/1 GB
OS supported: Windows XP, 2000, ME, Mac 10.1 and above
Dimensions: 2.13(L) x 3.35(W) x 0.12(H) in.
Weight: 0.7 oz.
iLevel Laptop Stand with Height Adjustment
PR: Designed to match the Apple MacBook Pro and PowerBook, iLevel is made of steel with silver paint finish
Because you don't sit at your desk in a fixed position, RainDesign has engineered the iLevel stand to be dynamic. Drag iLevel's slider to adjust the screen height to your new eye level whenever you shift position. Rotate iLevel's built-in turntable whenever you want to share ideas with others. Designed to match the Apple MacBook Pro and PowerBook, iLevel is made of steel with silver paint finish, so you can work comfortably in a stylish and solid desktop setting.
Designed to work with external keyboard and mouse.
iLevel 12"+ for:
PowerBook 12"
iBook 12"
Other 12" and 13" laptops (3 lbs and heavier*)
iLevel 14"+ for:
MacBook Pro15"
PowerBook 15"
PowerBook 17"
iBook 14"
Other 14" and 15" laptops (5 lbs and heavier*)
Size and weight for both models:
Width: 10.9" (276mm)
Depth: 8.5" (213mm)
Height: 7" (178mm)
8.4 lbs (3.8 kg)
* Laptops lighter than specified weight will stay at 7" height only
iLap Laptop Stand Keeps Your Lap Cool
PR: iLap is a versatile stand that keeps your laptop cool, and lets you work comfortably on your lap as well as your desk. Designed to match the Apple PowerBooks, the iLap laptop stand is made of aluminum with sandblasted and silver anodized finish. iLap is also suitable for other laptops. iLap comes in five sizes: 12 inch, 13 inch. 14 inch, 15 inch, 15 inch widescreen and 17 inch widescreen versions.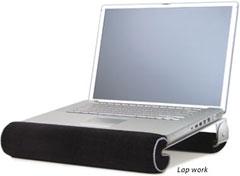 iLap keeps your laptop cool by using light weight aluminum as a cool sink, allowing it to to run more efficiently and last longer. The iLap's all aluminium thermal conductivity is 13 times more than stainless steel, and thus the more surface that it has in contact with the notebook, the more heat that it draws away (in the same conceptual way that heat sink works on the CPU).
Aluminum is chosen for its light weight, elegance and higher heat conductivity (compared to steel and plastic), although the cost of aluminum is 4 times more than plastic and 2 times more than steel. In addition, luxury velvet is chosen to give comfort and style.
iLap raises your laptop to keep your lap cool, and is padded with cushions for extra comfort. The front cushion is detachable for switching between lap work and desk work, but the back cushion should remain for either use.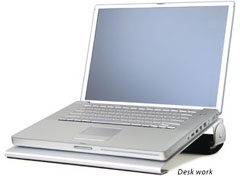 iLap is ergonomically designed to suit both lap and desk works, so you stay cool even on prolonged use, raising your laptop screen higher to reduce strain on your neck and shoulders.
Unlike some tall laptop stands that are designed for desk use only and require an external keyboard, the iLap is catered for lap use as well - with the convenience of typing directly on the laptop keyboard.
Rain Design provides a one year warranty against manufacturer's defect and workmanship.
Pricing:
12 inch $49.90
13/14 inch $59.90
15 inch $59.90
15 inch W (widescreen) $59.90
17 inch W (widescreen) $69.90
ExpressCard Serial ATA Adapter for MacBook Pro, PC Notebooks
PR: FirmTek Announces First Shipments of the World's First Serial ATA ExpressCard Adapter for MacBook Pro SeriTek/2SM2-E equips Macintosh and PC notebooks with the power needed to perform as portable digital video studios (June 08, 2006)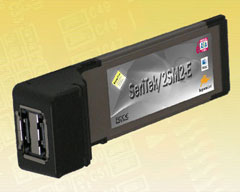 The SeriTek/2SM2-E extends SATA's performance beyond the desktop, enabling content producers to capture, develop, edit and create content in almost any environment when using Apple's new MacBook Pro notebook computers. With transfer rates up to 3 gigabits per second per port, this breakthrough solution sets a new standard for handling data in a remote setting. FirmTek's established hot-swap compatibility also makes it easy for users to move entire drives and arrays from the MacBook Pro to any FirmTek-equipped desktop system in seconds.
The SeriTek/2SM2-E is designed to work with ExpressCard/34 equipped Macintosh, Windows, and Linux notebook computers. It is also compatible with Boot Camp and Windows XP.
FirmTek's SeriTek/2SM2-E ExpressCard adapter for the Macintosh is available now, with estimated retail pricing of $119.95. It is also available in specially priced bundles with selected hot-swappable drive enclosures. For more information about the SeriTek/2SM2-E and the bundles, please visit FirmTek's website.
Jupiter 2.5" Hard Drive Enclosure
PR: Addonics Technologies has announced a complete and advanced family of hard drive enclosures for 2.5" IDE hard drives with the debut of its Jupiter enclosure series.
Jupiter includes all the important features required in a portable hard drive: a rugged anodized aluminum housing for use in harsh environment; light weight and compact size for portability; shock mount technology to protect the drive against vibration and drop from the top of a desk. The Jupiter enclosure accepts any manufacturer's 2.5" IDE hard drive with drive height of 10 mm or less.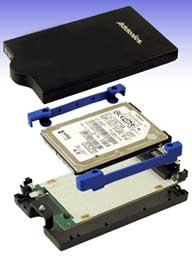 The Jupiter drive enclosure also comes with choice of hardware encryption, called Jupiter Cipher, which encrypts and decrypts the entire hard drive in real time. The hardware encryption shares the same level of security and user convenience that first appeared in the Addonics Saturn Cipher for the 3.5" hard drive. There is no software to install or password to remember. Encryption and decryption is activated by the simple insertion of a physical cipher key into the enclosure. As a result, the operation of the encrypted hard drive is OS and platform independent, which makes the data easily accessible and highly secure on any system.
The Jupiter drive enclosure, designed with an Addonics USIB interface connector, can be used as an external hard drive via a USB, eSATA, FireWire or CardBus connection by attaching different Addonics USIB interface cables. Using the optional drive cradle that mounts easily into any standard 3.5" drive bay, the drive enclosure can also be used as an IDE removable hard drive or as a hot swappable drive cartridge via USB or SATA connection. The drive enclosure is designed to be powered either by the USB port, FireWire port or an external power adapter. With a large assortment of components and accessories, the Jupiter drive kit enables users to build practically any kind of storage solution using the small 2.5" hard drive.
The Jupiter Cipher and the regular Jupiter hard drive kit also share the same drive cradle and accessories. This allows users to mix encrypted and regular hard drives in the same system. Users can access encrypted hard drive data as long as they have the Addonics Cipher key.
One of the common Jupiter Drive kit applications is the external hard drive. The standard bundled package with USB 2.0 connection, model AJEDIU, with Jupiter drive enclosure, Addonics USB 2.0 USIB interface cable and 110/220V power adapter, is listed at $59.95. The equivalent encryption version, model JCEDIU64, with Jupiter Cipher 64-bit DES drive enclosure, a pair of 64-bit Cipher keys and the same accessories, is listed at $79.99.
Addonics products are available through the company online store www.shopaddonics.com , major catalog companies, resellers, VARs and distributors, including Amazon.com, PC Connection, CDW, Buy.com, Provantage.com, Insight, and Ingram Micro.
MacBook Sleeve and Lap Protector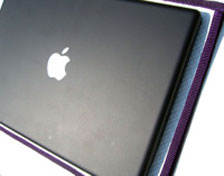 PR: When using your MacBook, Apple's recommends: 'Do not leave your MacBook in contact with your lap or any surface of your body for extended periods. Prolonged contact with your body could cause discomfort and potentially a burn. Do not place your MacBook on a pillow or other soft material when it is on, as the material can block the airflow vents, in particular the rear vents and cause the computer to overheat.' (MacBook User's Manual, page 106)
Tailored sleeve for MacBook
76% rubber 24% cotton
Trim in six different colours: black, purple, red, blue, green and orange
Spongey exterior protects your notebook against scratches and light bumps
Not machine washable. Sponge clean. Sharp implements can damage rubber exterior
Super soft cotton lining that won't scratch your MacBook
Insulates against temperatures up to 250 degrees centigrade
Place between laptop and your lap to prevent discomfort and skin damage from MacBook's heat
Machine washable MacBook covers also available
Price: £17.99
Chrome Introduces New Line of Rugged Laptop Sleeves
PR: Chrome, a domestic bag manufacturer located in the SOMA district of San Francisco, has been producing messenger bags used by professional bicycle couriers worldwide for the past 12 years.
Chrome has taken their extensive experience designing bags to withstand the rigors of the urban environment and released a line of laptop sleeves that will accommodate both Macintosh and PC portable computers.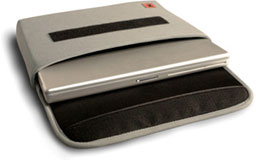 Known best for its indestructible messenger bags, Chrome designed the sleeves with the same utilitarian aesthetic and durability.
Features include a time-proven 1000 Denier Cordura shell and a soft neoprene liner.
The sleeve consists of a fully padded body with a Velcro™ top-loaded enclosure, which allows for easy laptop access when stowed in Chrome's messenger bag or utilizing an existing bag. Other features include a metal Chrome logo and a slit pocket for storing papers, cables or a WiFi card.
When minimal travel is needed a carrying handle and an optional quick adjust removable shoulder strap will allow the sleeve to be used independently.
Sleeves are available in five sizes. The 12", 15", and 17" sleeves will hold all Macintosh laptops including the PowerBook G4, iBook G4, and the MacBook Pro. All PC laptops will fit in the oversized 15" and 17" sleeves.
Padded Laptop Sleeve
A simple accessory to transport your laptop safely in any bag. Velcro closure and front slit pocket. Fits most wide format laptops including the 15" PowerBook.
Dimensions: 15" x 10" x 2.5"
Laptop Sleeve : $20
Color: Black
MSRP: sleeve, $34
MSRP: shoulder strap, $14
Chrome's products are available nationwide at select retailers as well as online.
Bargain 'Books
Bargain 'Books are used unless otherwise indicated. New and refurbished units have a one-year Apple warranty and are eligible for AppleCare.
There are two different versions of WallStreet running at 233 MHz, the cacheless MainStreet version and the later Series II with a level 2 cache. It's not always possible to determine from the vendor's listing which is being offered, so we've included links within this paragraph to the two models. The same goes for the PowerBook G4/667 (VGA) and G4/667 (DVI), the titanium vs. aluminum 15" PowerBook G4 at 1 GHz, and 1.25 GHz to 1.5 GHz 15" PowerBooks.
PowerBook and iBook profiles linked in our Portable Mac Index.
TechRestore is offering a $25 discount to 'Book Review readers off any PowerBook or iBook in stock. Just enter the code CWM during checkout when ordering online. The coupon code is valid from now through 2007.12.31.
15" titanium PowerBook G4/1 GHz, 512/60/SuperDrive, $899.99
15" aluminum PowerBook G4/1 GHz, 256/60/Combo, BT, $1,049.99
15" PowerBook G4/1.25 GHz, 512/60/Combo, BT, $1,149.99
12" PowerBook G4/1 GHz, 256/40/Combo, $749.99
Upgrade to SuperDrive (available only with machine), $99.99
Upgrade to 8x SuperDrive (available only with machine purchase), $129.99
Add 512 MB RAM with purchase of machine (total of 768 MB) (available only with machine), $49.99
Add 1 GB RAM with purchase of machine (total 1.25 GB) (available only with machine), $189.99
1 year extended service warranty (w/purchase of machine), $99.99
Add Airport Extreme card (valid only with purchase of machine), $39.99
Upgrade HDD to 80 GB hard drive (available only with machine), $119.99
12" PowerBook "Kanga" G3/250, 160/5/CD, floppy, $155
12" iBook G3/500, 256/15/CD, $259
12" iBook G3/700, 256/20/CD, $335
15" PowerBook G4/667 VGA, 256/20/Combo, $575
Add Airport for $99
refurb 12" iBook G4/1.2 GHz, 256/30/Combo, APX, $719
refurb 12" iBook G4/1.33 GHz, 512/40/Combo, APX, BT 2.0, $799
refurb 14" iBook G4/1.33 GHz, 256/60/Combo, APX, $899
refurb 14" iBook G4/1.33 GHz, 256/60/SuperDrive, APX, $999
refurb 14" iBook G4/1.42 GHz, 512/60/SuperDrive, APX, BT 2.0, $1,049
refurb 12" PowerBook G4/1.5 GHz, 512/60/Combo, APX, BT 2.0, $1,099
refurb 12" PowerBook G4/1.5 GHz, /512/80/SuperDrive, APX, BT 2.0, $1,199
12" PowerBook Kanga G3/250, 96/2/floppy, $229.95
14" PowerBook Lombard G3/333, 128/3/CD, $329.95
15" PowerBook G4/500, 256/40/DVD, $599.95
12" iBook G3/600, 256/20/CD, $369
12" iBook G3/700, 256/20/CD, $389
14" iBook G3/800, 256/30/Combo, $499
14" iBook G3/700, 640/40/Combo, $499
12" PowerBook G4/867, 256/40/Combo, $599
12" PowerBook G4/867, 128/40/SuperDrive, Scratch & Dent, $629
12" PowerBook G4/1 GHz, 768/40/Combo, Scratch/ Dent - $779
15" PowerBook G4/1 GHz, 512/60/SuperDrive, $949
17" PowerBook G4/1 GHz, 512/60/ SuperDrive, Scratch/ Dent, $949
For more deals on current or recently discontinued models, see our best 15" MacBook Pro deals, our best 17" MacBook Pro deals, 12" PowerBook G4 deals, 15" aluminum PowerBook G4 deals, 17" PowerBook G4 deals, titanium PowerBook G4 deals, iBook G4 deals, PowerBook G3 deals, and iBook G3 deals.
Join us on Facebook, follow us on Twitter or Google+, or subscribe to our RSS news feed
Links for the Day
Mac of the Day: Macintosh 512K Fat Mac, introduced 1984.09.10. The first Mac with enough memory for serious work.
Recent Content
Custom Search
Follow Low End Mac on Twitter
Join Low End Mac on Facebook
Favorite Sites
MacSurfer
Cult of Mac
Shrine of Apple
MacInTouch
MyAppleMenu
InfoMac
The Mac Observer
Accelerate Your Mac
RetroMacCast
The Vintage Mac Museum
Deal Brothers
DealMac
Mac2Sell
Mac Driver Museum
JAG's House
System 6 Heaven
System 7 Today
the pickle's Low-End Mac FAQ
Affiliates
Amazon.com
The iTunes Store
PC Connection Express
Macgo Blu-ray Player
Parallels Desktop for Mac
eBay

Advertise