Exploding Laptops, ExpressCard 34 Roll-out, 1.75 GHz G4 Upgrade, SeisMac, and More
This Week's Mac Notebook News
Compiled by Charles Moore and edited by Dan Knight - 2006.07.14
This Week's MacBook, PowerBook, and iBook News
All prices are in US dollars unless otherwise noted.
General Apple and Mac desktop news is covered in The Mac News Review. News about Apple's transition to Intel CPUs and other Intel developments is covered in The Macintel Report.
News & Opinion
Products and Services
Software
Tech Trends
News & Opinion
Summer of the Exploding Laptop?
CBC News's John Bowman says:
"To hear some talk about it, you'd think laptops around the world were exploding left and right.
"In April, an 11-year-old's unattended Apple iBook in Solon, Iowa, melted the carpet it was sitting on and subsequently caught fire.
"Last month, a Dell laptop exploded into flames at a conference in Japan.
"And Wednesday there was a front-page article in the Globe and Mail about the perils of exploding laptops, featuring these two incidents.
"But, as mentioned in the Globe article, the U.S. Consumer Product Safety Commission has reported only 43 laptop fires in the United States since 2001, or about 10 every year.
"That's the same number of fires caused every year by nightlights."
Link: Summer of the Exploding Laptop!
Analyst Calls for More Stringent Laptop Safety
Laptop Logic says:
"After the Dell exploding battery fiasco, some are calling for improved quality control and safety tests among laptop manufacturers.
"After a recent battery explosion at a conference, some are worried about laptop safety.
"CIO reports that Carmi Levy, a senior analyst at Info-Tech Research Group, is making an appeal to regulatory bodies for more stringent battery and AC adapter testing procedures before the devices are sold to the public. Levy warns of further potential tragedies due to laptop power problems, including airline disasters...."
Link: Analyst Calls for More Stringent Laptop Safety
ExpressCard 34 Roll-out Begins
Macworld UK reports:
"MacBook Pro users should soon be able to buy expansion products designed to fit the new ExpressCard 34 slot in Apple's pro portables.
"A listing of a range of new ExpressCard products has appeared on an industry standard website."
Link: Roll-out Begins for ExpressCard 34 Devices
Daystar G4 1.75 GHz CPU Upgrade for PowerBook G4 Reviewed
An Accelerate Your Mac reader reports:
"My PowerBook was one of the first Aluminum PowerBooks shipped. It has been the best machine I have ever worked with or owned. However, after 3 great years, it was beginning to feel a bit pokey and Virtual PC (which I sometime need) was never a top performer. Time to buy a new MacBook Pro? Love to, but based on my current needs, $2K+ was just a bit much.
"The Daystar upgrade at $400 to $500 would give me the performance I wanted and extend the useful life several years. Now, which upgrade - 1.75, 1.83 or 1.92 GHz?"
Link: Reader Review of Daystar G4 1.75 GHz CPU Upgrade for PowerBook G4
MacBook Excels, Can Even Run Windows
The position of Associated Press (AP) is that you may not quote more than 5 words from any of its copyrighted articles without paying $12.50 or more for a "quotation license". Rather than pay this fee or risk the wrath of AP, we are removing all AP quotes from the site along with links to those articles.
We regret any inconvenience to our readers, but we will never pay for what is considered Fair Use under copyright law. We consider brief quotations in our news roundups to be Fair Use and a benefit to the site that we quoted from and linked to. (We adhere to the Open Link policy, and our Fair Use policy specifically allows quoting up to 50% or 300 words of our original content, whichever is less.)
Problems Using Disk Images to Set Up MacBooks for Windows
RoughlyDrafted's Daniel Eran says:
"I introduced an experimental project to replace a fleet of PC laptops with MacBooks in Do MacBooks Make Business Sense as PC Laptops? It turns out that MacBooks do make pretty decent Windows laptops at a good price. The fatal flaw I ran into wasn't a limitation in the MacBook however; it related to the partition map used in Intel's new EFI firmware.
"The following information applies to all of Apple's Intel based Macs, and is important in understanding the issues involved with using Boot Camp, or in moving drives between PCs and Intel Macs. It also helps to explain why Apple beat all the other PC makers in widely releasing EFI based computers."
Link: Imaging MacBooks: Understanding MBR, APM, & GPT
Laptop Notebook Review Looks at Black MacBook
Laptop Notebook Review reports:
"If you held off buying an older Apple iBook with one of the G4 processors, give yourself a well-deserved pat on the back for making a shrewd tech-buying move. The new Apple MacBook ($1,699 direct) is the latest successor to the iBook 12-inch and is loaded with many of the same cool features found in its MacBook Pro brethren, the MacBook Pro 15-inch and MacBook Pro 17-inch. You'll be happy to find such treats as the latest Intel components, a glossy widescreen display, and even a new matte-black finish.
"The new MacBook comes in three configurations, all available in the familiar Apple-white design. But you can also get, as I did, the high-end configuration in a very un-Apple-like black design. (Funny how the black version looks like a typical Microsoft Windows laptop.) Personally, I think the white MacBooks are better-looking, and they don't clash with Apple's white-colored AC adapter (60W, not the 84W found on the MacBook Pro) and Apple Remote accessories."
Link: Apple MacBook Black
Nylon vs. Leather: Picking the Right Notebook Bag
The Apple Core's Jason D. O'Grady says:
"Let me start off by saying that I have a bag fetish. I live for bags and love all the different options for carrying around my MacBook in style. Whether it's a shoulder bag, messenger bag or backpack, each has its application and place. A bag is a part of your wardrobe and should be treated as such.
"Nothing is worse than seeing a sharply dressed business man or woman schlepping an ugly-ass computer bag (usually in black) that SCREAMS 'there's an equally ugly computer in here!'"
Link: Nylon vs. Leather: Picking the Right Notebook Bag
Products and Services
MCE 160 GB 5400 RPM Hard Drive for MacBook, MacBook Pro
PR: For use with the Intel-based MacBook and MacBook Pro.
MobileStor 160GXS
MCE Certified for: MacBook, MacBook Pro
Unformatted Capacity: 160 GB (1 KB=1000 bytes)
Average Seek Time: 11ms
Data Buffer (Cache): 8 MB
Rotational Speed: 5,400 RPM
Interface: Serial ATA-150
Sustained Media Transfer Rate (max): 67.5 MB/sec
Burst Interface Transfer Rate (max): 150 MB/sec
Power (max): 5W
Height: 9.5 mm
Weight: 3.52 oz, 102 g
Warranty: 3 year
Installation Kit Contents: Torx screwdriver, miniature Phillips and flathead screwdriver, antistatic wrist strap
Link: MCE 160 GB 5400 RPM MobileStor Hard Drive for MacBook/MacBook Pro with Installation Kit
Software
SeisMac: Seismograph Software for 'Books with Motion Sensor
PR: SeisMac is a Mac OS X Cocoa application that makes your MacBook or MacBook Pro (or SMS-equipped PowerBook or iBook) into a seismograph. It accesses your laptop's Sudden Motion Sensor in order to display real-time, three-axis acceleration graphs.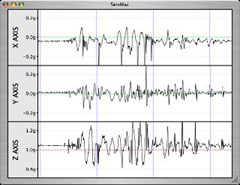 The resizable, real-time scrolling display shows an enormous amount of acceleration information. Place your laptop on a table and see the seismic waves from tapping your toe on the floor. Lay your laptop on your chest and see your heartbeat. And of course, if there is a real earthquake, SeisMac will be displaying full seismic information while you drop, cover and hold-on.
When running on the MacBook or MacBook Pro, SeisMac has a range of plus or minus two gravities of acceleration, displaying 256 values per gravity, sampled two hundred times per second for each axis. SeisMac is also compatible with older Sudden Motion Sensor-equipped iBooks and PowerBooks
New in version 1.1: stability, compatibility, performance improvements
System requirements: Mac OS X 10.4 or later
SeisMac is freeware.
Link: SeisMac
Tech Trends
PC Makers Hope Laptop Size Matters
USA Today's Michelle Kessler reports:
"Tiny laptop computers - and huge, heavy ones - are hitting store shelves as PC makers struggle to grow in a mature market.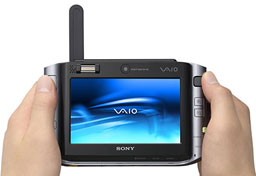 "Sony Friday launched a laptop that's just 6 inches across and weighs just over a pound. Called the Vaio UX Micro PC, it's designed for business travelers and others on the go.
"Dell introduced the other extreme in May, a hulking, 18.3-pound laptop with a leather handle called the XPS M2010, built with video gamers in mind. In June, Acer introduced a 17-pound laptop also designed for gamers. Samsung in May came out with an "ultra mobile" PC that weighs less than 2 pounds....
"In developed nations, most people who want a desktop PC already have one. The growth of wireless Internet has sparked U.S. laptop sales, which are now slightly higher than desktops. That helped overall U.S. PC sales grow 8% from the year before, says researcher Gartner. But that's still short of the worldwide increase of 15%, Gartner says. And U.S. growth rates could slow as laptops become commonplace."
Link: PC Makers Hope Laptop Size Matters
Bargain 'Books
Bargain 'Books are used unless otherwise indicated. New and refurbished units have a one-year Apple warranty and are eligible for AppleCare.
There are two different versions of WallStreet running at 233 MHz, the cacheless MainStreet version and the later Series II with a level 2 cache. It's not always possible to determine from the vendor's listing which is being offered, so we've included links within this paragraph to the two models. The same goes for the PowerBook G4/667 (VGA) and G4/667 (DVI), the titanium vs. aluminum 15" PowerBook G4 at 1 GHz, and 1.25 GHz to 1.5 GHz 15" PowerBooks.
PowerBook, iBook, and MacBook profiles linked in our Portable Mac Index.
refurb 12" iBook G4/1.33 GHz, 512/40/Combo, APX, BT 2.0, $799
refurb 12" PowerBook G4/1.5 GHz, 512/60/Combo, APX, BT 2.0, $1,099
refurb 12" PowerBook G4/1.5 GHz, 512/80/SuperDrive, APX, BT 2.0, $1,199
refurb MacBook 1.83 GHz, 512/60/Combo, $949
refurb MacBook 2.0 GHz white, 512/60/SuperDrive, $1,099
refurb MacBook 2.0 GHz black, 512/80/SuperDrive, $1,299
TechRestore is offering a $25 discount to 'Book Review readers off any PowerBook or iBook in stock. Just enter the code CWM during checkout when ordering online. The coupon code is valid from now through 2007.12.31.
used 12" PowerBook G4/1 GHz, 512/60/SuperDrive, $799.99
used 15" PowerBook G4/1.25 GHz, 512/80/SuperDrive, $1,099.99
used 12" iBook G3/700, 256/20/CD, $335
used 15" PowerBook G4/667, 256/20/Combo, $529
Add Airport for $99
used 12" iBook G3/366, graphite, 192/6/CD, $279.95
PowerBook WallStreet G3/300, 128/6/CD, $279.95
PowerBook Pismo G3/500, 256/20/DVD, $429.95
used 15" PowerBook G4/667 DVI, 256/30/Combo, $619.99
used 15" PowerBook G4/867, 256/30/Combo, $719.99
used 15" Titanium PowerBook G4/1 GHz, 256/60/Combo, $699.99
For more deals on current or recently discontinued models, see our best 15" MacBook Pro deals, our best 17" MacBook Pro deals, 12" PowerBook G4 deals, 15" aluminum PowerBook G4 deals, 17" PowerBook G4 deals, titanium PowerBook G4 deals, iBook G4 deals, PowerBook G3 deals, and iBook G3 deals.
Join us on Facebook, follow us on Twitter or Google+, or subscribe to our RSS news feed
Links for the Day
Recent Content
Custom Search
Follow Low End Mac on Twitter
Join Low End Mac on Facebook
Favorite Sites
MacSurfer
Cult of Mac
Shrine of Apple
MacInTouch
MyAppleMenu
InfoMac
The Mac Observer
Accelerate Your Mac
RetroMacCast
The Vintage Mac Museum
Deal Brothers
DealMac
Mac2Sell
Mac Driver Museum
JAG's House
System 6 Heaven
System 7 Today
the pickle's Low-End Mac FAQ
Affiliates
Amazon.com
The iTunes Store
PC Connection Express
Macgo Blu-ray Player
Parallels Desktop for Mac
eBay

Advertise