MacBook Pro Battery Exchange, MacBook Reliability, Strangest MacBook Hacks, DIY Laptop Case, and More
This Week's Mac Notebook News
Compiled by Charles Moore and edited by Dan Knight - 2006.08.04
This Week's MacBook, PowerBook, and iBook News
All prices are in US dollars unless otherwise noted.
General Apple and Mac desktop news is covered in The Mac News Review. News about Apple's transition to Intel CPUs and other Intel developments is covered in The Macintel Report.
News & Opinion
One Laptop Per Child
Flaming Notebooks
Tech Tips and Info
Reviews
Products and Services
Software
News & Opinion
15" MacBook Pro Battery Exchange Program
Apple says:
"Apple has initiated a worldwide battery exchange program for certain rechargeable batteries that were sold for use with 15-inch MacBook Pro computer systems from February 2006 through May 2006.
"We recently discovered that some 15-inch MacBook Pro batteries supplied to Apple do not meet our high standards for battery performance. To give our users the best experience possible, we will replace these batteries for customers free of charge.
"Note: The affected batteries do not pose a safety risk. You may continue to use your current battery until a replacement arrives."
Link: 15" MacBook Pro Battery Exchange Program
MacBook/MacBook Pro Reliability Survey
MacInTouch says:
"We're still cleaning up the data and analyzing it, but we have some very preliminary statistics from our recent MacBook/MacBook Pro reliability survey (and our thanks go to all the people who contributed to it). Here are some initial notes on the data, which comprise almost 3000 valid responses for all MacBook and MacBook Pro models:
"Nearly 11% report sudden shutdowns, 19% 'the buzz', 12% 'the moo', 7% warped lid, 10% AirPort dropouts, and 11% a refusal to wake from sleep. 14% report 'other' problems, with excessive heat being the leading write-in candidate."
Link: MacBook/MacBook Pro Initial Reliability
Apple Admits MacBook, MacBook Pro Issues
The Register's Tony Smith reports:
"Apple has acknowledged problems with its Intel-based portables that buyers have been banging on about for some time. In two support documents, the company informs suffering users to contact its AppleCare customer service team.
"That's it - just contact AppleCare. No solution is offered for the 'high-pitched buzzing sound' affecting some MacBook Pros or the 'discolouration' seen 'on the top case [of a MacBook] after some use'."
Link: Apple Admits MacBook, MacBook Pro Issues
More on MacBook Palmrest Issue
Hardmac's Lionel reports:
"One of our readers has sent us an Apple's internal document providing additional information concerning the MacBook palmrest issue. This information is valid world-wide."
Link: More on MacBook Palmrest Issue
5 Strangest MacBook Mods/Projects
TechEBlog reports:
"Our editors have compiled a list of the "Top 5 Strangest MacBook [Pro] Mods/Projects" for your enjoyment. Which ones are your favorites?
Biometric MacBook Pro Mod
MacBook Pro Disco Keyboard
SmackBook Pro
Cooking Breakfast On a MacBook
MacSaber"
Link: Top 5 Strangest MacBook Mods/Projects (unable to verify link)
One Laptop Per Child
One Laptop Per Child Gains Ground
The Register's Lucy Sherriff reports:
"The One Laptop Per Child (OLPC) programme is just one million laptops away from beginning production, as the group confirmed that Brazil, Argentina and Thailand have each placed orders for a million machines, according to DesktopLinux.com.
"OLPC says it will begin production when it has orders for between five million and 10m laptops. Last week, it announced that Nigeria had signed on to the scheme, taking the total pre-ordered to four million."
Link: One Laptop Per Child Gains Ground
Powering the $100 Laptop
Technology Review's Kevin Bullis reports:
"The first working prototype of the $100 laptop. Conspicuously missing: the hand-crank generator present in an earlier design. The new human-powered generator will be separate from the laptop itself, and much more efficient than a hand crank.
"As the One Laptop per Child project, a nonprofit effort based in Cambridge, MA, nears the completion of its rugged and versatile laptop designed for school children in poor countries, a key component has fallen into place: an efficient, human-powered generator that could make the computer practical for children living in areas without reliable, affordable electricity.
"The new generators, which will be field-tested beginning this October, abandon the bulky and inefficient hand-crank design featured on an early mock-up of the laptop in favor of a more compact off-laptop design that uses a pull string to spin a small generator. It was developed by Squid Labs, Emeryville, CA, a design and engineering group whose co-founders include several graduates of MIT's Media Lab, where the laptop project originated."
Link: Powering the $100 Laptop
Flaming Notebooks
Another Dell Laptop Ablaze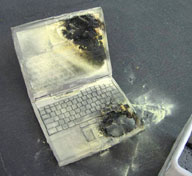 The Consumerist reports:
"Incendiary photo evidence of a Dell laptop fire has thrown an extra log on the fire of Dell's woes.
"A Dell laptop's battery caught on fire in a company's IT department this week, burning a hole right through the casing. Nearby techs used fire extinguishers to put out the blaze. Employee Henrik took pictures to document the affair and uploaded them to the Toms Hardware message boards."
Link: Another Dell Laptop Ablaze!
Does a Flaming Dell Look Better Than a Flaming Apple?
The Inquirer's Charlie Demerjian says:
"We all know that Dell laptops have all the elegance of a third degree burn while an Apple laptop has all the charm that a turtlenecked journalist suing CEO can bestow on it.
"That said, when a Dell burns, it looks pretty. How about when an Apple roasts?
"The short answer is, very much prettier, see?"
Link: Does a Flaming Dell Look Better Than a Flaming Apple?
Tech Tips and Info
Do-It-Yourself Laptop Case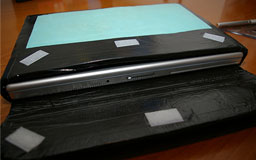 isoglossia says:
"I've never bought a carrying case for any of my laptops, but the new MacBook Pro is so sleek and lovely that I decided I would spring for a genu-wine store-bought case this time. A little research has deterred me, however. Word on the street is that the case-making sector hasn't really caught up with the new Mac laptops' dimensions yet and various vendors are claiming that old stock designed for iBooks and PowerBooks will accommodate the MacBook and MB Pro, with mixed reviews from users. If I'm going to shell out $30 or £20 for my new 'Book's case, I want it to fit like a tiny wetsuit, not blown-out rhino hide.
"So, pending the bringing to market of dedicated cases for the MBP, it's back to my old cheap-ass DIY ways.
"Each of my previous laptops has undergone a non-invasive procedure that results in a carrying case meant to go inside a soft briefcase or backpack. The case you get this way has the following virtues:
Tailor-made for your machine, with a fit as snug or loose as you design
Provides excellent shock protection and is largely liquid-proof [*]
Made from materials that are practically free
Looks only slightly hobo-esque, and is meant to be tucked inside other bag anyway
Gives you the profound satisfaction of making something with your own two hands
"[*] I use this term not as a watch-marketer but as a beer-spiller. This case is NOT rated to any number of atmospheres.
"This takes around an hour to do, including beer-opening etc., and doesn't require any tools you probably don't have lying around the place already."
[Editor's note: This might be considered the Red Green approach to laptop case fabrication, since one of the key elements is duct tape. As Red would say, "stuff you can trust." The article is also funny. CM]
Link: Do-It-Yourself Laptop Case: A 12-Step Program
Repairing Your Apple PowerBook Adapter
Kevin Burton's Feed Blog says:
"For some reason hardware vendors keep producing power adapters which continually break where the plug leaves the base unit. I've broken five-six power adapters over the last two years and literally in the exact same spot. This has happened with both Dell and Apple and seems to be an issue with the whole industry.
"I'm not the first to have this problem. Tony Korologos had the same problem with his PowerBook but just repaired it himself.
"I've now gone through two power adapters and there's no way I'm going to throw down $80 to replace them. Instead, I just went down to the local hardware store and bought a soldering iron for $15 and fixed it myself."
Link: Hacking/Repairing Your Apple PowerBook Adapter
Reviews
'Clever, Practical' MacBook
PC Advisor reports:
"With its new MacBook, Apple has filled out its Intel-based portable line with an entry-level model. But this laptop packs so many clever, practical features into its case that it doesn't feel like a compromise."
"What's missing? Not much, but the MacBook does have integrated graphics rather than the faster discrete adapter that gamers and graphics pros will want. And as standard it has no ExpressCard, PC Card or memory-card slots, nor a dialup modem."
Link: Apple MacBook
Products and Services
Daystar Has CPU Upgrades for All Titanium PowerBook G4s
PR: Daystar Technology, the original Mac Performance Shop, delivered another milestone in PowerBook speed today. - the introduction of the new XLR8 CPU upgrade for the Titanium PowerBook G4 series.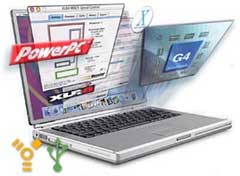 This new CPU upgrade delivers up to 100% faster performance for owners of most classic Titanium systems. The PowerBook G4 upgrade dubbed, "XLR8 MAChSpeed G4 Titanium" is a factory installed upgrade, has been shipping for 3 months to "prerelease" customers and is available immediately.
No Experience Required.
Like the XLR8 MAChSpeed G4 Pismo, Lombard, Aluminum and iMac Flat Panel CPU upgrades, the PowerBook G4 upgrade is a factory installed CPU upgrade. Users simply place their PowerBook in the provided box. The shipping, testing, installation and 100% quality assurance is handled completely by Daystar's Apple Certified Technicians.
No Compromise, Just Raw Speed.
The CPU is the primary bottleneck on a PowerBook G4. To maximize speed and compatibility, Daystar uses the latest model, highest rated Freescale PowerPC CPUs. It runs transparent to the operating system and is fully compatible with future OS's. The result is a system with much faster processing power, and improved performance in the Finder and every application.
QuickTime encoding is up to 75% faster
Photoshop performance rivals the MacBook Pro!
48 hour, factory installation via Apple Certified Technicians.
Compatible with Classic and Mac OS 10.3.5 - 10.4.x... and beyond.
Includes XLR8 MAChSpeed Control for 100% compatibility
All upgrades warranted with Daystar's exclusive 90/720 warranty program.
"We have already upgraded a number of users via our prerelease program - it is rock solid", said Gary Dailey, president of Daystar. "This new upgrade allows users to get high performance without sacrificing their classic compatible Titanium system, or settling for someone else's logic board."
Performance for Most PowerBooks.
The new XLR8 MAChSpeed G4 Aluminum CPU upgrade is available for all PowerBook G4 Titanium systems.
The base price of $449 includes all parts and labor and US Ground Shipping.
The PowerBook G4 800-1000 MHz is upgraded to 1.33 GHz in speed The PowerBook G4 550-667 MHz is upgraded to 1.25 GHz in speed The PowerBook G4 400-500 MHz is upgraded to 550 MHz in speed ($249)
A "weekender" (in on Friday, back on Monday) program is also available.
Link: Daystar Store
Vodafone Preps 'Super 3G' Wireless Modem for MacBooks
The Register's Tony Smith reports:
"Vodafone has responded to calls from MacBook and MacBook Pro owners for a compatible version of its 3G Mobile Connect Broadband Datacard with a USB version of the gadget which it pledged to ship in the autumn."
"The USB model provides . . . download speeds of 'around 1.4 Mbps' and upload speeds of up to 384 Kbps."
Link: Vodafone Preps 'Super 3G' Modem for MacBooks
Targus Introduces Rechargeable Bluetooth Laser Notebook Mouse
PR: Targus Inc. expands its line of Bluetooth mice with the introduction of the Bluetooth Laser Notebook Mouse.
Designed to work with Bluetooth-enabled PC or Mac notebooks, the new mouse is compact, lightweight and does not require a receiver. The batteries recharge while in use providing continuous operation for business travelers, students, gamers and other on-the-go consumers.
"Targus is responding to the needs of consumers by adding in-use charging to its wireless notebook mice, thus ensuring no more dead batteries," said Michael Greco, director, U.S. product marketing, for Targus. "The Bluetooth and laser-enabled mice currently on the market consume more power than their optical counterparts. By offering a rechargeable solution, Targus meets the increasing demand for Bluetooth enabled peripherals that solve a critical power issue for consumers."
Bluetooth Laser Notebook Mouse (AMB03US)
Featuring laser technology that provides up to 20 times the sensitivity of a standard optical mouse, the Bluetooth Laser Notebook Mouse can switch from 800-dpi to 1600-dpi while on the fly, making it the ideal solution for gaming and other fast-action applications where heightened accuracy and responsiveness are essential. The mouse can be charged while in use with the included USB cable and ships with two rechargeable batteries. Delivering seamless operation from up to 33 feet away, the Bluetooth Laser Notebook Mouse's scroll wheel provides easy navigation, and the carrying pouch offers added convenience for travel.
The Bluetooth Laser Notebook Mouse measures 4.1" x 2.1" x 1.4" and weighs just 2.04 oz.
MSRP is $69.99.
Link: Targus
MacBook Linen Sleeves
PR: Wrappers peach skin linen sleeves for Apple's MacBook feature minimal branding and can be personalised with the owner's initial.
The sleeves consist of three layers - a linen outer with a unique peach skin finish that instead of the usual crispness of linen is extremely soft and luxurious, a padded middle layer and a dark navy microfibre inner lining.
The machine washable range comes in five colours: Coconut, a brilliant white indulgent choice for white MacBooks; Horizon Pink, a classic hot pink; Out of the Blue, a sophisticated slate blue, Raspberry, a soft lilac and Honey, a classic oatmeal shade of linen.
The slimline linen sleeves are free of a logo and owner's can personalise their sleeve by adding their initial to the accompanying tag. Customising your linen sleeve costs an additional £3.00. Allow 3 - 5 days build time for custom orders.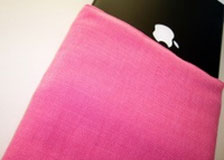 Wrappers' linen sleeves feature exclusive tailoring that avoids leaving one end of the MacBook exposed, without the need for zips or Velcro. Pictured is a Coconut linen sleeve with (see below) and without (pictured above) a MacBook showing how the sleeve folds over once you've inserted your MacBook.
MacBook sleeve features:
Tailored sleeve for MacBook 13"
Peach skin linen outer
2 oz polyester wadding provides extra protection from scratches
Super soft microfibre dark navy lining helps remove fingerprints
Colors:
Out of the Blue
Horizon Pink
Honey
Coconut
Raspberry
Prices linen sleeve: £15.99 plus £3.50 p&p
Persoanlised linen sleeve: £18.99 plus £3.50 p&p.
Link: MacBook Linen Sleeves
Software
iAlertU Theft Alarm for Your MacBook Pro
PR: Introducing the remote controlled motion sensitive alarm system for the MacBook Pro. Utilizing the built in motion sensor technology, iSight camera, and the infrared remote control your MacBook Pro can now be turned into a high tech alarm system. iAlertU is aimed at being a tamper/theft deterrent system for those times when you need to step away from your work momentarily.
Current features:
Mute button override
Volume max when alarm is active
Flashing screen when alarm has triggered
Idle sleep disabled when alarm is active
Features under development:
Camera integration
Email snapshot on network availability
Forced sleep disable for duration of alarm
Audio output jack disable for duration of alarm
User selectable sensitivity
Visual deterrent that alarm is set
New in this version:
When FrontRow is active iAlertU is ignored
Power button, eject button and several other keys will now set off the alarm
Written by Randy Green:
Thanks to Paul Ingendorf of www.timespace.org the issue where the F3 key was muting iAlertU's alarm has been resolved. The new version 16b is now available for download. Many thanks to Paul for finding and fixing this bug and thanks to all of you that took the time to report it.
System requirements:
Mac OS X 10.4 or later
An Apple MacBook Pro (not compatible with PowerBooks or iBooks)
Link: iAlertU
Bargain 'Books
Bargain 'Books are used unless otherwise indicated. New and refurbished units have a one-year Apple warranty and are eligible for AppleCare.
There are two different versions of WallStreet running at 233 MHz, the cacheless MainStreet version and the later Series II with a level 2 cache. It's not always possible to determine from the vendor's listing which is being offered, so we've included links within this paragraph to the two models. The same goes for the PowerBook G4/667 (VGA) and G4/667 (DVI), the titanium vs. aluminum 15" PowerBook G4 at 1 GHz, and 1.25 GHz to 1.5 GHz 15" PowerBooks.
PowerBook, iBook, and MacBook profiles linked in our Portable Mac Index.
used 12" iBook G3/700, 256/20/CD, $335
used 17" PowerBook G4/1 GHz, 256/40/Combo, $1,049
refurb 12" PowerBook G4/1.5 GHz, 512/80/SuperDrive, APX, BT 2.0, $1,199
refurb 1.83 GHz MacBook (white), 512/60/Combo, $949
refurb 2.0 GHz MacBook (white), 512/60/SuperDrive, $1,099
refurb 2.0 GHz MacBook (black), 512/80/SuperDrive, $1,299
refurb 15" 2.0 GHz MacBook Pro, 512/80/SuperDrive, $1,699
refurb 15" 2.16 GHz MacBook Pro (glossy display), 1024/100/SuperDrive, $2,149
used Pismo PowerBook G3/500, 256/15/DVD, $429.95
used 12" iBook G3/500, 192/10/CD, $299.95
used 12" iBook G3/700, 256/20/Combo, $449.95
used 12" iBook G3/800, 256/30/CD, $379.95
used 15" PowerBook G4/1.67 GHz, 1024/80/SuperDrive, APX, BT, $1,399.95
iBook Volume Discounts
used 12" iBook G3/900, 256/40/Combo, 2 piece multipack, $939.99
used 12" iBook G3/700, 256/20/Combo, 3 piece multipack, $1,349.99
used 12" iBook G3/800, 256/30/Combo, 3 piece multipack, $1,379.99
used 12" iBook G3/900, 256/40/Combo, 3 piece multipack, $1,439.99
used 14" iBook G3/800, 256/30/Combo, 3 piece multipack, $1,449.99
used 14" iBook G3/900, 256/40/Combo, 3 piece multipack, $1,529.99
For more deals on current or recently discontinued models, see our best 15" MacBook Pro deals, our best 17" MacBook Pro deals, 12" PowerBook G4 deals, 15" aluminum PowerBook G4 deals, 17" PowerBook G4 deals, titanium PowerBook G4 deals, iBook G4 deals, PowerBook G3 deals, and iBook G3 deals.
Join us on Facebook, follow us on Twitter or Google+, or subscribe to our RSS news feed
Links for the Day
Mac of the Day: Macintosh 512K Fat Mac, introduced 1984.09.10. The first Mac with enough memory for serious work.
Recent Content
Custom Search
Follow Low End Mac on Twitter
Join Low End Mac on Facebook
Favorite Sites
MacSurfer
Cult of Mac
Shrine of Apple
MacInTouch
MyAppleMenu
InfoMac
The Mac Observer
Accelerate Your Mac
RetroMacCast
The Vintage Mac Museum
Deal Brothers
DealMac
Mac2Sell
Mac Driver Museum
JAG's House
System 6 Heaven
System 7 Today
the pickle's Low-End Mac FAQ
Affiliates
Amazon.com
The iTunes Store
PC Connection Express
Macgo Blu-ray Player
Parallels Desktop for Mac
eBay

Advertise