Another Sudden Shutdown Fix, Sunshade for Notebooks, Modbook Sensitivity Improved, and More
This Week's Mac Notebook News
Compiled by Charles Moore and edited by Dan Knight - 2007.04.05
This Week's MacBook, PowerBook, and iBook News
Axiotron has delayed the Modbook as it improves pen sensitivity from 256 levels to 512. For the latest on the Modbook, join our Modbook List.
Comp Shade has introduced on of those "now why didn't I think of that" products for notebook users, a folding sunshade that makes it easier to see your screen in outdoor sunlight. Clever.
All prices are in US dollars unless otherwise noted.
General Apple and Mac desktop news is covered in The Mac News Review.
News & Opinion
Products and Services
Software
News & Opinion
Possible Fix for MacBook Pro Sudden Shutdown
Mac OS X Hints' nomadman says:
"I have a six-month-old MacBook Pro (2.16 GHz). It is by far, the best computer I have ever owned and used, but twice during this period, the battery has died on me . . . sort of. It's the now-classic 'charged battery laptop that shuts down when unplugged' syndrome....
"I have looked around the web for a solution to this, but nothing. Apple recommends resetting the power manager, and the PRAM. For me, these have not helped....
"...out of a desperate attempt at something magical, I realized that, even though the machine would immediately shutdown when unplugged, it would not do so if I closed the lid and put it to sleep. Like that, it would stay on indefinitely. So I left it like that all night to push it beyond its shutdown charge limit. The next morning, the machine was at 87% charge when I lifted the lid back up....
"Hope this help some of you get your laptops back up."
Link: Possible Fixes for a MacBook Pro Sudden Shutdown Issue
New MacBooks in Q2 to Tighten MLCC Supply?
DigiTimes' Nuying Huang and Esther Lam report:
"Although the present supply for X5R high-capacitance multi-layer ceramic capacitors (MLCCs) is balanced, sources at passive component makers are warning that supply may become tight again as some players have been notified to prepare materials for new Apple notebooks and demand from Dell is also substantial.
"Supply for X5R high-capacitance MLCCs became tight after Apple released a new series of Intel Core 2 Duo MacBooks in the fourth quarter of 2006. Some are saying that Apple may again cause a tight supply as it is going to introduce mass production of its new series of notebooks in the second quarter."
Link: New Apple Notebooks in '07 Q2 to Tighten MLCC Supply? (subscription required)
Products and Services
Comp Shade Folding Laptop Sunshade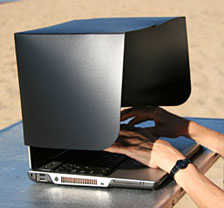 PR: Laptop computers are frequently used in outdoor environments where sunlight and glare make screen viewing very difficult due to screen washout. The Comp Shade blocks most of these visual impediments and increases apparent screen contrast, thereby reducing eyestrain and helping to control Computer Vision Syndrome (CVS). The Comp Shade also helps to provide viewing privacy which is especially needed for laptops used in public places. This patented design can be folded closed while remaining attached to your laptop, so it is always with you when you need it.
Features:
Install only once, then open/close in seconds
Attaches to your lid with hook & loop fasteners
Universal size fits 10-17" laptops (9" to 16-1/2" wide)
Fits virtually all laptops
Swings open/closed while remaining attached to your lid
Made of ultralight, durable polyethylene material
So thin your laptop still fits inside its case
Forms a 9" deep viewing tunnel to reduce glare
Unique, patented design provides true convenience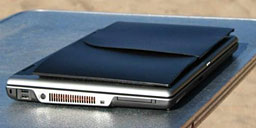 How it works: A left hand and right hand panel assembly, each consisting of an integral side panel plus top panel, are hinged to a mounting strip. The mounting strip becomes attached to the outside of your laptop's lid using factory-pre-positioned pressure-sensitive hook & loop strips. The assemblies overlap near the top center to form a 3-sided tunnel around the screen, approximately 9" deep. The resulting tunnel blocks most light infiltrating around the top and sides of your screen. The panel assemblies can remain affixed to the outside of the laptop's lid and swing nearly "flat" for storage.
Quality Materials: The folding panels are made of ultra lightweight High Density Polyethylene, a highly durable, synthetic material that blocks 100% of light transmission.
Specification: Weighs approximately 7 oz. and adds only 3/8" thickness to laptop. All components are black.
Price: Euro 25.00
€7 delivery to anywhere in Europe or the USA
Link: Comp Shade
Axiotron Improves Pen Pressure Sensitivity of Modbook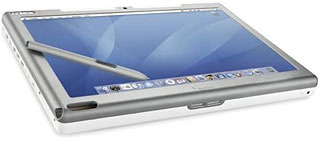 PR: Solution hardware manufacturer Axiotron, Inc. has announced that it has doubled the pen pressure sensitivity on its Modbook Mac tablet line to 512 levels, offering graphic artists, photographers and other users of applications such as Adobe Photoshop or Corel Painter twice the sensitivity and control of their pen strokes than any other TabletPC on the market. The upgrade is free and is being rolled retroactively into every Modbook order placed since its introduction, moving first customer shipments to May 2007.
Axiotron's Modbook features Wacom Penabled hardware, the same high quality technology that makes the Wacom pen tablets and interactive pen displays the preferred choice for professional artists, designers, photographers, and consumers alike. The Modbook's Digitizer Pen is responsive (133 position updates per second), accurate (20x display resolution) and now with 512 levels, provides the highest pressure sensitivity in any mobile computer system on the market. The radio-based digitizer technology, allows users to draw while their hand is resting on the screen and control the cursor while the pen is hovering over the screen, providing for an intuitive, mouse-like interface with a zero learning curve.
"We are not content to provide the only TabletMac solution, we want the Modbook to be the best tablet computer for our customers period." said Andreas Haas, President of Axiotron. "While everyone is excited and can't wait for his Modbook to be delivered, the one thing we were hearing in meetings with customers such as Cartoon Network, Disney Animation, Nike and Pixar, was that the pressure sensitivity could have been higher. So we worked hard together with our development partner WACOM to push the digitizer technology in our Modbook to new limits."
The included Modbook Digitizer Pen features 2 programmable side buttons plus an eraser, and ships with 3 different types of replaceable pen tips, which if used on the acid etched surface of the Axiotron ForceGlass offer a wider range of drawing styles and sensations. The Pencil Nib, the most durable Nib, is most commonly used in pen tablets and TabletPCs today and provides a very hard and direct drawing feel. The Studio Nib is the default tip in the Modbook Digitizer Pen and essentially a spring-loaded variation of the Pencil Nib, offering a different feel in controlling the 512 pressure levels. The Felt Nib's marker-type material maximizes friction on the Modbook's acid etched ForceGlass surface, resulting in what is said to be the most paper-like drawing experience.
"I had a chance to work with the Modbook extensively at this year's Wizard World in Los Angeles and I found myself hopelessly addicted after the first five minutes" said Kody Chamberlain. Graphic artists will appreciate the speed and power of the hardware and the elegance of the Mac OS X operating system. The real highlight of the Modbook is the ability to work directly on a portable canvas with the variety of pen tips, which really do have a unique feel and viscosity. The Modbook is a very useful tool for efficiency, productivity and creativity. Gadget junkies are going to love it, but art professionals are the real winners."
Based on the Apple MacBook, the award winning Axiotron Modbook is the only slate-style tablet computer with an integrated iSight camera and CD/DVD combo drive, as well as other unparalleled features such as its largest-in-class wide angle 13.3" AnyView wide screen display, protected by chemically strengthened Axiotron ForceGlass, in the industry's only, satin chrome tri-metal plated magnesium top shell.
Compared to the best of its slate-style TabletPC competitors, just the Modbook's entry configuration at an US MSRP of $2279 already sports the fastest Intel Core 2 Duo processor at 1.8 GHz, complete with a spacious 60 GB hard disk, the fastest 802.11 a/b/g/n wireless LAN and Bluetooth 2.0 connectivity - all at a lower price than its competitors. With upgrade options such as a 2 GHz Intel Core 2 Duo processor, a whopping 400 GB of total internal hard disk space*, up to 3 GB of RAM, an internal 6x DVD Dual-Layer/CD burner and a built-in Global Positioning System, the Axiotron Modbook is simply in a class of its own.
* one internal 200 GB hard disk and second 200 GB hard disk in the internal optical drive bay
"As an artist and early adopter of TabletPCs, I really appreciate the Modbook because no other device anywhere offers this functionality in a portable package allowing me to take my entire studio wherever I go" said Emmy award winning artist Shannon Tindle. "Even though I have gotten used to 256 levels of pressure sensitivity, I am excited about Axiotron doubling it to 512 levels, because it will give me even greater control over line quality and the application of texture in my drawings. This also shows that we artists finally have a tablet computer company that is listening to our needs."
Doubling the pressure sensitivity to 512 levels is a free upgrade for every Modbook and is being rolled retroactively into every Modbook order placed since its introduction, moving first customer shipments for the US and Canada to May 2007.
Mercury On-the-Go Enclosure Kits for 2.5" SATA Drives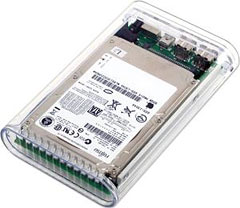 PR: Other World Computing (OWC) announced two new Mercury On-the-Go Hard Drive Enclosure Kits for 2.5" SATA hard drives. Priced at $39.99 with USB 2.0 and $54.99 with USB 2.0 and eSATA interface options, OWC Mercury On-the-Go Kits let you build your own new portable hard drives or reuse your old SATA internal laptop hard drives to turn them into portable external drives that hook up to any computer via its USB 2.0 port. Why not upgrade your laptop's internal drive and reuse your old drive in an OWC Mercury On-the-Go portable external case?
Cool Design - Shock Protection
Mercury On-the-Go Enclosure Kits feature a cool see-through design with shock protection for full portability for use on the road or in the office. Fully bootable, the enclosure kits include all the necessary cables to work with any computer with USB port for a lightweight storage device or a backup solution that travels with you wherever you go. The enclosures run silently and keep your drive cool with a built-in aluminum heat-sink under the hard drive and pass-through cooling vents on the top.
OWC, who last year was the first to introduce a FireWire 800 and 400/USB 2.0 2.5" portable enclosure for SATA 2.5" hard drives, provides the highest performance award-winning hard drive enclosures in the market. In addition to the OWC Mercury On-the-Go enclosures for SATA 2.5" laptop hard drives, OWC also offers 4 different Mercury On-the-Go models for IDE/ATA 2.5" laptop drives starting at $29.99.
The OWC Mercury On-the-Go Hard Drive Enclosure Kits for 2.5" SATA notebook hard drives are priced at $39.99 with USB 2.0 and $54.99 with USB 2.0 and eSATA Interfaces and include cables and accessories required for supported interfaces. For more information, see:
Link: OWC Mercury On-The-Go USB 2.0 2.5" Portable Case Kit for SATA 2.5" Hard Drives
LapWorks Aluminum Desktop Laptop Stand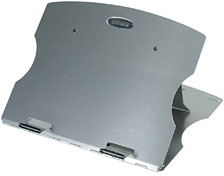 PR: LapWorks Inc., the ergonomic computer lap desk company, has announced their Aluminum Desktop Stand that elevates notebook computers when working at a desk to
improve screen viewing,
improve typing ergonomics, and
cool a laptop up to 23% to extend its life.
The sleek laptop stand features 6 easy-to-adjust elevated positions. The shorter 3 elevations raise the notebook screen by 3-1Ú2, 4, or 4-3/8 inches and angle the notebook's keyboard to improve typing ergonomics. The 3 steeper inclines raise the screen 6, 6-1Ú2, or 6-3Ú4 inches closer to eye level to create an ergonomically-sound desktop workstation when using a separate keyboard (not included). The $69.95 laptop stand is available from LapWorks at an introductory price of $59.95 until May 31.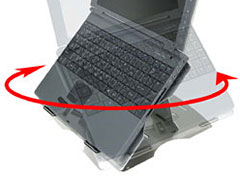 Constructed of heat-dissipating brushed-aluminum, the sturdy Aluminum Desktop Stand is also portable, weighing 1 pound, 5 ounces and folding flat and thin (12 x 9.5 x 3/8 inches) for easy storage in a computer bag. The laptop stand also includes nonskid rubber pads to grip the laptop, a built-in turntable for 360 degree rotation and screen-sharing, a neoprene travel bag/slip cover which doubles as a mousepad, and it carries a one-year warranty.
"Raising a laptop's screen closer to eye level protects you from holding your head forward to see it, reducing strain on your upper body and neck," said Jose Calero, LapWorks' president. "Angling the keyboard also allows arms and elbows to hang relaxed at your sides, for more ergonomically comfortable typing than when set flat on a desk."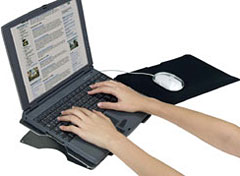 To correctly set up a laptop as a desktop workstation, ergonomists such as Sally A. Longyear, CIE, MPH recommend:
Attaching a separate keyboard and mouse and placing them on a keyboard tray at a height that allows forearms to be parallel to the floor.
Elevating the top of screen to straight-ahead eye level.
Placing the laptop close enough to see it without holding head forward.
An experienced leader in injury prevention, Longyear explains, "The goal is to relax neck, shoulders, arms and hands when typing and mousing." This illustration shows correct laptop-using posture.
A thermal study conducted for LapWorks by the California Polytechnic University at Pomona concluded that the Aluminum Desktop Stand reduces heat buildup by virtue of its heat-absorbing aluminum as well as the incline which allows heat to escape. As an example, a laptop placed on the Aluminum Desktop Stand on its highest incline ran 27° cooler (88° compared to 115°) than the same laptop set flat on a desk. "Most heatsinks which are attached to microprocessors to keep them from overheating are made of aluminum because of its ability to absorb and dissipate heat into the air," explained Calero. "The thinner the aluminum the better the process works."
Features:
Elevates the screen up to 6-3/4 "
6 adjustable angles/elevations
Low angle mode for typing
360° rotation
Ergonomic design
Durable aluminum construction
Rapid heat dissipation
Folds flat for easy storage
Cable management
Includes neoprene travel bag
Travel bag serves as a mousepad
Fits any laptop
LapWorks will continue to offer its flagship dual-purpose Laptop Desks, which:
Provide a wide, ergonomically-sound workspace across the lap.
Fold into a wedge-shaped laptop stand to incline a laptop on a desk.
Cool a laptop via built-in ventilation channels.
Dimensions: 12" x 9-1/2" x 3/8 "
Weight: 1 lb. 5 oz.
Warranty: The Aluminum Desktop Stand has a one year warranty against defects in material, construction and workmanship
Link: LapWorks
'Cool + Couture' Line of SOHO Laptop Sleeves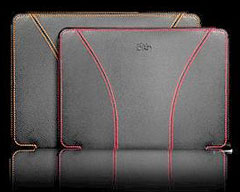 PR: iSkin has announced SOHO, its new line of laptop protective sleeves for MacBook, MacBook Pro and similarly sized PCs. Made from premium synthetic leather and dyed using only environmentally safe inks, these handsomely designed sleeves offer sturdy protection that mates couture looks with rock star flare.
The SOHO features a multilayered design that combines the protection of a durable outer layer, a reinforced padded center and a plush inner lining. Together, they perfectly encapsulate your laptop keeping it safe from everyday hazards.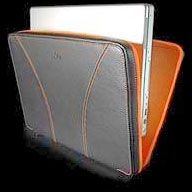 The SOHO is offered in a variety of flavors with just the right touch of color for all seasons. It's available in two separate sizes for the 13" MacBook, 15" MacBook Pro and also accommodates older PowerBooks, iBooks and similarly sized PCs.
"People need sturdy, functional protection for their computers but don't want to carry around something that conflicts with their personal style" said Tomas Rojcik of iSkin, "SOHO is sophisticated enough for the professional, yet stylish enough for the student --and it proves computer protection can be as great looking as it is practical."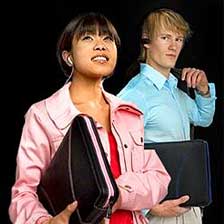 Made for the MacBook and MacBook Pro, the SOHO's distinguished good looks, coupled with legendary iSkin fit and finish, makes it the perfect accessory for your laptop and your outfit. It also fits PC's with similar dimensions.
Combined with the iSkin ProTouch Keyboard Protector, the SOHO is ideal for students, business users and just about anyone who prefers to be anywhere but at a desk. It also makes a great heat barrier when using your MacBook on your lap.
The SOHO line features five black sleeves with color accented zippers and stitching. They include: Azure (Black with Blue), Graphite (Black with Grey), Magnum (Black with Red), Sahara (Black with Orange) and Amazon (Black with Pink).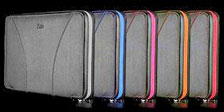 Features:
Specifically made for Apple MacBook / MacBook Pro
Works with similar sized PC laptops
Slim two-tone design
Colored stitching
Simulated premium leather finish
Reinforced, durable, outer shell
Color-matching, plush padded lining
Sure-grip custom iSkin designed zipper pull
Clamshell design for easy access to laptop
Inner elastic screen straps
Multilayered construction
Stylish yet elegant
Reinforced spine
Available in a variety of color styles
Specifications:
For MacBook or similar PC
Length: 13" (33cm)
Width: 9" (23cm)
Depth: 1" (4cm)
For MacBook Pro or similar PC
Length: 14" (36cm)
Width: 9" (25cm)
Depth: 1" (4cm)
The complete SOHO line is available at www.iSkin.com for $59.99 (13")/ $64.99 (15") and at participating resellers within the coming weeks.
Link: SOHO
Software
2-Finger-Scrolling for pre-2005 'Books
PR: iScroll2 is a modified trackpad driver that adds two-finger scrolling capabilities to supported pre-2005 PowerBooks and iBooks on OS X 10.3 and up.
iScroll2 is a modified trackpad driver that adds two-finger scrolling capabilities to supported pre-2005 PowerBooks and iBooks on OS X 10.3 and up.
Supported models include most aluminum PowerBooks introduced from 2003 to 2004 as well as all G4 iBooks.
Note: Models that have two-finger scrolling already built-in are not supported! These use a completely different, USB-based trackpad, the driver or which is not available as open source.
iScroll2 is based on Apple's AppleADBMouse-209.0.10 driver for the ADB-based trackpads found on older models, which is available as part of the publicly released Darwin source code (and covered by the APSL). The code added for supporting two-finger scrolling was written from scratch.
To scroll, just place two fingers on your trackpad instead of one. Both fingers need to be placed next to each other horizontally (not vertically, the trackpad cannot detect that). Some people get better results with their finger spaced a little bit apart, while others prefer having the fingers right next to each other.
iScroll2 provides two scrolling modes: Linear and circular scrolling.
For linear scrolling, move the two fingers up/down or left/right in a straight line, respectively, to scroll in that direction.
Circular scrolling works in a way similar to the iPod's scroll wheel: Move the two fingers in a circle to scroll up or down, depending on whether you move in a clockwise or counterclockwise direction.
In addition to scrolling, iScroll2 also supports mapping the trackpad button and the tap gesture to a specific mouse button. The trackpad button can also be remapped dynamically depending on whether two fingers are on the trackpad. This can be configured in the included preference pane.
New in version 0.27: more settings daemon updates
System requirements:
Mac OS X 10.3.8 or later
Supported PowerBook
Models that are known not to be supported include all G3 and Titanium PowerBooks, the very first 12" PowerBook model, all G3 iBooks, and all newer machines that come with two-finger-scrolling built-in: The trackpads of the older machines simply lack two-finger detection capabilities completely, whereas the models that have scrolling built-in use a completely different, USB-based trackpad, the driver for which is not available as open source.
Version 0.25 seems to work just fine under 10.4.1
System support: PPC
Free
Link: iScroll2
Switch Your LCD On/Off with LightMe
PR: LightMe is a little utility for your Mac notebook (or any LCD monitor connected to your Mac) created in order to switch off the screen without hold pressed the light on/off key of my MacBook Pro. Using command-F1 (or command-fn-F1) your screen switch off while if you press command-F2 (or command-fn-F2) it returns to the previous value (if you press again the same key combo it switch to the maximum value).
It's a background process so you will not see any icon in your dock. It's normal!
LightMe is based upon MCBrightness package, a set of classes that allows to get info and set/get brightness about connected LCD monitors. MCBrightness can be found in this site at the bottom of this short page.
LightMe is distributed under GPL license, and you will can found the XCode Project included here.
If you use it or you like me, you can make a donation (LOL! are you serious?) or drop me an email with your comments about it at malcom.mac at gmail.com.
System requirements: It should work both on Mac OS X 10.3 and 4 (or later), however I've tested it only on 10.4.
System support: PPC/Intel
Free
Link: LightMe
SeisMaCalibrate Calibrates Sudden Motion Sensor
PR: Suitable Systems has released SeisMaCalibrate, a new software tool that calibrates your Sudden Motion Sensor (SMS) so you can have accurate acceleration readings in three axes.
While a number of products have been released that use Apple's SMS to perform various tasks, SeisMaCalibrate is the first tool that, axis by axis, accurately determines each SMS's offset and scale error. The error values are then used to create calibration values, which are stored for later use by other programs (such as Suitable Systems' SeisMac).
One difficulty in developing for the SMS is that different models of MacBook Pro, MacBook, PowerBook and iBook have vastly different SMS calibration values. Although Suitable Systems' previous product SeisMac attempted to set intelligent default calibration values, a lack of Apple-supplied information made this problematic. Now, once SeisMaCalibrate users have accurately calibrated their SMSs, they can click a button to email a summary of their machine and the calibration back to Suitable Systems. This will aid in developing industry-leading per-model default values for SMS access.
New in version 1.2:
Improved default calibration 17" Core Duo 2 MacBook Pro laptops
Added custom icon
System requirements: Mac OS X 10.4 or later
SeisMac
Free
Link: SeisMaCalibrate
Bargain 'Books
Bargain 'Books are used unless otherwise indicated. New and refurbished units have a one-year Apple warranty and are eligible for AppleCare.
There are two different versions of WallStreet running at 233 MHz, the cacheless MainStreet version and the later Series II with a level 2 cache. It's not always possible to determine from the vendor's listing which is being offered, so we've included links within this paragraph to the two models. The same goes for the PowerBook G4/667 (VGA) and G4/667 (DVI), the titanium vs. aluminum 15" PowerBook G4 at 1 GHz, and 1.25 GHz to 1.5 GHz 15" PowerBooks.
PowerBook, iBook, and MacBook profiles linked in our Portable Mac Index.
refurb 12" PowerBook G4/1.5 GHz, 512/80/Combo, $1,099
refurb 12" PowerBook G4/1.5 GHz, 512/80/SD, $1,199
refurb 1.83 GHz Core 2 MacBook, white, 512/60/Combo, $1,099
refurb 2.0 GHz Core 2 MacBook, white, 1 GB/80/SD, $1,099
refurb 2.0 GHz Core 2 MacBook, black, 1 GB/120/SD, $1,299
refurb 17" 2.16 GHz Core Duo MacBook Pro, 1 GB/120/SD, $1,999
refurb 17" 2.33 GHz Core 2 MacBook Pro, 2 GB/160/SD, $2,299
PowerBook 1400cs, 117 MHz, 16/775 MB, new battery, no floppy or AC adapter, $99.99
PowerBook 1400cs, 117 MHz, 16/775 MB, new battery, floppy, AC adapter, $119.99
PowerBook "Lombard" G3/333, 128/4/CD, $249.99
PowerBook "Lombard" G3/400, 128/4/CD, $329.99
PowerBook "Pismo" G3/400, 128/6/DVD, $299.99
PowerBook "Pismo" G3/500, 128/6/DVD, $349.99
12" PowerBook G4/867, 384/40/Combo, Scratch & Dent, $479
15" PowerBook G4/867, 25/40/Combo, $599
12" PowerBook G4/1 GHz, 256/40/Combo, BT, $649
15" PowerBook G4/1 GHz, 512/80/SD, APX, $849
15" PowerBook G4/1.25 GHz, 256/60/SD, BT, Scratch & Dent, $799
17" PowerBook G4/1 GHz, 512/80/SD, APX, BT, $999
17" PowerBook G4/1.33 GHz, 512/80/SD, APX, BT, $1,099
Apple refurb 17" PowerBook G4/1.33 GHz, 512/80/SD, APX, BT, $1,099
Apple refurb 17" PowerBook G4/1.5 GHz, 512/80/SD, APX, BT, $1,249
Apple refurb 15" PowerBook G4/1.33 GHz, 256/60/Combo, APX, $999
Apple refurb 15" PowerBook G4/1.5 GHz, 512/80/Combo, APX, $1,049
Apple refurb 15" PowerBook G4/1.67 GHz/512/80/SuperDrive, APX, $1349
Apple refurb 17" PowerBook G4/1.67 GHz, 512/120/SD, APX, BT, $1288
12" iBook G3/500, 192/10/CD, $284.95
12" iBook G3/700, 256/20/CD, $379.95
12" PowerBook G4/867, 256/40/Combo, $899.95
12" iBook G3/800, 256/30/CD, $329
14" iBook G3/900, 256/40/Combo, $409
Add AirPort for $75
TechRestore is offering a $25 discount to 'Book Review readers off any PowerBook or iBook in stock. Just enter the code CWM during checkout when ordering online. The coupon code is valid from now through 2007.12.31.
12" iBook G3/700, 256/20/Combo, $429.99 less $25 = $404.99
15" PowerBook G4/1.67 GHz, 512/80/SD, BT, $1,219.99 less $25 = $1,194.99
12" clamshell iBook G3/300, blueberry, 64/3/CD, $179.95
12" iBook G3/500, 128/10/CD, $199.95
12" iBook G3/600, 128/20/CD, $249.95
14" PowerBook Pismo G3/400, 256/20/DVD, $379.95
15" PowerBook G4/400, 256/20/DVD, $429.95
15" PowerBook G4/667, 256/20/DVD, $529.95
12" iBook G4/1.2 GHz, 512/30/Combo, APX, Minor Case Defect, $559.95
12" iBook G4/1.33 GHz, 512/40/Combo, APX, BT, $629.95
Apple Emate 300 PDA, Touch Screen in great working shape, $69.99
12" iBook G3/300, 128/3/CD, OS X 10.2 installed, tested battery and power cord, $259.99
12" iBook G3/600, 128/20/CD, OS X 10.2, working battery and power cord, $299.99
Computer Geeks
12" iBook G4/1 GHz, 512/30/CD, APX, $449
12" iBook G3/500, 128/10/CD, OS X, $209
12" iBook G3/500, 128/30/CD, OS X, $279
12" iBook G3/600, 128/30/CD, OS X, $329
For deals on current and discontinued 'Books, see our 13" MacBook and MacBook Pro, MacBook Air, 13" MacBook Pro, 15" MacBook Pro, 17" MacBook Pro, 12" PowerBook G4, 15" PowerBook G4, 17" PowerBook G4, titanium PowerBook G4, iBook G4, PowerBook G3, and iBook G3 deals.
We also track iPad, iPhone, iPod touch, iPod classic, iPod nano, and iPod shuffle deals.
Join us on Facebook, follow us on Twitter or Google+, or subscribe to our RSS news feed
Links for the Day
Mac of the Day: 600 MHz iMac G3, introduced 2001.02.22. The fastest iMac to date, the Early 2001 model introduced flowers and spots, hit 600 MHz mark.
Recent Content
Custom Search
Follow Low End Mac on Twitter
Join Low End Mac on Facebook
Favorite Sites
MacSurfer
Cult of Mac
Shrine of Apple
MacInTouch
MyAppleMenu
InfoMac
The Mac Observer
Accelerate Your Mac
RetroMacCast
The Vintage Mac Museum
Deal Brothers
DealMac
Mac2Sell
Mac Driver Museum
JAG's House
System 6 Heaven
System 7 Today
the pickle's Low-End Mac FAQ
Affiliates
Amazon.com
The iTunes Store
PC Connection Express
Macgo Blu-ray Player
Parallels Desktop for Mac
eBay

Advertise