MacBook Pro Could Use Both GPUs at Once, 9600M GT Smokes 9400M for 3D Gaming, New Cases, and More
This Week's MacBook, PowerBook, and iBook News
Compiled by Charles Moore and edited by Dan Knight - 2008.10.31
All prices are in US dollars unless otherwise noted.
General Apple and Mac desktops is covered in The Mac News Review. iPod, iPhone, and Apple TV news is covered in The iNews Review.
News & Opinion
Reviews
Tech Trends
Products
News & Opinion
Apple Could Enable Both GPUs and On-the-Fly Switching in MacBook Pro
Gizmodo says:
"Nvidia dropped by today to demo some of the awesome things that the GeForce 9400M in the new MacBooks can do that Intel's integrated graphics just can't touch, and to discuss a few technical points. Besides confirming that you'll see it in other notebooks soon, they definitively answered some lingering questions about the chip's capabilities: It can support up to 8 GB of RAM. It can do on-the-fly GPU switching. And it can work together with the MacBook Pro's discrete 9600M GT. But it doesn't do any of those things. Yet."
Link: Confirmed: Apple Can Enable Dual GPU and On-the-Fly Switching in MacBook Pro
New MacBook Pro Doesn't Support 8 GB RAM
AppleGazette's Michael reports:
"According to iFixit it looks like the new MacBook Pros will not actually support 8 GB of Ram. Nvidia representatives have dated previously that the new chipsets used in the MacBook and MacBook Pro could support up to 8 GB of Ram, but after testing, that doesn't seem to be the case.
"The article further notes that the MacBook Pro tested recognized the the RAM, but only used 4 GB while active, and that it's possible this could be fixed in the future with a firmware update."
Link: New MacBook Pro Doesn't Support 8 GB RAM
Lack of a Netbook May Haunt Apple Down the Road
Computerworld's Gregg Keizer says:
"Apple Inc. accounted for nearly 10% of all US computer sales last quarter, but the lack of a model in the growing netbook category could mean trouble ahead, a research analyst said today.
"According to Gartner Inc.'s preliminary estimates, Apple sold 1.64 million machines during the period, a 29% increase year-to-year over the same period in 2007, to put it in third place behind Dell Inc. and Hewlett-Packard Co. For the quarter, Apple accounted for 9.5% of all the machines sold in the US, up from 8.1% a year ago and 8.5% last quarter....
"But there's one trend building that Apple has so far missed.... Netbooks, the mini-laptops personified by the Eee PC from Asustek Computer Inc., the Aspire One from Acer and the Mini-Note from HP, accounted for about 5% of all mobile sales in the US last quarter. And Apple doesn't have an entry in that race."
Link: Lack of a Netbook May Haunt Apple Down the Road
Netbooks Take 10% of Euro PC market
The Register Hardware's Tony Smith reports:
"First Gartner and now IDC has highlighted the rise of the Small, Cheap Computer as one of key product categories keeping the European PC market afloat.
"Laptops too are helping keep vendors' heads above water, and together with the SCCs helped shipments of all types of personal computer grow 27 per cent year on year during Q3, IDC said.
"Notebook shipments were up 52 per cent when comparing Q3 2008 with Q3 2007. SCC shipment growth can't really be considered since the first one, the Eee PC 701, didn't go on sale until Q4 2007, and up to that point the only alternative, the UMPC, didn't really trouble the score-keeper.
"We can say that European netbook shipments went from zero in Q3 2007 to over 2m in Q3 2008, a figure that's just under ten per cent of the 27.9m PCs shipped into Europe in Q3 this year."
Link: Netbooks Take Ten Per Cent of Euro PC market
Apple Planning to Enter the Netbook Market?
Softpedia's Traian Teglet reports:
"The netbook market could soon receive a much-awaited breath of fresh air as ongoing rumors suggest that the Cupertino, California-based Apple is currently developing a new lightweight, small-sized portable system that is neither a new iPhone nor MacBook model. There are several rumors that point out the same outcome, namely that Apple is planning to give the recently flourishing netbook market its best shot....
"The idea of Apple building its own NetMac system is more than interesting, as it can set the stage for a new type of portable device, one in which Intel's technologies are no longer included. Furthermore, given Apple's reputation in designing computer devices, we might as well expect an interesting device that could seriously threaten the position of ASUS' Eee PC in the netbook market...."
Link: Internet-Capable Apple Device to Compete with Eee PC - Apple Planning to Enter the Netbook Market?
Online Petition for Matte Screen on MacBooks Posted
Anthony Hunt has posted a matte display for MacBook petition on PetitionOnline.com.
The petition reads:
"To: Apple Computer
"We pledge to purchase a new MacBook if you, Apple Computer, would be so kind as to provide the option of a matte display.
"Sincerely,
The Undersigned"
Link: Matte Display for MacBook Petition
Would You Buy a New MacBook If a Matte Screen Option Was Available?
Macsimum News has posted a reader poll (on the home page) asking if you'd buy a new Apple laptop if a matte screen option were available (it's not except on the holdover $999 plastic MacBook and the 17" MacBook Pro).
The last time I checked, the vote was going:
Yes 60%
No 5%
Makes no difference, a glossy screen is fine with me 35%
Are You Sure You Didn't Spill Anything In Your MacBook?
The Apple Core's Jason D. O'Grady says:
"Apple has taken their fraud protection up a notch in the new MacBooks by adding tiny Liquid Submersion Indicators (LSIs) throughout the notebook's chassis according to AppleInsider.
"Introduced in the iPhone and iPod touch then later in the MacBook, the tiny LSI's change from white to red when they've been exposed to moisture. Apple products that have been exposed to excess moisture or submerged in liquid are not covered under the AppleCare warranty."
Link: Are You Sure You Didn't Spill Anything In Your MacBook?
How to Protect Your Battery
CreativeBits' Ivan says:
"We all love portable devices because they provide flexibility. Ironically most of the time they are being used as desktop devices and are plugged in all the time.
"This is potentially a problem because batteries wear off much more faster if they are not being used enough...."
Link: How to Protect Your Battery
Apple on Lithium-ion Batteries
An Apple Knowledge Base article says:
"Rechargeable lithium-based technology currently provides the best performance for your Apple notebook computer, iPod, or iPhone.
"Most lithium-ion batteries use a fast charge to charge your device to 80% battery capacity, then switch to trickle charging....
"You can charge all lithium-ion batteries a large but finite number of times, as defined by charge cycle.
"Using and recharging 100% of battery capacity equals one full charge cycle.
"A charge cycle means using all of the battery's power, but that doesn't necessarily mean a single charge. For instance, you could listen to your iPod for a few hours one day, using half its power, and then recharge it fully. If you did the same thing the next day, it would count as one charge cycle, not two, so you may take several days to complete a cycle. Each time you complete a charge cycle, it diminishes battery capacity slightly, but you can put notebook, iPod, and iPhone batteries through many charge cycles before they will only hold 80% of original battery capacity.
"The length of time your battery will power your device depends on how you use it. For instance, watching a DVD will use up your notebook battery's power more quickly than simple word processing."
Link: Lithium-ion Batteries
Save Your MacBook's Hard Drive in Sleep Mode
David Alison says:
"Recently I've gotten a couple of e-mails from folks that have had problems with hard drive failures in their MacBooks. While hard drive failures are a fact of life with nearly any computer it can be exacerbated in laptops and portable machines where the risk of drops while the drive is spinning is significantly higher.
"One of the features I really love about my MacBooks (both my original MacBook and my MacBook Pro) is how reliable the sleep function is; close the lid and the MacBook's screen goes dark and you are ready to run off. The reality is that by default the machine does not immediately go into sleep mode but starts the process of writing the contents of your memory to your hard drive.
"This means that when you think the machine is inert, the reality is that one of the more sensitive moving parts (hard drive) is writing to disk....
"You can modify your MacBook to simply drop into sleep mode immediately...."
Link: Quick Tip - Save Your MacBook's Hard Drive
Upgrading a MacBook Pro's Hard Drive
Macworld's Christopher Breen says:
"Reader Matthew Thomas would like to upgrade his late-2006 MacBook Pro. He writes:
"I am currently using a 15" MacBook Pro 2.33 GHz and I've run out of hard drive space. I came across this article at Macworld, and will attempt to swap my hard drive, following the iFixit guide. My question is, for my laptop model, is there a maximum capacity of hard drive that it can take? Would I be able to put in say, a 320 GB or 500 GB hard drive?
"Yes. Currently your MacBook Pro (which is the same model I have) will hold up to a 500 GB hard drive, but that's not a hard limit. If someone can make a hard drive of a larger capacity that fits in your MacBook, you could use it...."
Link: Upgrading a MacBook Pro's Hard Drive
Make Your MacBook Pink
Laptops Arena's Sierra says:
"We know that many of you are searching for a pink Apple Macintosh laptop computer and that there are many sites claiming to provide information on how to get one, but they just tell you long stories forgetting the essential part, which is to tell you exactly where to find them.
"Unfortunately, Apple didn't provide colored laptop computers after the special edition of the iBook Clamshell, but after doing some research over the Internet, we found some good solutions to help you create your own pink Apple Macintosh laptop, which is called customization...."
Link: Pink Apple Macintosh Laptop
Animated Video MacBook Pro Teardown
TechRestore Blogs' Brian says:
"Here's our latest animated tear-down video: a look inside the brand new MacBook Pro! As an added bonus, by popular request, I got footage of Chet putting it back together.
"These new MacBooks Pro are amazing! The whole trackpad is a button, which doesn't seem all that much better than tap clicking, until you go to drag stuff, which is sooo much better this way! The four-finger Expose controls are wicked too."
Link: Animated Video MacBook Pro Teardown
Late-2008 MacBooks: Battery Issues
MacFixIt reports:
"Users have noticed that the new MacBooks have some issues with the batteries. While they appear to run perfectly fine in most situations, when the computer is put to sleep the power seems to drain much faster than expected....
"In past MacBook models users were able to keep the computers in sleep mode for days and lose charge at only a few percentage points per day. The new models drain power at the rate of a few percentage points per hour. This problem seems to be an issue that affects many users, and seems to be coupled with the computer going into hibernation much sooner than expected when in sleep mode....
"Additionally, users have noticed problems when trying to calibrate the MacBook's battery.
"This problem could be due to poorly written drivers for the new MacBook hardware, or could require a firmware update."
Link: Late-2008 MacBooks: Battery Issues
MacBook (Late-2008) Screen Brightness Varies
MacFixIt reports:
"The new MacBook displays are relatively bright, because they use the new LED backlighting technologies. As such, in many situations users dim the displays a little, but when they do this the display gives some problems."
Link: MacBook (Late-2008) Screen Brightness Undesirably Varies (as is so often the case at MacFixIt, you must have a paid subscription to read this article)
Amazon, Others Offer $50-$100 Off Apple's New MacBook lines
AppleInsider reports:
"A couple of Apple authorized online retailers are now reflecting immediate availability of the company's new MacBook and MacBook Pro systems, offering savings between $50 and $100 after rebates in addition to other buying incentives....
"Amazon is offering $50 rebates on both the white 2.1 GHz MacBook as well as the 2.0 GHz and 2.4 GHz aluminum unibody models introduced earlier this month....
"MacMall is offering identical rebates on the new 13-inch MacBooks, but also offers associated rebates for a free copy of Parallels Desktop 3.0, free Epson Stylus Printer, free Intego Antivirus, and free carrying case...."
Editor's note: See our Best MacBook Prices and Best 15" MacBook Pro Prices for current prices offered by these and other dealers. dk
Link: Amazon, Others Offer $50-$100 Off Apple's New MacBook lines
Reviews
In Depth Analysis of New MacBook Pro
Hardmac's Lionel reports:
"Hereafter are details and information we noticed after having tested the MacBook Pro for several days....
"Some snippets:
In standard usage, meaning no 3D request or tasks requiring CPU/GPU to be fully loaded for a long period, the MacBook Pro enclosure remains 'cold', even if you are charging your battery....
"In summary, in normal usage, the new MacBook Pro is quieter and colder than the previous models.
Trackpad usage is just dead-easy and should not disturb you at all.
Keyboard more comfortable than the one from the previous MBP model
In standard usage, the GeForce 9400M is more than enough power, and there is no noticeable slow down when using iApps.
Sound is overall much better than in the previous MacBook Pro
The image provided by this display is simply gorgeous
The new MacBook Pro simply looks gorgeous, on all sides, the "finish" of the notebook is simply beautiful
When using the new MBP for a standard usage on the GF 9400M, the battery will last more than 4 hours"
Link: New MacBook Pro: In Depth Analysis
In-depth Review of Unibody MacBook Pro
AppleInsider's Prince McLean reports:
"Apple's newly redesigned 15" MacBook Pro improves upon the graphics, RAM, and CPU performance of the previous generation while adopting the strong lines and unibody construction of the MacBook Air, the keyboard of the 2006 consumer MacBook, the environmentally friendly design of last year's iMac, and the iPhone's headphone mic, resulting a strong package of cross pollination across Apple's various branches.
"AppleInsider spent upwards of 50 man hours on this six-page review of Apple's new MacBook Pro. Therefore, the report is quite lengthy. Readers looking for information on specific topics can use this jump menu (below) to easily navigate to the relevant segments."
Link: Apple's Unibody MacBook Pro: An In-depth Review with Video
Glossy Borders and Submarines: A Couple of MacBook Observations
The Apple Blog's Tom Reestman reports:
"I've now had my new MacBook for two days, and the expectations of what I'd hoped or suspected the machine to be have been true. It really is sweet and, along with the PowerBook 170 and the PowerBook 12" G4, may be the best overall portable Apple has ever made.
"Of course, nothing is prefect, and there are a couple of things I've noticed that I'd like to point out. One of them can undoubtedly be fixed via software, but the other is what it is...."
Link: Glossy Borders and Submarines: A Couple of MacBook Observations
Hard Drive vs. SSD in 2.8 GHz MacBook Pro
Bare Feats' rob-ART Morgan reports:
"We love the ease with which you can change hard drives on the 'late 2008' MacBook Pro. We ordered our 2.8 GHz lab 'rat' with the 7200 rpm 320 GB drive option (which happens to be a Hitachi Travelstar 7K320. We obtained the OCZ Core Series 128 GB Solid State Drive (SSD) to test against it.
"We put the factory drive in FireWire 800 enclosure to boot from and tested an identical empty 7K320 against the empty SSD. We wanted to measure the maximum speed when empty as well as simulate a full drive with the help of DiskTester 2."
In brief: Reading from SSD is faster, writing is slower, and there is no slow down as the drive fills (unlike a hard drive).
Link: Drive Shootout: HDD vs. SSD in the MacBook Pro 2.8 GHz
GeForce 9600M GT Smokes 9400M for 3D Gaming
Bare Feats' rob-ART Morgan reports:
"As many of you know, the 2.8 GHz MacBook Pro actually has two different graphics processors (GPUs). One is the integrated GeForce 9400M which uses up to 256 MB of shared DDR3 main memory and the stand-alone GeForce 9600M GT which has 512 MB of dedicated GDDR3 memory. You must choose which one to enable. You can't run both simultaneously as many of you wish you could.
"We ran some 3D accelerated games at the native resolution (1440x900) to highlight the performance difference between the two GPUs...."
In brief: For 3D games tested, 9600M GT is 2x to 4x the speed of 9400M.
Link: GPU Comparison: GeForce 9400M versus 9600M GT (Both in the MacBook Pro 'Late 2008')
Tech Trends
Mobile Nehalem Chips May Come in Late 2009
IDG News Service's Sumner Lemon says:
"Intel is gearing up to release the first versions of its Nehalem chip family next month, with the scheduled launch of its Core i7 desktop processors. But users will have to wait much longer to get their hands on the mobile version of the new chip.
"The mobile version of Nehalem, codenamed Clarksfield, will 'be in production beginning in the second half of 2009,' Intel said on Monday, without saying when the chips would be available commercially...."
Link: Mobile Nehalem Chips May Come in Late 2009
Faster MacBook Pro-Bound Intel Chips Due Next Spring
AppleInsider reports:
"The next time Apple will have the opportunity to boost the processor specifications of its MacBook Pro line will be next spring, when Intel pushes out a final update to its Montevina platform consisting of two high-performance mobile chips, according to reports....
"At this juncture, Apple could presumably bump its 15-inch MacBook Pro configurations up to standard frequencies as high as 2.66 GHz and 2.8 GHz, with a 3.06 GHz build-to-order option. Alternatively, it could inch standard configurations up to 2.53 GHz and 2.66 GHz, leaving the 2.8 GHz and 3.06 GHz chips as potential build-to-order choices."
Link: Faster MacBook Pro-Bound Intel Chips Due Next Spring
Intel Planning Montevina Refresh Notebook Platform for April 2009
DigiTimes' Monica Chen and Joseph Tsai report:
"Intel is planning to introduce the Montevina Refresh for notebooks in April, according to sources at notebook makers.
"The company will launch two processors along with the new platform, the Core 2 Duo T9900 and P8800.
"For the chipset segment, Intel is planning to launch the GM47 for the high-end in the first quarter of 2009, while in July or August the company will launch the GL43 for entry-level notebooks and GS40 for small form factor (SFF) PC.
"The GM55 mobile chipset (Ibexpeak-M) for Intel's next-generation Calpella platform for notebooks is scheduled to launch by July or August next year."
Link: Intel Planning Montevina Refresh Notebook Platform for April Next Year (another site that limits access to its archives to paid subscribers)
Products
MacCase Launches Premium Leather Flight Jacket for Entire MacBook Series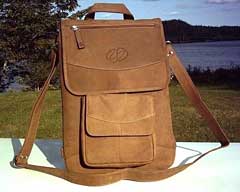 PR: MacCase, creators of the Apple-specific case market, has launched the Premium Leather Flight Jacket, a unique portable protection solution that provides the perfect fit for the MacBook, MacBook Air and MacBook Pro. The Flight Jacket is a vertically-oriented, streamlined design with minimal bulk. The compact case has several storage pockets for accessories and a removable, customized pouch for the MacBook Air Super Drive or AC adapter for the larger MacBook Pro models. For added flexibility, the Flight Jacket can be transported in three different modes - by handle, by shoulder strap or as an optional backpack. The Flight Jacket expands MacCase's Premium Leather Collection and offers customers a versatile option that combines the protective benefits of the company's sleeve with the utility of the larger shoulder bag.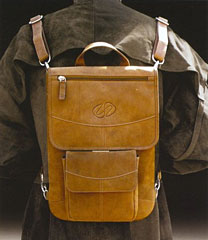 "The design of the Flight Jacket embodies the minimalism of the MacBook Air and the romanticism of our Premium Leather," expresses Michael Santoro, Chief Creative Officer at MacCase. "Apple owners looking for a timeless case design with outstanding protection and minimal bulk will find this, and more, in the new Flight Jacket."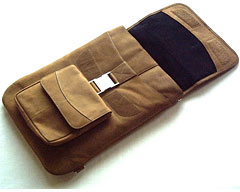 The Premium Leather Collection utilizes the warmth and softness of the material which is purposefully juxtaposed against the coolness of the machines they carry. For the Flight Jacket, this design vocabulary results in a case that visually speaks to the sophistication and expectations of the Apple community. This is further emphasized with the same mark of craftsmanship incorporated in the entire Premium Leather Collection including contrasting white stitching, stainless steel finished hardware and embossed logos. The Flight Jacket is available in 3 colors, distressed Vintage, Chocolate or Black.
The MacCase Flight Jacket's retail price is $169.95 (shoulder strap and handle carrying options included). The backpack strap option bumps the price to $189.95.
Link: MacCase Flight Jackets
Proporta's Laptop Bag for New MacBook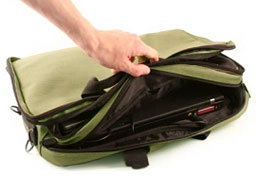 PR: Cover up your new MacBook or MacBook Pro with a Proporta Laptop Bag.
Proporta's Protective Laptop Bag makes the perfect carry case for your MacBook. Made from tough Cordura, this is an excellent product to protect your laptop whilst on the move.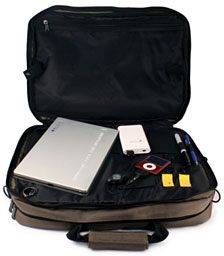 Padded lining safeguards your laptop from bumps and impact damage as a result of every day traveling, and the numerous individual compartments allow you to keep each of your devices and items such as cables and chargers, separate for quick and easy access. In addition, and for extra security, a fabric hinge prevents the laptop bag opening all the way back and exposing your devices.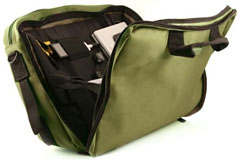 The Proporta Protective Laptop Bag comes complete with a shoulder strap, plus neatly hidden away rucksack straps, which enable you to carry your laptop and its respective accessories on your back if carrying for a long period of time.
The Protective Laptop Bag sells for $ 47.95.
Link: Proporta Protective Laptop Bag
WaterField Designs' TSA Friendly Suede Jacket Sleeve Line for New MacBook & MacBook Pro
PR: WaterField Designs, a leader in custom-fitted laptop protection and designer bags and cases for consumer electronics, announces an Ultrasuede Suede Jacket Sleeve designed specifically for the new Apple MacBook and MacBook Pro. Because WaterField Designs manufactures in San Francisco, it leads the industry in providing custom-fitted cases as soon as popular electronic devices are announced. The new Suede Jacket Sleeve is available now. (Also available for the MacBook Air and MacBook Pro 17".)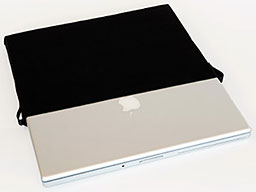 The Suede Jacket Sleeve is the ultimate in bulk-free, scratch protection for the MacBook and MacBook Pro. The case is a snug fitting, Ultrasuede cover constructed of 100% scratch-free, washable microfiber with stretch memory and no potentially scratching zippers. A loop on each upper end allows users to stretch the fabric while easily inserting the laptop. An imbedded neoprene strip along the bottom protects the laptop where it needs it most. The utmost in TSA friendly laptop protection, the Suede Jacket allows travelers to leave their laptop protected while it passes through the x-ray apparatus, thereby minimizing damage and easing identification once through security.
"Travelers and commuters who carry laptops in a briefcase or other bag want a slim and scratch-protective case option to shelter it from other items in their bag," explained Gary Waterfield, the company's chief designer. "These Suede Jackets fit your laptop perfectly and add close to zero bulk to your load. The case is so scratchproof and soft, you can even use it to clean your screen."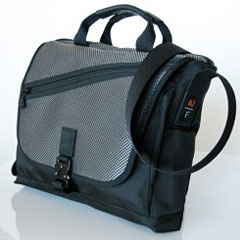 WaterField Designs will also offer custom-fitted SleeveCase sizes - from its existing SleeveCase line - for the new Macs for those who prefer more protection. The SleeveCase features customization options: a padded front flap, two strap choices, a PiggyBack accessory holder, and a choice of a vertical or horizontal oriented case to match the orientation of a larger bag. The SleeveCase can remain inside another bag while the laptop is removed. Alternatively, one can opt to add a strap to the sleeve and use it as stand-alone case.
Additional WaterField Designs bags for the new MacBook and MacBook Pro include the Racer-X and the HardCase - each with formfitting laptop compartments - and the Cargo, Cozmo, and VertiGo, which accommodate a laptop in a Suede Jacket Sleeve or SleeveCase, and a Keyboard Case.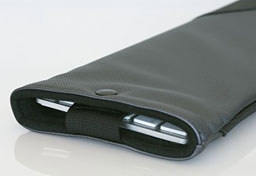 MacBook & MacBook Air Suede Jacket Sleeve: $29. MacBook Pro 15" Suede Jacket Sleeve: $33. MacBook Pro 17" Suede Jacket Sleeve: $35. Pre-order now. Ships next week.
Other compatible bags: Racer-X ($169-189), Cargo ($179-269), Cozmo ($169-189), VertiGo ($79-$89), HardCase ($229-$249), & SleeveCase ($39-45). Available from The WaterField Designs/SFbags website.
Grantwood Technology's MacVelope for MacBook Air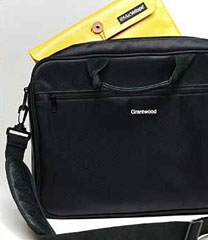 PR: Grantwood Technology, LLC has announced the release of the MacVelope, a laptop sleeve designed specifically for the MacBook Air, and also the MacVelope Companion Bag. Designed to mimic a standard interoffice mail envelope, the MacVelope has durable, manila-colored vinyl on the outside and black ballistic nylon on the inside, along with a Velcro closure and red string for added effect.
Customers can place the MacVelope into the lightweight Companion Bag, along with such accessories as the External MacBook Air SuperDrive, MagSafe Power Adapter, Ethernet cables, etc. When traveling, they can slide the Companion Bag over the handle of wheeled suitcases, or simply over their shoulder using the included shoulder strap. Three zippered compartments provide plenty of organization.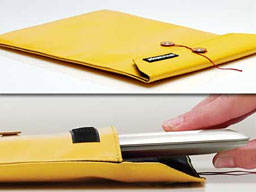 "We wanted a sleeve for the MacBook Air that keeps the theme of the interoffice envelope, as demonstrated by Steve Jobs at Macworld Expo 2008," states Michael Banks, cofounder and CEO of Grantwood Technology, LLC. "We also wanted a simple laptop bag that could handle the usual accessories for the MacBook Air."
The MacVelope and Companion Bag is the perfect sleeve and laptop bag combination for your MacBook Air.
The MacVelope retails for $24.99.
The MacVelope Companion Bag retails for $29.99.
The MacVelope and MacVelope Companion Bag can be purchased together for $49.99.
Link: MacVelope
Speck's New SeeThru and Fitted Hard Shell Case Designs for the Latest MacBooks
PR: Leading case maker Speck created the category of hard shell cases for MacBooks and iMacs with the award-winning SeeThru. Today, on the heels of Apple's announcement, consumers can count on the trademark form-fitted hard case, with a new twist, designed exclusively for the new MacBook, MacBook Pro and MacBook Air notebooks.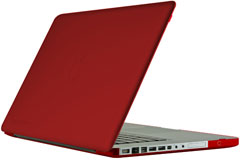 "Speck continues to innovate time and time again. Today is no different. We're excited to significantly expand our family of industry-first cases to the newly redesigned MacBook and MacBook Pro," said Irene Baran, CEO of Speck. "We're never satisfied with the status quo. Our designers continue to innovate, and with this fresh line of MacBooks it challenges us to bring forth new ideas on customization and protection."
Fitted is the first of its kind and is a fabric covered, form-fit hard shell case available in several stylish variations. The Fitted, which launched for iPhone 3G last week, feels soft to the touch, and is authentically fashionable while offering custom-fit contours and openings to allow complete access to all controls and ports. Fitted is the perfect way to showcase individual style and will initially be released in editions ranging from $69.95 to $99.95 MSRP. New styles and patterns will also be announced seasonally.
Fans of the industry's first hard shell case can also get the newly updated SeeThru for the new MacBooks. SeeThru is constructed of durable, polycarbonate plastic and comes in a wide Speck-trum of popular and personal colors and clear (color options vary depending upon model). With the easy snap-on/off design, users can shield their notebook from scratches and bumps while enjoying complete access to all features including keyboard, drives and ports. The shells also come complete with rubber feet to help prevent movement on slippery surfaces. The durable SeeThru is the perfect add-on whether transporting your notebook alone, in a sleeve, briefcase, backpack or other bag and is also priced at $49.95 MSRP.
Speck SeeThru and Fitted editions for the new MacBooks will be available starting in early December in a variety of color and style options, and will range in price from $49.95 to $99.95 respectively.
Previous-edition MacBook Pro 17-inch and 15-inch notebook SeeThru hard shells, as well as current MacBook 13-inch and MacBook Air SeeThru hard shell cases are currently shipping to consumers and retail partners with an MSRP of $49.95.
Link: Speck SeeThru Cases
Bargain 'Books
Bargain 'Books are used unless otherwise indicated. New and refurbished units have a one-year Apple warranty and are eligible for AppleCare.
PowerBook, iBook, and MacBook profiles linked in our Portable Mac Index.
Changes late this week are still no 15" MacBook Pros but five more MacBook configurations are available starting at $849. Each model comes with an Apple one-year warranty, and ground shipping is free.
refurb 1.6 GHz MacBook Air, 2 GB/80, $1,349
refurb 1.8 GHz MacBook Air, 2 GB/80, $1,499
refurb 1.8 GHz MacBook Air, 2 GB/64 SSD, $1,799
refurb 2.1 GHz Penryn MacBook, white, 1 GB/120/SD, $849
refurb 2.2 GHz Santa Rosa MacBook, white, 1 GB/160/SD, $999
refurb 2.4 GHz Penryn MacBook, white, 2 GB/160/SD, $1,049
refurb 2.4 GHz Penryn MacBook, black, 2 GB/250/SD, $1,099
refurb 17" 2.4 GHz Santa Rosa MacBook Pro, 2 GB/160/SD, $1,899
refurb 17" 2.5 GHz Penryn MacBook Pro, 2 GB/250/SD, $2,099
refurb 17" 2.6 GHz Penryn MacBook Pro, 2 GB/250/SD, $2,299
refurb 17" 2.6 GHz hi-res Penryn MacBook Pro, 2 GB/250/SD, $2,399
12" PowerBook G4/867 MHz, 256/40/Combo, $489.99
12" PowerBook G4/1.5 GHz, 512/80/SD, $659.99
1.83 GHz Core Duo MacBook, white, 512/60/Combo, 60 day warranty, $645.99
2.0 GHz Core Duo MacBook, white, 512/60/Combo, 60 day warranty, $699.99
2.0 GHz Core Duo MacBook, black, 512/80/SD, 60 day warranty, $749.99
2.0 GHz Core 2 MacBook, white, 1 GB/80/SD, 60 day warranty, $769.99
2.0 GHz Core 2 MacBook, black, 1 GB/120/SD, 60 day warranty, $799.99
15" PowerBook G4/1.25 GHz, 256/60/Combo, $599.99
15" PowerBook G4/1.33 GHz, 256/60/Combo, $639.99
15" PowerBook G4/1.5 GHz, 1 GB/80/Combo, $679.99
15" PowerBook G4/1.67 GHz, 1 GB/80/SD, $729.99
15" hi-res PowerBook G4/1.67 GHz, 512/80/SD $799.99
15" 2.2 GHz Core 2 MacBook Pro, 2 GB/120/SD, $1,349.99
15" 2.4 GHz Core 2 MacBook Pro, 2 GB/160/SD, $1,443.99
15'' 2.4 GHz Core 2 MacBook Pro, 2 GB/200/SD, $1,499.98
15'' 2.4 GHz Core 2 MacBook Pro, 2 GB/200/SD, $1,643.99
17" 2.4 GHz Santa Rosa MacBook Pro, 2 GB/160/SD, matte, $1,849.95 less $150 mail-in rebate = $1,699.95
1.6 GHz MacBook Air, 2 GB/80, $1,499.99
12" PowerBook G4/1 GHz, 256/40/Combo, $699.95
12" PowerBook G4/1.33 GHz, 512/60/DVD, $849.95
12" PowerBook G4/1.5 GHz, 256 RAM, 60/Combo, $849.95
15" PowerBook G4/1.25 GHz, 512/60/SD, $949.95
15" PowerBook G4/1.33 GHz, 512/60/SD, $999.95
15" PowerBook G4/1.5 GHz, 512/80/Combo, 1 year warranty, $894.95
15" PowerBook G4/1.5 GHz, 512/80/SD, $929.95
15" PowerBook G4/1.67 GHz, 1 GB/80/SD, $1,199.95
17" PowerBook G4/1 GHz, 512/60/SD, $1,109.95
17" PowerBook G4/1.67 GHz, 512/120/Combo, 1 year warranty, $1,089.95
12" iBook G4/800, 640/0/Combo, APX, no hard drive, $259
15" PowerBook G4/1.5 GHz, 1 GB/80/Combo, $655
15" PowerBook G4/1.67 GHz, 1 GB/80/Combo, $729
15" hi-res PowerBook G4/1.67 GHz, 1 GB/80/SD, $759
15" hi-res PowerBook G4/1.67 GHz, 1.5 GB/100/SD, $815
15" 2.1 GHz Core Duo MacBook Pro, 512/80/SD, $1,109

12" iBook G4/1.33 GHz, 768/40/Combo, AP, AppleCare, $599.95
15" PowerBook G4/667 MHz DVI, 256/30/Combo, $479.95
15" PowerBook G4/1.5 GHz, 1 GB/80/Combo, APX, $849.95
15" 2.16 GHz Core 2 MacBook Pro, 1 GB/120/SD, APX, $1,499.95
For more deals on current and discontinued 'Books, see our MacBook deals, MacBook Air deals, 15" MacBook Pro deals, 17" MacBook Pro deals, 12" PowerBook G4 deals, 15" PowerBook G4 deals, 17" PowerBook G4 deals, titanium PowerBook G4 deals, iBook G4 deals, PowerBook G3 deals, and iBook G3 deals.
Join us on Facebook, follow us on Twitter or Google+, or subscribe to our RSS news feed
Links for the Day
Mac of the Day: 17" iMac G4 (Mid 2002), introduced 2002.07.17. The iMac grows up with a 17" 1440 x 900 display.
Recent Content
Custom Search
Follow Low End Mac on Twitter
Join Low End Mac on Facebook
Favorite Sites
MacSurfer
Cult of Mac
Shrine of Apple
MacInTouch
MyAppleMenu
InfoMac
The Mac Observer
Accelerate Your Mac
RetroMacCast
The Vintage Mac Museum
Deal Brothers
DealMac
Mac2Sell
Mac Driver Museum
JAG's House
System 6 Heaven
System 7 Today
the pickle's Low-End Mac FAQ
Affiliates
Amazon.com
The iTunes Store
PC Connection Express
Macgo Blu-ray Player
Parallels Desktop for Mac
eBay

Advertise