Apple Slate January 26?, No Intel i5 and i7 for Apple?, Bootable ExpressCard SSD, and More
This Week's MacBook, PowerBook, and iBook News
Compiled by Charles Moore and edited by Dan Knight - 2010.01.08
General Apple and Mac desktops is covered in The Mac News Review. iPod, iPhone, and Apple TV news is covered in The iNews Review. All prices are in US dollars unless otherwise noted.
News & Opinion
Reviews
Tech Trends
Products & Services
News & Opinion
Lenovo IdeaPad U1 Hybrid Notebook/Tablet 'Kills Anything Apple Could Possibly Announce'
AppleInvestor reports that Paul Thurrott has blogged that the tiny new Lenovo IdeaPad U1 hybrid notebook "kills anything Apple could possibly announce later this month"
Thurrott, a self-described Lenovo ThinkPad fanboy, argues that Lenovo make "the best notebooks on earth . . . and now they're getting even better with "a tiny notebook with a breakaway tablet screen absolutely kills anything Apple could possibly announce later this month. It's not even close."
Link: Paul Thurrott: Tiny Lenovo 'Kills Anything Apple Could Possibly Announce Later This Month'
In his blog, Thurrott says that Lenovo's IdeaPad U1 hybrid notebook, to ship in the second half of 2010, will make Apple's supposed tablet look silly. The IdeaPad is basically a clamshell netbook-class computer running Windows 7, but you can pop off the screen and use just that as a tablet running the same system as the Skylight smartbook, but with touch-compatible controls on top. Both the screen and keyboard/base have their own batteries. And the two sides sync.
Thurrott enthuses, "This thing looks like it came straight out of a science fiction movie about the future but it's here now in working form and you'll be able to buy it later this year."
Link: 2010 CES: Day 0
The Exhaustive Guide to Apple Tablet Rumors
Gizmodo says:
"The Apple tablet is almost here. We hear. Actually, we're hearing a whole lot lately. With this exhaustive guide to every tablet rumor, we've got the clearest picture of the Apple tablet yet."
Link: The Exhaustive Guide to Apple Tablet Rumors
January 26th - Tablet Tuesday?
9 to 5 Mac's Seth Weintraub says that if the Financial Times is right, we might have only one month to wait until "Tablet Tuesday," citing FT's report that "Apple has something big up its sleeve for next month. The company has rented a stage at the Yerba Buena Center for the Arts in San Francisco for several days in late January, according to people familiar with the plans. Apple is expected to use the venue to make a major product announcement on Tuesday, January 26th.
Weintraub cautions that even if Apple does unveil an iTablet tablet month, it'll likely be at least few months longer before they reach consumer hands.
Link: January 26th - Tablet Tuesday?
Apple iPad to Launch January 26?
The Register's Rik Myslewski says he'll wager a fiver (bet five pounds sterling in Britspeak) that Apple's intensely rumored iPad being launched on Tuesday, January 26.
"Being journalists, we're not exactly rolling in cash, so why are we suddenly so profligate with our coin? Three reasons...."
Link: Apple iPad to Launch January 26 (Maybe)
Apple Schedules Special Event for January 26
AppleInsider's Neil Hughes reports that, the Financial Times, citing inside sources, said Wednesday evening that Apple has rented the stage for "several days" at the end of January. Officials with Apple and the center declined to comment, natch. Hughes also notes that Piper Jaffray analyst and Apple-watcher Gene Munster thinks there's a 75 percent chance that Apple will hold a special event in January, although not necessarily unveiling long-rumored tablet device.
Link: Apple Schedules Special Event for Jan. 26, 2010 - Report
Why Apple's Rumored iTablet Will Fail Big Time
Sounding a sour note on Apple's anticipated tablet plans, InfoWorld's Randall C. Kennedy says that even clever engineering can't overcome fundamental limitations of tablet computing, and commenting unequivocally that "tablet PCs suck," are underpowered, only marginally portable, and awkward to use in anything but a traditional seated position, with a desk to support them.
Kennedy observes that Microsoft and various PC makers have been trying for years to create a compelling tablet computing experience, and have consistently failed, and that to believe Apple can somehow succeed where all others have failed is to ignore some fundamental realities of tablet computing.
Editor's note: Kennedy fails to understand that Apple builds OS X computers, not Windows PCs, and that Apple launched the PDA industry, which set the foundation for today's smartphones, with its Newton and later redefined the smartphone industry with the iPhone. Additionally, Apple has been able to learn from the Axiotron Modbook, a Mac OS X slate computer that has been shipping for two years. Just because Microsoft and its vassals have been unable to create a viable slate/tablet market doesn't mean that nobody can. dk
Link: Why Apple's Rumored iTablet Will Fail Big Time
An Apple Tablet Could Overwhelm Data Networks
Blogging Stocks' Brian White says:
"One thing we know: Apple's iPhone is so massively popular that the network it officially runs on (AT&T's) often has a hard time keeping up. Densely-populated areas have problems with dropped calls and unreliable data services since so many iPhone users are choking the network....
"So what happens when Apple releases the next, best thing? The blogosphere and tech press are totally psyched over the pending release of an Apple tablet or pad computer - one that will 'change the world' no less. But nobody is asking the question of usage problems. If an Apple tablet is announced in January and released shortly thereafter, are the wireless networks the device will run on be overwhelmed?"
Link: A New Apple Tablet Computer Could Overwhelm Data Networks
Apple Tablet to Shake Up More Than Computers
On the other hand, Financial Post blogger Pamela Heaven prognosticates that when - and if - it appears, the iTablet has the potential to shake up more than just the computer industry, possibly in conjunction with Apple's reported overtures to the TV networks in recent weeks about distributing their offerings over the Internet, adding that print media publishers may feel the iTablet's impact as well if it, as rumored, offers a large, easy-to-read screen that would enable newspaper and magazine publishers to display their products to best advantage.
Link: Apple's Tablet Set to Shake Up More Than Computers
Could Apple Tactile Feedback Patent Be Applied to Forthcoming Tablet?
MacNN reports that Apple has filed for a patent on a touch-surface keyboard with tactile feedback, according to US Patent and Trademark Office documents, and speculates that the technology could conceivably be used in Apple's upcoming tablet, "which a former Apple worker has suggested will surprise people in how they can interact with it."
The patent application, entitled "Keystroke Tactility Arrangement on a Smooth Touch Surface," notes in the introductory abstract that:
"Disclosed are four arrangements for providing tactility on a touch surface keyboard. One approach is to provide tactile feedback mechanisms, such as dots, bars, or other shapes on all or many keys. In another embodiment, an articulating frame may be provided that extends when the surface is being used in a typing mode and retracts when the surface is used in some other mode, e.g., a pointing mode. The articulating frame may provide key edge ridges that define the boundaries of the key regions or may provide tactile feedback mechanisms within the key regions. The articulating frame may also be configured to cause concave depressions similar to mechanical key caps in the surface. In another embodiment, a rigid, non-articulating frame may be provided beneath the surface. A user will then feel higher resistance when pressing away from the key centers, but will feel a softer resistance at the key center."
Link: Apple Explores Tactile Feedback for Multi-touch Keyboard
Mobile i5 and i7 May Not Be in Next MacBooks
Gizmodo reports that Intel will be announcing new superfast and incredibly efficient new notebook processors soon [code named Arrandale - see below], but we may not see them in MacBooks for a while, or even worse than a delay: new MacBooks could have worse graphic support than older MacBooks because Nvidia is involved in a legal struggle with Intel over the right to produce graphics processors compatible with the new CPU architecture.
Link: What's Inside the Next MacBooks?
Corporate Apple Laptop Sales Expected to Increase Despite Windows 7 Debut
AppleInsider's Katie Marsal reports that Apple laptop sales hit a new high in planned corporate sales in November, despite the release of Microsoft's Windows 7 operating system, according to ChangeWave's latest corporate IT spending survey, with 10% of companies planning to buy an Apple-branded laptop in the first quarter of 2010, a new high for Apple.
Link: Apple Corporate Laptop Sales Set to Increase Despite Windows 7 Debut
Apple Drops MacBook Educational Pricing to $899
MacNN reports that Apple's discounted educational price list has dropped the price of the basic white 2.26 GHz CPU MacBook to $899 from the previous $949. The MacBook features 2 GB of RAM, a 250 GB hard drive, and a seven-hour battery. 13" MacBook Pro educational pricing still starts at $1,099, and educational pricing is limited to faculty, staff, students, and other select individuals associated with K-12 schools or higher-education institutions.
Link: Apple Drops MacBook Educational Pricing Down to $899
MacBook and MacBook Pro Battery Issues with Snow Leopard Upgrade
MacFixIt's Topher Kessler says that after installing Snow Leopard, a large number of MacBook and MacBook Pro owners are reporting a problem with the computer frequently displaying a "Service Battery" warning in the battery system menu, evidently accompanied by relatively short battery life.
Kessler says the problem appears to be an issue with Snow Leopard's handling of the battery hardware, where the services that are supposed to detect battery problems are incorrectly reporting the battery status, and subsequently triggering the system to go into a precautionary sleep mode or claiming the battery is draining, possibly stemming from Snow Leopard being fine-tuned to reveal existing battery problems that Leopard was not aware of, and that the sheer number of people reporting the problem indicates there may be errors in the software, although overall most people using Snow Leopard have not been affected.
He suggests some things to check and try as workarounds.
Link: MacBook and MacBook Pro Battery Issues with Snow Leopard Upgrade
Gestures Stop Working on Multitouch Trackpads
MacFixIt's Topher Kessler reports:
"A number of users have found that their multitouch trackpads on MacBook and MacBook Pro computers may randomly stop accepting 3 and 4 finger gestures. While two-finger scrolling, tapping, and clicking will work as expected, the more complex inputs do not seem to be recognized."
Link: Gestures Stop Working on Multitouch Trackpads
Boot Some MacBook Pros via an ExpressCard Solid State Drive
OS X Hints contributor Craig Tapley says that if you're looking for ways to speed up performance on a MacBook Pro that's equipped with an ExpressCard expansion slot, an ExpressCard SSD may be just the ticket.
Craig bought a FileMate SolidGO 24 GB ExpressCard 34 SSD from NewEgg to use with his MacBook Pro and finds it really fast, but it's only 24 GB, so you can't just copy your complete system to this drive and boot up (note: a 48 GB version of this drive is also available).
Link: Boot Some MacBook Pros via an ExpressCard Solid State Drive
Purchase Links
FileMate SolidGO 24 GB ExpressCard 34 SSD, currently $109.99 at NewEgg
FileMate SolidGO 48 GB ExpressCard 34 SSD, currently $161.69 at NewEgg, $150.27 at Amazon.com
Add an ExpressCard Solid State Drive to Some MacBook Pros
Macworld's Rob Griffiths has posted a detailed and comprehensive article on using and booting from ExpressCard SSDs on MacBook Pros that have ExpressCard expansion slots - his own being an early 2008 model (matte screen, 2.6 GHz, 4 GB RAM, 200 GB 7200 rpm hard drive). Rob would like to have an SSD to replace the hard drive, but notes that's an expensive (more than $700 for the drive) and labor-intensive replacement job on that particular machine.
However a Mac OS X Hints item by Craig Tapley (above) explains how to use an ExpressCard SSD as a boot disk in certain MacBook Pros piqued his curiosity, noting that prior to reading Craig's hint, he hadn't been aware that anyone made SSDs in ExpressCard format.
This is a relatively economical tweak anyone looking for more speed out of an ExpressCard-equipped current MacBook Pro might consider, but there are some caveats such as which machines will or will not boot from the ExpressCard, but if you can get it to work, "speeds on this SSD are incredible."
Link: Add an ExpressCard Solid State Drive to Some MacBook Pros
How to Reinvent the MacBook Air?
Cnet's Brooke Crothers has posted a speculative piece musing on how Apple might redesign the ultraslim, but getting long-in-the-tooth MacBook Air that launched nearly two years ago and has seen only minor tweaks and updates since then.
Link: How to Reinvent the MacBook Air?
Common Laptop/Netbook Body English to Avoid
Life Hacker says:
"The great thing about laptops and netbooks: You can use them anywhere. The downside: If you spend a lot of time in the wrong position, you're in for a world of RSI pain."
Link: Common Laptop/Netbook Body English to Avoid
Imagine Life on Dial-up
The following letter was sent to Canadian Member of Parliament Gary Lunn (Saanich-Gulf Islands ) and copied to bclocalnews.com Gulf Islands Driftwood feature for publication.
"You run a very busy office. Imagine running your office using dial-up Internet access.
"Here are the details for you to contemplate. Pretend this example is really happening in a third-world world developing country, but then realize it is within 45 kilometres of the government buildings in Victoria. A good percentage of Salt Spring Island and other Gulf Islands have only dial up Internet access.
"Imagine:
having no phone when you are connected to your Internet server. We tend to access after 9:30 p.m. to avoid having no phone.
being ecstatic at getting connected at 56 K/sec, which is the maximum speed available (in theory) from your provider.
often being only able to connect at 33 K/sec, and so you keep trying until you finally get signed on at 56 K/sec.
only getting email downloaded about 2 K/sec, and having that figure drop to 0 K/sec often, despite the fact that you are signed on at 56K/sec.
getting emails downloaded 50 times slower than high speed.
taking 30 minutes to get a larger 6-Meg file downloaded. Few people on high speed even worry about how large the files are that they send out.
being cut off from your service provider at any time because your service provider "is not responding." It then takes another 20 minutes for your service provider to allow you to get back on to your email account.
the phone company blaming the service provider for bad email connections and the service provider blaming the phone company.
not being able to access many of the larger websites.
not being able to access any video or audio sources.
having to carry your computer into the service provider's office (15 kilometres away) in order to get software updates.
the latest insult: Buying a brand new Mac computer and there is not even a location for a phone jack on it. MacIntosh knows that everyone in North America is on high speed. Right.
"It seems that small business is the backbone of the B.C. economy. Therefore, I would imagine that the government would want to encourage everyone in B.C. to have high speed access to the Internet.
"Harry Burton,
Heidi Place"
Editor's note: I don't have to imagine very hard, since I was in that precise predicament (actually worse - I never saw connection speeds higher than 26,400 bps here) until September 10, 2009, the day wireless broadband access arrived in this neck of Canada's backwoods. This will remain a red letter date on my calendar in perpetuity. Wishing the Salt Springs Island folks a similar solution soon. cm
Link: Imagine Life on Dial-up
Reviews
640 GB Toshiba Laptop Hard Drive Reviewed
The Register's Leo Waldock reports:
"We like the 640 GB Toshiba drive, and it's remarkable that you can slip so much storage inside your laptop. But it costs a lot to break the 500 GB barrier.
"Toshiba is the first manufacturer to deliver a 2.5in laptop hard drive that packs more than 500 GB of storage. Its new MK6465GSX sports 640 GB on two platters, and while we are aware that the Western Digital Scorpio Blue and Seagate Momentus 5400.7 are also available in 640 GB models we haven't seen either drive to date....
"We tested the 640 GB Toshiba on our regular Core i7 PC and generated a set of test results that compare fairly poorly to the hard drives and SSDs that we have reviewed in recent times."
Link: Toshiba MK6465GSX 640 GB Laptop Hard Drive
Tech Trends
Scientist Proposes Über-battery with 10x the Energy Density of Lithium-ion
The Register's Tony Smith reports:
"Boffins in Illinois believe they have figured out how to design a battery with ten times the energy density of the best of today's lithium-ion batteries.
"Their challenge now: work out how to make the thing.
"The design is called a 'digital quantum battery' and it comes from University of Illinois Director of the Center for Complex Systems Research Alfred Hubler..."
Link: Scientist Proposes Quantum Über-battery
The 10 Most Important Things About Intel's Arrandale Mobile CPUs
PC Mag's Laarni Almendrala Ragaza give you the 10 most important facts about Intel's newest "Arrandale" Core i7, Core i5, and Core i3 mobile processors:
These are Intel's new mainstream Core i7, Core i5, and Core i3 mobile processors.
The Arrandale CPUs have two physical cores.
This marks the first time integrated graphics has moved into the CPU package, so every laptop with a Core i7, Core i5, or Core i3 CPU will automatically have integrated graphics.
The new Arrandale CPUs will have Hyper-Threading, which means that each core will support two threads and the laptop's operating system will recognize these processors as having four cores.
Intel does away with the Front Side Bus by integrating the memory and a PCI-e controller (graphics) into the CPU package.
There will be multiple versions of the Intel 5 Series Chipset for the home and enterprise markets.
The chipset can stream to multiple monitors with support for dual HDMI and DisplayPort technologies.
By eliminating a third chip and consolidating motherboard space, the new platform paves the way for thinner, lighter laptops.
TurboBoost technology is automatically activated when you are running 2D and single-threaded applications - and deactivated when you're running multithreaded applications - for better performance.
The mobile Core i7 marks the end of DDR2 memory; it supports DDR3 memory speeds of up to 1333 MHz.
Link: The 10 Most Important Things About Intel's Arrandale Mobile CPUs
Putting Intel's New Arrandale Mobile CPUs to the Test
PC Mag's Cisco Cheng says that Intel's debut at the Consumer Electronics Show of its new mobile processors (codenamed "Arrandale") is sure to generate a lot of buzz with the new Core i7, Core i5, and Core i3 CPUs promising better performance and smoother multimedia usage with its new chip architecture and integrated graphics. PC Mag ran the new Intel mobile processors through its benchmark tests, and Cisco tells you how they stack up to both their predecessors and the competition.
Link: Putting Arrandale to the Test
Anand Tech Reviews Intel Core i5 Mobile
Anand Tech's Anand Lal Shimpi notes that while Clarkdale is Intel's new desktop processor, Arrandale is strictly for notebooks while sharing Clarkdale's architecture - a 32nm Westmere core and a 45nm chipset on the same package, which Anand says matters more for notebooks, as it means motherboards can be downsized.
Lai Shimpi notes that this first incarnation of Intel's 32nm process is not yet quite as power optimized as he'd like, with a 35W thermal profile (TDP), compared to the 25W TDP of many notebooks based on Intel's mobile Core 2 CPUs, but pointing out that the 35W includes the built-in graphics chipset.
Link: Intel Arrandale: 32nm for Notebooks, Core i5 540M Reviewed
ASUS Notebook with Intel Core i5 CPU Reviewed
Legit Reviews' Nathan Kirsch says:
"When Legit Reviews got a chance to look and Clarkdale and Arrandale processors at the Intel Developer forum back in September of 2009 we couldn't wait for them to be launched. Well, that time has finally arrived as Intel today announced the release of their next series of processors. What makes this processor so unique is the fact that Intel has taken their 45nm Nehalem architecture, enhanced it and shrunk it down to 32nm. Intel didn't stop there though and took a 45nm graphics processor and placed it on the CPU as well. This is big news as not only will overall performance improve, but this process also saves power and reduces some of the components needed on motherboards or in notebooks."
Link: ASUS K42F Notebook w/ Intel Core i5 540M Arrandale CPU Review
Netbook Shipments Grew 103% in 2009
PR: Notebook PC revenues are expected to be $109 billion in 2009, down almost 7% Y/Y, according to the DisplaySearch Q4 09 Advanced Quarterly Notebook PC Shipment and Forecast Report.
A dramatic increase in the size of the netbook (which DisplaySearch persists in calling "mini-note", but we'll use the more familiar term - ed) market has increased the overall size of the portable PC market, but it was insufficient to offset declines in revenue for ultra-portable and portable class notebook PCs. Revenues in every notebook PC category were down Y/Y, and only the portable category (displays from 13" to 16") posted Q/Q growth. The strong growth of netbooks drove their revenue share of the portable computer market to 11.7% in Q3 09.
DisplaySearch expects 2009 notebook PC shipment volumes to increase 5% Y/Y. However, the increase in unit growth is not sufficient to offset the almost 20% decline in ASPs. Netbook and portable notebook PC (13" to 16.4") ASPs are expected to be down more than 15% Y/Y in 2009 and again in 2010. These two market segments account for more than 85% of the total notebook market.
In 2010, DisplaySearch expects the notebook PC market to grow by 16%, with higher than average growth for netbooks and ultra-portable notebook PCs. Growth in the latter segment is expected to be fueled by numerous new 11.6" and 12.0" products built on CULV platforms and with aggressive, sub-$500 ASPs.
The low prices of netbooks make these products attractive to buyers seeking a secondary PC for the home, as well as making them more affordable for first-time PC buyers in emerging markets, who are less likely to require all the features available on a larger mainstream notebook PC. The relatively low ASPs also make netbooks attractive to wireless service providers that hope to add to their revenue by offering subsidized netbooks with data plan contracts.
"Mini-notes continue to be a significant piece of the notebook PC pie, in terms of both units and revenue. However, our long-term outlook is that the mini-note share of the notebook PC market has stabilized, and will remain at approximately 20% through 2011 before starting to erode. While mini-notes offer lower ASPs and are thinner and lighter than notebook PCs, the performance of larger notebook PCs continues to improve while prices continue to steadily decline, increasing the performance gap while narrowing the price gap," said John F. Jacobs, Director of Notebook Market Research. "For 2010, we expect further erosion of ASPs across almost every portable computer segment. However, unit growth should be sufficient to offset ASP decline, leading to flat Y/Y revenue for the portable PC market."
The DisplaySearch New Advanced Quarterly Notebook PC Report Now Available
Building upon DisplaySearch's proven expertise in notebook PC market research, the company's new advanced version of its Quarterly Notebook PC Shipment and Forecast Report will take your company's notebook PC know-how to the next level. With expanded coverage to the end market, including street prices (ASPs) and system revenue for notebook PCs and netbooks by display size/resolution by region, you won't want to miss out on the latest information that can impact your business decisions.
Other report highlights include forecasted notebook PC and notebook shipments by region, display size, resolution, along with insightful analysis of the state of the notebook PC industry, including the breadth and depth of netbook and notebook PCs demand in the major geographic regions, and identifying the key variables influencing changing demand patterns in these markets. For information on this DisplaySearch report, contact Charles Camaroto at 1.888.436.7673 or 1.516.625.2452, email contact@displaysearch.com, or contact your regional DisplaySearch office in China, Japan, Korea, or Taiwan.
OLPC Sets Roadmap for Big Bang in 2012: Will It Remain Relevant?
ZD Net blogger Larry Dignan reports that the One Laptop per Child (OLPC) project has outlined its future roadmap, including plans for the XO 3.0, a device well below $100 utilizing a design that mimics a piece of paper. The aim of the XO 3.0 is to leapfrog previous generations, but will it matter?
While the OLPC has distributed laptops to 1.4 million kids, it lacks the distribution heft of larger players - think Intel's Classmate effort, Dignan notes, asking "will the OLPC be relevant in two years?"
Link: OLPC Sets Roadmap for Big Bang in 2012: Will It Remain Relevant?
Chrome OS Netbook 'Like Getting a Ferrari for the Price of a Mini Cooper'
IBTimes' Mark Davies reports:
"Believe it or not - the tech specs of the rumoured Google Chrome OS-based netbook are already out and by the sound of it, the netbook looks to me like a high performance machine, rumored to have a 10.1-inch TFT HD-ready multi-touch display, a 64 GB SSD, 2 GB RAM, WiFi, 3G, Bluetooth, ethernet port, USB ports, webcam, 3.5mm audio jack, and a multi-card reader, to launch in the holiday season of 2010 with a sub-$300 price tag.
"...If all of these are true, it's like getting a Ferrari for the price of a Mini Cooper."
Link: Google Chrome OS-based Netbook Tech Specs Are Out
Products & Services
Axiotron Kicks Off 2010 with Modbook Discount Promotion
PR: High-tech manufacturer Axiotron today announced a 2010 Kickoff Promotion on the Modbook, its award-winning Mac tablet. Under the promotion, the manufacturer's suggested retail price for complete Modbooks built with a customer-supplied Apple MacBook base system is discounted to $699 (regularly $899) and the MSRP for complete Modbooks that include a new dealer-supplied 2.13 GHz base system is discounted to $1,649 (regularly $1,849). The new promotion, which runs through March 1, 2010, effectively extends the Modbook holiday discount promotion announced in November.
Individual Axiotron dealers also offer value-priced complete Modbook systems based on preowned and refurbished base systems below the discounted MSRP of $1,649. A complete list of Axiotron's dealers in ten countries in North America, Europe, Asia and Australia - with the most recent addition of Japan - is available online.
The Modbook combines Axiotron's tablet hardware and software technology, a Wacom Penabled digitizer, and an Apple MacBook base system into a Mac-based tablet computer that's been praised by reviewers for its portability and ease-of-use - and embraced by creative professionals, students, and general users.
With its fast processing speeds (2.13 GHz for Modbooks with new base systems), superior graphics (including an Nvidia GeForce 9400M integrated graphics processor on many models), large 13.3" AnyView LCD display, durable ForceGlass screen, and 512 levels of pen pressure sensitivity (more than any tablet PC), the Modbook is the most powerful and affordable slate-style tablet computer system available. A comprehensive side-by-side analysis of the leading tablet PCs is available online.
Both the Mac OS X Leopard operating system and the latest version of Mac OS X, Snow Leopard, are supported on the Modbook.
Most MacBooks released since 2006 (with the exception of aluminum or polycarbonate unibody MacBook models) are eligible for conversion into Modbooks. A complete list of compatible MacBook models is available at http://www.modbook.com/modbook.
Customers who purchase the Modbook get a 90-day Modcare warranty on the entire system (including the MacBook base system, whose warranty is voided during the Modbook conversion). Participating Axiotron dealers also offer extended warranty options. Servicing and repair are available through Axiotron's service provider network.
"The response to our original holiday offer has been enthusiastic as more and more customers have embraced the Modbook, so we're pleased to continue it in the new year," said Axiotron CEO Andreas E. Haas.
Link: Axiotron
FileMate SolidGO ExpressCard 34 Solid State Drive
PR: The FileMate SolidGO ExpressCard 34 SSD provides a convenient plugin storage for your notebook as well as a USB 2.0 connector, so it can double as a portable external hard drive for easy data transfer
SolidGO ExpressCard 34 Ultra SSD with Mini USB 2.0
The FileMate SolidGO ExpressCard 34 Ultra SSD provides a convenient plugin storage for your notebook or portable device. The true PCI-E interface attains super fast direct access to the SSD. For ultimate flexibility, the SolidGO ExpressCard ultra drive includes a mini USB 2.0 connector, so it can double as a portable external hard drive for easy data transfer.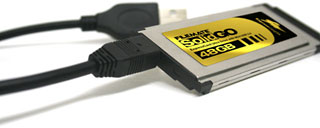 All ExpressCard connectors use either USB 2.0 communications or a faster communication called PCI-Express (PCI-E, for short). The SolidGO 24 GB and 48 GB (non-Ultra) ExpressCard SSD, and all other ExpressCard SSDs on the market, use the slower USB 2.0 communications. The 24 GB and 48 GB ExpressCard Ultra SSDs are the only ones on the market that use the faster PCI-E interface. When using the ExpressCard (PCI-E) connection, data transfer speeds will be about 3x faster than competitors, up to 115 MB/sec.
There is a mini-USB 2.0 connector on the opposite end of the ExpressCard Ultra, so you can also connect the ExpressCard Ultra SSD to any computer using the USB cable that is included with the ExpressCard Ultra SSD. Note that when you connect using the USB plug, the transfer speeds will be much slower than when using the ExpressCard (PCI-E) connection.
With a MacBook Pro and the 48 GB ExpressCard, change the sleep/hibernate mode as follows to help with the sleep issue. You can expect to get an "improper device ejection" warning (because the system is powering off the USB port when it goes to sleep). The following modification will change your MacBook Pro sleep mode to use a ACPI 'S4' state, which means that the computer will hibernate - it will write the RAM contents to the hard drive,and power off the computer. On system resume, the RAM contents will be read into memory from the hard drive, and you will be able to resume working where you left off (without the usual bootup cycle). The default sleep state keeps the RAM data in the RAM itself, but requires that the RAM stay powered on while the rest of the computer powers off. You may see an increase in "unplugged battery life" (at the expense of a little time in the resume cycle) with this modification.
To change your MacBook Pro sleep mode to hibernate:
Go to Applications > Utilities > Terminal
Enter: pmset -g (Take note of what the "hibernate mode" number is, this is the default on your system.)
Enter: sudo pmset -a hibernatemode 1 (This will prompt you for your account password)
Enter pmset -g (To check that your hibernatemode change has taken place)
Capacity
Features
24 GB & 48 GB
ExpressCard/34 interface
Mini USB 2.0 connector
No moving parts
Shock and vibration resistant
Low access latency
Fast sequential and random read speed
Lower power consumption
Speed: Read 115 MB/s Write 65 MB/s
List of SolidGO compatible MacBook Pros.
FileMate USB Modem driver for Mac (ZIP file)
Link: SolidGO ExpressCard 34 Ultra SSD with Mini USB 2.0
Purchase Links
FileMate SolidGO 24 GB ExpressCard 34 SSD, currently $109.99 at NewEgg
FileMate SolidGO 48 GB ExpressCard 34 SSD, currently $161.69 at NewEgg, $150.27 at Amazon.com
SolidGO 2.5" SATA SSD with Mini USB 2.0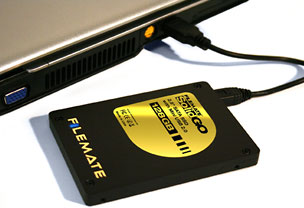 PR: The FileMate SolidGO 2.5" SATA SSD with Mini USB 2.0 drive delivers the performance of Solid State technology with embedded bad-block management and wear-leveling. These features, plus the lower power consumption, make the SolidGO drive an ideal solution for applications requiring durability. For ultimate flexibility, the SolidGO drive includes a mini USB 2.0 connector, so it can double as a portable external hard drive.
Gold Series
Capacity: 60 GB & 128 GB
Read Speed: 170 MB/s
Write Speed: 95 MB/s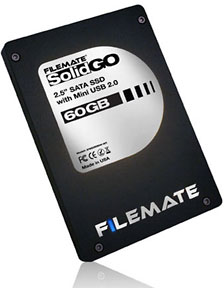 Silver Series
Capacity: 60 GB
Read Speed: 160 MB/s
Write Speed: 90 MB/s
Features
2.5" Form Factor
SATA II interface
Mini USB 2.0 connector
No moving parts
Shock and vibration resistant
Low access latency
Fast sequential and random read speed
Lower power consumption
Link: SolidGO 2.5" SATA SSD with Mini USB 2.0
Purchase Links
60 GB SolidGO 2.5" SATA SSD with Mini USB 2.0, currently $139 at NewEgg, $159.99 at Amazon.com
256 GB SolidGO 2.5" SATA SSD with Mini USB 2.0, currently $595 at NewEgg
Logitech Speaker Lapdesk N700 Brings the Theater Home
PR: Latest lapdesk offers immersive audio and increased comfort with integrated stereo speakers, built-in fan and padded base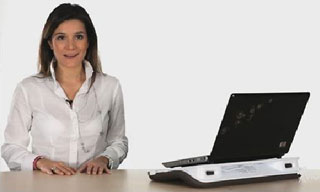 You're already using your laptop to listen to music, play games, and watch movies, TV and videos. You're already using it on the couch and on the bed. But you're looking for a way to be comfortable, and you know what a difference high-quality audio can make when you're enjoying good entertainment. For a theater-like experience on your laptop, Logitech today introduced the Logitech Speaker Lapdesk N700 - the company's first all-in-one laptop accessory with integrated stereo speakers, a built-in fan and a wide padded base.
"More and more people around the world are enjoying fantastic entertainment on their laptops, but with mediocre sound and comfort, says Denis Pavillard, Logitech vice president of product marketing for laptop accessories. "In fact, according to our research nearly 50 percent of laptop users report being dissatisfied with the sound quality of the built-in speakers. The Logitech Speaker Lapdesk N700 helps transform your laptop into a private theater in the cozy confines of your lap."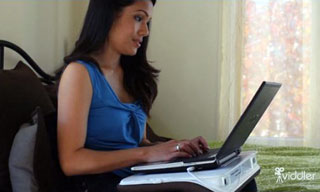 Unlike most laptop speakers, the Logitech Speaker Lapdesk N700 offers two built-in high-definition speakers with 2" high-performance speakers. Specially designed for notebook computers, the stereo speakers are precisely positioned on either side of your laptop to give you rich sound and powerful bass. And, because they connect through a single USB cable, there's no cable clutter or the hassle of moving and setting up external speakers.
While you're enjoying entertainment on your laptop, the Logitech Speaker Lapdesk N700 helps keep you comfortable. Whether you're on the couch or in bed, the viewing angle of your screen and the padded base help you sit in a more comfortable position. Meanwhile, a quiet, efficient fan circulates air under your notebook, and the heat-shielding design helps keep laptop heat off your legs and lap. Plus, a grill protects the fan from dust and damage, and rear and bottom air intakes ensure steady, unobstructed airflow.
The 4.2 pound Logitech Speaker Lapdesk N700 is easy to set up and use, just plug in the single USB cable and play movies, music, online videos, and more in rich, full stereo sound there's no software to install and no need for batteries. And to put convenient, independent control at your fingertips, the Speaker Lapdesk N700 offers volume controls for the speakers and an On/Off switch for the fan.
The Logitech Speaker Lapdesk N700 is expected to be available in the US in February and in Europe in March for a suggested retail price of $79.99.
Link: Logitech Speaker Lapdesk N700
Dark Walnut Laptop Bed Desk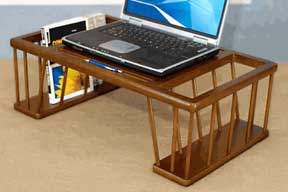 PR: Compute in bed with this ergonomically designed laptop bed desk. Two magazine-sized holders flank a center desktop that can be laid flat for laptop computing and writing or tilted up to hold your book for easy reading.
Approximately 9"H x 26"W x 15-1/2"D, this solid hardwood bed desk is delivered to you fully assembled in a beautiful dark walnut finish.
List Price: $68.74
Sale price: $44.99
Due to the size and weight of this item, an additional $4.95 in shipping costs will be charged after your order is received to cover the full cost of shipping.
Link: Dark Walnut Laptop Bed Desk
Bargain 'Books
Bargain 'Books
For deals on current and discontinued 'Books, see our 13" MacBook and MacBook Pro, MacBook Air, 13" MacBook Pro, 15" MacBook Pro, 17" MacBook Pro, 12" PowerBook G4, 15" PowerBook G4, 17" PowerBook G4, titanium PowerBook G4, iBook G4, PowerBook G3, and iBook G3 deals.
We also track iPad, iPhone, iPod touch, iPod classic, iPod nano, and iPod shuffle deals.
Join us on Facebook, follow us on Twitter or Google+, or subscribe to our RSS news feed
Links for the Day
Mac of the Day: iMac (Late 2006), introduced 2006.09.06. Apple introduced the biggest screen ever in an iMac with a 24" 2.16 GHz Core 2 Duo model.
Recent Content
Custom Search
Follow Low End Mac on Twitter
Join Low End Mac on Facebook
Favorite Sites
MacSurfer
Cult of Mac
Shrine of Apple
MacInTouch
MyAppleMenu
InfoMac
The Mac Observer
Accelerate Your Mac
RetroMacCast
The Vintage Mac Museum
Deal Brothers
DealMac
Mac2Sell
Mac Driver Museum
JAG's House
System 6 Heaven
System 7 Today
the pickle's Low-End Mac FAQ
Affiliates
Amazon.com
The iTunes Store
PC Connection Express
Macgo Blu-ray Player
Parallels Desktop for Mac
eBay

Advertise