13" MacBook Pro a Practically Perfect Replacement for the 12" PowerBook
- 2009.06.15 - Tip Jar
Finally.
It's been four years since Apple discontinued the 12" PowerBook, and last week they finally replaced it.
Yes, many considered the original plastic MacBook as the replacement, and then came the MacBook Air with its shortage of ports. Others called last year's (limited edition?) Unibody MacBook the true replacement. The fact is that, until last Monday, there hadn't been a Mac in the same weight or size class as the 12" PowerBook that was equally feature-rich at any price.
What made the 12" PowerBook so special? As someone who has owned these gems, I can honestly say that it was just the magic of perfect proportion, the right feature set, and a jewel-like quality that made the machine look and feel more like a Swiss watch than a mere laptop computer. It had a keyboard that was wonderful, a case so small it was sexy, and build quality that was way beyond anything else on the market.
In short, it was a hard act to follow.
Each machine cited as a possible replacement fell short in some area - and in terms of width, the new 13" MacBook Pro is still too big - but only by an inch.
Polycarbonate MacBooks Fall Short
The plastic MacBooks looked and felt cheap, like the plastic iBooks they replaced. Poky integrated graphics (pre-Nvidia) also didn't match the dedicated graphics of the 12" PowerBook, at least in the context of their release date.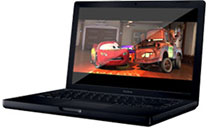 Weight and thickness were correct though, and the black MacBook (especially) found its way into the hearts of many former 12" PowerBook owners, myself included.
MacBook Air Falls Short
The MacBook Air actually beat-out the old 12" on style and sex-appeal by quite a wide margin, but it was and remains too compromised to count as a true replacement. Yes, it weighs a lot less and is oh-so-thin, but one USB port and no optical drive put the MBA solidly into the ultraportable class, rather than the lower size and weight range of the business or thin-and-light class, which while thin and light, also include a full complement of ports and features.
Unibody MacBook Came Closest
That leaves the 13" Unibody MacBook, which our own Charles Moore owns, as does my daughter. The 13" Unibody was really close, and it's actually more powerful in today's context than the 12" PowerBook was in the context of 2003 to 2005. What it lacks, simply, is FireWire, which is unimportant for many and a deal-killer for others. I can survive just fine on USB, but FireWire's omission clearly pushed the MacBook down from professional to consumer territory.
13" MacBook Pro Nearly Perfect
So now we have that same 13" Unibody MacBook, newly enhanced with a built-in 7-hour battery, an SD Card slot, and the FireWire 800 port (which honestly should have been there from the beginning). These additions elevate the MacBook to the status of MacBook Pro, much as the old 12" PowerBook was differentiated from the cheaper 12" iBook by means of its superior keyboard, aluminum case, and graphics.
There are other improvements as well. Yes, there was the usual speed-bump, but more importantly the new 13" MacBook Pro can address up to 8 GB of RAM, which makes it more future-proof, and at the top of the list, the screens are better quality, now equal to the exquisite display on the MacBook Air. Except for the 1280 x 800 resolution, this really may be the perfect laptop. And don't forget, while the rest of Apple's PowerBooks were higher resolution and widescreen, the much-loved 12" model made due with a mediocre-quality display at an unimpressive 1024 x 768 resolution.
I honestly believe that the low-end 13" MacBook Pro is about the best value there has ever been in an Apple laptop. I sold my 15" MacBook Pro as soon as I learned of the new MacBook Pro and went to the Apple Store to pick one up - but what I actually went home with and why is a story for another day, perhaps tomorrow.

Andrew J Fishkin, Esq, is a laptop using attorney in Los Angeles, CA.
Today's Links
Mac of the Day: Mac Pro, introduced 2006.08.07. The last Mac to go Intel, the Mac Pro has two dual-core Xeon CPUs at 2.0-3.0 GHz. 8-core option added in 2007.
Recent Content
Custom Search
Follow Low End Mac on Twitter
Join Low End Mac on Facebook
Favorite Sites
MacSurfer
Cult of Mac
Shrine of Apple
MacInTouch
MyAppleMenu
InfoMac
The Mac Observer
Accelerate Your Mac
RetroMacCast
The Vintage Mac Museum
Deal Brothers
DealMac
Mac2Sell
Mac Driver Museum
JAG's House
System 6 Heaven
System 7 Today
the pickle's Low-End Mac FAQ
Affiliates
Amazon.com
The iTunes Store
PC Connection Express
Macgo Blu-ray Player
Parallels Desktop for Mac
eBay

Advertise