Lotus Notes on iPhone?, Pink nano, Apple TV Star of Macworld, $50 iPod Audio Station, and More
This Week's iPhone, iPod, and Apple TV News
Compiled by Charles Moore and edited by Dan Knight - 2008.01.24
Mac notebook and other portable computing is covered in The 'Book Review, and general Mac news is in Mac News Review.
All prices are in US dollars unless otherwise noted.
iPhone News, Reviews, & Opinion
iPod News, Reviews, & Opinion
Apple TV News, Reviews, & Opinion
iPhone/iPod Add-ons
iPhone Add-ons
iPod Add-ons
iPod & iPhone Deals
iPhone News, Reviews, & Opinion
Lotus Notes Coming to iPhone?
Engadget's Thomas Ricker says:
"If you're looking to gain respect for your gear as a serious business-class tool, there's no better way than to infiltrate those Big Four accounting firms still using Lotus Notes. According to a piece carried by the Associated Press, Lotus Notes eMail is coming to Apple's iPhone and iPod touch. We kid you not...."
Link: iPhone Putting on a Lotus Notes Suit?
iPhone with Lotus Notes: IT Manager's Nightmare?
Computerworld's Matt Hamblen says:
"IT managers who have been worrying about how to support the iPhone for their executives may want to start some serious fretting.
"A report from Engadget and the Associated Press said that IBM's Lotus Notes e-mail is coming soon to the Apple Inc.'s iPhone and the iPod Touch. An announcement may occur Sunday at the start of Lotusphere....
"Engadget said IBM is also planning to announce its free Lotus Symphony for the Mac at Lotusphere."
Link: iPhone with Lotus Notes: IT Manager's Nightmare?
IBM Bringing Lotus Notes to iPhone?
BusinessWeek's Arik Hesseldahl says:
"The iPhone's biggest weakness is its lack of support for enterprise email platforms like Microsoft's Exchange and IBM's Lotus Notes. It looks like that's changing. Reports are circulating that IBM is close to announcing a version of Notes for the iPhone, and based on what I'm hearing that is pretty close to the mark, though an announcement may not come this week, as has been reported elsewhere."
Link: IBM Bringing Lotus Notes to iPhone?
What the iPhone Would Mean for Rogers Communications
The National Post's Jonathan Ratner says:
"A group of RBC Capital Markets analysts think Apple Inc. could announce the launch of the iPhone in Canada as early as Tuesday, and that Rogers Communication Inc. shares would enjoy a bump as a result....
"What would adding the iPhone mean to Rogers? Well, according to the folks at RBC, it would mean 150,000 new subscribers in 2008 and about $100-million annually in EBITDA."
Link: What Would Apple's iPhone Mean for Rogers Communications?
Skyhook Wireless Technology Used in iPhone and iPod touch

PR: Skyhook Wireless, provider of the WiFi Positioning System (WPS), has announced Apple is using its technology for the new WiFi location positioning feature in its Maps application on both iPhone and iPod touch. Using WPS, iPhone and iPod touch users can now locate themselves in the popular Maps application with the tap of one button.
"Apple sells the most innovative mobile products on the market today, and now iPhone and iPod touch include Skyhook's WiFi positioning capabilities," said Ted Morgan, CEO of Skyhook Wireless. "We are very excited to be a part of these great Apple products."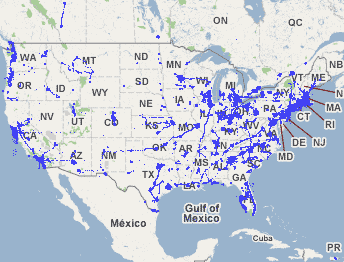 By mapping known WiFi signals throughout entire metropolitan areas, Skyhook has built a database of over 23 million WiFi access points with their locations. The patented technology behind WPS leverages that database to provide location information. Skyhook's software-only system offers high accuracy indoors and the ability to make location more precise for users.
Skyhook Wireless was founded in 2003 to capitalize on the growth of WiFi and the emerging market for location-based services. Skyhook's location coverage today includes 70% of the US and Canadian populations, the top metropolitan areas of Europe and expanding coverage in Asia.
Location is one of the most desired features on mobile devices. With location, consumers can easily search for nearby merchants and destinations and get directions to whatever destinations they choose. WiFi is growing in popularity on mobile devices with analyst firms like ABI Research projecting that almost 250 million consumer electronics devices and over 360 million handsets with WiFi will be sold annually by 2011.
REALbasic for iPhone?
Register Developer's Gavin Clarke reports:
"Uncertainty over Apple's iPhone SDK is making a least one potential partner cautious about backing the phone, despite its popularity.
"Geoff, the president and chief executive of REAL Software (the company that created REALbasic), has expressed interest in porting his company's cross-platform language to the iPhone as part of a potential mobile strategy."
Link: REALbasic for iPhone?
iPod News, Reviews, & Opinion
Apple Adds Pink to iPod nano Lineup
PR: Apple on Tuesday announced that it is adding a new pink iPod nano to the iPod lineup. The much-requested pink iPod nano is available immediately in an 8 GB model for $199
iPod nano features a two-inch display which lets users watch the brand new iTunes Movie Rentals, or TV shows and music videos purchased from the iTunes Store. iPod nano delivers up to 24 hours of audio playback or five hours of video playback on a single charge* and is encased in a beautiful all-metal design made with anodized aluminum and polished stainless steel, which is also available in silver, black, blue, green and a (PRODUCT) RED special edition.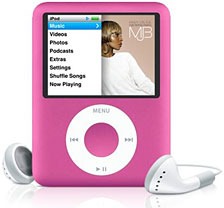 "Customers are going to love the gorgeous new pink iPod nano," said Greg Joswiak, Apple's vice president of Worldwide iPod Product Marketing. "The pink iPod nano is perfect for people who want a great new color this spring, or who are searching for a special Valentine's Day gift."
iPod nano features an enhanced user interface that shows off album artwork and photos like never before and includes Cover Flow, so you can scroll through your entire music collection by album cover artwork using the Click Wheel. Customers can also buy music, video and games for their iPod nano from the iTunes Store or check out the latest iTunes Movie Rentals.
The new pink 8 GB iPod nano is available worldwide immediately for a suggested retail price of $199 (US) and joins the other 8 GB models available in silver, black, blue, green and a (PRODUCT) RED special edition. The 4 GB iPod nano in silver is available for a suggested retail price of $149 (US). Both the 4 GB and 8 GB iPod nano for Windows or Mac are available through the Apple Store, Apple's retail stores, and Apple Authorized Resellers. All iPod nano models include earbud headphones, a USB to 30-pin cable and a Universal Dock Connector.
iPod nano requires a Mac with a USB 2.0 port, Mac OS X v10.4.9 or later and iTunes 7.6; or a Windows PC with a USB 2.0 port and Windows Vista or Windows XP Home or Professional (Service Pack 2) or later and iTunes 7.6. Internet access is required and a broadband connection is recommended, fees may apply. The iTunes Store is not available in all countries. iTunes Movie Rentals are available in the US only.
*Battery life and number of charge cycles vary by use and settings. See www.apple.com/batteries for more information.
iPod vs. Zune
AnandTech's Ryan Smith reports:
"We're re-launching our coverage of MP3 players here at AnandTech, and to start things off we have a roundup of high-end MP3 players from juggernauts Apple and Microsoft, who between the two control the vast majority of the high-end high-margin market for MP3 players in the United States....
"The MP3 players we will be looking at today represent the shifts in product styles that come with that maturation. From Apple we have the old guard and the new guard; the iPods Classic and Touch respectively. From Microsoft we have the Zune 80, a product that is both the old and new guards at the same time, striving to fix what ailed the first Zune in the process. How do these MP3 players stack up? Let's find out...."
Link: iPod vs. Zune: January 2008 High End MP3 Player Roundup
Apple TV News, Reviews, & Opinion
Apple TV, not MacBook Air, the Star of Macworld
BloggingStocks' Brian White says:
"Although Apple, Inc's Macworld keynote address by CEO Steve Jobs was followed by millions of eyeballs yesterday, the biggest 'wow' product was the announcement of the MacBook Air, the world's thinnest and perhaps most advanced miniature laptop computer. While the MacBook Air stole the show, an announced enhancement to an existing Apple product should have been highlighted more.
"Yes, I'm talking about the Apple TV....
"The Apple TV product, as it will be in a few weeks when the software update becomes available, will become arguably the best equipped product to pull entertainment content from the internet directly to a small box that's connected to the living room TV."
Link: Apple's Macworld Star: It's Not the MacBook Air, It's the Apple TV
iPhone/iPod Add-ons
Fone2Phone Wins Mac Observer Editors' Choice Award
PR: nova media is proud to announce that its new product Fone2Phone has won the Mac Observer Editors' Choice Award at Macworld Expo 2008. Fone2Phone is a sleek utility for Macintosh, iPod, and iPhone users that will copy data from an ordinary cell phone to the Macintosh computer in one streamlined operation, making iPhone and iPod migration much simpler.
nova media is proud to announce that its new product Fone2Phone has won the Mac Observer Editors' Choice Award at Macworld Expo 2008. Fone2Phone is a sleek utility for Macintosh, iPod, and iPhone users that will copy data from an ordinary cell phone to the Macintosh computer in one streamlined operation, making iPhone and iPod migration much simpler.
"The Mac Observer always aims to bring the latest and greatest to our readers," said Editor in Chief Bryan Chaffin. "This year we've decided to take it up a notch and recognize the best new products to come out of the Mac market with this special honor. We expect this to be an annual event that the whole Macintosh community will eagerly anticipate."
Fone2Phone offers a simple wizard interface for copying contacts, events, tasks, notes, bookmarks, photos, music and movies from the old cell phone to the Mac. It is so seamlessly integrated with Macintosh desktop applications, user interaction is only required to select the cell phone and which data to copy.
"We are thrilled to have created one of the best new products in the Mac market," said Jan Fuellemann, PR spokesperson at nova media. "We are working hard to support even more cell phones with Fone2Phone in the coming weeks."
After Fone2Phone has finished the copying process, iTunes can be used as usual to determine which data should be transferred to the iPhone or iPod during the next sync operation.
Fone2Phone requires Mac OS X 10.4.11 (10.5.1 or higher for Leopard) and a compatible cell phone. Fone2Phone has an introductory price of Euro 12,52 plus VAT (approximately $19) until Jan. 31. After that, FoneLink will cost Euro 16,72 plus VAT (approximately $25).
A demo version is available for download at nova media's website.
Link: Fone2Phone
Web Video 2.0 Platform Optimized for iPhone and iPod touch
PR: mDialog, an innovator of web video 2.0 has announced that it will introduce a version of its mDialog.com platform optimized for Apple's iPhone and iPod Touch devices. The new version will allow mDialog users - which include professional and amateur filmmakers - to easily deliver and view high resolution video content on the iPhone and iPod Touch to take full advantage of those devices' unique navigation features.
As part of its optimization for iPhone and iPod Touch, mDialog is introducing the following features to take advantage of those devices' user interfaces and to maximize user engagement:
Navigation that integrates the iPhone scroll wheel to enable easy selection of mDialog Super Channels or access a customer's private and shared video channels
Advanced social networking features that allow users to view video channels being narrowcast or privately shared, and Instant Messaging to engage users with friends who are sharing video content
A star rating system that allows users to view, rate and comment on videos.
"We are very excited that users of the iPhone and iPod Touch will be able to enjoy video independence by watching mDialog-driven content from anywhere they please in a manner that's consistent with the intimate nature of the iPhone," said Greg Philpott, founder and president of mDialog. "mDialog's emphasis on mobile applications reflects the usage of the iPhone and other increasingly powerful devices as not just phones but as hand held computers and our compatibility with Apple's iPhone and iPod Touch video products, eliminates any problems of incompatibility between web and playback technologies."
New Survey Engine
mDialog also announced that it will unveil its Video Survey Engine to its web video 2.0 platform by the end of January 2008, with the following features:
An interactive tool that allows video publishers to create and attach surveys to their content and poll their viewers directly
Ability to enable producers to pose questions at the beginning and end of their videos - a flexible tool to engage users directly and gather creative, political or training feedback
An easy way to create, track and report results back to audiences to increase their site engagement and add to their social networking experiences.
Link: mDialog
Travelocity Launches Mobile Application for iPhone and iPod touch
PR: Travelocity has announced the availability of a new web application that allows iPhone and iPod touch users to easily manage their Travelocity itineraries by getting up-to-the-minute information on flight status, TSA security point wait times, local weather, maps, traffic and airport driving directions via Safari browser.
The application is available immediately to iPhone and iPod touch users via Safari browser at <http://iphone.travelocity.com> or via Apple's web apps site at <http://www.apple.com/webapps/>. Travelocity is the one of the first major online travel agencies to offer such innovative mobile features to travelers.
"Breakthrough Apple devices like the iPhone and iPod touch have raised consumers' expectations for quickly finding the information they need over the Internet while on-the-go," said Jeffrey Glueck, chief marketing officer of Travelocity. "As we continue to focus on great travel experiences for our customers, we're proud to offer such an innovative and informative mobile travel solution for iPhone and iPod touch users."
The launch of this new application reiterates Travelocity's ongoing commitment to offering great travel experiences to customers - from start to finish. With the addition of the My Trip features, Travelocity for iPhone and iPod touch has been selected as a featured "Staff Pick" at apple.com.
iPhone Add-ons
Voice Dial for iPhone
PR: Finally: speech recognition for the iPhone! Dial numbers without looking at the screen. It's faster than the touchscreen and safer in your car. Get voice activated calls now.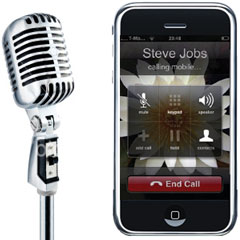 To get a free tryout, start Installer on your iPhone, press Sources, then Edit, then Add. Next, type http://tinyurl.com/2t8cax
Record voice samples for any contact in the addressbook. Just speak to dial the number. Open any application with your voice. So you can check your emails or start Google Maps by just saying it. And you can even surf to your favourite websites by assigning voice tags to your Safari bookmarks.The software uses a modern speech recognition algorithm which gives excellent results in real life situations.
The software works with all languages. It does not depend on a dictionary or vocabulary, but it stores your speech samples and links them to contacts, applications or bookmarks. When you're on the go, VoiceDial lets you keep in touch even when your hands are full. It's as easy as saying, "John Smith" or "Mail". And you'll be automatically notified of free updates via Installer.
$27.95 / EUR 19.95 ex. tax
Link: Voice Dial for iPhone
BigString Launches Email Service for iPhone & Other Wireless Devices
PR: A Beta version of a mobile email service that permits Apple's iPhone and other next-generation wireless device users to send self-destructing emails and pictures has been released by BigString Corporation. BigString's mobile service will include its patent-pending technology for recallable and self-destructing email. The service will be available free for mobile browser-based users at <http://mobile.bigstring.com>.
Darin Myman, President and CEO of BigString Corporation said, "The new generation of browser-based phones opens up a new, fast-growing market for BigString's email products. The addition of our mobile initiative for the iPhone and others is part of BigString's efforts to migrate our self-destructing technology to new market segments."
MOGO Wireless Announces New Portable Wireless Cellular Amplifier
PR: MOGO Wireless announces the launch of its personal mobile cell tower product line. These products will help you stay connected in your personal or professional life. Frustrated mobile phone users will appreciate the increased signal strength (ten times) and reduced number of dropped calls they experience while using MOGO's plug-and-talk products. The line will consist of both a small business/home office offering that works in conjunction with a laptop, as well as a mobile product that works from an automotive 12 volt power supply.
Additionally, a 12V to 110 adaptor, available as a stand alone accessory or bundled with the MOGO SOHO product, also allows the mobile user to achieve upgraded performance in a personal space environment at home or in an office. MOGO is compatible with **all service providers operating on 800 and 1900 MHZ including AT&T, Inc., Sprint, T-Mobile, Alltel and Verizon Wireless, and is also compatible with Bluetooth® devices. The MOGO Personal Mobile Cell Tower is easily installed by plugging the adapter into a car power supply or by plugging the USB adapter into a laptop, depending on the product purchased.
Once plugged in, the tower instantly recognizes your mobile phone and its protocol, and begins boosting your bars without any special programming. Furthermore, the wireless feature means there is no physical connection between the system and the mobile device.
The products will be distributed at major retailer's stores such as selected Best Buy stores, travel centers such as TravelCenters of America, direct mail catalogs such as Hammacher Schlemmer, and through major cellular distributors such as Aries Manufacturing and DBL Distributing.
MOGO is currently shipping to key accounts and product is available with a MSRP of $149. "Gone are the days when a cellular phone was a luxury item. With more than 83 percent of Americans now owning a mobile phone device, and their reliance on these devices for phone conversations, email, video, text messaging, business documents and more, MOGO is a smart accessory choice to ensure optimal service and bring peace of mind for using these devices. The USB unit will also increase data speed for those accessing their broadband via a wireless mobile card," commented President, Andrew Windisch.
The MOGO Difference:
Simple "plug-and-talk" installation
Optional 12V to 110 adaptor accessory or SOHO bundled package allows the mobile user to achieve upgraded performance in a personal space environment at home or in office
Increases signal bars/strength on mobile phone by more than 200 percent for most users / 50 dB system gain to increase mobile phone range (normally 2 bars)
Wireless system. No wired connection to mobile phone
Reduces dropped calls
Improves call quality/clarity
Extends cellular range for both voice and data (speeds laptop connection when using a wireless data card)
Operates with multiple phones simultaneously
All-inclusive package with dual-band amplifier, magnet mount antenna with RF cable, and usage instructions
Compatible with all cellular service providers and technology works with both cellular and PCS users (except Nextel)
Compatible with all wireless data cards and Bluetooth devices
Can be used by multiple users at the same time
Link: MOGO Wireless
E.E.S. Announces iPhone Real-time Wireless Integration Service
PR: E.E.S. Companies, Inc., a developer of integrated business operations software, announced a new service that allows POS/OE 4 version 8 customers to run their business operations using the Apple iPhone.
This service will allow remote users to interact with their POS/OE 4 system in real time and view CRM data using their iPhone. For example, with the iPhone, they can create or access customers/contacts and create or modify data for sales or service tracking. This service will allow employees to quote their customers an inventory price and availability on the back nine or enter their sales order while viewing their warehouse and determining their needs virtually anywhere in the world.
Business owners or managers can enjoy more time away from the business, but not be out of touch. They can view financial data such as daily sales and activity, user log-in information, and telephony data. Customers can choose the functionality that is important to their business with this a la carte service for the iPhone platform and POS/OE 4 system.
Since inception, E.E.S. has pioneered many cutting-edge technologies and innovative products for Macintosh and Windows. The company's flagship product, POS/OE 4 Mac, is used by small to medium-sized companies, organizations, and colleges/universities. POS/OE 4 can support a single user as well as more than 100 users in a single location or multiple locations. It includes functionality for ERP, CRM, Retail/POS, Mail Order, Credit Card Processing, Inventory Control, Accounting, eCommerce, and more.
"For over 18 years, we have addressed - and we will continue to address - the needs of the Apple Mac and Windows marketplace with our robust business operations system. Now we are empowering users of the iPhone platform, and we will continue to develop innovative solutions to help your business grow. Our customers are very excited about the new iPhone integration, especially business owners who frequently travel and have multiple location stores," said Henry Szretter, CEO of E.E.S. Companies, Inc.
Link: E.E.S. Companies, Inc.
GizMac Announces Titan Clear iPhone Case in Colors
PR: GizMac Accessories announce their Titan Clear iPhone cases will be available in color.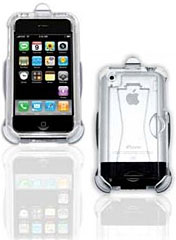 Titan Clear for iPhone has been available only since late December, but GizMac is announcing and displaying a collection of Titan Clear for iPhone in colors. These new colored iPhone cases are on display and available for hands-on demonstration at the GizMac booth during the MacWorld Expo.
"GizMac's original Titan Clear for iPhone case is great for people that want to see the Apple iPhone through crystal clear polycarbonate, but the addition of colors will make the difference for others" explained Ken Vitto, Marketing Director for GizMac Accessories, "The MacWorld attendees are receiving the first look at these cool looking new colors that take on slight color changes."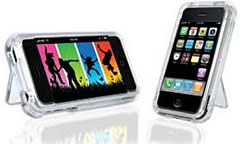 The Titan Clear case protects the iPhone with its tough, clear colored polycarbonate shell, but still allows some of Apple iPhone's striking appearance to show through. The translucent color combined with the curves of the case produces subtle color changes that make the Titan Clear iPhone case unique.
Colors for the new Titan Clear iPhone case are smoke and pink. Smoke is a form of black that appears darkest on the curves, yet can exhibit an almost pewter look on the front and back in bright light. Pink is slightly luminescent and can be considered a "hot" pink, while bright light will show some red with traces of orange.
The Titan Clear for iPhone in black and pink colors will retail for $34.99 U.S. and will be available late January. Additional details can be obtained on the GizMac Accessories website.
Link: Titan Clear for iPhone
iPod Add-ons
Logitech iPod Audio Station for $50 after Rebates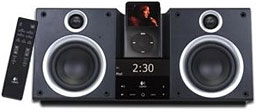 PR: Just add your iPod to create a full-function stereo that fills any room in your home with high-performance sound. Enjoy audiophile acoustics from two-way speakers, featuring 1" soft-dome tweeters and 4" long-throw woofers. Command your experience with sophisticated touch-sensitive controls, and switch to the integrated digital AM/FM radio tuner when you prefer to listen to live music. Whether you're looking to replace your existing stereo, or just enjoy high-quality music for another room, Logitech AudioStation™ makes it easy - just plug it in and plug in your iPod.
Charges your iPod
Support for iPods with the Universal Connector.
Digital AM/FM radio
Enjoy talk radio and other local programming.
Advanced remote control
Control the music or adjust volume - from in bed or across the room.
Touch-sensitive, backlit controls
Change radio stations, skip tracks, pause playback, or power On/Off using the illuminated display.
Detailed Features
Specifications
Performance

Total FTC power: 80 watts RMS
Bi-amp design:

Woofers, Left & Right: 32 watts RMS x 2 (into 4 ohms, @ 300Hz, @ 10% THD)
Tweeters, Left & Right: 8 watts RMS x 2 (into 16 ohms, @ 5khz, @ 10% THD)

Total Peak power: 160 watts
Max SPL: 110 dB
Frequency Response: 36Hz-23kHz +/- 3dB

Design
Tweeter amplifiers: (2) ultra-linear, Class AB
Woofer amplifiers: (2) high-efficiency, Class D

Sealed, tuned speaker enclosures
Adjustable sound field (bass, treble, 3D stereo)
Removable speaker grilles

Connections

3.5mm aux input jack
Composite and S-Video output jacks
Universal Dock
Original Price: $149.99
Instant Rebate: - $50.00
Price: $99.99
Less Rebate: - $50.00
Final Price: $49.99*
Sale Ends 01/31/2008
Link: Logitech iPod Audio Station, Tiger Direct
iPod Recovery Software
PR: Stellar Information Systems, provider of data recovery products and services, has introduced Stellar Phoenix iPoD Recovery software. This easy to use recovery solution ensures the rescue of all the deleted or lost audio / video files from any iPod. It comes with a unique and easy graphical user interface resembling the original iPod and a glance gives complete idea about the software. It also facilitates easiest and fastest recovery without any specialized skills.
The software recovers music, video files, pod casts, audio books, etc from inaccessible media and also recovers deleted files quickly into perfect condition. The software, which is compatible with all generation of iPoD Mini, iPoD Classic, iPoD Shuffle, iPoD Nano and iPoD Touch also restores the play list in its same order after recovery from formatted or crashed media. The other important feature of the software is permanent erasure of unwanted data beyond recovery and universal binary application.
"The introduction of this new user friendly software is part of strategy to provide the latest and the best of technologies to the Apple users," commented Sunil Chandna, CEO, Stellar Information Systems Ltd.
The new software does a quick scan of the corrupted file and efficiently extracts all the recoverable files from the iPoD. The imaging feature helps to create an image of the media, which can be stored to the system for further use. Another important feature of the software is the wiping option. This option enables to erase the data permanently from the iPoD beyond recovery. The software also comes with a find and filter option that gives advanced controls.
The software, which comes with lifetime validity, comes with Single user license. Pricing of the software starts from $39 and is available online as well as through the company's partner network across the globe.
Link: Phoenix iPod Recovery Software
podUp Copies All Your Music Files From Your iPod
PR: podUp is an application which copies all your music files from your iPod to a folder of your choosing, without having anything to do with iTunes.
It does not attempt to interfere with whatever copyright protection those files may have, it simply copies them, so files bought from the iTunes Store will still be authorised only for the computer(s) you have authorisied.
To copy the files from your iPod to a folder:
Drag an iPod from the desktop to the podUp window.
Either drag the destination folder to the podUp window, or click in the window and choose the destination.
Click on the "Copy Files" button, and off it goes.
If your iPod is pretty full, it can take a long time, so you can stop it at anytime by pressing and holding the control key to the bottom left of your keyboard.
podUp remembers what it's already copied, so you can resume at anytime.
System requirements: Mac OS X 10.4 or later.
System Support: PPC/Intel
Free
Link: podUp
Namco Unveils Pole Position: Remix Exclusively for iPod
PR: Namco's Pole Position II is revved up for iPods with video to celebrate 25 years as a top-selling racing classic
Namco Networks, publisher and developer of mobile games and entertainment for mass-market casual gamers, today announced the worldwide release of Pole Position: Remix, now available for purchase and download from the iTunes Store for play on iPod. Pole Position: Remix is based on Namco's popular racing classic Pole Position II, which celebrates its 25th anniversary this year. The iPod title includes completely new game play, graphics, soundtracks and an entirely new course exclusive to the iPod. Pole Position: Remix is available from iTunes for $4.99 and can be played on the iPod nano with video, iPod classic and the fifth generation iPod.
In the game, players race to the finish line while avoiding explosive collisions with cars, billboards and other obstacles. Pole Position: Remix includes updated 3D versions of the four classic Pole Position II tracks and the brand new Misaki Point track available only on the iPod.
"Pole Position: Remix takes the classic game play of one of Namco's most popular racing series and combines it with new themes, designs and more integrated game play," said Scott Rubin, vice president of sales and marketing, Namco Networks. "The iPod Click Wheel is a perfect control pad for steering in a racing game and the device's portability gives consumers access to this quality game experience anywhere, anytime."
Each track in Pole Position: Remix can be played across four types of racing: practice, single race, grand prix and sudden death. Points are earned for the distance traveled and for passing enemy cars. If players race well they can unlock reversed or mirrored versions of the tracks and themes for tracks, cars and billboards, including those based on favorite Namco games such as PAC-MAN. Players can also choose to listen to their music library on their iPod while playing the game. Exclusive to the iPod, players can take advantage of Pole Position: Remix's album art feature which randomly displays album art on roadside billboards from the player's personal music collection. The feature will automatically display album art from the song that is currently playing as well as randomly pull album art from other songs in the player's iPod.
Link: Pole Position: Remix (page is not Firefox/Camino friendly)
Imeoba Launches Eco-friendly iPod Cases
PR: Imoeba introduces its new line of environmentally friendly iPod cases, the Alpine range. Made from bonded leather, a man-made material comprised of genuine leather scraps which are near-impossible to eliminate and destined for a landfill, the Alpine case is the perfect item for eco-conscious consumers looking for both durability and style in their iPod cases.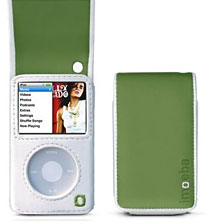 "Our Alpine iPod cases are ideal for consumers wanting to make more green lifestyle choices," says Lawrence Leung, Chief Executive of Imoeba. "The look, feel, quality and durability of the cases is as close to genuine leather as you can get, does not harm animals and are incredibly stylish. To top it all off, the packaging is made from 90% recycled and/or recyclable paper, making the Alpine case better for our planet overall."
Available in either alpine white or green, each case features a rotating belt clip, full access to screen and click-wheel and a magnetic flat closure.
Initial customer feedback praises the Alpine cases as combining ethics and earth-consciousness with style and durability.
Proceeds from each case are also being donated to Earth911, the US' premier environmental resource. "Imoeba's commitment to using recycled content and Earth911.com's 'call to action logo' on its packaging demonstrates that it is truly making a difference, connecting consumers with recycling opportunities in their own communities."
Imoeba's Alpine nano case and Alpine classic case are available in either green or white, and fit both the 80gig or 160 gig iPod models. The Alpine nano case is available for $19.99 and the Alpine classic case is $24.99 at Best Buy.
Available in a range of colours and sizes for all models of iPods and phones, the cases can be purchased at Best Buy and Fry's.
Link: Imoeba
Combine Funk and Protection with New Edge Cases from Proporta
PR: The iPod touch and the iPhone are just two of those types of devices that you really want to keep safely protected. However, who wants to compromise on the slickness of their image?
This is why Proporta have created two styles of cases which will suit these devices down to the ground :0)
First up is the new Dual Skin Silicone available for both the iPod touch and the iPhone. The two silicone layers give your iPod touch and iPhone the benefit of two tough and protective skins to protect your devices from scratching and impact damage, as well as complimenting them in a wide variety of colours.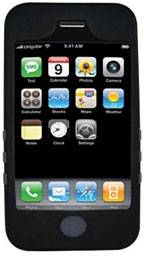 Both silicone layers have cut aways to give access to all ports and controls so that the iPod touch and iPhone can be used when inside the two layers, as well as the upper layer offering cutouts along the side of your devices for anti-slip confidence.
The next case that deserves a mention is the Edge Case (Apple iPod touch), also bright and funky, available in a variety of fabulous colours.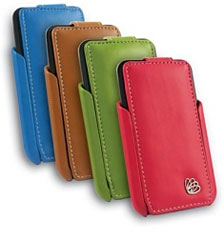 It's made from a sleek, stylish and custom design, the Alu-Leather Case is beautifully handcrafted, and like so many other cases from Proporta, meets the exact specifications of the device. Incorporating Proporta's trademark Alu-Leather "Screen Saver" System a sheet of lightweight, rigid, aircraft grade aluminium which lines the case and protects the ever so important touch screen, with an ABS (that's Acrylonitrile Butadiene Styrene to you and I) edging that gives extra protection and security, this case is not only practical for the user but is also extremely attractive, keeping directly in line with the iPod touch's urbane image.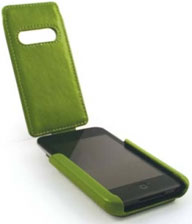 There's no need to ever remove the device from the case as all ports and controls are easily accessible and the 'flip' design means that you can fold the cover behind the case for easy access to the touch screen. It also allows you to make use of the detachable belt clip and functional lanyard provided.
This case is beautifully finished with a stylish contrast over-stitching, while a strong magnetic clasp ensures that your iPod touch will stay in place. The side clasps are lined with soft neoprene so that your device slides smoothly into the case, and makes sure the ABS doesn't scratch it.
For a quick reminder of some other alternative cases from Proporta for the Apple iPod touch.
The Alu-Leather Sheepskin, which is beautifully hand crafted from the softest Leather to provide a perfect, custom fit for your iPod touch. Available in a variety of colours, the Alu-Leather Sheepskin case is lined with rigid aluminium to give maximum protection for your device.
The Alu-Leather Case is hand made to provide a perfect, custom fit with maximum protection for your iPod Touch, incorporating Proporta's trademark "Screen Saver System".
The Silicone Case is precision moulded from impact absorbent Silicone to provide a thin yet durable protective skin to your mobile device.
Finally, the Classic Case, as an alternative to leather, is beautifully hand crafted to meet the exact specifications of your iPod touch.
Protect any of your devices with a Proporta Reversible Drawstring Bag. Soft to the touch, providing valuable protection against everyday damage.
Link: Proporta
Join us on Facebook, follow us on Twitter or Google+, or subscribe to our RSS news feed
Links for the Day
Mac of the Day: Unitron Mac512, introduced 1985. Unauthorized Brazilian clone of the Mac 512K.
Recent Content
Custom Search
Follow Low End Mac on Twitter
Join Low End Mac on Facebook
Favorite Sites
MacSurfer
Cult of Mac
Shrine of Apple
MacInTouch
MyAppleMenu
InfoMac
The Mac Observer
Accelerate Your Mac
RetroMacCast
The Vintage Mac Museum
Deal Brothers
DealMac
Mac2Sell
Mac Driver Museum
JAG's House
System 6 Heaven
System 7 Today
the pickle's Low-End Mac FAQ
Affiliates
Amazon.com
The iTunes Store
PC Connection Express
Macgo Blu-ray Player
Parallels Desktop for Mac
eBay

Advertise