iPhone Outsells Macs 2:1, AT&T Turning Off Potential iPhone Buyers, Fiery iPod Incidents, and More
This Week's iPhone, iPod, and Apple TV News
Compiled by Charles Moore and edited by Dan Knight - 2009.07.24
Mac notebook and other portable computing is covered in The 'Book Review, and general Mac news is in Mac News Review.
All prices are in US dollars unless otherwise noted.
News, Reviews, & Opinion
Apps & Services
Presentation
Protection
iPod Deals
These price trackers are updated regularly.
News, Reviews, & Opinion
Apple, RIM Pocket Smartphone Profits
The Register's Andrew Orlowski reports:
"If you'd staked money on a US company and a Canadian company leading the world smartphone market ten years ago, I would have said you were mad - or under the influence. The global standard GSM was a European invention, and the Europeans and Japanese had been plotting their course for years. But the iPhone and the Blackberry are now returning the lion's share of profits in the mobile phone business to their creators, giving the old guard an unenviable choice."
Link: Apple, RIM Pocket Smartphone Profits
Apple Sold Twice as Many iPhones as Macs Last Quarter - and Twice as Many iPods as iPhones
Tech Crunch's MG Siegler reports:
"The quarterly numbers are in for Apple. And once again they're very good. It was another non-holiday record quarter in terms of revenues and earnings. But the real number that jumps off the page is the iPhone sales. Let's just say it: The iPhone looks well on its way to being Apple's primary business."
Editor's note: For more on Apple's financials, see Apple's Best Non-Holiday Quarter Ever in this week's Mac News Review. dk
Link: Apple Sold Twice as Many iPhones as Macs Last Quarter. And It's Closing the Gap on iPod Sales Too
How Much Does It Really Cost to Own a Smartphone?
PC World's Mark Sullivan says:
"Concerned about the long-term expense of owning a smartphone? You should be. But we found that, among the most popular smartphones on the market today, there isn't a big difference in the total cost of ownership (device, service contract, and so on) over two years - they all come in at around $3,800."
Link: How Much Does It Really Cost to Own a Smartphone?
iPhone Users Turn Against AT&T
BetaNews' Tim Conneally reports:
"The iPhone crowd has turned into an anti-AT&T mob. Spend 30 seconds on Twitter or perform even the most basic search for iPhone and AT&T information and you're sure to run into some serious rancor from disgusted iPhone users across the country. While the exclusive partnership between Cupertino and the Dallas teleco has never been perfect, user hostility has lately been at a fevered pitch."
Link: The Tipping Point: iPhone Users Turn Against AT&T
Apple Losing iPhone 3GS Buyers Due to AT&T
PC Mag's Mark Hachman reports:
"AT&T's service is still proving to be an obstacle for new iPhone buyers, according to a small survey conducted by PriceGrabber.com.
"PriceGrabber, which operates a price-comparison site for online shopping, said it conducted a poll of 2,411 respondents between June 12 and July 10, asking them about why those consumers have chosen to wait to buy the iPhone 3GS....
"Roughly a third of those polled blamed AT&T for their decision not to switch over, although why they disliked AT&T wasn't apparently called out...."
Link: Survey: Apple Losing iPhone 3GS Buyers Over AT&T
10 Battery Saving Tips for Your iPhone
iPhoneFreak's Tim Bradbury says:
"TestFreaks.com recently came up with a 10 item list that will help you get the most out of your iPhones battery. While many of these tips may seem practical, you'd be surprised at how many people complain of their iPhones short battery life without actually trying to do something about it!"
Link: 10 Battery Saving Tips for Your iPhone
Apple Downplays Fiery iPod Incidents
KIRO 7 Eyewitness News's Amy Clancy reports:
"An exclusive KIRO 7 Investigation reveals an alarming number of Apple brand iPod MP3 players have suddenly burst into flames and smoke, injuring people and damaging property.
"It's an investigation that Apple has apparently been trying to keep out of the public eye."
Link: Apple Downplays Fiery iPod Incidents
Apple Accused of Stalling iPod Battery Fire Investigation
AppleInsider's Aidan Malley reports:
"Following up on numerous reports of iPod batteries catching fire, a Seattle reporter says that Apple actively prevented her and others from learning the true scope of the safety hazard.
"KIRO 7's Amy Clancy claims (above) that her seven-month search for data was repeatedly frustrated as Apple asked for Consumer Product Safety Commission reports to be exempted from the Freedom of Information Act, hiding them from public view."
Link: Apple Accused of Stalling iPod Battery Fire Investigation
Police Chief Denounces iPhone Users Who Monitoring Speed Traps, Traffic Cameras
The Washington Examiner's Hayley Peterson reports:
"Area drivers looking to outwit police speed traps and traffic cameras are using an iPhone application and other global positioning system devices that pinpoint the location of the cameras.
"That has irked DC police chief Cathy Lanier, who promised her officers would pick up their game to counteract the devices, which can also help drivers dodge sobriety checkpoints."
Link: Police Chief Denounces 'Cowardly' iPhone Users Monitoring Speed Traps
Will Apple Kill Off the iPod classic?
Cnet's David Carnoy says:
"The iPod classic may be an endangered species....
"As rumors continue to circulate that Apple will introduce new iPod models this fall (as it traditionally has), the big question is whether the iPod classic becomes the odd iPod out. In a recent MP3 Insider podcast, CNET editor Donald Bell points out that orders for new Samsung hard drives that would go into an updated Classic appear to be nonexistent, according to Ars Technica and Apple Insider...."
Link: Will Apple Kill Off the iPod classic?
5 Reasons You Can Ditch Your DSLR for an iPhone
Wired's Charlie Sorrel says:
"If you want high-quality photos, a responsive and full-featured DSLR is the only way to go. But sometimes you don't want to carry that bulky box around with you. With a couple of accessories, and a few megabytes of applications, you can turn the iPhone in your pocket into a rather capable replacement."
Link: 5 Reasons You Can Ditch Your DSLR for an iPhone
iPod nano 5G to Include Camera?
A note from reader Venus says:
"The iPod nano 5G is expected in September, and is rumored to include a camera. Recently an accessory store Uxsight.com shows a silicone case for the 'iPod nano 5G' with an elliptical hole in the back, presumably for the camera.
"The case is based on a mock-up design of the upcoming iPod nano 5G with a 1.5:1 screen and a camera at the back. There is no guarantee that the final iPod nano 5G launched by Apple would follow this design exactly. But still it is good for fun collection.
"Best Wishes,
Venus"
Apps & Services
iPhone & iPod touch to Stream All MLB Games Live with At Bat 2009
PR: MLB.com At Bat 2009, the top-selling sports App in the App Store, is adding more live video and will stream every regular season Major League Baseball game exclusively for MLB.TV subscribers, effective immediately. This unprecedented distribution of an online streaming video product provides eligible subscribers access to live feeds of every out-of-market game on the iPhone and iPod touch, as well as their computers.
MLB.TV and MLB.TV Premium subscribers can now access live MLB games in high quality video over either a WiFi connection or the carrier network as part of the At Bat 2009 App. Leveraging standards-based https streaming technology, enabled by the iPhone OS 3.0 update, the MLB.com App includes controls to give users the ability to pause a game or rewind the action. Additionally, adaptive bitrate technology is constantly working automatically to give users the highest quality video stream their network connection can support.
MLB.com will continue to make one game per day, the At Bat.TV Game of the Day, available for all At Bat 2009 App subscribers, subject to blackout restrictions. The MLB.com At Bat 2009 App also offers live audio broadcasts without blackout restrictions, a continuously updated scoreboard, MLB.com Gameday functionality, real-time video highlights and Condensed Games, a short-form video recap of every payoff pitch from every game.
The MLB.com At Bat App for the 2009 MLB season, including the entire postseason, is available for a one-time fee of $9.99 from the App Store.
Link: MLB At Bat 2009 (available through the iPhone App Store)
iPhone GPS Navigation for North America
PR: NAVIGON AG has announced the availability of a North American version of its onboard navigation software in the iPhone App Store. The MobileNavigator transforms any iPhone 3G, equipped with the new Apple OS 3.0 operating system, and any iPhone 3GS into a complete navigation device.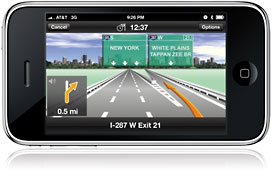 Following its successful launch in Europe last month, NAVIGON is the first major navigation company to launch an onboard navigation solution for the iPhone in North America. In more than ten European countries*, the app was ranked within the top three of all paid applications in the Apple Store in the first week.
Compared to off-board navigation, NAVIGON's onboard approach has a clear advantage: After downloading the GPS application, the software and map data is saved directly on the device. This means that users don't have to pay subscription fees or wait for map downloads during the navigation. The software includes many of NAVIGON's hallmark navigation functions such as Reality Viewô Pro, Lane Assistant Pro, Speed Assistant and Day & Night Mode. It also features NAVIGON's sophisticated and elegant map views including branded POIs along the route. NAVIGON will even add more features with software updates later this year. The only requirement for using the MobileNavigator on the iPhone is the new Apple OS 3.0 operating system.
"By making the MobileNavigator for the iPhone available for users in North America, we are taking another major step towards the future market of GPS navigation on mobile phones," said Egon Minar, CEO of NAVIGON AG. "The combination of NAVIGON's signature navigation features with typical functions from the iPhone creates an integrated and unique experience." The map display, for example, switches automatically from portrait to landscape view as soon as the iPhone is turned 90°. There is also the option of navigating directly to an address from saved contacts. If the iPhone is used for talking on the phone during navigation, the software resumes automatically after the call has ended. Furthermore, the multi touch function of the iPhone is integrated into the app and allows users to easily zoom in and out the map view with two fingers.
Key features of the NAVIGON MobileNavigator for the iPhone:
Reality View Pro displays photorealistic 3D views with actual road signs and lane guidance for virtually every highway interchange and exit drivers will encounter.
Lane Assistant Pro helps drivers prepare to make an upcoming exit or turn by providing a lane map complete with arrows and actual road geometry.
Speed Assistant with adjustable audiovisual warning.
Day & Night Mode for map display.
Direct Access allows navigation to contacts saved in the iPhone's address book.
Branded POIs and POIs along the route
2D and 3D map view.
Automatic switch between portrait and landscape format.
Intelligent address entry.
Real signpost display.
*Czech Republic, Denmark, Finland, Germany, Greece, Italy, Netherlands, Poland, Sweden, Switzerland
The NAVIGON solution sells for $99.99 and is equipped with maps of North America from NAVTEQ. It will be available for a promotional price of $69.99 until August 15.
Link: MobileNavigator (available through the iPhone App Store)
MyWeather Mobile Goes Global
PR: MyWeather LLC today announces MyWeather Mobile 1.5.3 for iPhone and iPod touch. Thousands of international cities spread across six continents have been added to the MyWeather Mobile application. Users can also view radar imagery in the US and Canada, as well as satellite imagery for Asia, North American and South America. The application now includes worldwide forecasts, current conditions, radar imagery and more.
MyWeather LLC, an industry-leading developer of digital weather and traffic content, goes international with the release of MyWeather Mobile version 1.5.3 for the Apple iPhone and iPod touch. The application one of the Top 100 Paid iPhone Applications of 2008, now includes worldwide forecasts, current conditions, radar imagery and more.
Thousands of international cities spread across six continents have been added to the MyWeather Mobile application. Location-based weather, made possible by the iPhone's GPS technology, assures that users will be able to access quality weather data wherever they go. Users can also view radar imagery in the US and Canada, as well as satellite imagery for Asia, North American and South America.
MyWeather Mobile for iPhone combines stunning, high-quality animated radar with Microsoft Bing maps, letting users view weather conditions . Users can also pinch, flick, zoom, and double tap a full screen map down to the street level. Full screen maps, exclusive to MyWeather Mobile are accessed by turning the phone sideways, provide an unprecedented look at mobile radar and satellite imagery.
"It is our goal for to not just offer global forecast and imagery data, but also to assure that these features were up to the exacting standards that our customers have come to expect", said Terry Kelly, CEO of MyWeather, LLC and sister company, Weather Central, Inc. "With our new release, MyWeather Mobile users are getting the highest-quality, most reliable weather information, both in the US and abroad."
MyWeather Mobile is available now in App Stores across the world. To view more information on the application, visit their website.
Link: MyWeather Mobile (available through the iPhone App Store)
SimplyTweet 2.0 - Full Featured iPhone Twitter Application with Push
PR: MotionObj has announced SimplyTweet 2.0, an update to their full featured Twitter application for iPhone and iPod touch. SimplyTweet combines a fast, simple user interface and advanced functionality. It supports push notifications for new mentions and direct messages, customized timelines with saved views, read conversations, themes, import accounts from HootSuite, multiple accounts, landscape drafting, landscape built-in browser, text and URL shrinking, photo search, and more.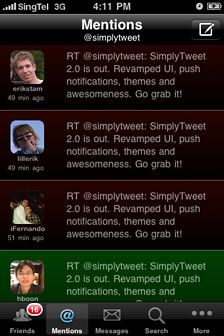 SimplyTweet 2.0 is a full featured iPhone Twitter Application that combines a fast, simple user interface and advanced functionality. It supports advanced functionality such as push notifications for new mentions and direct messages, themes, photo search, and picture posting to sites such as TwitPic and Posterous.
It is developed by MotionObj, run by independent software developer, Hwee-Boon Yar who is based in Singapore. The completely redesigned SimplyTweet 2.0 has been approved by Apple and is now available on the iTunes App Store for both iPod touch and iPhone. It was primarily developed because the developer could not find an iPhone Twitter client that satisfied his personal needs.
SimplyTweet 2.0 features:
Fast and simple user interface
Push notifications for new mentions and direct messages
Customized timelines with saved views (groups)
Conversation view
Themes
Import accounts from HootSuite
Multiple accounts support, with quick switch support when drafting
Landscape drafting
Landscape built-in browser
Text and URL shrinking
Notes for accounts
Photo search
Picture posting to sites such as TwitPic and Posterous
Requirements: iPhone or iPod touch with OS 3.0 or newer
SimplyTweet 2.0 is $4.99 exclusively through Apple iTunes App Store.
Link: SimplyTweet (available through the iPhone App Store)
Idea 1.0 for iPhone and iPod touch
PR: Apimac introduces Idea 1.0, their new note taking, and memo organizing tool for iPhone and iPod touch. Designed specifically to take advantage of the iPhone's unique capabilities and interface, Idea serves as an excellent note taking and archival solution for anyone on the go. Organize notes and memos with a touch. Perfect for business and personal use alike, quickly compose and send notes via email to colleagues, as well as archive them at any time.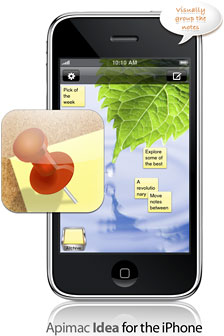 Inspired by professional photographer, Martin Muntenbruch, Idea features an extensive gallery of professionally created images to serve as backgrounds, allowing users to organize their notes in a myriad of different ways. To change the wallpaper, simply shake the device. With the magic of Multi touch, users may organize and group notes visually by simply moving (up to five at a time) them around the screen.
"It was a pleasure to work with the team that developed this application" said Martin Muntenbruch, Photographer. "It was exciting to see some great ideas grow and become reality. I'm happy that users can touch my picture when they work with the program and organize their ideas."
Feature Highlights:
Organize ideas by moving and regrouping the notes visually
Gallery of wallpapers made by professional photographers and graphics
Use multitouch to move up to five notes at once
Choose your favorite default font and size
Write a note and then easily send it via email
Shake the iPhone to change wallpapers
Users may Archive notes
System Requirements: iPhone or iPod touch 2.2.1 or later
Idea 1.0 for iPhone is $1.99 and available exclusively through Apple's App Store.
Link: Idea (available through the iPhone App Store)
WritePad Professional Edition for iPhone
PR: PhatWare Corporation, a leading provider of software products and professional services for mobile and desktop computers, announces the release of WritePad Professional Edition - an advanced organizer for notes, events, affairs, and voice notes.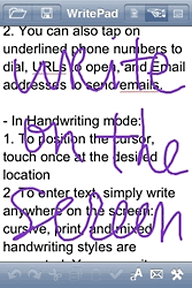 WritePad Professional Edition is a combination of three previously released applications - WritePad Affairs, WritePad Notes, and WritePad Events. It also features voice notes. The data can be organized in multiple folders, which can be sorted by type, name, and color.
Affairs folders assist users with organizing daily tasks, jobs, and contracts. Users can create, edit, and view items in landscape or portrait mode; sort items by due date, subject, priority, color, category, and status; and filter by text found in the subject.
Events folders enable users to create, edit, and view events in landscape and portrait mode; sort events by date, subject, priority, color, and category; filter events by characters or words found in the subject. While creating events a user can obtain a current location using iPhone navigation feature, insert a new or an existing photograph, and associate contact with the event.
Notes folders allow creating, editing, and viewing notes on an iPhone. Notes can be edited in ether landscape or portrait mode and sorted by subject, color, and category and filter notes by characters or words found in the subject.
Voice Notes folders can be used to record and play back voice notes and memos. Each voice note can have name, color and importance properties and can be organized by name, color, priority, creation, and modification dates.
Notes, Events, and Affairs export and import items via CSV files compatible with Microsoft Outlook format. The data can be exchange between items or even other applications using copy/paste. Any item, including a voice note, can be emailed directly from the application or uploaded to another device on the local WiFi running a copy of WritePad Pro.
WritePad Pro uses WritePad text editor developed specifically for iPhone and featuring handwriting recognition input for cursive, print, and mixed handwriting styles, in addition to an iPhone soft keyboard. Advanced features of WritePad's handwriting recognition engine include intelligent handwriting recognition engine which improves recognition quality over time, and an auto-corrector which automatically fixes common spelling and recognition errors, a spell checker, and a shorthand feature allows users to perform editing commands, insert current date and time and repetitive text by writing a short name and drawing a circle around it, and simple gestures to perform standard editing commands.
For more information about WritePad Professional Edition, please visit PhatWare website.
WritePad Professional Edition is available now through Apple iTunes Store and offered at the list price of $9.99.
Link: WritePad Professional Edition (available through the iPhone App Store)
FlowerPedia 1.2 - New Version of Definitive Flower App by Muli Mobile
PR: Muli Mobile today released FlowerPedia 1.2, a new version of its flower gallery and encyclopedia for the iPhone. The new release focuses on improving the overall user experience with a simplified user interface, improved comprehensive flower search, improved flower photo gallery and more flower photos.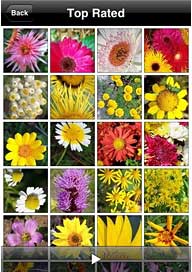 "FlowerPedia has had an amazing response from the community" - said Alexey Kojevnikov, creative director of Muli Mobile. "Since the release of 1.0, our inbox has been filled with tips and suggestions from gardeners, florists, flower enthusiasts and casual users. We obviously struck a chord with the community, so we listened in detail, and implemented an ongoing strategy for improvement and adding new features."
FlowerPedia version 1.2 contains the following improvements over its maiden release:
Redesigned user interface, featuring navigational tabs
Search results show both common and Latin names
Two new flower genera and 82 more photos of flowers
Each genus now features a list of species related to it
Improved search now covers common and Latin names of species and genera
Indulge Your Senses and Your Intellect
FlowerPedia is a portable flower encyclopedia, identification tool and photo gallery, featuring over 1500 high-resolution photos of flowers, organised by flower family, genus and photo rating. FlowerPedia's Help section explains the fundamentals of flower structure to enable even the most casual users to identify unknown flowers with the "Identify" feature.
Minimum Requirements: iPhone or iPod touch 2.2 or later
FlowerPedia 1.2 is available now on the iTunes App Store for $4.99.
Link: FlowerPedia (available through the iPhone App Store)
Police Scanner 1.2 for iPhone and iPod touch
PR: Juicy Development has released an update to the popular iPhone and iPod touch application, Police Scanner. This critically acclaimed iPhone application allows listeners to listen to police, fire, and EMS activities around the world. Version 1.2 sports a sharp new user interface, faster access to streams, and improved database and GPS performance.
With over 1,100 national and international EMS streams, Police Scanner offers the largest selection of police, fire, and emergency services streams available for the iPhone in one application.
"Many of our users are police and firefighters, so when we planned our update we wanted to ensure that they could pick up the stream that they need in a hurry," said David Kyle, project manager.
In addition to Police Scanners faster interface, improved functionality and universal compatibility, customers will notice a sleek look and feel to the application. The new version runs well on a wireless LAN, the 3G network, or on the Edge network and is compatible both 2.x and 3.0 devices.
With over 1100 active streams in 7 countries and 25,000 plus daily users, Police Scanner is the most far-reaching emergency stream application in the iTunes store. "Because our customers depend upon our application for up-to-date emergency information, it's crucial that we provide as much coverage as we possibly can," said Kyle.
Anyone who discovers a compatible stream can simply email the company or send a message through the company web page. New streams will usually be added within a few days. "If you send in a request saying add Detroit, we will get to it; if you go find a stream in Detroit and send us a link, we usually add those within a few hours." said Kyle.
As additional stations, counties, and cities are added, the database is automatically updated and the stream instantly becomes available to all Police Scanner users. Police Scanner uses the location-aware technology built into the iPhone to help users locate streams near them, or allows them to search through a list of all available streams from across the country. A favorites features allows users to quickly locate streams they want to find again.
Police scanner is a must have for on-call volunteer fire fighters, news crews, emergency responders and hobbyists. Fans of Police Scanner are now able to purchase Police Scanner gear in the Juicy online store.
Not all areas broadcast an iPhone compatible stream. This is still a new technology for many police, fire, and dispatch centers. A stream from your local city may not yet be available.
Police Scanner is available now for the regular price of $2.99. Requires 2.0 software update and a network connection.
Link: Police Scanner (available through the iPhone App Store)
iBank Mobile Launches Exclusively on Apple App Store
PR: IGG Software has announced the release of iBank Mobile for iPhone and iPod touch. Users can harness the power of iBank to check account balances, enter transactions and categorize purchases, even in foreign currencies. Designed to sync seamlessly with the desktop version of iBank for Mac, iBank Mobile also works as a separate, stand-alone app for handheld finance management.
"We based this product on lots of input from our customers about what they want in a mobile app," says IGG Chief Architect James Gillespie. "iBank Mobile is a simple, powerful and efficient way to manage personal finances on the go."
The fully native iBank Mobile was created with the idea of being a great iPhone app as much as a great companion to iBank. Installing iBank Mobile for use as a stand-alone app provides numerous benefits, beyond checking account balances and updating finances on the fly:
The iBank Mobile Home Screen provides an at-a-glance overview of the user's finances; users will be able to see current balances across multiple accounts and where money is being spent at any time.
A Quick Entry screen allows users to enter and categorize transactions in seconds, with intelligent autofill speeding entry even further; multiple currency support facilitates international use.
iBank Mobile is now available for $4.99 from Apple's App Store on iPhone and iPod touch.
Additionally, the newly released iBank 3.5 update ($60, or free to iBank 3 users) provides the ability to sync iBank Mobile transactions over local WiFi, via MobileMe accounts, or through any WebDAV server. Multiple iBank Mobile users with a single copy of iBank for Mac, such as couples or business partners, can sync to the same iBank data from different mobile devices.
iBank 3.5 also offers improved launch speed; improved support for multi-currency transfers, and better charting for multi-currencies; the ability to reconcile both "sides" of a transfer independently; and the option to exclude securities from quote updates. A free trial copy of iBank, requiring Mac OS 10.5 Leopard, can be downloaded from IGG online.
Link: iBank Mobile (available through the iPhone App Store)
MasterCard Launches 'Priceless Picks' iPhone App
PR: MasterCard Worldwide has announced the availability of the MasterCard Priceless Picks iPhone application which gives consumers a location-based utility to find and share their favorite picks with friends and family. Leveraging the iPhone's GPS technology, users can instantly find shopping deals, entertainment options, dining venues and special experiences just steps away from where they are or where they're traveling to, for business or for pleasure. Priceless Picks is available for free download at the iPhone App Store or at www.itunes.com/appstore.
Unique features of the MasterCard Priceless Picks app include:
User-generated content and partner generated offers: Priceless Picks separated into five categories including Priceless, Dining, Shopping, Entertainment and Other.
Pinpoints Priceless Picks in your selected location: Add your own Priceless Pick by simply inputting the name, description and location along with your first name and a Priceless Pick category
"Send to a Friend" allows you to share your Priceless Picks with others via email: "MasterCard continues to connect with consumers, enabling what is Priceless to them - be it a special experience, moment in time, place, or deal - and now we're providing a forum for consumers to share their Priceless Picks," said Chris Jogis, Senior Vice President, US Marketing, MasterCard Worldwide. "With the capabilities of the iPhone, we've taken Priceless Picks to a new level, taking advantage of the portability of the device and enabling users to quickly and easily identify and share unique experiences in a chosen locale."
Marketing Campaign - Priceless
MasterCard Priceless Picks will be supported by an advertising campaign that includes three new 15 second Priceless television spots breaking next week, produced by McCann Erickson NY. The spots showcase a variety of real life situations where people share their special experiences by posting them to Priceless Picks on their iPhone - the best seat in the stadium to catch a foul ball, family-friendly restaurants and a great spot for a kiss.
The Priceless Picks app was conceived, developed and built by McCann Erickson, New York, the advertising agency of record for MasterCard, with technical support from MRM Worldwide and Ubermind.
MasterCard Priceless Picks marks the second in a series of iPhone applications that MasterCard is bringing consumers to make life a little easier every day. Priceless Picks joins the popular MasterCard ATM Hunter, which lets iPhone users easily locate the nearest ATM no matter where in the world they are.
Link: MasterCard Priceless Picks (available through the iPhone App Store)
Comcast Launches Free Mobile Application for iPhone and iPod touch
PR: Comcast Corporation has announced the launch of a Comcast mobile application - a free downloadable app for the iPhone or iPod touch - that gives customers access to all of their favorite services from Comcast including a unified inbox with Comcast.net email; visual voice mail; address book sync; real-time TV listings and trailers of movies available through Comcast On Demand.
"Giving customers mobile access to the Comcast services they use everyday is particularly compelling on one of the nation's most popular mobile platforms - the iPhone and iPod touch," said Cathy Avgiris, Senior Vice President and General Manager of Comcast Wireless and Voice Services. "The Comcast mobile app brings together our communications, information and entertainment products in one place - and having it as a mobile download means our customers can take their Comcast services with them even when they're not at home."
The Comcast mobile app combines some of the best features from Comcast Digital Voice, Video and High-Speed Internet and delivers them through one of the most popular mobile application stores. Existing customers who have a Comcast.net User ID can simply download the free app and immediately have live access to their Comcast inbox and address books, in addition to the full functionality of the SmartZone Communications Center.
Among other features, the first release of the Comcast mobile app includes the ability to:
Check Comcast email and listen to home voice mail in one combined inbox.
Read, reply, forward and compose email as well as read attachments supported by the iPhone.
Manage voice mail messages and call logs, view voice mail in any preferred order as well as "touch" to call.
Forward home phone calls to the iPhone from the iPhone, view call history and manage home phone settings.
See what's on TV tonight, tomorrow or next week, including program details.
Watch Video On Demand movie trailers.
Sync all Universal Address Book contacts to an iPhone or iPod touch as well as the ability to add pictures to favorite contacts.
The full experience of the Comcast mobile app is available as an added benefit to Comcast Triple Play and existing SmartZone customers with an iPhone or iPod touch.
Some of the same features are also accessible on any Web-enabled mobile device by using a browser.
Link: Comcast mobile app (available through the iPhone App Store)
Hurricane 3.0 - Keeps Your Eye on the Storm
PR: Kitty Code, LLC announces the availability of Hurricane 3.0, a hurricane and tropical storm tracker for the iPhone and iPod touch, in the iTunes App Store. Hurricane, the most popular and best selling hurricane tracker for the iPhone and iPod touch, returns with a great update for the 2009 hurricane season.
Hurricane introduces a whole new way to track tropical storm systems with a new highly detailed, zoomable map covering storms in both the Atlantic and Pacific oceans. A dynamic information page for each storm provides you with satellite and radar imagery when available and the latest plots for active storms.
"Hurricane 3.0 will bring information to those in a storm's path when they need it the most by providing the most comprehensive tropical data available on a mobile device", said Ilene Jones, Cofounder and CEO of Kitty Code, LLC.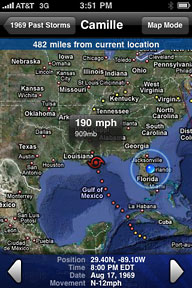 New features introduced in Hurricane 3.0 include:
The addition of the Eastern Pacific ocean tracking maps to the existing Atlantic tracking maps
Pacific historical tracking data has been added to provide past storm information in the Pacific
A new storm information page has been added to put important storm details such as storm specific satellite, radar, and forecast images and text at your finger tips
Fully zoomable tracking maps providing a greater level of detail
Integrated GPS to inform you of your distance from an approaching storm
Updated satellite images covering both the Atlantic and Pacific
An enhanced look that makes finding information easier than ever before
Minimum Requirements: iPhone or iPod touch 3.0 or later
Hurricane 3.0 for iPhone is only $3.99 and available exclusively through Apple's App Store. More information about Hurricane for the iPhone and iPod touch can be found at the official Hurricane website.
Link: Hurricane (available through the iPhone App Store)
Layers 1.0 Brings Layers to Natural Media Painting on the iPhone
PR: Gotow.net announces the availability of Layers 1.0. Our latest iPhone app opens up a whole new creative space with a rich set of painting tools and the ability to create up to five layers in each drawing! Add a layer from a photo to trace your subject, or add multiple layers to separate different parts of your work. Each layer is fully transparent, and a unique 3D interface allows you to create and rearrange layers with ease. When you're finished, you can export your work to a Photoshop file with layers intact, or sync with the desktop viewer to generate a high-resolution copy or replay your brush strokes to show off your talent!
Layers offers a balanced set of painting tools that will appeal to seasoned artists and doodlers alike. With eight high-quality brushes, an eyedropper, and an eraser - Layers provides the tools you need to create great art. It's intuitive interface has been built around the workflows of popular iPhone artists. Toolbars on the screen hide as you work and can be brought back with a simple shake - so your tools are never far away. A full-screen color picker provides an infinite range of brush colors and transparency is fully supported throughout the app.
Layers takes undo and redo seriously. It keeps a 30-level undo stack as you work, and saves your undo history when you stop drawing - so it's easy to pick up where you left off! Every action is undoable, so you never get stuck trying to paint over a mistake.
System Requirements: All iPhone and iPod touch models running iPhone OS 3.0
Layers is $4.99, and is available for immediate download on the iTunes App Store. Please see the Layers web site for screenshots and additional feature information. Promotional codes and review copies are available upon request.
Link: Layers (available through the iPhone App Store)
ShoZu and Touchnote Partner to Unleash the Power of iPhone Micropayments
PR: ShoZu Ltd. and Touchnote Ltd. have announced a partnership that gives users of ShoZu's iPhone mobile application a fast, convenient way to print any photo and have it mailed to anywhere in the world in 24 hours by Touchnote. This partnership represents one of the earliest adoptions of Apple's iPhone In-App micropayments. The service demonstrates how ShoZu is adding value for customers of its paid smartphone applications, and how Touchnote can work with iPhone application developers to integrate their app with Touchnote's fulfillment library.
Under the agreement, all users of the iPhone mobile app will have access to Touchnote's service to mail personalized postcards to anywhere in the world straight through the ShoZu application.
"We're investing in our customers by constantly evolving the service to offer the newest, hottest technologies to our user base," said Chris Wade, chairman and CEO of ShoZu. "Partnering with Touchnote allows ShoZu's users to inexpensively and quickly mail their mobile photos as personalized postcards to recipients anywhere."
The application is available for the iPhone via Apple's iTunes Store, and directly from ShoZu at shozu.com and its mobile site at m.shozu.com. Later this year, the ShoZu mobile app will be available through additional app stores, including Microsoft's Windows Marketplace for Mobile, Nokia's Ovi and Research in Motion's BlackBerry App World. If and when any app stores support micropayments, ShoZu will roll out support for these other stores.
"There's the potential of big money in micropayments," said Raam Thakrar, CEO of Touchnote, "which is why Touchnote's mobile business model is focused on licensing its enabling library to other iPhone developers. ShoZu is a perfect partner for Touchnote."
About ShoZu
ShoZu is an intelligent social media hub currently used by people worldwide to enrich connections with the people in their lives by effortlessly exchanging video, pictures and commentary between mobile devices and favorite social networks, photo sharing sites and information resources. The company's patented technology provides fast, easy, one-click uploads of photos and video clips from the mobile to the Web, full-resolution photo and video delivery without compression, an emerging suite of services that push content to the phone, the ability to work in the background even if a connection is dropped, and other unique features that simplify and enhance the user experience. The company was founded in 2000 and has formed partnerships with some of the leading players in the mobile ecosystem, including Motorola and Samsung. For more information, visit www.ShoZu.com/AboutUs.
About Touchnote
Founded in London in late 2007, Touchnote is an online and mobile service that lets you design and create your own photo cards. Touchnote for Mobile was the first mobile application that enabled customers to create and send a personalised physical product directly from the mobile phone.
Since its launch online in October 2008, users have been able to create customised photo cards from their own digital images. In just a few clicks, you can have a personal card that Touchnote will print and post for you. In May 2009, Touchnote brought their online expertise to the world of mobile, with the launch of its application for the Nokia Ovi store and a soon-to-be released version on the iTunes App Store, so that it has never been easier to capture and share that memorable moment with friends and family, wherever you are. For more information visit:
Link: Touchnote Mobile (available through the iPhone App Store)
PDF Expert - Professional PDF Reader for the iPhone
PR: Readdle announces the release of PDF Expert, a professional PDF document reader solution for the iPhone. PDF Expert extends PDF viewing capabilities of the iPhone along with a large set of professional functions including saving PDF email attachments, full text document search, support for password protected documents, navigation through embedded PDF bookmarks and handling for large PDF files. PDF Expert is available exclusively on the Apple App Store at $4.99.
Saving email PDF attachments to the iPhone is one of the most notable PDF Expert features. It is supported via Readdle Storage, Readdle's iPhone friendly cloud file storage solution. This capability, previously missing on the iPhone, combined with the ability to read password protected PDF documents, makes PDF Expert the first working way to read password protected PDF email attachments on the iPhone.
The process of saving email attachment to the iPhone is pretty straightforward; users forward an email with attachments to their dedicated Readdle Storage email address. Readdle Storage processes the email and saves all attached documents to the users file storage. Once a document has been saved to Readdle Storage, only a few taps are needed to download it to the iPhone using PDF Expert.
Quick navigation through the document and support for large PDF files are two additional functions which are essential for professional users. PDF Expert excels in document navigation by implementing full-text search, go to page navigation, fast document scroll and embedded PDF bookmarks. Also, PDF Expert opens many PDF files that are too large for the built-in iPhone viewer.
"In our analysis of App Store customer feedback we have discovered a high demand for a professional PDF reader application for the iPhone. The iPhone's built-in PDF viewer is great, however it does not support several features which are essential for iPhone business users; such as saving PDF attachments to the iPhone and support for password protected PDFs. PDF Expert is the product that meets the needs of a growing population of iPhone users and it further extends iPhone business usage," explains Igor Zhadanov, Readdle CEO.
PDF Expert is not limited to just PDF files; its document viewer also handles Microsoft Office files, iWork documents, HTML, TXT and image files. The built-in network file server allows users to mount PDF Expert as a shared network drive over a WiFi network to any computer equipped with Mac OS X 10.4 or later, Windows XP or Windows Vista and copy documents to the iPhone using simple drag & drop or copy & paste.
Readdle Storage is available as a free service for all PDF Expert users. PDF Expert 1.0 is available for the special price of $4.99 exclusively on the App Store.
Link: PDF Expert (available through the iPhone App Store)
Presentation
Sound Blaster Wireless for iTunes
PR: Creative announces availability of the new Sound Blaster Wireless for iTunes, which will wirelessly play iTunes, MP3, and all audio from a PC or Mac through powered speakers up to 100 feet away. The Sound Blaster Wireless for iTunes including a Creative Wireless Receiver is available today at Amazon.com and Creative.com for only $149.99.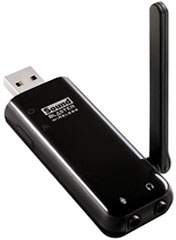 Sound Blaster Wireless for iTunes enables speakers to be placed anywhere in the home. Turning a Mac or PC into a wireless music system is easy, and it takes just a few minutes. Because Sound Blaster Wireless for iTunes is only about the size of a thumb drive, the user can just grab it and plug it into the USB connection on a PC or Mac. Connect a Creative Wireless Receiver to speakers or the great-sounding Creative GigaWorks T20W speakers which contain a built-in wireless receiver and the Sound Blaster Wireless for iTunes is ready to go.
Sound Blaster Wireless for iTunes works with any music software or content source including iTunes, Napster, Rhapsody, Pandora, Slacker, LastFM, YouTube or MySpace. Sound Blaster Wireless for iTunes uses a proprietary wireless technology based on 2.4 GHz designed specifically for audio so the listener doesn't have to tolerate dropouts or interference, which commonly plague Bluetooth and WiFi systems. Plus, it doesn't require a wireless network, so it's much easier to use and set up than WiFi based systems.
"With Sound Blaster Wireless for iTunes you really get the best of both worlds. You get the convenience of having all of your music on your laptop and the freedom to play it wirelessly through any speaker system in your home. It's really the only sound system you'll ever need. Why buy a one-dimensional docking system that only lets you listen to music from a portable player? With Sound Blaster Wireless for iTunes you can use iTunes, Windows Media Player, or whatever music software you already have on your computer, and you can play music from any Internet site," said Ryan Richards, product marketing specialist and audio blogger for Creative.
With installation of the included software on a PC or Mac, users can further enhance and control their music listening experience. Award-winning X-Fi audio technology instantly upgrades a PC or Mac to a premium sound system. The included software also enables individual control of music in up to four specific rooms equipped with Creative Wireless Receivers or GigaWorks T20W speakers.
Link: Sound Blaster Wireless for iTunes
Protection
iPhone CAZE Offers New Style of Cases for iPhone 3G/3GS
PR: iPhone CAZE designs and manufactures high quality, fashionable and unique iPhone cases for iPhone 3G/3GS in a wide assortment of styles and colors. iPhone CAZE offers a variety of cases of different materials from leather, metallic, fabric, silicone to Swarovski crystal.
Starting from today till August 1st, customers purchase any case from iPhone CAZE website will get a special gift that worth up to $24.99. Customers can choose a Free Gift between 1) a Swarovski Crystal Apple logo (Retail value: from $15.99) & 2) a bonus iPhone case (Retail value: from $19.99 or up).
iPhone CAZE's flagship product is Mirror Go/ CAZE Metallic series. Its other popular products include Smooth Square/ CAZE Leather series, Love Pair/ CAZE Metallic series, Summer Whirl/ CAZE Style series, Colorful World/ CAZE Style series. Free shipment and online order tracking are available. Customers can choose to add only $4.99 to upgrade from Standard delivery to Express delivery. Products will be shipped within 24 hours and 30 Days Money Back Guarantee is provided.
No matter you want to make your iPhone stands out from the crowd or simply want a slim fit & fashionable case to protect your iPhone, you'll find one you love at iPhoneCAZE. This promotion ends on August 1st, so hurry up and get a iPhone CAZE with your personal style!
iPhone CAZE started its business at a small shop with handmade products at the beginning and proudly released its first iPhone case in 2007. Due to the spread of word and increasing demand of overseas orders, iPhone CAZE began to take orders on its website in 2009. iPhone CAZE admires fashion, using leather, fabric, metal, polymer and Swarovski crystal, to bring something luxury and special on iPhone for any occasion.
Link: iPhone CAZE
Hard Crystal Case for iPhone 3G/3GS (Sparkling Colors)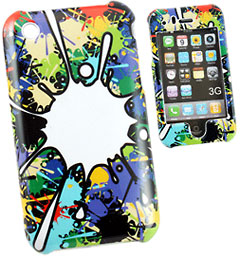 PR: Features:
Unique ergonomic design
Printed with featured graphics - Sparkling colors
Fully Protected from bumps and scratches
Light weight
Perfectly fit
Anti-dust
Easy access to all ports, buttons and sockets
This case is suitable for:
$16.99
Link: Hard Crystal Case for iPhone 3G/3GS (Sparkling Colors)
Protective Silicone Case Skin Cover for iPod nano 5th Generation 5G?
PR: Protect and personalize your device with this iPod nano 5G Silicone Case. Made of high quality silicone material, it protects your iPod nano from scratches, dust, and finger prints.
Description:
Use this Protective iPod nano 5th Generation 5G Case to create a custom and personalized look.
It is constructed with soft and durable silicone material for extra grip and durability.
This iPod nano 5th Generation 5G Cover protects your MP3 from dirt, scratches, dings, everyday wear and tear while adding a classic look.
Custom molded case fits your MP3 player perfectly.
Unique design allow easy access to crucial functions without removing the case.
Protect and personalize your device with this iPod nano 5th Generation 5G Skin |Case.
It is compatible with iPod nano 5th Generation!
This is a non-OEM generic product.
Accessory ONLY! iPod is not included.
Color: As picture show
Weight: 9g
This product is based on a mock-up design of the upcoming iPod nano 5G with a 1.5:1 screen and a camera at the back. There is no guarantee that the final iPod nano 5G launched by Apple would follow this design exactly. But still it is good for fun collection
Price: $1.19
Shipping Fee:
$5.49 first item
$2.39 any additional item
Link: Protective Silicone Case Skin Cover for iPod Nano 5th Generation 5G
Join us on Facebook, follow us on Twitter or Google+, or subscribe to our RSS news feed
Links for the Day
Mac of the Day: Mac Pro, introduced 2006.08.07. The last Mac to go Intel, the Mac Pro has two dual-core Xeon CPUs at 2.0-3.0 GHz. 8-core option added in 2007.
Recent Content
Custom Search
Follow Low End Mac on Twitter
Join Low End Mac on Facebook
Favorite Sites
MacSurfer
Cult of Mac
Shrine of Apple
MacInTouch
MyAppleMenu
InfoMac
The Mac Observer
Accelerate Your Mac
RetroMacCast
The Vintage Mac Museum
Deal Brothers
DealMac
Mac2Sell
Mac Driver Museum
JAG's House
System 6 Heaven
System 7 Today
the pickle's Low-End Mac FAQ
Affiliates
Amazon.com
The iTunes Store
PC Connection Express
Macgo Blu-ray Player
Parallels Desktop for Mac
eBay

Advertise