Apple E-reader Key to E-book Success, iPod touch Is Apple's Secret Weapon, WaterWear Case, and More
This Week's iPhone, iPod, and Apple TV News
Compiled by Charles Moore and edited by Dan Knight - 2009.12.11
Mac notebook and other portable computing is covered in The 'Book Review, and general Mac news is in Mac News Review.
All prices are in US dollars unless otherwise noted.
News, Reviews, & Opinion
Apps & Services
Accessories
Presentation
Protection
iPod Deals
These price trackers are updated every month.
News, Reviews, & Opinion
Cheaper E-books Needed to Drive Digital Publishing
TheBookseller.com's Victoria Gallagher says:
"Cheaper e-books and the emergence of an Apple e-reader will be the main factors in driving digital publishing forward, according to a landmark survey of more than 1,000 book trade professionals conducted ahead of The Bookseller's Digital Conference 'FutureBook' being held today (2nd December) in London, sponsored by Wiggin.
"The survey also found that more than 88% of respondents thought bookshops would lose out from the growth in digital sales, while 55% said they did not support the revised Google Settlement."
Link: Bookseller Survey: Cheaper E-books Needed to Drive Digital Growth
iPod touch: Apple's Secret Weapon
The Loop's Jim Dalrymple reports:
"As competition heats up in the mobile phone space from companies like Google and Motorola, a new study points to Apple's iPod touch as the company's secret weapon.
"Calling the iPod touch 'Apple's Weapon of Mass Consumption,' market research firm Flurry says that it estimates 40 percent of the 58 million iPhone OS devices worldwide are iPod touches. In fact, Flurry says it is the iPod touch that is protecting the iPhone's flank from the competition."
Link: Study: Apple's Secret Weapon Is iPod touch
Further Reading
The 6 Best Smartphones of 2009
The Street's Jason Notte says smartphone makers upped the ante this year with sleeker designs, better touch screens, and new applications. Consumers, chanting "I want one too," responded with open wallets.
Notte picks the top six smartphones of this year, with the Apple iPhone 3GS rated number one, and the other five being pretty much the ones you'd anticipate.
Link: The Street Picks the Six Best Smartphones of 2009
Abilene Christian University First to Provide iPhone or iPod touch to All Incoming Freshmen
PR: An Apple iPhone or iPod touch will become a central part of Abilene Christian University's innovative learning experience this fall when all freshmen are provided one of these converged media devices, said Phil Schubert, ACU executive vice president.
At ACU - the first university in the nation to provide these cutting-edge media devices to its incoming class - freshmen will use an iPhone or iPod touch to receive homework alerts, answer in-class surveys and quizzes, get directions to their professors' offices, and check their meal and account balances - among more than 15 other useful web applications already developed, said ACU Chief Information Officer Kevin Roberts. ACU's vision for technology has been captured in a forward-looking film called 'Connected,' found online - along with information about ACU's other groundbreaking mobile learning efforts.
"We are not merely providing cutting-edge technology tools to our incoming students," said Roberts. "We are also providing the web applications that ensure these tools will become critical to the students' learning experience. Because 93 percent of ACU students bring their own computers with them to college, we are choosing to take them to the next level by providing converged mobile devices."
Dr. Dwayne VanRheenen, ACU provost, said, "This is exciting to me, not only because we're giving students new tools, but because we are transforming the learning environment. The extensive research that's been done on campus in the past 10 months has prepared us to launch with freshmen this fall, and research will be ongoing as we expand the program in the future."
For a number of years, ACU's faculty and technology staff have researched strategic opportunities presented by handheld devices in higher education, said Roberts. However, for the past six months, ACU's intensive research has focused on more than 30 projects exploring pioneering mobile learning strategies for enhancing the campus environment.
The 2008 Horizon Report stated, "As new devices & are released that make content almost as easy to access and view on a mobile as on a computer, the demand for mobile content will continue to grow. This is more than merely an expectation to provide content: this is an opportunity for higher education to reach its constituents wherever they may be."
The Horizon Report, produced annually as a collaboration between the New Media Consortium (of which ACU is a member) and the Educause Learning Initiative (ELI), also described the explosion of converged media technology. "More than a billion new mobile devices are being manufactured - a new phone for every six people on the planet. In this market, innovation is unfolding at an unprecedented pace . . . mobiles are quickly becoming the most affordable portable platform for staying networked on the go."
Using innovative technology to enhance learning is not new at ACU. In fact, ACU was one of the first universities to use mobile devices as a learning tool in its graduate distance education programs. "Expanding to undergraduate, residential students is a natural progression for us," Roberts said.
"We enjoy great relationships with many technological leaders such as Apple, AT&T and Amdocs," Schubert said. "These relationships help us as we continue to be a university on the leading edge of technology, a central component of our 21st Century Vision."
ACU's innovative, diverse learning environment attracts about 4,700 students from nearly every state and 60 nations to its beautiful 200-acre Texas campus. Strong academic programs include business, pre-med, theatre, physics, psychology, education and information technology.
If you are a member of the media who would like more information about this release, please contact ACU's Public Relations Office or call (325) 674-2696.
Link: Abilene Christian University First to Provide iPhone or iPod touch to All Incoming Freshmen
Apps & Services
Nuance Dragon Dictation App Now Available for iPhone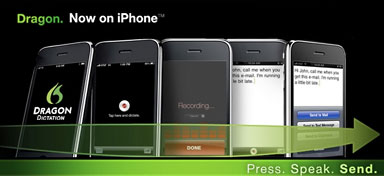 PR: Nuance Communications, Inc. has announced the availability of its Dragon Dictation App on the App Store. The app allows iPhone users to speak emails and text messages instead of typing them, dramatically extending the way users stay connected to friends and family. Dragon Dictation also works with the iPhone clipboard, allowing users to speak naturally and easily paste it into their other apps, including Facebook and Twitter. The app is currently free for a limited time.
"Dragon Dictation takes the messaging experience on the revolutionary iPhone to a whole new level," said Michael Thompson, senior vice president and general manager, Nuance Mobile. "Dragon Dictation is also incredibly natural and intuitive. Users will soon find they're speaking more than typing using the power of speech to communicate even faster, whatever they're doing and wherever they are."
With the Dragon Dictation App, spoken words are instantly transcribed using the world-renowned power of Dragon NaturallySpeaking speech recognition, giving anyone the power to simply "say anything" up to five times faster than typing. Dragon Dictation allows users to speak anything from a one-line text message or status update for Facebook, to a multi-paragraph e-mail. For instance, simply say, "We should meet at the restaurant at 7 and then go to the movies. I'll pick up Scott in Cupertino after he gets off work. See you then." Users can start and stop as needed or just speak free form to capture a quick brainstorm idea or reminder. It's completely up to you.
The Dragon Dictation App is available for free for a limited time from the App Store.
To learn more, visit dragonmobileapps.com. Also be sure to follow on Twitter @DragonTweets and @NuanceMobile, and become a Fan of Dragon Mobile Apps on Facebook.
Dragon Dictation, based on Dragon NaturallySpeaking, the desktop dictation software trusted by millions, joins Nuance's broad product portfolio of speech and predictive text and search solutions found in billions of phones and millions of automobiles and consumer electronic devices. Nuance's mobile products are trusted by the world's leading handset manufacturers and mobile operators, making them among the most pervasive on the market today.
Link: Dragon Dictation (download link)
VeriFone Announces iPhone Secure Payments Solution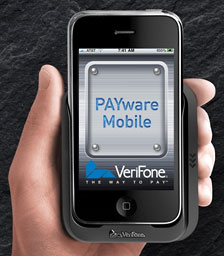 PR: VeriFone Holdings, Inc. has announced PAYware Mobile, a complete payment solution for the Apple iPhone that provides small businesses with simple and secure card processing capabilities on the popular smartphone platform.
VeriFone's payment solution for the iPhone puts mainstream payment processing capabilities in the hands of small business merchants who need a mobile card acceptance solution for enterprises such as home repair, small cafes, door-to-door sales, or virtually any other type of business. The hardware and software solution will begin shipping January 15 and is available free to those who sign up for a PAYware Mobile secure gateway service agreement.
PAYware Mobile includes a PA-DSS approved payment app and a sleek and durable card reader that slips over the iPhone to accommodate card swipes and allow merchants to avoid high-cost card-not-present fees. The combined hardware and software provides the strongest card payment security available for the iPhone, including VeriFone's VeriShield Protect end-to-end encryption solution as a standard feature.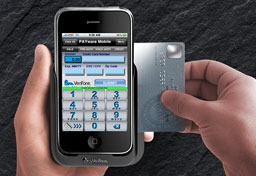 "The complete PAYware Mobile solution brings secure payment capabilities to merchants who previously could not justify a dedicated payment acceptance device. We believe this represents a potential market of millions of small businesses worldwide," says VeriFone CEO Douglas G. Bergeron.
Banks and processors are concerned about the security issues of unapproved merchants using unregulated software and insecure fobs to accept card payments, Bergeron added. PAYware Mobile leverages VeriFone's proven payment and security expertise to provide the ultimate in end-to-end protection against payment fraud and misuse on an open and unregulated platform such as the iPhone.
VeriFone's iPhone payment solution will be available through existing bank acquirer and ISO channels, as well as direct from VeriFone. VeriFone also expects to eventually make PAYware Mobile available wherever mobile phone accessories are sold. Customers who sign up directly with VeriFone without existing merchant accounts will be directed to a variety of payment processor options.
PAYware Mobile is connected to First Data, and will be available for shipment through TASQ Technology, a First Data company.
Edward (Ed) Labry, president of First Data's retail and alliance services business unit, says: "We are pleased to support VeriFone's new iPhone payment solution, and believe it will generate many new electronic payment transactions."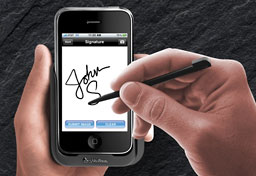 Transactions initiated by PAYware Mobile will be managed through VeriFone's PAYware Mobile secure gateway and routed to one of many credit card processors for authorization and settlement. VeriFone expects to make PAYware Mobile fully available to most other processors.
The PAYware Mobile card reader utilizes a secure magnetic stripe read-head and firmware certified to the Federal Information Processing Standard FIPS 140-2. Card details are immediately encrypted during the card swipe process, meaning no sensitive data ever reaches the payment app, eliminating the possibility of compromise either on the iPhone or when information is transmitted over WiFi or cellular wireless.
Merchants can reserve a system and view service options and fees at paywaremobile.com. An EMV version for international payments will be available in the spring.
Link: PAYware Mobile (download link)
Apartment Hunters Can Search On-the-Go with Apartment Finders App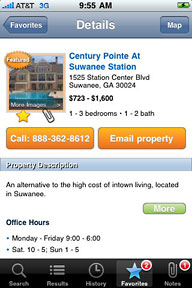 PR: Apartment Finder, the fastest-growing integrated media platform in the multifamily industry, launches a new application that provides iPhone and iPod touch users access to all its listings - one of the largest collections online from small neighborhoods to big cities across the United States. Now, apartment shoppers simply use their cell phone to map apartment listings nearby, email or call properties directly for more information or availability, display promotional offers and more.
This application is so simple and fun to use. Toady's consumers want access to information quickly and easily. We deliver information about apartment communities online, on land, in their community and now, right in the palm of their hand, says Marcia Bollinger, president, Apartment Finder. Our new iPhone App also delivers on our commitment to drive more leads, and the best value, for our advertisers. Were literally pushing their listings in their prospects hands, right at their fingertips.
All property listings featured on ApartmentFinder.com are available on the Apartment Finder iPhone App. The application, available as a free download from Apples online Application Store, enhances the user experience, offering a suite of optimum search functions including:
Find the nearest apartments or search by city and state or zip code
Advanced search by price, distance, number of bedrooms and bathrooms, pets allowed, and other amenities
Capture notes and photos about properties that can be emailed or viewed later
Email property details, which includes a photo and link to the listing on ApartmentFinder.com
Store a history of properties viewed, recent searches, and properties saved as Favorites
View zoomable photos and floor plans
Display special offers when available
Email or call properties directly for more information or to check availability
View apartments on a map and receive driving directions
Link: Apartment Finder (download link)
Kraft Foods Puts Delicious Food Ideas at Your Fingertips with iPhone App
PR: Just in time for the holiday cooking and entertaining season, Kraft Foods announced new mobile offerings to give people meal planning solutions, whenever and wherever needed. Just one year after the launch of its iFood Assistant, the company is expanding the current application to include iFood Assistant 2.0 with enhanced content for iPhone and iPod touch users and iFood Assistant Lite for BlackBerry and iPhone and iPod touch users. In addition, Kraft Foods is now offering enhanced mobile access to its Web sites to easily browse recipes with any Web-enabled phone.
Kraft Foods' latest innovations are convenient mobile solutions that extend beyond the store shelves. The company listened to consumer feedback and researched real-life use of its products to create mobile options for everyone with Web access.
"People are looking for tools and technology that can keep up with their multitasking and on-the-go lifestyles. Our innovations focus on meeting their needs while making their lives easier and more delicious," explains Ed Kaczmarek, Director of Innovation, Consumer Experiences at Kraft Foods. "Our new suite of mobile offerings gives consumers access to recipes, meal planning and preparation advice across many mobile platforms. We want the information to be available to all mobile users."
Since its launch in late November 2008, the iFood Assistant has become an indispensable food tool for recipes, meal planning and shopping needs. It claimed a spot on iPhone's top 100 paid apps list and the No. 2 spot in the Apple App Store Lifestyle section. And now, the iFood Assistant 2.0 will be available for the first time in Canada.
"We're very pleased with the response to the iFood Assistant. And we're particularly proud of our user engagement. More than 60 percent of the users are still engaged with the app, six months after they download it, which is a great result," explains Ed Kaczmarek.
Convenience Right at Your Finger Tips
Developed by mobile specialists The Hyperfactory and Meredith Integrated Marketing, the iFood Assistant 2.0 builds on the functionality of the original. It features offline access to unique features, including Shopping List, Recipe Box, and Daily Recipes; the ability to set alerts for "Recipe of the Day", "Dinner Tonight" and "Special Offers"; new content including a "Holidays & Entertaining" section and expanded "Budget Wise" section. iFood Lite gives users a free taste of the application's basic features, such as recipes, tips, and is available for iPhone, iPod touch and BlackBerry devices.
iFood Assistant 2.0 is now available for iPhone and iPod touch users for 99¢ by visiting the iTunes App Store. iFood Assistant Lite is also now available at no charge from the App Store. Beginning mid-December, the Lite app for BlackBerry users can be downloaded through App World. Mobile users with Web-enabled phones can also access Kraft Foods' sites at m.kraftfoods.com, m.kraftcanada.com, and m.comidakraft.com.
Link: iFood Assistant (download links: iFood Assistant Lite, iFood Assistant)
iGAAUGE Extends AAMCO Auto Service and Peace of Mind for Customers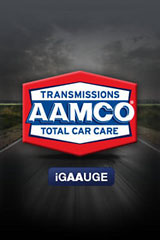 PR: National car care leader AAMCO has released a mobile phone application that gives customers access to diagnostic tools and up-to-the-mile maintenance information at the touch of a button. Now available for download on iTunes
The iGAAUGE, among the first of its kind for a national car care leader, is available for the iPhone and iPod touch and can be downloaded from the iTunes App Store. It is free of charge for a limited time.
iGAAUGE provides a car's maintenance schedule, troubleshoots car issues, provides traffic updates, locates the nearest gas station, contacts roadside assistance and connects users to the nearest AAMCO. Special AAMCO offers and coupons will be made available exclusively to iGAAUGE users via the application.
"AAMCO's commitment to our customers is about expert service, value, and the peace of mind that comes with having a car care specialist to rely on," said Mike Ganjei, president, National AAMCO Dealers Association. "iGAAUGE lets our customers take that peace of mind with them wherever they go by putting our expert technicians right on their phones. We want our customers to be able to get information on the road and have the ability to quickly connect to AAMCO when they need to. iGAAUGE delivers all that and more."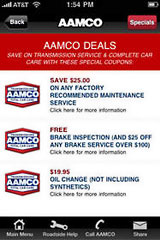 iGAAUGE features include:
Troubleshooting Diagnostic Tool that walks drivers through a series of questions to identify the cause of dashboard indicator lights, unusual sounds or other causes of car trouble.
Maintenance Schedule information to view a car's routine and preventative maintenance schedules.
Fuel Locator function powered by GPS identifies the closest gas stations.
Traffic Finder tool to identify traffic trouble spots and delays.
Local AAMCO map that identifies the closest AAMCO dealers.
AAMCO Specials and deals exclusive to iGAAUGE users can be used at local AAMCO dealers.
For a demonstration of the iGAAUGE features and functionality, a video is available on the AAMCO YouTube channel.
AAMCO is the world's largest chain of transmission specialists and one of the leaders in complete car care services. AAMCO has nearly 900 automotive centers throughout the United States, Canada and Puerto Rico. Established in 1962, AAMCO is proud to have served more than 45 million drivers.
Link: iGAAUGE
GM Sees iPhone Apps as a Way to Reach Consumers
The Mac Observer's Bryan Chaffin reports:
"As GM engages in an attempt to radically transform itself for the future, there are some within the company who see iPhone apps as having an opportunity to help the company sell cars and reach out to young drivers. Reporting for InformationWeek, Mary Weier interviewed GM CIO Terry Kline for a story about how GM's IT initiatives play a part in the company's makeover."
Link: GM Sees iPhone Apps Offering Opportunities to Reach Consumers
Simulations Plus Launches Abbreviate! for the iPhone - Speeds Up Typing
PR: Simulations Plus, Inc., a provider of simulation and modeling software for pharmaceutical discovery and development, announces the launch of a new product for the popular iPhone based on its long-standing Abbreviate! software for personal computers.
Walt Woltosz, chairman and CEO of Simulations Plus, said, "This exciting new product is not in our usual pharmaceutical software business, but it takes advantage of the work we've done over the years in our Words+ subsidiary in developing language strategies that help users of our augmentative communication software to communicate faster and with less effort. Years ago we recognized that some of those technologies could benefit everyone, not just those who experience physical disabilities, and we created Abbreviate! for the PC. It has been used by people in all walks of life, but has seen especially strong usage by medical transcriptionists, legal secretaries, and others who make their living by typing. For medical transcriptionists, the faster they can type out text containing long medical terms, the more money they make. With Abbreviate! they can type considerably faster and they avoid spelling errors by using a few keystrokes to represent many more, such as 'ostp' for 'osteoporosis' or 'rha' for 'rheumatoid arthritis'. Legal professionals use abbreviations such as 'phg' for 'preliminary hearing' or 'stp' for 'stipulate'. Almost everyone can use common abbreviations for frequently used words and phrases such as 'iwl' for 'I would like' and 'wyl' for 'would you like'.
"I've used Abbreviate! for years on my PC, so I miss it when I'm on anyone else's computer. When I first had an iPhone, I missed having Abbreviate! on it. We believed it would be a fantastic application for those who do much text typing on these highly popular devices. I've had a beta version on my iPhone for some time now, and it's such a convenience to be able to use all the abbreviations I use on the PC, which have become second-nature to me after years of use. We're very pleased to announce that it has now been launched and is available in the Apple Store."
Woltosz continued, "Earlier this year it was reported that, at that time, Apple had over 50 million iPhone and iPod touch customers. We believe that millions of those users frequently type e-mails on their devices. With Abbreviate! for the iPhone, these people can significantly reduce the time required to type an e-mail or other lengthy text. It's easy to compose an e-mail in the Abbreviate! window and then transfer the text to the Email application with a single button. The Abbreviate! web site www.abbrv.com shows a video of an example of the time difference in typing a typical e-mail with and without Abbreviate!. We believe that Abbreviate! could become one of the most-used applications on the iPhone."
Simulations Plus, Inc. is a premier developer of groundbreaking drug discovery and development simulation and modeling software, which is licensed to and used in the conduct of drug research by major pharmaceutical and biotechnology companies worldwide. The Company's Words+, Inc. wholly owned subsidiary provide augmentative communication systems and other technologies for persons with disabilities. Simulations Plus, Inc., is headquartered in Southern California.
Telegraph Launches iPhone App Update Adding Email, Twitter, Facebook Integration
Macworld UK's Nick Spence reports:
"The Telegraph newspaper has launched a new and improved version of its news application to help iPhone users keep up with the latest headlines when on the go.
"The update offers readers a chance to share stories or pictures via email, Twitter or Facebook access video reports and picture galleries."
Link: Telegraph Newspaper Launches New Improved iPhone App Update Adding Email, Twitter or Facebook Integration (download link)
EngLits Collection for iPhone on Sale for the Holidays
PR: ZappTek and InterLingua Publishing announce that the EngLits collection of detailed audio and text summaries of classic books and plays, for the iPhone and iPod touch, is on sale for the holidays. Regularly $5.99, each EngLit is available for only 99¢ through the month of December.
With over 50 titles in the full collection, EngLits are detail audio/text summaries of books and plays by Shakespeare, Dickens, Austen, Hawthorne, Bronte, and other authors that can be played on an iPhone or iPod touch. Written by university professors and recorded by professional actors, EngLits tell the full story of the book or drama, including all characters and events that are important. The shortest EngLit is 21 minutes of audio and 10 pages of text (Romeo & Juliet), and the longest is over four hours of audio and 73 pages of text (Middlemarch). By formatting the summaries for iPhones and iPod touches, listeners can learn while riding on the bus, jogging, biking, lounging, and even walking the dog.
Each EngLit displays as an icon on the Home screen and the full featured reader includes:
Embedded audio summaries
Read along as you listen
Continue listening where you last left off
Double-tap scalable text
Triple-tap inversion for low-light reading
Portrait and landscape reading, with orientation locking
Opens to your last read page
Includes bookmarks
Add notes to any page
Notes are automatically bookmarked for easy lookup while studying
Supported Languages: US English
System Requirements: iPhone or iPod touch 2.2.1 or later
EngLits are now available in the Education category of the iTunes App Store. Pricing is 99¢ per EngLit.
Link: EngLits
NASA App for iPhone Updated
PR: The first official NASA App invites you to discover a wealth of NASA information right on your iPhone or iPod touch. The NASA App collects, customizes, and delivers an extensive selection of dynamically updated information, images. and videos from various online NASA sources in a convenient mobile package. It is available free of charge on the App Store from Apple directly on iPhone and/or iPod touch or within iTunes.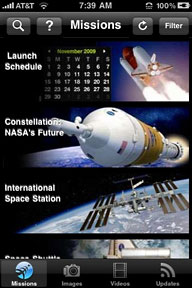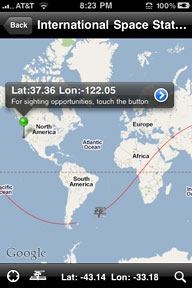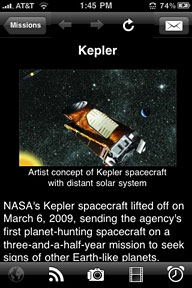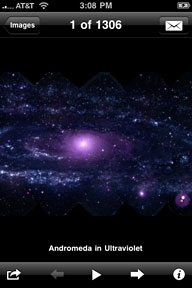 The Application Features These Screens:
Missions
Images
Videos
Updates
New In This Version :
Visible sighting opportunities listed for the International Space Station (ISS) and Space Shuttle, by home location and through search for location
Richer Mission details and more content
Enhancements to Videos and Updates panels
High-resolution image option (configured in device settings)
Status updates on upcoming launches
Prevent sleep mode setting for tracking launches (configured in device settings)
Link: NASA App for iPhone <download link)
Accessories
Backup Battery and Charger for iPhone and iPod
PR: Function: External Backup Battery Charger for all generations of Apple iPhone including 3G and all iPods with universal dock connectors.
Technical specs:
Cell: Li-ion Capacity: 2200 mAh
Input: DC 5.0V,1A
Output: DC 5.5V, 500 mA
Size: 62 x 68 x 16 mm
Weight: 68g
Charge time: 3.5 hours
Applications: iPod touch, iPod classic, iPod nano, iPhone, iPhone 3G, etc.
Color: Black
Approval: CE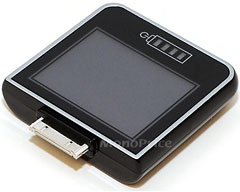 Note for iPod users: The battery pack blocks the headphone jack while in use. You can not use this battery pack and the iPod simultaneously, due to the orientation of the headphone jack. This is not an issue with the iPhone, which has the headphone jack on the top.
Price:
Link: iPhone Battery Backup Pack
USB Fever iHandstick for iPhone 3G/3GS, 1G/3G iPod touch
PR: To make your iPhone/iPod touch (see compatibility below) make more friendly when you take your them as a game console.
Features:
Light weight: 98g
Easy installation
A friendly handheld grip for your iPhone 3G/3GS/iPod touch 2nd/iPod touch 3rd when you gaming.
Good Hand feel
Suitable for:
iPhone 3G/iPhone 3GS
iPod touch 2nd Gen/3rd Gen
$16.99
Link: iHandstick for iPhone 3G/3GS/iPod Touch 2 Gen/3rd Gen
Presentation
Audio-Technica Headphones for Women
PR: Every holiday season, portable electronics like music players and headphones are high on listeners' gift lists - and this year, companies are offering a more diverse selection of headphones than ever before. Today's headphones are an expression of personal style and individuality - like the Audio-Technica headphones designed especially for women.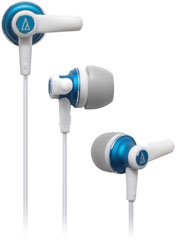 Crystal Griffith, Consumer Marketing Manager of Audio-Technica notes: "Our women's headphones let you listen in your own fashion. They come in a variety of eye-catching colors and styles that are especially designed to fit women. Their appeal isn't just on the outside - the headphones are designed to offer outstanding sound, while being portable and fun to wear."
Audio-Technica's women's headphones offer high sensitivity and full-range frequency response, making them ideal for use with any music source including the Apple iPod, iPhone and iPod touch, computers, airline sound systems and other devices. All come with cord wraps to keep the headphone cord organized and tangle-free.
The in-ear models, such as the ATH-CK1W (SRP: $59.95) come with interchangeable XS, S, and M size eartips for maximum comfort. The ATH-CK1W is available in dazzling colors including green, orange, pink, purple, white and yellow, all with matching decorative metal carrying cases.
The ATH-ON3W portable on-ear headphones (SRP: $69.95) offer distinctive looks, great sound, and total convenience. Available in dark gray, teal blue, pink, white and black (black model ATH-ON3ABK), the slim headphones fold flat for portability and storage.
The on-ear ATH-ES3W (SRP: $99.95) has a sleek design that sets it apart - as well as anyone who's wearing it. It's available in vibrant blue, green, pink, and silver metallic finishes.
With Audio-Technica's ATH-CK6W ultralight in-ear headphones (SRP: $99.95), you'll be listening in style anywhere. They're available in metallic silver, blue, green and pink, and include three interchangeable loop support pieces to ensure a secure fit for any wearer.
These and other Audio-Technica models are available online and at retailers including the Apple Store (models may vary by retailer).
Purchase Link: Available through Low End Mac's Amazon.com Store in a variety of colors.
Comply NR-10i Earphones Enhance the iPhone Experience
PR: The handsfree iPhone experience is propelled to the next level thanks to Hearing Components' Comply NR-10i Noise Reduction Earphones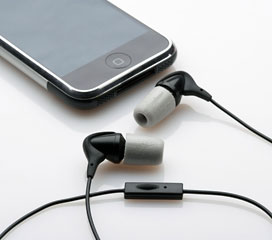 Currently boasting a five-star rating on apple.com/uk , the Comply NR-10i earphones are a hit. As one consumer states, "I absolutely love these ear buds . . . They make my commute down Oxford Street enjoyable since I can actually hear my music or mobile conversations."
Designed with iPhone users in mind, the Comply NR-10i earphones utilize the same patented Comply Foam Technology used by U.S. Army helicopter crews to offer amazing noise reduction, superior comfort and secure in-ear fit, providing clear conversations and music experiences in noisy environments.
"The iPhone has become an integral part of user's lives - from communicating to disconnecting from the noise that surrounds them," said Steve Thompson, director of sales and marketing for Hearing Components. "Unfortunately, standard earphones don't fully optimize the power of the iPhone. Often, outside noise interrupts conversations or corrupts the music experience. By incorporating Comply Foam Technology into the earphones, users can now appreciate the full potential of the iPhone."
The Comply NR-10i earphones also have an integrated microphone/function switch on the cable, allowing users to answer and end calls, play, pause and stop music, and utilize the new 3GS Voice Control with the touch of a button. The Comply NR-10i earphones are available for purchase at apple.com/uk for £79.95. The earphones come with one pair of slim-size Comply Foam Tips, one pair of standard-size Comply Foam Tips, and a deluxe travel pouch.
Comply Foam Tips, Noise Reduction Earphones, and Whoomp! Earbud Enhancers are manufactured and sold by Hearing Components, a 3M spin-off founded in 1990 by Dr. Robert Oliveira. The patented technology was developed through several grants by the National Institutes of Health to improve and protect hearing. In addition to applications in consumer electronics, the technology is currently used in hearing aids, military communications, commercial aviation, and in industrial high-noise environments. Hearing Components is located in the Twin Cities suburb of Oakdale, Minnesota, in the United States.
Purchase Link: Available through Low End Mac's Amazon.com Store for $89.99 shipped (price subject to change).
Link: Comply NR-10i Noise Reduction Earphones
Protection
WaterWear Water Resistant iGadget Case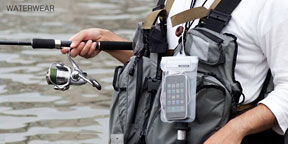 PR: WaterWear is a water resistant case that comes with specially made water resistant earphones. Enjoy using various gadgets near and around water.
Connect the earphone cable located inside the case to your audio device such as iPod and listen to music in a bath or by the poolside.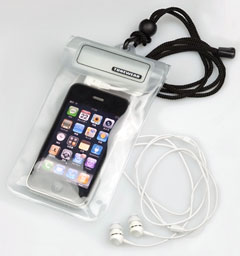 In order to prevent water and dust from entering the case, WaterWear has adopted a durable transparent material and has a double zipper design to lock your audio devices inside and keep away any water.
WaterWear uses a thin yet strong clear material enabling you to retain control of your device through the case, such as the touch controls of your iPhone and iPod. Operate your audio devices without removing it from WaterWear.
The front face is outlined with a light reflective material which acts as a safety measure allowing others to see you in low light conditions.
A set of waterproof earphones is included along with a neck strap (with rotatable clip). Use the neck strap to carry WaterWear by hanging it from your neck.
Use the donut-shaped cable winder to manage your earphones in a pretty and convenient way.
Specifications:
WaterWear can hold gadgets of approximate maximum size 70(W) x 120 (H) x 12(D) mm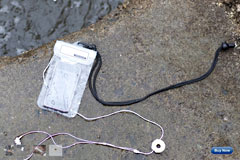 Package contents:
WaterWear - water resistant gadget case
Water resistant earphones
Lanyard (with rotatable clip)
Donut-shaped cable winder
Caution: This product is not waterproof. Not suitable for use immersed in water. Do not use while swimming or diving.
Selling Price $29.95
Link: WaterWear
TuneWear PRIE Ambassador Smart for iPhone 3GS/3G
PR: TuneWear has announced that it is now shipping the new slim case series PRIE Ambassador Smart for iPhone 3GS/3G. The Ambassador Smart cases are made from high quality leather and are available in Black with Red stitch, Black with White stitch and White with Pink stitch.
PRIE Ambassador Smart for iPhone 3GS/3G
Introducing the latest addition to the PRIE Ambassador family. PRIE Ambassador Smart for iPhone 3GS/3G is a new high quality leather case with a surprisingly slim design. Add style and a personal touch to your iPhone without adding bulk.
PRIE Ambassador Smart is available in three colors. Black leather versions include a sleek Black leather with Red stitch (B/R) or Black leather with White stitch (B/W). The lovely White with Pink stitch (W/P) is accented with a unique ruffle cut design on the back.
The wrist strap included with each Ambassador Smart helps you hang on to your precious iPhone. The strap matches both the color and stitching of the case and attaches to the loop located on the bottom of the case. If you prefer, use the loop to attach another strap of your choice or your favorite charms.
With iPhone safely inside PRIE Ambassador Smart, there is still complete access to all iPhone ports, the dock connector and button controls. There is no need remove iPhone from the case. The camera hole on the back allows the taking of pictures, plus we have added a small reflective mirror next to the lens for those times when you are taking a self portrait and want to make sure you are still in the shot.
For more information, visit:
http://tunewear.com/amb-smart/
What's included
PRIE Ambassador Smart case x 1
Wrist strap x 1
TuneFilm protective film x 1
Cleaning cloth x 1
Compatibility
Specifications
Size: 69(W) x 122(H) x 20(D)mm
Weight: approximately 30g (not including strap)
Materials: Leather, Velvet
Length of strap: approximately 13 cm
Available colors
0B/R (Black with Red stitch)
0B/W (Black with White stitch)
0W/P (White with Pink stitch)
PRIE Ambassador Smart for iPhone 3GS/3G ($39.95) is now shipping and is available for purchase at the TuneWear online store.
Join us on Facebook, follow us on Twitter or Google+, or subscribe to our RSS news feed
Links for the Day
Recent Content
Custom Search
Follow Low End Mac on Twitter
Join Low End Mac on Facebook
Favorite Sites
MacSurfer
Cult of Mac
Shrine of Apple
MacInTouch
MyAppleMenu
InfoMac
The Mac Observer
Accelerate Your Mac
RetroMacCast
The Vintage Mac Museum
Deal Brothers
DealMac
Mac2Sell
Mac Driver Museum
JAG's House
System 6 Heaven
System 7 Today
the pickle's Low-End Mac FAQ
Affiliates
Amazon.com
The iTunes Store
PC Connection Express
Macgo Blu-ray Player
Parallels Desktop for Mac
eBay

Advertise