16 Free POP3 Email Services, Summer 2004 Edition
Charles Moore - 2004.08.09 - Tip Jar
This article has been superceded by 8 free POP3 email options published 2008.08.25.
It's been a while since Miscellaneous Ramblings reviewed what's available in free POP3 email services. In the interval, there have been some departures and new arrivals. Notably, FireMail and Bonnag.com are gone - and say hello to Bluebottle and MailShack.
There are dozens of free email services on the Internet - the vast majority of them Web-based, which means that you must access your mail with a browser. Web-based email can be convenient if you travel a lot or need to access your mail from computers you don't own, because you can use any computer, anywhere in the world that has Internet access.
Google's new Gmail Webmail service (still in beta) offers a gigabyte of free storage. Even though it's not open to the public yet, it has spurred some of the other big webmail services, including Yahoo! Mail and Hotmail, to increase their storage limits.
However, for regular home or office purposes, POP3 email, the type of email account you access with client software like Eudora, the OS X Mail app, Mozilla Thunderbird, or a wide selection of others, is more convenient, especially if you are among the two-thirds of Internet users who don't have broadband service.
Incoming messages are received by a remote serve, and stay there until you download them to your own computer. With POP3, you can do all your email work offline except for actually sending and downloading messages, which cuts down immensely on online time used, and since both outgoing and incoming messages are stored on your own hard drive, it's always easy and convenient to access your archives, even when you're not online.
Free POP3 email services (in alphabetical order):
Bluebottle Email
Bluebottle's open-source technology claims to be 100% effective in blocking unwanted email and to effectively protect a user from spam while ensuring all legitimate email is received.
When Bluebottle receives an email from an address or domain not on your "allowed" list, a verification request is sent asking the sender to verify themselves in one of two ways. The required response to these verification requests automatically places the sender's address on your allowed list, and the email is delivered to you without delay.
Once the sender's address is on your list, they can email you as they would normally. The advantage is that you only receive email from allowed senders.
To avoid identification, spammers commonly use forged or fake addresses. Consequently, the verification request is never seen or responded to, so spammers can't infiltrate your allowed list. That means you'll no longer receive annoying, unwanted email.
Simply add your known contacts to your "allowed" list so they can avoid verifying themselves. And even if legitimate senders do need to verify themselves, it's quick and easy to do so.
If you're sending an email, Bluebottle automatically adds the recipient's address to your allowed list to avoid a request being sent when they reply.
Features:
Free lifetime email address with 10 MB storage
Spam protection for 3 existing accounts
Webmail, POP, or IMAP access
SMTP for sending mail
250 MB mail storage
Bluebottle applies the verification process to your existing email, including Hotmail, by checking your accounts through its servers. Email from known senders is delivered to your account without delay. Unknown email is placed in the pending queue to await verification. You can access your spam-free email through Bluebottle's webmail interface or via POP3 using any email client.
Allowed Senders
This is your list of addresses and domains from which you will receive email. Addresses can be either added manually, by automatic addition when sending outgoing mail, or by the sender successfully responding to a verification request. Addresses can be easily removed from your allowed list.
Blocked Senders
This is your list of addresses and domains from which you will not receive email. Senders can only be added to this list manually. Emails received from addresses on this list are deleted instantly without a verification request being sent. Addresses can be easily removed from your blocked list.
Pending Verification
This is a list of email that has been sent to you but is from a sender not on your allowed list. It is currently being held awaiting successful verification by the original sender. You can also allow these email through manually, which adds the sender's address to your allowed list, and the email is delivered to your inbox. Pending email messages which aren't successfully verified or allowed through manually will be removed after seven (7) days.
Verification Method
Bluebottle offers two methods by which a sender can verify themselves. The first of these methods is "Reply Only," whereby all that a sender needs to do to successfully respond to a verification request is click on a link within the email. The second of these methods is "Full Name," which requires a sender to provide your full name to fulfill the requirements of the verification request successfully.
Protecting Existing Accounts
Bluebottle checks your external email accounts through its servers and then applies it to the email verification process. You are then able to access your spam free email through Bluebottle's site using any web browser, or you can use any POP/IMAP email client such as Outlook or Eudora by making a simple change to your email settings.
Bluebottle provides access to your email via the web. Simply visit www.bluebottle.com and login with your full address (xxxxx@bluebottle.com) and your password.
Bluebottle's signup page was quick and efficient with instant activation. I can't give a long-term reliability report, but so far the service works well.
Cashette
Too much spam? Cashette is a spam-control service. You can use Cashette to stop spam and get paid if you receive advertising email.
How does it work? You set a price for spam. You get paid for each spam you receive. If they don't pay, you won't receive spam.
You can use Cashette to:
Stop spam 100% for your email accounts.
Make money if you do receive ad mail.
Access multiple email accounts at one place.
Gone are the frustrations of spam. No more annoying spam in your Inbox. No need to be afraid to give out your email address.
If you receive 3 ad mails a day at 5¢ apiece, it will add up to $55 a year.
Works for your Yahoo, Hotmail, Cashette, and any POP3 email
Your Cashette account includes a full-featured email account.
10 MB of storage.
Consolidate your email accounts. You can access your multiple email accounts at one place.
Web-based. You can access your email anywhere you have access to the Internet.
Use POP3 mail software to access all of your consolidated email accounts including even Yahoo mail.
Importing your address book is as easy as sending an email using Cashette's Quick Import method.
No banner ads or popup ads.
Unlike other spam solutions, Cashette is attacking the root of the problem. The fundamental reason that spam is flooding the email system is that, unlike traditional advertising, it costs virtually nothing to send spam. There is a strong economic incentive for spammers to abuse email. Cashette takes away that incentive by making the spammers pay.
Your Cashette account includes a full-featured email account that is automatically spam-controlled when you sign up. You can set up spam control for your other email accounts such as Yahoo, Hotmail, or POP3 email.
Any price above zero will stop spam. Cashette recommends a price between 1¢ and 5¢. A price of 0¢ disables spam control. Your price for spam is preset to 5¢ when you sign up for an account, and you can change your price at any time.
An advertiser who sends paid ad mail must have a Cashette account. The money is transferred from the sender's account to your account at the time the email is sent. You can withdraw money from your account by requesting a check at any time.
Your Cashette account is free. When you receive paid ad mail, Cashette charges the advertiser a 20% commission with a minimum of one cent.
Christian.net
Christian.net is a free, nonprofit, and nondenominational online community for Christians. Based in Vancouver, Canada, Christian.net features email @christian.net (via POP3 and a custom webmail program), website hosting (including PHP and MySQL), forums, chat rooms, online Bibles, and much more.
Some features are available to everyone, while others require membership. Membership is quick and free.
The web server software is Apache, running on the FreeBSD operating system. The site itself is written in PHP and uses MySQL for the database backend.
Email features?
POP3
Webmail
Folders
Address book with import/export functions
Send/receive attachments
Optional inline image decoding
Optional viewing of HTML attachments
Spell Checker with 20+ language dictionaries
Virus scanning
Powerful, customizable spam filtering
Mail forwarding
Currently you are allowed to use 10 MB of disk space for files and email combined. This is a "soft" limit, though, meaning you can go over it temporarily if you need to.
Christian.net works well but has no SMTP access for sending mail from your POP3 client.
Cwazy Email
Cwazy provides email, hosting, and consulting services to individual and corporate clients. Cwazy began by offering free email services to individuals and has expanded to offering business services as well.
Cwazy offers free email services similar to Hotmail and Yahoo Mail to individual clients. Cwazy's individual email service offers a distinct advantage over traditional mail services: POP3 and IMAP support allowing clients to access and manage their email through Outlook, Eudora, and Mulberry at no extra cost.
Cwazy is powered by world-class software and is hosted on cutting edge server technology employing multiple redundancies to ensure the reliability and stability our clients need.
Cwazy is headquartered in the United Kingdom and currently provides email and hosting services to clients in over 25 countries. The Cwazy service currently serves over 300,000 web requests on a monthly base while utilizing only 3% of their overall capacity.
Cwazy was founded in September 2001 to provide free email services to frustrated friends and family. Many of Cwazy's initial clients echoed the same complaint of unreliable email that was frustratingly slow.
Around January 2002, after quite a number of "friends of friends" requested accounts, the founders of Cwazy decided to start a service for the public relying upon their combined years of technology experience. By March 2003, Cwazy had grown to over one thousand users in over 20 countries. As of July 2003, Cwazy has over 4,000 clients and serves more than 300,000 web requests per month.
In July of 2003, the founders of Cwazy began offering a new suite of services to small and large businesses. These services complement the free individual email service currently offered to their clients. The new service package includes commercial email service and hosting, outsourced email servers, and strategic consulting focused on infrastructure and security.
Companies utilizing the new service package will benefit by having world class email and related services without burdening themselves with the high costs of building and maintaining such a system. Cwazy plans to offer this service at a compelling price compared to the current commercial offerings in the marketplace.
Services
10 MB mailbox
Unlimited outgoing mail
Advanced spam protection
Filtering/sorting capabilities
Message Highlighting
POP3 support
Multilingual translation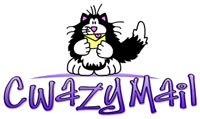 Signup is very simple and quick. The account is created and access details sent to the contact email address you have provided.
This service seems to work well so far, but there is no SMTP support for sending mail, so you have to use your ISP's SMTP server for sending (if they allow it for third party email accounts - mine doesn't).
Great cat mascot logo. ;-)
EZrs.com
EZrs.com is a free email service provider. EZ stands for easy; r stands for receive; s stands for send. This free email system is managed by a group of Linux maniacs who pursue the avocation of network application.
All users can get their email through web-based, IMAP, and POP3 clients. All users can send outgoing mails through the SMTP server once they have authenticated through the WEB/IMAP/POP3 clients. The default quota is 20 MB.
SSL/TLS is installed. If you are using EZrs web client, enter the following URL in your browser: https://www.ezrs.com. By adding the "s" to http, you are telling your browser to use the secure sockets layer supported by EZrs.
There is a virus scanner installed on the server. Every mail in or out will be scanned on the server side to ensure no virus on it. They also have installed SpamAssassin and TMDA to reduce the amount of spam you may receive.
You need to enable authentication if you want to send mail through the EZrs.com SMTP server.
Gawab.com
Gawab.com is based in Alexandria, Egypt and offers:
POP/SMTP support
Protection from spam, viruses, and pornographic emails
More than 50+ features (some for a fee, but the basic service is free)
15 MB storage space
Message filters & rules
Also supports Webmail so you can check your inbox with a browser from any computer on the Internet
Signup is a bit time consuming and demands a lot of information, but once the signup process is complete, the new account is created instantly.
I use Gawab a lot, and it has been fast and slick - and reliable both for checking and sending mail. When I had a technical support question, the Gawab folks got back to me promptly with the information I needed. Impressive.
HotPOP
HotPOP LLC is a privately held company based in Newton, Massachusetts. Founded in 1998, HotPOP offers email accounts from various domains with a combination of features not found with other providers.
Features:
POP access - Use almost any mail client you wish
SMTP access - Send mail through the HotPOP server (you have to check your email first). You may include up to 50 recipients on a single message.
Mail forwarding - Have your mail resent to up to three addresses.
10 MB quota - Store thousands of messages
Server-side filtering - Block mail and spam before it hits your inbox
For fee ad-free opt-out option.
There is also Web access to your HotPOP account. There is a limit of 500 KB per message, and a maximum of 1,000 incoming email messages per day.
Signup is easy. Just fill out the form and survey, and you are ready to go. An email will be sent to your existing email address with your password and some helpful information. If you are using a POP account, you can log in right after you configure your client.
HotPOP currently has seven domains to choose from and says they constantly searching for new ones. Memo: keep looking, guys. Most of these are pretty lame.
HotPOP.com
ToughGuy.net
PunkAss.com
BonBon.net
Phreaker.net
SexMagnet.com
GameBox.net
I've had a HotPOP account for more than three years. Once in a while the server is a bit sluggish about answering, but it always comes up, There is SMTP support for outgoing mail, which requires checking your inbox before sending, and I've found that aspect to be a bit cranky at times, requiring two or three checks before the SMTP server will respond.
HotPOP offers a combined POP3/forwarding and Web-based email service. At the free level, HotPOP includes 10 MB of storage for email messages and the ability to specify up to 3 destination addresses to forward messages to.
Another one that has proved to have staying power, and it's been reliable.
Inbox.lv
Inbox.lv is the largest provider of free Web-based email in Latvia and also supports POP3 access with 8 MB of storage space. The service also includes Kapersky antivirus scanning, which scans all incoming and outgoing emails. There is a limit of 1 MB of attachments per message.
If you do not sign in to your @inbox.lv account for 60 days, or if you do not sign-in within the first 10 days, your account will be marked inactive. Stored email and addresses will be deleted, and inbound mail will be refused. If your account stays inactive for over 90 days, it may be permanently deleted.
Inbox.lv can be viewed in a variety of languages. You can make the language of a Inbox.lv session match the language of the sign in page used to begin that session. You currently have your choice of English, Latvian, and Russian.
I've had an Inbox.lv account for several years, and while I've occasionally had trouble getting the server to answer (crowded lines between North America and Latvia?), I've found it generally good. No SMTP support, though. You have to send mail through your ISP's server.
MacMail
MacMail offers free-of-charge POP3 email accounts that you can access via a Web browser or your preferred email client. It's based in the UK but offers a worldwide service. I should mention also that the system is not based on an off-the-shelf engine but has been custom-programmed to deliver a range of features that most other such services won't match, including:
customizable filters and user-defined spam blocking
online mail management, custom folders, and address book
powerful search functions
I've had a MacMail account for some time, and it's proved a good service. The signup procedure was painless, and configuration a breeze. The downside is that there is no SMTP support, so you have to use your ISP's outgoing email server.
I'm an almost total POP3 user, and MacMail works fine with Eudora and Nisus Email, the two email clients I use most.
As with all webmail services, you can access your MacMail account to send and receive messages and attachments from any computer, anywhere in the world, so long as it has a working connection to the Internet and browser software. All you need is your MacMail User name and password.
MacMail basic services are free of charge. Additional MacMail services or "Premium Services" cost a small monthly fee. You get 5 MB total server space with the free service, and if you need more you can increase this by subscribing to MacMail Premium Services.
MailShack
MailShack from Nerdshack offers free anonymous POP3 email accounts.
A nerdshack.com email account comes with a pledge to protect your privacy and respect your time. Nerdshack.com will not surrender your email address to anyone and will actively attempt to keep spam out of your inbox. Nerdshack promises to never scan your email or allow anyone to access it without a court order.
Currently, MailShack offers the general public free POP3 email accounts with a 100 MB quota, and the service supports both incoming and outgoing messages. Users are limited to sending one hundred messages per day. You may send and receive attachments up to 10 MB in size.
MailShack supports encrypted authentication using CRAM-MD5 and DIGEST-MD5 for outgoing messages, and APOP authentication for downloading your incoming mail, and also supports encrypted sessions for outgoing mail over ports 25 and 3535, and encrypted sessions for incoming mail over port 110 using STLS, and over port 995 using an alternate port configuration.
You may also check your email using nerdshack.com's webmail beta.
MailShack pledges to always offer a free level of service that meets or exceeds what you get today. In the future they may choose to offer premium service levels above what the free service level provides.
They will never attach tag lines or advertisements to your outgoing messages. Tag lines are unprofessional, and, more importantly, annoying. Nerdshack staffers use this service and wouldn't subject their users to anything they couldn't tolerate themselves.
I found MailShack's signup page quick and simple to complete, and the account activation was immediate. I've only had an account for a couple of days, but so far the service seems to work well.
Postmark.net
With a Postmark.net account you get a permanent, lifetime email address that won't change when you move from one service provider to another. You can send and receive messages with attachments, and you can store up to 5 MB of mail in your account.
The webmail message composer has spell checking, an address book, and other useful features. Each message (incoming and outgoing) may be up to 2 MB long. There is no SMTP support, so you have to send outgoing messages through your ISP's SMTP server
You can log in from the home page, and you can download and read your mail using your own POP3 mail software.
If you have a message open (webmail) and you want to block all future messages its sender sends you, click on the sender's email address in the From: line, then press the "Filter This Address" button. You can also add email addresses to be blocked by clicking on the Settings link in the navigation bar, then clicking on "Set up mail filtering."
Any mail that you receive from addresses that are blocked will be delivered to your Filtered folder instead of your Inbox.
Postmark's signup process was quick and straightforward, but I can't report on how the service works, because new accounts will generally be activated within 48 hours after requests have been manually verified - and mine hasn't been yet
SAFe-mail.net
SAFe-mail is a secure, easy to use email system. It includes encrypted collaboration features and document storage functions.
3 MB space is free. More space and functionality is supplied under Premium Services. There are no advertisements, downloads, or cookies. SAFe-mail supports most hardware platforms and any operating system. It includes spam filters, full compatibility with most browsers and email clients, and all relevant protocols, including POP, SMTP, IMAP, S/MIME and PKI.
SAFe-mail is designed to provide maximum security and privacy without any complexity.
SAFE-MAIL has developed a comprehensive, feature rich communication system that provides a wide range of applications including messaging, collaborative document development, statement/invoice delivery, data distribution/access, data storage and on-line payment. Uniquely in the current market place, every application is robustly secured by state-of-the-art encryption ensuring the highest level protection and privacy to users. Within the overall system as with each application, security is not an add-on feature but has been designed in to the fundamental architecture of every function.
SAFE-MAIL provides the following functions, features and benefits:
Feature-rich secure email system including security of attachments providing private end-to-end email communication among SAFe-mail users and between SAFe-mail users and non-SAFe-mail users.
All messages are registered and tracked with read receipt so that users know when their emails are delivered and opened by recipients.
Address Book with secure grouping and sharing facility so that users' private address books may be securely exported and imported between SAFe-mail users.
Folders and nesting of subfolders enabling users to organize archived data content.
User level Authentication facility enabling users to filter communication and data access to specific user groups.
Scheduler with secure sharing facility enabling users' schedulers to be securely exported and imported between SAFe-mail users
SAFe-mail provides a high level of protection against invasion of privacy. Using SSL (Secure Socket Layer), which is a component of all current browsers, for all data transmissions and strong proprietary encryption for server security, it offers the highest possible protection for all email communications and file attachments.
The policy is to enable free service, and if the resources available for free are enough for you, you may use the service as long as you wish.
Features and functions of premium accounts and free accounts are similar. The main difference is in the quantities i.e. less names in the address book, less folders, filters, mails per hour, disk space, frequency of backup etc.
Free service also enables corporate senders such as banks, lawyers, heath care firms etc., to tell their customers to open a free account at safe-mail so that they can correspond with their customers securely. We therefore believe that the benefit derived from providing free accounts (3 MB) outweighs any reason to change the current position.
The system is available at any time and from any location using any device or operating system, be it PC or Macintosh, Windows or Unix, Sun or i-mode enabled wireless device.
SoftHome
SoftHome is a dedicated email service. I've had an account with them for about six years. This one works well. There is also an upgraded for-fee professional service available.
SoftHome pledges:
"You'll get a free email address you can use for the rest of your life. It won't go away when you change jobs; it won't go away when you graduate; it won't go away when you change Internet Service Providers. No matter what happens in your life, your family and friends will always be able to reach you at your SoftHome address."
Note that SoftHome recently downgraded their free Personal Email accounts from 15 MB and 500 messages to 6 MB and 150 messages. Likewise, the transfer limit was decreased from 45 MB/month to 10 MB/month. Since the downgrade, I've found that the server is frequently slow to respond when checking mail, but the SMTP server continues to work well.
Messages stored in the system for a period of time may expire and be deleted. Messages can be sent via SoftHome's SMTP service to a maximum of 10 recipients per email. Web access is also available.
Spymac
In response to the growing need for email storage space, Spymac Networks Inc. has announced a capacity increase for all of its free email accounts. One gigabyte of storage is available to all registered Spymac Mail accounts, and a free account is available to anyone over the age of 13.
Spymac Mail offers several advantages over other free Internet-based email. In addition to the storage increase to 1 GB, Spymac Mail offers both POP3 and webmail access to the email accounts. Web-based mail works in all browsers that support JavaScript and cookies. The web-based mail comes with banner advertising and 100 MB of website hosting space, but a mere $20 (US) a year removes the advertising. Presently Spymac's rapidly expanding free mail service supports almost 50,000 distinct email accounts. For those wondering why on earth they would need one gigabyte for POP3 mail, don't despair, because IMAP mail capabilities are under development and will be available very soon.
Spymac welcomes email accounts from users 13 years old and up on any operating system. The Spymac servers are located in Düsseldorf, Germany, in a secure, Suntone Certified facility that utilizes biometrics, CCTV, keycards, mantraps, and 24-7 on-site-security guards. Redundancy is built into Spymac's server cluster, allowing for fast, reliable services with virtually no down time.
Spymac is the largest online Macintosh User Group and is developing under the belief that community is the Internet's most valuable resource.
I would love to give Spymac a review, but I haven't been able to get it to work in POP3 mode (I've tried Eudora, OS X Mail, and Nisus Email) despite repeated attempts. I haven't a clue why, but I suspect that this is an issue particular to my setup and/or my ISP, as I haven't seen any other complaints of this nature.
Spymac offers the same 1 GB storage capacity as Google's Gmail with the added bonus (I'll take it on faith) of POP3 access.
Tmicha.net
A free, spam-free mailbox with 15 MB storage space run by a bunch of computer geeks (well, actually just one geek) that got sick and tired of spam and decided to do something about it.
Tmicha's service is free, at least for now, but reserves the right to go commercial one day.
Virus Free Email
Virus Free Email provides businesses and end users a quick and convenient way to ensure their own security when it comes to email.
VFEmail.net scans each complete email, including attachments, for viruses (and spam, too) before it gets to your inbox. If a virus is found, you, the originator, and our staff will be notified. VFEmail does not share these email addresses but does collect infection data so they can proactively stop those offenders who may be unknowingly spreading disaster.
VFEmail also provides a convenient webmail interface intended for corporate road warriors. The flexibility of this interface includes HTML, MS Word, and MS Excel document viewers. They also support individual email forwarding, domain forwarding, vacation messages, and work with clients to constantly increase the flexibility of their offerings.
If you are using mail.vfemail.net as your SMTP server, you have two options:
Check your mailbox with POP before you send an email. Quite a few email clients support this setting. Note: Netscape 4.7x has a bug that will cause problems in this mode, and not allow you to send email. Upgrade to Netscape 6.1
Use plain text to authenticate to SMTP. This is the most popular option, all modern email clients should support this. It is also a better choice if you are an IMAP user. VFEmail.net supports SMTP over SSL, so even though your password is sent as plain text, your whole connection has already been encrypted. Email the HelpDesk if you have any questions.
I've been using Virus Free Email regularly for several months, and so far service has been flawless, Not one piece of spam, either.
Join us on Facebook, follow us on Twitter or Google+, or subscribe to our RSS news feed
Charles Moore has been a freelance journalist since 1987 and began writing for Mac websites in May 1998. His The Road Warrior column was a regular feature on MacOpinion, he is news editor at Applelinks.com and a columnist at MacPrices.net. If you find his articles helpful, please consider making a donation to his tip jar.
Links for the Day
Mac of the Day: MacBook Core Duo, introduced 2006.05.16. The iBook's replacement has a 13" widescreen display and a 1.83-2.0 GHz Intel Core Duo CPU.
Recent Content
Custom Search
Follow Low End Mac on Twitter
Join Low End Mac on Facebook
Favorite Sites
MacSurfer
Cult of Mac
Shrine of Apple
MacInTouch
MyAppleMenu
InfoMac
The Mac Observer
Accelerate Your Mac
RetroMacCast
The Vintage Mac Museum
Deal Brothers
DealMac
Mac2Sell
Mac Driver Museum
JAG's House
System 6 Heaven
System 7 Today
the pickle's Low-End Mac FAQ
Affiliates
Amazon.com
The iTunes Store
PC Connection Express
Macgo Blu-ray Player
Parallels Desktop for Mac
eBay

Advertise