Digital Editions of Classic Rolleiflex and Leica Cameras
Charles Moore - 2004.11.08 - Tip Jar
I love twin-lens reflex cameras, and consider the venerable and near-extinct TLR to be the ne plus ultra of camera design configuration. For me, the combination of whisper-quiet operation, low vibration (thanks to a minimum of moving parts), and the facility to compose one's shot on a two-dimensional ground glass screen's full negative-sized preview of the photograph (albeit reversed) rather than peering through a viewfinder or single lens reflex pentaprism made and still makes the TLR a pleasure to use.
When I made part of my living as a wedding and portrait photographer back in the 1970s, my workhorse camera was a Rolleicord Vb twin-lens reflex (TLR), the no-frills, entry-level version of the wonderful Rolleiflex. With its razor-sharp Schneider Xenar lens and 2-1/4" square (6 x 6 cm) negative format, that old Rollei recorded many superb images.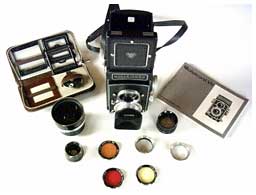 I even have an optional conversion kit that allows the big Rollei to take 15 35mm-sized or square "Superslide" exposures on 120 roll film rather than the standard 12, a wide angle adapter, two diopters of parallax-corrected close-up lenses, and a few filters.
From its introduction in 1928, the Rolleiflex was the camera of choice for professionals - and for many advanced amateur photographers as well - for over 30 years.
Because you look down into the ground glass hood, you could stand facing one direction with the camera pointing elsewhere - great for candid work! The crude-but-effective "sports finder" - basically open gun sight apertures in the focusing hood, work well for action shots more than 20 feet away. And because the negative is square, there is no time lost deciding between horizontal or vertical composition.
However, the skill required to cope with the reversed focusing image, plus parallax errors in close-up work caused by the viewing and taking lenses being in separate planes, and the fact that the TLR Rolleiflex did not offer interchangeable lenses, caused it to lose ground to the heavier, noisier, more expensive, much more mechanically complex single lens reflex Hasselblads, Bronicas, Mamiyas, and ultimately Rollei's own medium format Rolleiflex SL 66 and SLX SLRs, not to mention the shift of 35mm from being regarded as a "minicam" format to the de facto mainstream standard.
The Rolleiflex TLR has never really gone out of production, and you can still buy one new today, albeit at an astronomical price. It is now more or less a special interest collector's item, although a highly functional one still capable of taking superb photographs.
The current line of Rolleiflex 2.8FX and 4.0FW (wide-angle) cameras are classical twin-lens reflex cameras with the advanced exposure-control options of a modern Rolleiflex. State-of-the-art TTL metering and autoflash control are a combination of tradition and progress. In all other respects, the classic Rollei's time-tested features have been preserved, such as the folding crank advancing the film with a rapid back-and-forth movement while at the same time setting the shutter and stepping the frame counter without making multiple exposures impossible.
I had sadly resigned myself to the TLR being a relic as far as the consumer market is concerned, but perhaps that was a premature deduction.
Or perhaps not.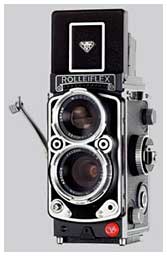 Last week a new Rollei camera was announced that will hit the U.S. market in November, and mirabile dictu, it's a twin-lens reflex that is the spitting image of the classic Rolleiflex with two lenses, one above the other; a hand crank lever; a hooded viewfinder; a bright metal accented coal-black casing; and the Rolleiflex logo.
What's different is that it's much smaller and digital.
Much as auto manufacturers who have applied modern technologies to classic designs - such as the Jaguar "S" type, Ford's retro Thunderbird, or the Volkswagen New Beetle - the new Rolleiflex MiniDigi has the look and feel of the original, but it fits in the palm of your hand or in your pocket.
The hand crank is functional, but instead of advancing film (which it doesn't use), the MiniDigi's crank prepares the camera for the next shot. The classic popup hood and viewfinder also provides the original's "Sportsfinder" function for quick framing of action shots.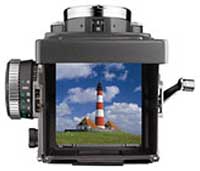 However, the viewfinder screen uses a color LCD instead of a ground glass, and the image is not reversed. With this type of viewfinder, you can also hold the camera very low or even place it on the ground when the shot requires that - and you don't have to lie flat on your belly yourself.
Happily, the Rolleiflex MiniDigi uses a a square picture format, just like the film Rollei TLRs. The square format means no shutter opportunities or valuable seconds are lost choosing between horizontal or vertical composition. Just look down into the viewfinder at waist level, aim, and shoot. This is much less imposing and intrusive for candid shots, portraits, or taking pictures of babies or animals, because the eyes of the photographer and the subject don't meet.
Very cool, but there are some disappointing aspects as well. While the MiniDigi incorporates digital camera technology, including SD memory cards, white balance, and fast shutter speeds, it has a very pedestrian (by current standard) 2 megapixel sensor that offers only modest resolutions of 1760 x 1760, 1280 x 1280, or 640 x 640 pixels. The manufacturer concedes that it's really more of a conversation piece and collector's item, and not really intended to be a full-featured digital camera.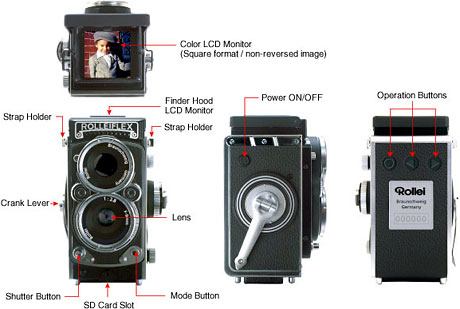 Megapixels are not the only factor in rendering high digital image quality. The lens is probably of greater practical importance. The MiniDigi has a five element lens, but more technical details are not provided, and it's fixed-focus, which doesn't speak "serious camera."
"While the MiniDigi, because of its size, doesn't have some features like USB or flash, it does have a unique, retro styling that will likely appeal to camera buffs and consumers who want something classic, original, fun, and extremely portable," Dick Dischler, who is in charge of US distribution for Rollei Logistics, noted in a press release. "The MiniDigi has really taken off in Japan where the first reaction is often 'this is really cool.'"
Cool-looking, yes, but what a shame they didn't go the distance and make the MiniDigi a premium photographic performer in the tradition of its inspiration and namesake. What this camera needs is a 4 or 5 megapixel CMOS. Now that would have been something to get really excited about.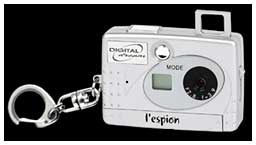 I mean, no USB? What's that about? Even my tiny, $49 Digital Dream l'Espion has USB support.
The new Rollei will begin shipping in early November and be available through specialty retailers. Pricing is expected to be in the $350 range.
Technical data in Appendix below.
Rollei Logistics, based in Tokyo, is under contract with Rollei Fototechnic GmbH Germany to manufacture the Rollei MiniDigi in Japan and to distribute the camera in the U.S.
Classic Leica M3 4 Megapixel Digital Camera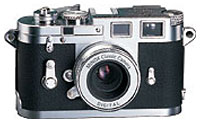 If you like the concept of retro-styled digital cameras but want a high-quality lens and decent resolution, check out the digital classic camera Leica M3 from highly respected German optical and miniaturization specialists Minox. It's not a twin-lens reflex, but it does offer both gorgeous retro styling and modern photographic performance
"Finding a niche in the constantly growing and increasingly competitive digital camera market" was, according to Minox General Manager, Thorsten Kortemeier, the "major goal" set by this traditionally minded company based in Wetzlar, Germany.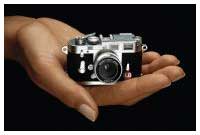 This has been accomplished by Minox with their digital replica of the classic Leica M3 camera in its ultra miniature format, which now has a 4.0 megapixel CMOS, providing the user with sharper recorded images and more detailed rendition captured by its f/2.8 five element glass lens. This latest model from Minox maintains the company's traditional values of features and fine mechanical precision built into ingeniously compact design.
The Minox Digital Classic Camera Leica M3 is intended to be both easy to use and ideal for those getting started in the field of digital photography who like classic convention rather than high-tech looks.
Up to 99 images can be recorded on the internal 32 MB memory. The camera includes a USB interface for transferring of images onto a PC or Mac. The LCD display on the camera back provides information on the number of images left to shoot at any one time.
The tiny dimensions of the Minox DCC Leica M3 make it pocketable, and functional both as a camera and a digital notebook. The optional classic electronic flash compliments the style and design of this unique camera.
System requirements:
Microsoft Windows 98SE/ME/2000/XP/Mac
64 MB RAM
Video with 2-MB-RAM for displaying at least 16-bits (High Color)
4x CD-ROM
USB port
Includes wooden box, USB cable, and software
Price: €259
Appendix: Technical Specifications
Rolleiflex MiniDigi
Sensor: mega CMOS sensor (square format)
Lens: 9mm f/2.8, 5 elements, fixed focus
Depth of field: 0.7m to infinity
Shutter speeds: 1/15 to 1/4000 sec
Exposure control: Automatic
White balance: Automatic
Storage medium: SD / MMC memory card (removable)
Image resolution:

1760 x 1760 pixels (high resolution)
1200 x 1200 pixels (normal resolution)
640 x 640 pixels (low resolution)

Viewfinder: waist level LCD (0.9 inch)
Power source: CR2 battery x 1
Dimensions: 49 x 73 x 45 mm WxHxD
Weight: 100 grams
Minox Classic Leica M3 Digital
Image Resolution:

Still: 2048 x 1536 pixels (3.2 MP)
2304 x 1728 pixels (4.0 MP interpolated)
Webcam: 320 x 240 pixels

Internal Memory: 32 MB flash memory
Image capacity:

super/high: approx. 40 images
fine/high: approx. 40 images
fine/low: approx. 60 images
super/low: approx. 99 images

Viewfinder: Optical (Galileian-style)
Display: LCD-image counter, mode selection (2 digit)
Flash: Compatible with Minox Classic Camera Flash
Lens: 5 elements glass lens with IR filter glass
Focal length: 9.6 mm (= 48 mm compared to 35 mm film)
Lens aperture: f/2.8
Focus range: 0.7 m to infinity, manual focusing
White Balance: Automatic
Shutter speed: Automatic
Self-timer: 10 seconds
Power supply: 1 x CR2 battery / USB-cable
Auto power-off: OFF-Mode(after 30s inactivity)
File Format: JPEG
Support: Windows 98/SE/ME/2000/XP/Mac compatible
Computer Interface: USB-cable
Dimensions: 65 mm(L) x 48 mm(B) x 44 mm (H)
Weight: 95g
Join us on Facebook, follow us on Twitter or Google+, or subscribe to our RSS news feed
Charles Moore has been a freelance journalist since 1987 and began writing for Mac websites in May 1998. His The Road Warrior column was a regular feature on MacOpinion, he is news editor at Applelinks.com and a columnist at MacPrices.net. If you find his articles helpful, please consider making a donation to his tip jar.
Links for the Day
Mac of the Day: Macintosh 512K Fat Mac, introduced 1984.09.10. The first Mac with enough memory for serious work.
Recent Content
Custom Search
Follow Low End Mac on Twitter
Join Low End Mac on Facebook
Favorite Sites
MacSurfer
Cult of Mac
Shrine of Apple
MacInTouch
MyAppleMenu
InfoMac
The Mac Observer
Accelerate Your Mac
RetroMacCast
The Vintage Mac Museum
Deal Brothers
DealMac
Mac2Sell
Mac Driver Museum
JAG's House
System 6 Heaven
System 7 Today
the pickle's Low-End Mac FAQ
Affiliates
Amazon.com
The iTunes Store
PC Connection Express
Macgo Blu-ray Player
Parallels Desktop for Mac
eBay

Advertise