The iMac Legacy: The G3 Era
Dan Knight - 2008.08.15 - Tip Jar
Popularity:






Ten years ago today, the iMac first went on sale. Some Apple dealers had special midnight hours to help meet demand for the Bondi blue desktop that Steve Jobs had unveiled that May. Steve Jobs had begun the iMac project right after his return to Apple, putting design wizard Jonathan Ive in charge of creating a new kind of personal computer. This was the result.

Steve Jobs unveils the iMac.
The Mac Web, which had been through the lowest point in the Mac's history, had been analyzing the original iMac's design and specs since the day Jobs showed off the preproduction unit. No floppy? No ADB? No SCSI port? What was Apple thinking?
Apple was thinking ahead. Floppies were being used less and less, so why not eliminate the built-in floppy drive? ADB was unique to Apple, which limited the Mac user's mouse and keyboard options. SCSI wasn't unique to Apple, but it was a high-end protocol that used more costly drives than the run of the mill IDE hard drives.
USB
And then there was USB. Honestly, a lot of us didn't even know what it was when Jobs demonstrated the iMac on May 6, 1998. We learned quickly. USB stands for Universal Serial Bus, and it was designed to replace the legacy parallel and serial ports on the back of PCs.
Intel, Microsoft, Philips, and US Robotics supported the new interface, which was introduced in November 1995. It became a normal feature on PCs over the next two years, but the market remained wed to parallel port printers and serial devices. Although many PCs had USB ports, they languished for lack of use.
Enter the iMac, which was deliberately designed without legacy ports. It had two USB 1.0 ports (USB 1.1 wasn't finalized until Sept. 1998, a month after the iMac's release) and no other way to connect peripherals. It could communicate using ethernet, it's 56k modem, or IrDA, but the only way to hook up a mouse, keyboard, printer, sketch tablet, floppy drive, or card reader was the USB port.
What the PC world had been unable to do over nearly 3 years Apple did overnight - it made USB an important interface for peripherals. If you wanted iMac owners to use your device, it had to have USB. Between the May announcement and the August ship date, lots of USB devices came to market - and lots more were announced.
iMac vs. Power Mac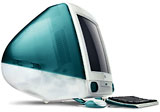 By today's standards, a 233 MHz G3 with 32 MB of RAM, a 4 GB hard drive, and ATI Rage IIc graphics seems quaint, but by the standards of 1998, it was a pretty powerful machine. Apple's top-end Power Mac, the beige G3, ran its CPU less than 30% faster at 300 MHz. It also shipped with as little as 32 MB of RAM, a 4 GB IDE hard drive, and ATI Rage video, although it used the Rage Pro chip. And a 24x CD-ROM was standard on both the iMac and the Power Mac.
There were some big differences. The US$2,399 Power Mac had 3 PCI slots, an internal floppy drive, room for a built-in Zip drive, and originally supported up to 192 MB of RAM (as higher capacity modules became available, users discovered that it could achieve 768 MB with three 256 MB modules). It had a SCSI port, Apple serial ports, and ADB ports on the back. USB could only be added with a third-party card.
The US$1,299 iMac had a "mezzanine" expansion slot that was completely unsupported by Apple, had no room for additional internal drives, and supported up to 128 MB of RAM (again, as bigger RAM modules came out, users learned that it could support 192 MB, often 256 MB, and sometimes even 768 MB).
And then there was the built-in 15" display capable of 1024 x 768 resolution and, with a VRAM upgrade, 24-bit color at that resolution. To be honest, the screen was crisper at 800 x 600, and then you didn't need to upgrade RAM for 24-bit color.
In terms of performance, the Power Mac had a 1 GB backside level 2 (L2) cache running at 150 MHz, while the iMac had a 512 MB backside cache running at 117 MHz, so the 233 MHz iMac benchmarked at roughly 70% as powerful as the 300 MHz Power Mac while selling for $1,100 less than the top-end 300 MHz Power Mac and including a built-in monitor. That's 70% of the processing power at 55% of the price before adding a monitor to the Power Mac.
The iMac sold like hot cakes, and for many months the iMac was the best selling computer model on the market.
Updating the iMac
Just 2 months later, the Revision B iMac was introduced. It had almost identical specs to the original, henceforth known as the Rev. A iMac, but it gained the same Rage Pro graphics chipset as the Power Mac G3 and included 6 MB of video RAM. It also required Mac OS 8.5, where the original could run 8.1.
In January 1999, Apple bumped the iMac to 266 MHz. The Rev. C iMac was available in five "fruity" colors: blueberry, strawberry, lime, tangerine, and grape. The mezzanine slot disappeared, as did IrDA, but it gained a larger hard drive (6 GB) and Rage Pro Turbo graphics while taking a $100 reduction in price.
There were a few drawbacks to the new color scheme: some colors were more popular than others, dealers were required to stock an equal number of all colors (at least initially), and sales were broken down by color, so no individual iMac could be the best selling model on the market. (Between the five colors, the iMac remained the top selling computer.)
The fourth version of the original iMac design was introduced in mid April 1999, less than a year after the first one had been announced and only 8 months after it had first come to market. The Rev. D iMac bumped CPU speed to 333 MHz and had 95% of the processing power of the 300 MHz Power Mac G3 (mostly due to its smaller L2 cache).
Apple sold over 2 million Rev. A through Rev. D iMacs.
Kihei, the Next Generation
Apple's breakneck introduction of new iMacs came to an end, and the 333 MHz iMac remained on the market for almost 6 months before it was replaced. The new iMacs, code named "Kihei", after the port city on the island of Maui. Why Kihei? Apple never said, but maybe because it's a fairly quiet town.

The October 1999 iMacs are generally distinguished from earlier iMac by their slot-loading optical drives, but there were a lot of other differences. The Kihei models came in the same colors, but using more transparent plastics, and Apple eliminated the cooling fan to keep things quiet, something that had always been important to Steve Jobs. (The first four Macs were also convection cooled.)
For the first time, the iMac came in different models and speeds. All models shipped with Mac OS 8.6, 64 MB or 128 MB of RAM (expandable to 1 GB!), and Rage 128 VR graphics with 8 MB of VRAM. The CRT in the new iMacs was also improved and generally looks crisp at 1024 x 768 resolution. The new models are also more compact and lighter than the tray-loading iMacs.
The entry-level 350 MHz iMac came in blueberry and included 64 MB of RAM, a 6 GB hard drive, and a 24x CD-ROM. It was the least expensive iMac to date at just US$999. The middle iMac, known as the iMac DV (for Digital Video), included a DVD-ROM drive, a 400 MHz CPU, a 10 GB hard drive, and was available in the full spectrum of fruity colors. Along with the iMac DV SE, it introduced FireWire to the iMac line, finally giving the iMac a high speed peripheral bus.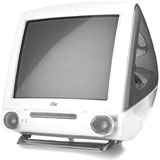 The DV SE came in graphite gray and included 128 MB of RAM and a 13 GB hard drive. With an adapter card, the 400 MHz iMacs could use Apple's AirPort WiFi card. These models remained current through July 2000, when Apple unveiled the second generation using the Kihei design.
The Summer 2000 iMacs introduced a new range of colors to replace the "fruity" ones: indigo, ruby, sage, and snow joined graphite. The iMac also moved to Rage 128 Pro graphics. The entry-level 350 MHz iMac came in indigo and was essentially the same inside as the 350 MHz blueberry model it replaced - but it sold for US$799, making it the least expensive iMac ever. (The 350 MHz iMacs were the only slot-loading iMacs without FireWire support.)
The 400 MHz iMac was available in indigo and ruby (my favorite iMac color), included a 24x CD-ROM drive, and sold for the same $999 price as the 1999 350 MHz iMac. A step up from that, the 450 MHz iMac was also available in sage and had a 4x DVD-ROM drive. It was the only iMac model to run at 450 MHz.
At the top of the line was a 500 MHz iMac that shipped in snow (white) and graphite and benchmarked at twice the performance of the original 233 MHz iMac.
Digital Audio
Steve Jobs, CEO of Apple and Pixar, had steered Apple toward digital video by making DVD-ROM drives standard on many Macs, but the PC world was discovering MP3s and burning CDs with CD-RW drives. For one of the few times in its history, Apple followed the lead of the PC world, embracing CD-RW drives for the next generation of slot-loading iMacs.
The Early 2001 iMacs, introduced in February, ranged in speed from 400 MHz to 600 MHz and simplified the range from four CPU speeds to three. The entry-level 400 MHz iMac continued to use a CD-ROM drive, but for the first time an entry-level iMac had FireWire and AirPort support (with that card adapter). The cost of entry moved up to US$899, but with the faster processor, FireWire, and AirPort option, it was worth it.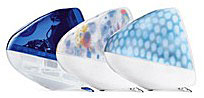 The 500 MHz iMac introduced two new color schemes, Blue Dalmatian and Flower Power, a move that still has a lot of us shaking our heads. At least we had the option of indigo. It included a CD-RW drive that could burn CD-R at 8x and CD-RW at 4x, making it easy for iTunes users to burn CDs. The North American version has the newer PowerPC 750CXe CPU and ATI Rage Ultra 128 graphics, while the International version stuck with Rage Pro 128 graphics.
At the top of the iMac line, Apple offered a 600 MHz iMac with Rage Pro Ultra 128 graphics, and you could buy it in graphite, Flower Power, or Blue Dalmatian.
Apple introduced the fastest family of G3 iMacs ever in July 2001. All of the Summer 2001 iMac include Rage Pro Ultra 128 graphics with 16 MB of VRAM and the 750CXe CPU. Base RAM on the entry-level 500 MHz iMac remained at 64 MB, and it continued the tradition of CD-ROM in the cheapest iMac. The 600 MHz iMac had 128 MB of RAM and a CD-RW drive, and the top-end 700 MHz iMac included 256 MB of RAM. This was the fastest G3 iMac.
The 500 MHz model was discontinued in July 2002, replaced by a 600 MHz CD-ROM model, and the G3 iMac line was discontinued in March 2003, less then five years after Steve Jobs had first demonstrated the original iMac. The top-end iMac had nearly three times the processing power of the original, thanks to a faster clock speed and improved CPU design.
The iMac had revolutionized the personal computer industry, bringing color to drab beige boxes and even a few all-in-one models obviously designed with the iMac in mind.
But Apple was ready to take a different direction by moving the iMac to the G4 processor and an entirely new design.
For that story, see The iMac Legacy: After the G3.

Join us on Facebook, follow us on Twitter, use our Google+ page, or read our RSS news feed
Dan Knight has been using Macs since 1986, sold Macs for several years, supported them for many more years, and has been publishing Low End Mac since April 1997. If you find Dan's articles helpful, please consider making a donation to his tip jar.
Recent articles by Dan Knight
Links for the Day
Recent Content on Low End Mac
Recent Deals