Coming Back to the Mac after Years with Windows
Julian O'Connor - 2003.01.29
My Turn is Low End Mac's column for reader-submitted articles. It's your turn to share your thoughts on all things Mac (or iPhone, iPod, etc.) and write for the Mac web. Email your submission to Dan Knight .
Growing up in the UK, I caught the tail end of "real" computing. The 8-bit heyday was about to begin, and the first experience I had with a computer was when my Dad bought an Atari 2600 for the family in 1979. The amount of time we wasted with Pac Man et al was quite unbelievable, but it was life changing stuff.
Formative Years
In 1982, Dad came home with a Commodore 64. Vague Mac link here - the C64 used the Mos Technology 6510 CPU. This was supposed to succeed the 6502 as used in the Apple I, II, and III families. But time proved otherwise, and they ran concurrently for many years - both the CPUs and the computers!
The Commodore 64 was a true microcomputer, and my Dad bought it with the objective of running his business and hobbies with it. Aside from a very simple database of figures and some printing of address labels for a club he used to run, the C64 rapidly became the advanced game machine for Dad, my brother, and myself.
As any parent knows (so I'm told - I'm not one yet!), when you shell out for a new gismo, your kids end up teaching you how to use it. You never catch them up, so you rely on them to use it for you. This applies to televisions, video cassette recorders, cameras, and many other items, including computers.
It happened in our house, and the users (or number of players) of the C64 fell to two. My Dad just bought PCs for work at kept them there - a shrewd move! Eventually, my brother left home - the C64 was mine, all mine!
At Last, a Mac
Now for a proper Mac bit. Come with me, if you will, to 1986. A friend of mine, who tried various dud machines (Oric Atmos, Dragon 32) before becoming a Spectrum 128K user, had access to a thing called an Apple Macintosh. His mother used to bring it home from the school she worked at.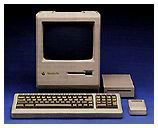 I couldn't recall the exact model, but upon discovering Low End Mac over a year ago I was able to piece together that it was a Plus.
Attached to this Mac Plus was a bizarre device called a mouse. I was anxious to catch up with my friend, who had a head start with mouse skills and was producing various works of art using MacPaint. So serious did this become that we even procured a 3-1/2" floppy disk to save these masterpieces on. Seriously high tech compared to my 5-1/4" disks at home!
The important thing is that I got the chance, relatively early on, to learn to use the most important computer user interface device. The world of Wintel was almost completely foreign to me. My brother-in-law had an Amstrad PC with some very early version of Windows on it - I could tell at a glance that it was inferior to the Mac.
Easy Come, Easy Go
Eventually the Mac went. Around 1987-98 the school switched to PCs, and an RM Nimbus began appearing at my friends' house. This was the first colour PC or even colour mouse driven computer I had use of, and I didn't think much of it. It was cold, unfriendly and no fun - just a tool.
Let me also add that I came to this conclusion purely through user experience - we had no games to play on the Mac or the PC, so that was not an issue. Yet just through using it we had fun with the Mac.
We simply retreated into our Commodore and Spectrum worlds, and the Mac was eventually forgotten. Then my Commodore Amiga 500 arrived in 1989. My own mouse driven machine with 3-1/2" disks. I loved it, and I think now that it was because it gave a similar feel to the old Mac Plus, though that never occurred to me at the time. The difference was that I could expand the Amiga. I learned the joy of upgrades!
However, it was only a few years - about 1993 - and the Amiga's heyday looked to be coming to an end. The thing was still useful and fun, but things were moving on. I suspected that I'd end up having a career in computing, but, like many others, I didn't really know what I wanted.
Fiddling about with upgrades for the Amiga had taught me a few things, and I knew that expandability was a key feature of PCs, which had risen to prominence in the business world and were coming up fast in the gaming world. My Dad had been bringing a 386 PC home to do work on, and I began experimenting.
The Mac Drought
I shall begin my confessions now. I learned DOS. I learned Windows 3 and 3-point-whatever. I learned about Intel x86 based hardware. Lord absolve me of my sins!
Actually, although I am a great supporter of Apple, I am not anti-Wintel. I have made my living almost entirely from the support of PCs.
I have both in my home and use both quite happily (when I am not sick of computers in general!). I like my PCs because I am totally free to do as I wish with them (for the moment, thanks for nothing, Mr. Gates). I like my Apples because someone has done the work for me. I have acquired Apples through various means because they met specific criteria without modification.
But back to 1993. I eventually began work as a trainee computer engineer at the local office of a large international company. They would have a go at supporting anything from run-of-the-mill desktop PCs to mainframes to cabling infrastructure and, for a few customers who used them, Apples. I finally used a Mac again in about 1997, doing antivirus upgrades and Internet configuration on contract to a publishing company in London.
I loved doing the Macs for two reasons: First, the other engineers who had been contracted knew nothing about them. I was thus elected to do the work. Second, the Macs didn't need rebooting after working on them. "Why can't the PCs be like that?", I thought.
Is the point where I stand up and say, "My name is Julian, and I am a Macaholic"?
The Mac Is Back
After another small gap, I began another job for local government. Supporting Apples was a very significant part of the job, and I took to it quickly. I have recently read Dustin Reinbold's Confessions of a Mac Collecting Addict, and I realise that something similar has happened to us both. The new job gave me access to the materials I needed! I began collecting a representative of the old Mac shapes.
As they became available, I acquired: An SE/30 (my Plus substitute), a Performa 475, a Quadra 700, a PowerBook 150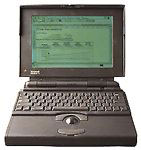 and 165, an eMate 300 (well, it has an Apple logo on it), a Power Mac 5260/120 (sorry, it was replaced with the next one), a Power Mac 5500 (the black version with correct keyboard and mouse), a Power Mac 6500 (lovely chime), a Power Mac 7600, a beige G3 desktop, and a slot loading iMac.
I narrowly missed out on a Quadra 840AV and was genuinely very annoyed when I found that someone had dumped a Colour Classic and not told me!
All of them are in working order (including the Atari, C64, and Amiga - plus the 386 is still at work with my Dad), and my girlfriend has finally given up the idea that I will get rid of them all soon. The only other serious craving I have to satisfy is to own a Cube.
History has given me good reasons to be a Mac fan, yet I have almost no ties to the Mac past. I have a little legacy software that I need to find replacements for on my iMac so I am free to use Mac OS X - or anything else that Apple decides is what we need.
How many others can say the same?
Share your perspective on the Mac by emailing with "My Turn" as your subject.
Join us on Facebook, follow us on Twitter or Google+, or subscribe to our RSS news feed
Today's Links
Mac of the Day: iMac (Late 2006), introduced 2006.09.06. Apple introduced the biggest screen ever in an iMac with a 24" 2.16 GHz Core 2 Duo model.
Recent Content
Custom Search
Follow Low End Mac on Twitter
Join Low End Mac on Facebook
Favorite Sites
MacSurfer
Cult of Mac
Shrine of Apple
MacInTouch
MyAppleMenu
InfoMac
The Mac Observer
Accelerate Your Mac
RetroMacCast
The Vintage Mac Museum
Deal Brothers
DealMac
Mac2Sell
Mac Driver Museum
JAG's House
System 6 Heaven
System 7 Today
the pickle's Low-End Mac FAQ
Affiliates
Amazon.com
The iTunes Store
PC Connection Express
Macgo Blu-ray Player
Parallels Desktop for Mac
eBay

Advertise