Mac Pro Blows Away Competition, Extended Warranties Crummy Deals, Firmware Updates for Intel mini and iMac, More
This Week's Apple and Desktop Mac News
Compiled by Charles Moore and edited by Dan Knight - 2006.11.17
The Mac Pro isn't just a great Mac - Small Biz Resource says that with Parallels or Boot Camp, it "makes a better Windows workstation than almost any other Windows desktop out there." And InformationWeek looks at both solutions for putting Windows on Intel Macs.
Consumer Reports weighs in on extended warranties and finds them wanting - except for AppleCare and rear-projection microdisplay TVs.
Mac 360 recommends seven free maintenance utilities for OS X users, and Apple has firmware updates for Intel-based iMacs and Mac minis.
SOYO has a pair of dual-LCD displays that simplify putting two 1280 x 1024 displays on your desktop - but you'll need two DVI or VGA ports to support it.
And on the "blast from the past" front, Vuum Audio has a vacuum tube amplifier designed especially for the iPod and other portable music players. As many audiophiles will tell you, tubes provide a "warmer" sound than solid state electronics. Available in most Canadian markets at C$799.
PowerBook, iBook, MacBook, and other portable computing is covered in The 'Book Review.
All prices are in US dollars unless otherwise noted.
News & Opinion
Apple Updates
Products
iPod Accessories
News & Opinion
Mac Pro 'Blows Away the Competition'
Small Biz Resource reports:
"After two weeks with one of the new Mac Pro desktops, I've got only one word: 'Wow. The new Apple Mac Pro desktop is one of the best-designed, highly-performing desktops currently available at any price. Not only does it run Mac OS X and OS X applications at absolutely blazing speeds, but if you install Parallels Desktop for Mac (or Apple's Boot Camp), the Mac Pro makes a better Windows workstation than almost any other Windows desktop out there."
Link: Apple's New Mac Pro Blows Away the Competition
CR: Extended Warranties 'Crummy Deals'
WRAL.com reports:
"If you've ever bought a TV, a washing machine or some other pricey item, you probably had the sales guy push you to add an extended warranty. But Consumer Reports has three words of advice: Just say no."
"The magazine sees a couple of instances where the warranties are worth buying. They cite rear-projection microdisplay TVs, which have a greater tendency to need repairs. And also Apple computers, which have only 90 days of tech support."
Editor's note: I'm a longtime extended warranty skeptic. Whether they make sense depends on your risk tolerance and to a large degree a roll of the dice. In a dozen years of Mac ownership, I've never purchased AppleCare coverage and have never missed it, which means that I've saved more than the cost of a new MacBook Pro over the years. cm
Editor's note: I'm a longtime extended warranty skeptic as well, but I bought AppleCare for my PowerBook G4/400. Good thing, too, as I had it in 2-3 times for service, including replacing the screen due to a partially failed backlight in the third year. AppleCare costs a lot less than a screen repair on any 'Book, and I think it's an especially good idea when buying a newly designed model. dk
Link: Consumer Reports: Say No to Extended Warranties
Top 7 Free Utilities to Maintain Your Mac
Mac 360's Alexis Kayhill reports:
"Mac OS X Tiger seems to be the most stable and dependable Mac OS to date.
"So why are there so many Mac maintenance utilities? Check the price tag. The Top 7 Utilities are free.
"Does that mean your Mac running on OS X Tiger doesn't need maintenance?
"The truth is that Mac OS X is highly sophisticated, very complex, and needs a little tuning here and there.
"There are caches to be dumped, hidden features to be opened, logs to be deleted, and much more.
"Should your Mac begin acting a little wonky, start looking for reasons and start with a few of these free utilities.
"Can you pay money and get the same thing? Yes. Among those maintenance utilities with a price tag, I prefer Xupport and Macaroni."
"Update - I've used Cocktail for so long that I mistakenly placed it in my Free List. A license is $15. I plead insanity, which, of course, comes from my child.
"Allow me to remove Cocktail from the Top 7 Free Utilities (since it's not really free, Alexis - duh), and replace it with the capable Mac HelpMate."
Editor's note: I also suggest looking at MacPilot and Tiger Cache Cleaner. cm
Link: The Top 7 Free Utilities to Maintain a Mac
'Trusted Computing' Chip in Intel Macs
eWeek's Daniel Drew Turner reports:
"Recently manufactured Intel-based Apple computers contain a chip on their motherboards that would allow users to take advantage of 'trusted computing' capabilities, according to computer researcher Amit Singh.
"Singh, a member of Google's technical staff in Mountain View, Calif., is the researcher who recently disclosed that there are encrypted binaries in Apple's Mac OS X operating system that are designed to protect the operating system from being pirated."
Link: Researcher Finds 'Trusted Computing' Chip in Apple Models
Two Ways to Put Windows on Intel Macs
InformationWeek's Richard Hoffman reports:
"Apple OS X and Microsoft Windows can now live nicely together without fighting - if you've got either Boot Camp or Parallels Desktop for Mac. Here's how well they work."
Link: Review: Two Packages Put Windows on the Mac Pro
Apple Updates
Firmware Update for Intel Mac minis
This EFI Firmware Update fixes several Boot Camp, start up, and wake-from-sleep issues on Mac mini computers.
After the firmware update is successfully applied to your computer, your Boot ROM Version will be: MM11.0055.B08
You can confirm the version of the Boot ROM installed on your computer using System Profiler.
System Requirements
Intel-based Mac mini
Mac OS X 10.4.6 or later
System support: PPC/Intel
Free
Link: Mac mini EFI Firmware Update 1.1
Firmware Update for Intel iMacs
This EFI Firmware Update fixes several Boot Camp, start up, and wake-from-sleep issues on iMac computers.
After the firmware update is successfully applied to your computer, your Boot ROM Version will be:
IM41.0055.B08 (early 2006)
IM42.0071.B03 (17-inch mid 2006)
IM52.0090.B03 (17-inch late 2006 CD)
IM51.0090.B03 (20-inch late 2006)
IM61.0093.B01 (24-inch)
You can confirm the version of the Boot ROM installed on your computer using System Profiler.
System Requirements
Intel-based iMac
Mac OS X 10.4.6 or later
Link: iMac EFI Firmware Update 1.1
Firmware Restoration CD 1.2 for All Intel Macs
The Firmware Restoration CD can restore the firmware of an Intel-based Macintosh computer.
Note: Restoring your firmware will reset some of your computer's preferences to defaults.
You can only use this to restore the firmware after an interrupted or failed update. If your computer is already in this state, you'll need to download the software and create the CD on another Macintosh computer, or you can take your computer to an Apple Store or Apple Authorized Service Provider to restore your firmware. This CD can be created on both PowerPC- and Intel-based Macintosh computers.
Note: This CD cannot be used to return an Intel-based Macintosh computer's firmware to a previous version if a successful update has already been performed.
System Requirements: Intel-based Macintosh computer
MacBook, iMac Screen May Go to Maximum Brightness When Connecting or Disconnecting an External Display
iMac and MacBook LCD panel brightness may brighten up to the maximum level when you connect or disconnect an external display.
Products affected:
MacBook
MacBook (Late 2006)
iMac (17-inch Mid 2006)
iMac (17-inch Late 2006 CD)
iMac (17-inch Late 2006)
Solution: Adjust the display brightness - on Apple portable computers, adjust the display brightness using the F1 and F2 keys at the top left of the keyboard. On iMacs with an Apple keyboard, adjust the display brightness using the F14 and F15 keys at the top right of the keyboard.
Link: MacBook, iMac: Maximum Display Brightness When Connecting or Disconnecting an External Display
Apple X11 1.1.3 Released
X11 for Mac OS X offers a complete X Window System implementation for running X11-based applications on Mac OS X. Based on the de facto standard for X11, the open source XFree86 project, X11 for Mac OS X is compatible, fast, and fully integrated with Mac OS X. It includes the full X11R6.6 technology including a window server, libraries and basic utilities such as xterm. If you installed X11 from the Apple "Panther" installer CDs, you do not need to download and install this software.
New in version 1.1.3:
This update addresses several issues in the X11 for Mac OS X package, enabling it to better handle:
GLX stereo visuals
offscreen rendering to GLX Pbuffers and Pixmaps
To tell X11 to take advantage of stereo visuals, enter:

$ defaults write com.apple.x11 enable_stereo -bool true

This update also addresses font issues present in X11 1.1.2 and is recommended for all users.
System requirements:
Mac OS X 10.4.8 or later
X11 1.1, 1.1.1, or 1.1.2
System support: PPC/Intel
Free
Link: Apple X11 1.1.3 Released
Products
SOYO's 17" and 19" Dual LCD Monitors
PR: SOYO Group Inc. has introduced a dual screen LCD monitor, which allows the user to simultaneously view multiple applications. These LCD Monitors are available in both 17" and 19" models and will be available under the SOYO and Go Video brand names.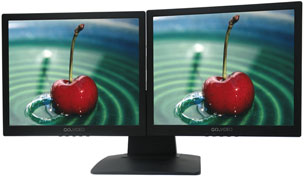 SOYO and the SOYO branded GoVideo dual LCD monitor line incorporates TFT (Thin Film Transistor) display technology in a dual monitor stand with a wide-angle flat screen that offers a view of the screen from various angles without compromising image quality. Both models feature 2560 x 1024 native resolution [editor's note: that's 1280 x 1024 per panel, and each panel has its own video cable - dk]; 300 Nits for high brightness, a fast 8mm response time; 16.7 million display colors and integrated GoVideo stereo speakers to deliver stereo-quality sound.
The enhanced viewing experience and ability to view multiple applications makes SOYO's dual monitors perfect for mainstream computer users in corporations, IT professionals, stock traders and financial institutions, customer service and support call centers, healthcare services; professional services, graphic design and multimedia, PC gamers, government and education. In addition SOYO's dual LCD monitor line gives gamers an expanded view or duplicates the display signal so multiple players can view the same game on their own screen.
Supported by Microsoft Windows and Apple Macintosh computers, the SOYO GoVideo dual LCD monitor line manages several sources of information without time-consuming switching between application windows.
"Dual monitors will increase efficiency in the work place by allowing the use of separate applications on the same computers," said Ming Chok. He went on to say, "When designing these new monitors it was important to provide productivity gains, entertainment for consumers and gamers, and a fair price for the consumer."
SOYO includes all the features users would expect to find on a premium grade monitor, such as a DVI input, which allows users to watch broadcast TV stations on the monitor. All models also feature on screen picture controls. SOYO backs its dual monitor line with a two-rear replacement warranty.
The MSRP of the 19" Dual LCD Monitor - GVLM1928 (black) is $1,199. The 17" Dual LCD Monitor - GVLM1728 (black) has a MSRP of $999. The product will be initially available on D&H, Office Depot, and SOYO's estore.
Link: LCD Monitors, SOYO Group
WiebeTech ToughTech 2.5" SATA Drive Housing
PR: The popular ToughTech is now super tiny! We have taken the ToughTech's rugged and attractive aluminum case and resized it to fit smaller 2.5" SATA drives - the kind of drive you would find in many modern laptops. Its Oxford 924 chipset gives you the fastest speeds for connections to your computer via FireWire 800, FireWire 400 or USB.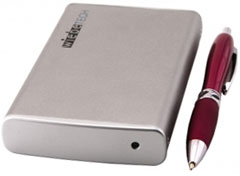 Not much bigger than a pack of playing cards, ToughTech mini will easily travel with you. ToughTech mini will fit in shirt pockets and briefcases with ease.
SATA drives are becoming more popular. They're faster, and they work with the faster Oxford 924 chipset found in ToughTech mini. This chipset ensures you the fastest FireWire and USB speeds available.
With a triple interface, you'll be able to hook it to practically any computer out there. ToughTech mini provides dual FireWire 800 ports, a single FireWire 400 port and single USB 2.0, port. As a result, you can connect it to any computer running any recent operating system. It's easy and painless.
To make sure you can connect in any situation, three different cables and adapters are included: A FireWire 800 cable, a FireWire 400 cable, and a USB 2 cable.
ToughTech mini is bootable in FireWire mode on any Mac or PC that supports this feature.
And it's fast! Configure ToughTech mini with a 7200 rpm drive and there is no performance difference between ToughTech mini and our other 7200 rpm drive enclosures.
ToughMount Anti-Shock Protection
ToughMount strips are mounted between the drive and the enclosure to protect the drive from shock and reduce enclosure noise.
Plug and Play
ToughTech mini works out of the box with no new drivers needed with any modern operating system including Mac OS 9.1, 9.2, OS X, and Windows 2K, XP, as well as any distribution of Linux that supports FireWire or USB. If using FireWire, additional FireWire devices can be daisy-chained through ToughTech mini.
AC Adapter
Most FireWire ports have juice to power ToughTech mini, so most users prefer to use ToughTech mini without an AC adapter for maximum portability. For users who prefer an AC adapter or who must use one with their setup, ToughTech mini comes with an AC adapter.
You will need an AC adapter if the port you use does not provide enough power for ToughTech mini. This includes all 4 pin FireWire hosts (such as Sony iLink which provides no power at all) and USB ports.
Features
Four Ports - Dual daisy-chainable FireWire 800, 400 and Single FireWire 400 and USB 2.0. ports.
Power Access LED - Indicate power is on (or off).
Drive Capacities - Available with 2.5" SATA drives or install your own.
Extremely Fast Transfer Rates - With the Oxford 924 chipset, FireWire 800 outperforms many older desktop FireWire drives when configured with a 7200 rpm drive.
Aluminum Construction - Made of tough, durable aluminum. Provides excellent thermal efficiency.
ToughMount™ Anti-Shock Protection - Protects drive from shock and reduces enclosure noise.
Small Size - Take it anywhere, fits in your pocket.
World-compatible AC Adapter (optional) - Accepts 100-240VAC so you can trot the globe.
Specs
Interface: FireWire 800, 400 and USB 2.0, utilizing latest Oxford 924 chipset.
Data Speeds

FireWire 800 speeds of up to 800 Mbps
FireWire 400 speeds of up to 400 Mbps
USB 2.0, speeds of up to 480 Mbps

Drive Compatibility: 2.5" SATA drives
Operating Systems

Windows 2K, XP
Mac OS X
Linux distribution that support FireWire

Dimensions: 5.12 x 3.15 x .79 inches (13 x 8 x 2 cm)
Pricing
case only - FireWire 800, FireWire 400, USB 2.0, $119.95
80 GB 5400, 8 MB buffer, $228.95
120 GB 5400, 8 MB buffer, $308.95
100 GB 7200, 8 MB buffer, $343.95
160 GB 5400, 8 MB buffer, $399.95
Link: ToughTech mini
Addonics Mini Storage Tower Lets You Mix & Match 3.5'' and 2.5'' Hard Drives
PR: Addonics Technologies has announced a compact storage enclosure that can be easily configured for almost every imaginable storage application, including Infiniband Multilane for external RAID, video, or network server storage.
The Addonics Mini Storage Tower is a true chameleon and perhaps the most flexible storage enclosure available. The Mini Storage Tower can store up to four standard 3 1Ú2" SATA or IDE hard drives, or up to four Addonics 2.5" Mobile Racks or Jupiter Mobile Racks. The Addonics Mobile Racks allow hard drives to be easily hot swapped. In addition, the Mini Storage Tower enclosure can be used to provide hacker-proof, key-based hardware encryption for the hard drives when it is configured with the Addonics Jupiter Cipher Mobile Rack.
Offered in white or a black-colored enclosure the Addonics Mini Storage Tower comes with a low noise cooling fan with a swing open vented front panel for easy drive access. The enclosure's side panels can be quickly removed to provide easy access for storage device installation and cable connection. The compact enclosure measures just 5.25 x 10.4 x 7.25 inches (W x D x H).
The Mini Storage Tower can be configured with a choice of four different back panels, which support multiple operating systems and drive interfaces depending on the selected panel. Available options include:
Multilane bridge (MSTS4AML) - for connecting up to four SATA/SATA II hard drives to system via one 1.5 Meter long Infiniband Multilane cable. Multilane supports Windows, Linux or Mac OS.
SATA Port Multiplier (MST5X1PM) - for connecting up to four SATA/SATA II hard drives to the computer via a single eSATA port.
JBOD USB (MST4IDEU2) - to connect up to four IDE hard drives as one large combined drive, two combined drives, or four individual drives to computer via 1 USB 2.0/1.1 port.
Four Individual eSATA ports (MST4ESA) - for connecting four hard drives to the enclosure via four individual eSATA cables.
Mini Storage Tower Build to Order
For one low flat fee, Addonics can custom build external storage solutions for customers, resellers or VARS using various Jupiter Mobile Racks, hard drives, and back panels. Customers can call Addonics 408-433-3899 or email a configuration to sales-team@addonics.com.
The Addonics Mini Storage Tower has a MSRP of $119 to $195, which depends on the drive interface, back panel, and cables ordered.
Link: Addonics Mini Storage Tower
iPod Accessories
A Vacuum Tube Amp for the iPod
PR: Future meet the past. A true classic that delivers superior audio in the digital age. The Vuum Audio vacuum tube amplifier stereo system provides audiophile quality sound in a hi-fi stereo system designed to work with your iPod, MP3 player, and other audio components (CD, DVD players, Satellite receivers etc.). The system delivers glowing sound with real bass, natural midrange and dynamic highs. "Midrange warmth like a blanket on a winter night."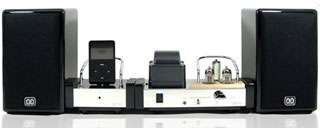 The system comprises of a vacuum tube amplifier (15W x2) with dual inputs, an adjustable iPod docking station that allows for charging of your iPod with video output to connect a video enabled iPod to your TV, a pair of speakers in a "piano finish" cabinet, 27 key full function remote control, dust brush and glove cleaning kit, RCA cables and a pair of high quality speakers cables with banana ends.
"The retro look is a bonus; it's the analogue technology that works better than digital is what thrills me", " finally I have a reason to buy an iPod", and "not only visual pleasing but acoustically sound" is what was said at a recent reseller launch.
Vuum Audio VTi-B1 Vacuum Tube Amplifier Speaker System with Dock and Remote
Vacuum Tube Amplifier (15W x 2)
Dual Audio Inputs
iPod Docking Station ( iPod not included )
"Piano Finish" Wood Cabinet Speakers
27 Key Remote Control
3-way Binding Post Speaker Cables
RCA Audio/Video Cables
S-video Output
Available through London Drug in western Canada, other vendors in Ontario and Quebec. Suggested retail price is C$799.
Link: Vuum Audio VTi-B1
Desktop Mac Deals
Low End Mac updates the following price trackers monthly:
For deals on current and discontinued 'Books, see our 13" MacBook and MacBook Pro, MacBook Air, 13" MacBook Pro, 15" MacBook Pro, 17" MacBook Pro, 12" PowerBook G4, 15" PowerBook G4, 17" PowerBook G4, titanium PowerBook G4, iBook G4, PowerBook G3, and iBook G3 deals.
We also track iPad, iPhone, iPod touch, iPod classic, iPod nano, and iPod shuffle deals.
Join us on Facebook, follow us on Twitter or Google+, or subscribe to our RSS news feed
Links for the Day
Mac of the Day: Macintosh 512K Fat Mac, introduced 1984.09.10. The first Mac with enough memory for serious work.
Recent Content
Custom Search
Follow Low End Mac on Twitter
Join Low End Mac on Facebook
Favorite Sites
MacSurfer
Cult of Mac
Shrine of Apple
MacInTouch
MyAppleMenu
InfoMac
The Mac Observer
Accelerate Your Mac
RetroMacCast
The Vintage Mac Museum
Deal Brothers
DealMac
Mac2Sell
Mac Driver Museum
JAG's House
System 6 Heaven
System 7 Today
the pickle's Low-End Mac FAQ
Affiliates
Amazon.com
The iTunes Store
PC Connection Express
Macgo Blu-ray Player
Parallels Desktop for Mac
eBay

Advertise