The MaxxBoxx 730/200 is based on the Tanzania II motherboard (also used in the Power Mac 6500) and shipped with a 200 MHz PowerPC 604e CPU. The cube-shaped case has a whopping 10 drive bays. MaxxBoxx clones were only sold in Germany.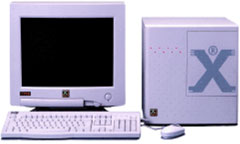 Tanzania-based computers will not boot with a dead PRAM battery. Try replacing the battery before attempting to replace the power supply on a "dead" MaxxBoxx.
WARNING: This model does not support System 7.5.5. The only upgrade from 7.5.3 is directly to 7.6 or later. Never use the 7.5.5 updater.
Details
introduced 1997.10.01, discontinued 1997.12.01
requires System 7.5.3 through 9.1
CPU: 200 MHz PPC 604e
bus: 50 MHz
RAM: 32 MB standard, expandable to 160 MB using 3-volt 60ns or faster EDO DIMMs (older 5-volt DIMMs are not compatible). RAM slot 3 addresses only a single bank of memory (32 MB max), unlike dual-bank slots 1 and 2 (which accept 64 MB modules). While you can use any DIMM up to 64 MB in slots 1 and 2, you should only use a single-bank DIMM in slot 3. This limits slot 3 to 32 MB.
VRAM: 2 MB
Video: 15-pin SVGA port; supports millions of colors up to 832 x 624, thousands up to 1152 x 870
L2 cache: 512 KB
hard drive: 2.1 GB EIDE
CD-ROM: 12x ATAPI drive
ADB: 1 port for keyboard and mouse
PS/2 keyboard port
PS/2 mouse port
two miniDIN-8 GeoPorts on back of computer
SCSI: DB-25 connector on back of computer
ethernet: 10Base-T
PCI slots: 3
battery: 4.5V alkaline
Accelerators & Upgrades
Online Resources
Keywords: #maxxbox #maxxboxx730
Short link: http://goo.gl/Mvn45W