Apple's first consumer portable since the PowerBook 150 was discontinued at under US$1,000 in late 1995, the $1,599 iBook was available in blueberry and tangerine. Apple billed it as the world's second fastest portable computer – only the Lombard PowerBook G3 outperforms it.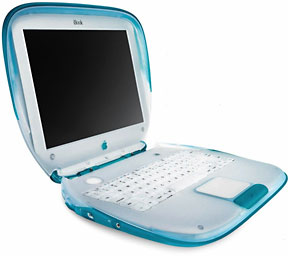 With an active matrix screen and six-hour LithIon battery, the iBook makes an excellent field computer. Wireless networking is available using Lucent's 802.11b AirPort technology, which has a maximum range of 150 feet. At $299 for an AirPort base station and $99 for the AirPort card, this 11 Mbps technology (sounding a bit faster than 10Base-T ethernet, although this is not the case) is very promising.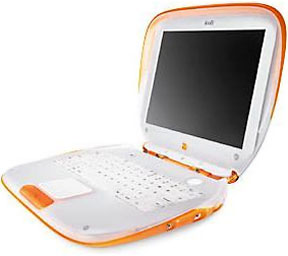 Unique feature: Unlike any PowerBook, the iBook has a handle – but no latch. The iBook puts itself to sleep when you close it, and it can automatically wake up when you open it.
The iBook is a bit larger and heavier than the PowerBook G3 (Lombard).
The iBook Special Edition was introduced on 2000.02.16, the same day the original iBook was updated to 64 MB of memory and a 6 GB hard drive. (The improved iBook is generally referred to as Revision B.) The 300 MHz iBook was replaced with a 366 MHz version in September 2000.
Details
Online Resources
Cautions
Keywords: #firstibook #originalibook
Short link: http://goo.gl/2PxGm4
searchword: ibook300mhz