2001-07-06: Newest 'Books now okay for non-Apple warranty repair. WallStreet hinge repair page. $100 FireWire/USB enclosure. More 'Book news.
Except as noted, prices are in US dollars.
Apple Reauthorizes Apple Specialist Servicing of PowerBooks
A report on Go2Mac.com notes that Apple, apparently without fanfare, has "changed service status of the PowerBook G4 Titanium and iBook Dual USB from 'Return to Depot,' to FIP or Field Installable Parts."
One of the most frustrating aspects of PowerBook/iBook ownership for too many people has been Apple's insistence that 'Books be shipped to its central service depot in Texas for even trivial repairs.
According to Go2Mac, "Under the new plan, authorized Apple Specialists that have completed training courses on the two new 'Books and that stock a requisite amount of parts can fix the machines at their locations."
Hooray! It's long past time that this common sense policy was restored.
WallStreet Hinge Repair Page Posted
Robert Westbrook, who lives not far from me here in Nova Scotia, recently had one of the screen lid hinges fail on his Wallstreet 233/512k 14.1″ which he purchased in September of 1999
The good news is that Robert was able to fix his PowerBook himself, rather than having to schlep it off to Texas and pay in the neighborhood of $400 plus freight to have the hinge repaired.
Robert's DIY repair cost around $60 Canadian, and he has posted a Website tutorial showing others how to do it! [No longer online nor in the Internet Archive. See Replacing Hinges by W. Pasman.]
"Fixing it was not terribly hard," says Robert. "One simply has to be very careful and contemplative of his next move. It also doesn't hurt that I was an airplane mechanic in a past life and have experience working with expensive, delicate parts."
Kensington TripleTreks FlapOver PowerBook Case at Small Dog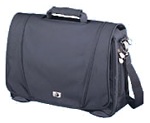 Kensington has a full line of computer carrying cases featuring EasyGrip foam covered handles and padded straps,self-repairing zippers, extra-padded computer compartments and more.
The Kensington TripleTreks FlapOver Case is a traditional briefcase-style bag with large outside flap
Features
Removable computer compartment protects computer in and out of your bag
Hideaway water bottle grip and outer sleeve pocket for quick access
Heavy-duty engineering with shock-absorbing honeycomb frame
For more information, visit Small Dog Electronics (click the PowerBook page button link).
SK 2.5 FireWire/USB Combo Enclosure for $99.99

The SK 25 (external 2.5 HDD) gives you the freedom to work anywhere – at home, in the office, even on a plane. This tinyportable drive provides maximum flexibility and portability with various interfaces. Once your computer's drive has been copied to the FLEX HDD, you can travel and connect it to any PC system and gain access to your programs and data files. Just plug the cable into any notebook, desktop, or Macintosh with a USB and 1394 port you have instant connectivity. With built-in hot swap technology, you can connect and disconnect the drive any time. Simple installation. Just plug it in and load the driver one time.
You can check it out at FireWire Depot.
VST 3 GB FireWire Drive for $100

MacZone has marked down the VST FW9530 3 GB FireWire Pocket Drive external hard drive to $99.99 – half off thelist price. Shipping is under $6. This price is typical for empty FireWire drive cases. The FW9530 is a slim-line, bus-powered, red-and-white case containing a 4200 rpm hard drive. It comes with a one-year warranty.
VST's ultra slim FireWire Hard Drives are the smallest, lightest, high-performance FireWire Hard Drives available. Ideal for those looking for a portable solution for their high storage needs, these IEEE 1394 compliant drives are bus powered, so no external power supply is needed. Plus, they have plug & play ease of use with no device IDs or termination and are hot-plug and unplug supported. These drives are compatible with both Macintosh and Windows 98SE FireWire enabled computers and have dual 6-pin FireWire ports, so up to 63 devices can be daisy chained together. These drives are ideal for those looking for a portable solution for their high storage needs.
Specifications
Dimensions (WxDxH): 4.7 in x 8.4 in x 2.2 in
Weight: 2.4 lbs
Formatted Capacity: 3 GB
Interface Type: IEEE 1394 FireWire
Data Transfer Rate: 50 MBps
Average Seek Time: 12 ms
Spindle Speed: 4200 rpm
Cache / Buffer Size: None
Warranty: 1 year warranty
Cool, Homemade TiCase
NuBaggage proudly displays the PowerBook case he made for his TiBook.
So, no need to make this too complicated.
I wanted a good computer bag for my Titanium.
I didn't like what I found.
I decided to make my own.
Apparently a lot of people feel the same way.
Now I have this web site for people to see the bag.
---
Bargain 'Books
This Week's PowerBook Deals
electricdeal.com
Refurbished 500 MHz TiBooks 256MB/20 GB/DVD, $2,999. Product is reconditioned. Reconditioned computers may not include original application software. 90 day parts and labor warranty.
PowerBook G3/233 WallStreet 32/2 GB/CD/56k/14.1″, $949.95
PowerBook 540c 12/160/19.2 kbps modem, $259.95
PowerBook Lombard G3 400 MHz 64 MB/6 GB/DVD/56K, 90 Day Apple Warranty, Refurb, $1,549
PowerBook G3 WallStreet 292 MHz/128 MB/8 GB/20xCD/100 MB Zip/floppy/56K/14.4″, Refurbished, $1,329
PowerBook G3 WallStreet 266 MHz 192 MB/4 GB/20xCD/100MB Zip/56K/14.1″, Refurbished, $1,249