2001-06-15: New PowerBook cases from Willow. Keycap replacements for Pismo, Lombard, and iBook. $99 digital camera. More 'Book news.
Except as noted, prices are in US dollars.
Willow Design Releases New Titanium Light G4 Carry Case
Willow Design's new Titanium Light (NL-13) further fills out the Willow line of five different cases devoted to the TiBook with a lightweight, economical carrying solution for G4 TiBook that doesn't compromise on protection or function.
As with all other Willow backpacks, laptop, and tower carry cases, the new Titanium Light cases are covered by Willow's 100% satisfaction guarantee and lifetime guarantee against defects in materials and craftsmanship.
Pric: $120 Cdn/$80 U.S.
Weight: .85 kg/1.7 lb.
Airline carryon: Under seat or overhead bin
Willow WallStreet Case
The Westcoast Large Display Case was specifically designed for the WallStreet G3 PowerBook. It offers excellent protection for your laptop and accessories, plus room for some paperwork in a reasonably compact package. For the thinner Pismo PowerBooks, there is extra room available for paperwork.
NL-05: Westcoast Large Display Notebook
Price: $125 Cdn/$85 U.S.
Weight: 0.95 kg/2.1 lb.
The Large Display Laptop & Printer case is a special version for large monitor laptops plus your adapters, cables, etc. Great protection is provided by adjustable, rigid dividers separating each compartment with extra room available for paper in the outer padded pocket.
Westcoast Large Display Features::
superb protection insured by 1.2cm foam throughout reinforced with corrugated plastic, high density polyethylene and hardboard on the bottom of the case
excellent comfort insured by a thick, reinforced padded handle, wide contoured shoulder strap
a convenient upper level compartment for the laptop secured by a 50mm velcroed elastic strap
lower level accessory compartment for extra drives, CRRoms, etc. separated by two movable dividers
front to back accessory compartment for thicker accessories
a disc and mesh pocket in lid of computer compartment
organizer pocket on front of case with room for extra paperwork
a organizer panel in the padded pocket plus a flat front zippered pocket on outer panel
a convenient flat pocket on the back suitable for maps, magazines or newspapers
Available colours: Black, charcoal, navy, teal, purple
DigitalHipps Announces Keyboard Keycap Replacements for Pismo, Lombard, and Original iBook
DigitalHipps has announced keyBORG colored replacement key caps for the Pismo and Lombard PowerBook G3s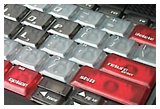 and the original iBook that won't scratch or soil your display screen, unlike the stock keyboard. keyBORG for TiBook and the new 500 MHz iBook is under development.
DigitalHipps hopes to begin accepting orders for the first iteration of keyBORG on or about June 17.
Beginning with the Lombard PowerBook in 1999, due to limited space between the keyboard and the LCD screen when the computer is closed, users began noticing dirt from the keyboard soiling the screen. When using the keyboard, each key comes into contact with your fingers, picking up dermal oils and perspiration. Dust and other dirt can then adhere to these substances. This means that dirt and grease can be transferred to the screen, causing marks and smudges, and over time significant scuffing can occur
keyBORG addresses this by restricting the height of the keys and lowering the key edges so that they do not come into contact with the screen. keyBORG has succeeded in lowering the edge while maintaining the curved nature of the keys and the comfort this provides while typing.
With keyBORG, you can make changes to your computer's appearance with very little difficulty. keyBORG works by exchanging each key on the keyboard, which means that different keys can be different colors. You might wish, perhaps, to make your favourite shortcut keys a different colour from the rest of the layout, or even change the color of a loved one's initial to make it more conspicuous. keyBORG currently offers a choice of four colors for each key, and these can be easily combined in any pattern you wish (see the notes on how to attach keyBORG on their website.
When ordering keyBORG you have the option of varying colors in five "blocks" of the keyboard, or even ordering a single "block" to allow you as much freedom as possible in customizing your computer's appearance.
TiBag
Sebastian Sindermann, Mac faithful and TiBag President says, "I'm not the only person who needs a high-quality bag for their TiBook or new iBook. A bag super-strong, just the right size, comfortable, and very stylish. That is why I created TiBag, exclusively for Mac laptops."
Here are the specs:
Messenger style bag with single strap that goes over shoulder or chest
Constructed with super-durable 600 Denier Polyester
Extra padded back panel
1/4″ foam sewn in lining
Dimensions: 11″ x 14.5″ x 6″
Color: black, Silver embroidered logo
7 organizer compartments
Compartment 2 provides TiBook with maximum protection!
3 pen pockets
Detachable cellular phone pocket
Velcro and zipper seals
Adjustable Velcro shoulder strap
The TiBag comes with a lifetime warranty against any manufacturing defects. TiBag will repair or replace it, at their discretion. (This does not cover normal wear and tear, improper care, neglect, or other damage.)
TiBag sells for $37.95 + $6.00 for USPS 2-3 day Priority Shipping, or $14.00 for International Airmail
Mac Components Engineered (MCE) Announces 48 GB Expansion Bay Hard Drives for PowerBook
Mac Components Engineered's PowerBook Products Division (MCE PowerBook Products, an Apple Developer) has announced a 48 GB version of its Xcarét Pro line of expansion bay hard drives for the Apple PowerBook. The new 48 GB Xcarét Pro&endash;99 Expansion Bay Hard Drive is designed for the 500 MHz and 400 MHz Apple PowerBook (FireWire/Pismo) as well as the 400 MHz and 333 MHz Apple PowerBook G3 Series (Bronze Keyboard/Lombard).
The new 48 GB Xcarét Pro Expansion Bay Hard Drive is designed for the Apple PowerBook G3 Series 1998 (WallStreet), which includes the 300 MHz, 292 MHz, 266 MHz, 250 MHz, and 233 MHz models. Both units are shipping in limited quantities and will ship in larger quantities by September 1, 2001.
"These 48 GB Xcarét Pro and Pro-99 Expansion Bay Hard Drives have a 5400 RPM spindle speed, making them the biggest and fastest storage devices you can put inside any PowerBook," said Arnold Ramirez, President, MCE PowerBook Products. "It is this type of flexibility and expandability that has kept the PowerBook G3 so popular among high-end video and graphic professionals."
Incorporating IBM's Drive Noise Suppression System (DNSS), the new 48 GB Xcarét Expansion Bay Hard Drives offer significantly reduced noise levels. DNSS replaces the traditional ball bearing design with the fluid dynamic bearing spindle motor technology and voice coil motor dampening enhancements.
The MCE Xcarét Pro-99 Expansion Bay Hard Drive is designed to fit into the right expansion bay of the Pismo and Lombard. The MCE Xcarét Pro-98 Expansion Bay Hard Drive is designed to fit into either the right or left expansion bay of the Apple Wallstreet.
Both Xcarét Pro hard drive models utilize native Apple hard disk drivers to operate, so no extra drivers or other software are needed, thereby eliminating potential driver conflicts. Also, both models can be configured to boot the PowerBook directly. As with all MCE PowerBook expansion bay devices, they require no external power supply, with all power being supplied by the PowerBook. Both drives are fully compliant and compatible with Mac OS X.
The MCE 48 GB Xcarét Pro Expansion Bay Hard Drive and the MCE 48 GB Xcarét Pro-99 Expansion Bay Hard Drive retail for $799.00.
PowerBook G4 "Wetsuit Material" Portfolio Bags
Protect your investment with a snugly-fitting glove around your PowerBook G4 Titanium with a flap held by sewn Velcro from MacImports. This custom-fitted TiBook portfolio bag is very light, made from nylon-surfaced neoprene and nicely lined with smooth nylon taffeta so your TiBook slips in and out smoothly. All seams are sewn with nylon edging. The cover flap is held down by two sewn Velcro strips. Available in black, red, orange and wine. From PowerLab (formerly Yu-plan Co.) Ltd. Japan. The bags are custom-tailored to the TiBook's size and made from nylon-surfaced 1/8″ foam neoprene rubber.
Price: $39 (black), $49 (color) plus shipping and handling.
Agfa ePhoto 780C for $99
Not a PowerBook or specifically laptop peripheral, but justdeals has some Agfa ePhoto 780C 1024 x 768 (sort of) digital cameras for $99
The ePhoto 780C supports images at resolutions ranging from 320×240 up to 1024 x 768. The included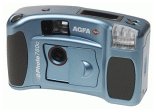 PhotoGenie software actually "zooms" the image up from 640 x 480 pixels, the camera's actual resolution.
The camera's lens is a fixed equivalent of a 50mm lens on a 35mm camera with no digital or optical zoom. There is a 1.8-inch LCD viewfinder and an optical viewfinder. Photos are stored on SmartMedia cards, and a 2 MB card is included, capable of storing between 12 and 96 shots, depending on the resolution. Serial cables are included for transferring images to a PC or Mac. This camera doesn't support USB, but it can display your images on a television set using an included cable.
Specs
Resolution: 1024 x 768; 640 x 480; 320 x 240
Color: 24-bit
Lens: focus-free, all glass lens
Processing speed: under 2 seconds between pictures
Focus: 50 mm equivalent
Aperture: fixed aperture f/4.0 with macro
Flash modes: auto, fill-in, red-eye reduction, off
Flash range: 3-10′
Memory: SSFDC SmartMedia™ 2 MB card (included)
Storage capacity: 12-96 (depending on capture mode) with a 2 MB card
Display: 1.8″ color LCD display; 290×220 resolution
Interface: NTSC/PAL
Compatibility: Windows 95/98/NT and Macintosh System 8.x
Software: Agfa PhotoWise software
Compact, silvery-blue design
Batteries: AA alkaline batteries (included)
Dimensions: 2.75″ H x 5″ W x 1.8″ D
Bargain 'Books
DealMac notes that Club Mac is offering the Titanium PowerBook G4/500 in the following configuration: 256/20.0/DVD/56k/100Base-T Ethernet, model no. M7710LL/A, for $3,279 after an instant rebate.
DealMac also notes that Mac Resource, a Huntsville, AL, authorized Apple reseller, is offering DealMac readers the PowerBook G4/500 with a free VST 4x/4x/20x CD-RW FireWire drive for $3,259.
Pismo PowerBook G3/400 64MB/10 GB/DVD/56K for $1,675.00 (business lease: $64.99)
Titanium PowerBook G4/500 256MB/20 GB/DVD/56K, $3,249 (new)
Titanium PowerBook G4/400 128MB/10 GB/DVD/56K, $2,369 (new)
Original iBook (blueberry or tangerine) G3/300 32/3.2 GB/24x CD-ROM, $999 (refurbished)
PowerBook Pismo G3/400 64/10 GB/DVD-ROM/56K/FireWire, $1,800 (free ground shipping)
Electricdeal.com has some leftover NewerTech FireWire 2 Go CardBus PCMCIA Cards (Mac)for just $29.