2001 – Apple has hit several home runs in the past few years, but it never did anything as fine as the latest iBook. The 4.9 pound portable is an almost incredible combination of strength, small size, good looks, and technology at a good price.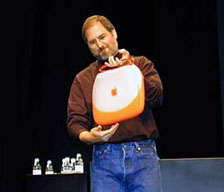 When the first iBook was introduced in New York in 1999, I was in the Apple office in Montreal watching the Jobs keynote in QuickTime. When I saw the iBook, I thought that it could be made better, but if its price were low enough, it could easily be the cheap something to go kind of computer that anybody could use.
Upon seeing the price, I had mixed feelings. It was cheaper than the PowerBook, but still way too much for a consumer notebook. Apple kept improving the iBook, to the point where it was increasingly tempting, but it was not what I would have chosen yet.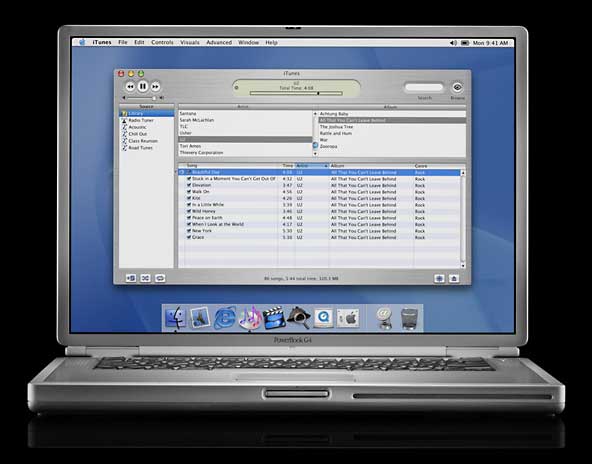 When Apple came up with the Titanium PowerBook, I was looking at it and hoping that the iBook would become "Titanium for the rest of us" in the next revision. I recently wrote to preach for the potential advent of a sub-notebook product, since the original iBook/PowerBook got Apple to sell two full-fledged portables. Something small and cheap sounded like an excellent Mac for consumers and students.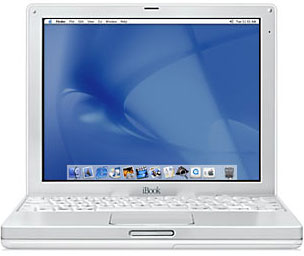 The new iBook is exactly what the Macintosh platform needed. A small, yet rugged and good looking portable. It is made of plastic and rubber, but it sports an appearance similar to that of the Titanium PowerBook. Its technology reflects the latest changes for a consumer notebook, and its US$1,299 price tag finally meets the budgetary demands of consumers and education customers.
Apple has struck, and I predict tremendous success for that baby. Sometime soon, I may start typing my iBasics tutorials from one. Not only is the iBook an overall better machine; it reflects the digital world and taste in aesthetics in 2001. How? I will try to explain.
Taste
Why silver, especially since many PC laptops offer color themes? Because it is trendy. It is the big thing today.
Go to a café, get a seat that allows you to look out at the street, and look at cars as they pass by. Silver cars have been tremendously popular since the early days of 2000.
Silver and wood are back in electronics. A look at Sony products in a store will give you a clear idea. Electronics companies are following Sony's lead and getting back into silver because it is the thing again. The same applies to portable computers. Silver is very hot, and this is what people want. People want colors that are more traditional.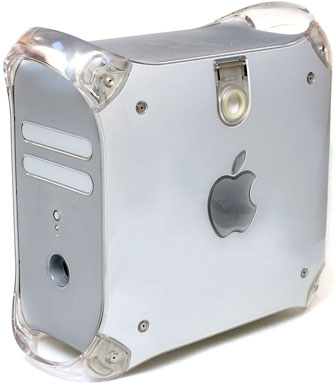 Remember that graphite, another type of gray, has been a top seller since Apple started coloring its products with it. It is no surprise that a silver notebook would be a big hit.
You need one more example of this new wave of modern-traditional taste? Go to a jeans store and try to find a pair of Levi's in red, green, or brown. You are out of luck, unless they still have them in stock from previous years. Blue variations and black are the available colors now.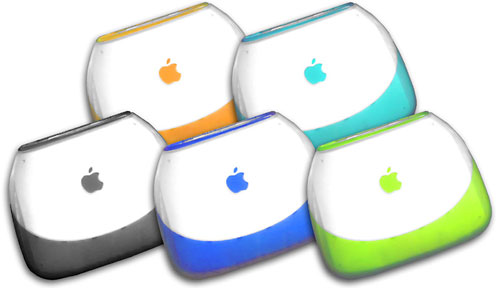 Taste and fashion have reverted to the good old colors of the 1970s and 1980s, and silver electronics are hot again. Candy colored iBooks were nice, but they just had to be replaced. The new iBook is a great fit for anybody. Not too girlie, and not boring. It can look good in the hands of a businessman, a student, a man, a woman – anyone. It is hip.
Digitally Correct
With all its technology and with the software bundled by Apple, there is no doubt about the iBook's ability to answer the demands of the common folks. That famous "digital lifestyle" can thrive through the iBook's multiple ports and nice TFT screen. My only complaint is the small hard drive. Hey Apple, how do you expect me to cram everything in a 10 GB drive when my MP3 collection already exceeds 5 GB?
In any case, the presence of dual USB, a FireWire port, and video out in a backpack or a briefcase is impressive enough for someone who wants all his digital stuff stored in limited space.
Conclusion
The new iBook is an excellent point of convergence that answers many needs. It is small enough, cheap enough for the tighter budget, technological enough for the Mac hungry, and "tasty" enough for the fashion-aware user. Apple could not do better at this moment.
Keywords: #whiteibook #12inchibook #ibookdualusb
Short link: http://goo.gl/YZyyLP