This week, notebook hard drives reached 60 GB, trackers for stolen laptops, $20 OS X 10.2 Jaguar upgrade from Apple, and more.
Except as noted, prices are in US dollars.
60 GB Hard Drive for PowerBooks
Trans Intl. has announced the online availability of a new high capacity 2.5″ 60 GB, 5400 rpm hard drive for expanding the internal storage of Apple PowerBooks and PC Notebooks.
With the availability of this new drive, PowerBook users can maximize the internal storage capacity of their systems – up to 60 GB at the fastest possible data transfer rate an internal 2.5″ drive can deliver (a 25% capacity increase over the previous generation notebook drives, but without additional power consumption). The low power consumption is enabled on the drive by Adaptive Battery Life Extender (ABLE) technology, offering notebook customers the longest battery life of all leading notebook hard drives on the market.
This new 60 GB drive has unique performance features superior to other drives currently available:
The lowest drive latency of 2.5″ drives, which makes this the fastest drive currently available
Media transfer rates up to 262 Mb/s
Highest shock rating of 700 G/1 ms., nonoperating shock, 150 G/2 ms, operating shock
Ultra DMA mode-5 maximum interface transfer rate ATA-5; 100 MB/sec
This drive replaces the traditional ball bearing design with a fluid dynamic bearing spindle motor technology making it the quietest drive during read/write operation than its predecessors.
The high speed and capacity of this drive helps provide higher quality digital audio and video, superior digital content creation capabilities, and significantly faster processing for data-intensive multimedia and Internet applications.
This new 60 GB 5400 RPM drive is also available as an external FireWire portable unit featuring the fastest sustained data transfer rate of [20-35 MB/s] enabled by an OXFORD 911 FireWire to IDE bridge chip.
Specification and Features:
Capacity: 60 GB
Seek time : 12 ms
Spindle Speed: 5400 RPM
Cache buffer: 2 MB
Interface: ATA-5 [100 Mb/s]
Warranty : 3 years
Secure Notebook X 1.1 Helps Track Stolen Laptops
Security application for Apple notebook computers that can help you (or the police) find your computer if it is stolen. Secure Notebook runs as a hidden, background application on your computer and sends useful information to an email account.
New in this version:
WAN/Local IPs displayed in queries
Minor interface improvements
Minor bug fixes
System requirements: Mac OS X 10.0 or higher
Secure Notebook X is $12 shareware
Lost and Found (Hopefully) 1.2.1 Helps Locate Stolen Computers
Lost and Found (Hopefully) uses Unix's Sendmail to send sneaky email messages to a designated email account that will contain information like your computer's IP address and other various information that will help you find your lost or stolen computer. Contained within the download is another AppleScript that will help you set up "Sendmail" on your computer. Read all of the documentation.
Rename and hide copies of this program on your computer to make the script more effective and to make it harder for a thief to delete them if he figures this out. Use crontab to schedule these scripts for times aside from just the startup run.
The Documentation in this version is better to help those of you who couldn't set up the SMTP Server with the SMTP Setup Script. Although, in this version I have made some slight modifications to try to make the SMTP Setup script work better for everyone. Visit my website for more information and help setting up the SMTP Server. Please email me if you need help setting everything up! For those who have already set up their SMTP server and have everything working, no upgrade is needed.
System requirements: Mac OS X 10.1 or higher
Lost and Found (Hopefully) is freeware
ALZAmela Protects and Cools Your PowerBook or iBook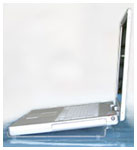 The semiconductor devices (CPU, memory, etc.) in your laptop produce heat. The steady improvement in CPUperformance from one generation to the next is obtained mainly by increasing the CPU clock frequency, producing even more heat. Delicate electronic circuits can malfunction at extremely high temperatures; in fact, they can even melt down due to excessive heat build up.
Your system could become unstable, reporting strange errors. It could freeze, and could even cause some data to become corrupted. If you insist going too far then you may lose all data and your CPU could be destroyed.
Keeping your laptop cooler has other longer-term advantages as well. A local increase in temperature inside a semiconductor device accelerates a process known as electromigration damage. Electromigration leads to the breaking of the tiny electrical wires that carry the signals, shortening the life of the chips.
Raising your laptop off your desk, the new Italian product ALZAmela guarantees better air circulation, improving heat dissipation and prolonging the life of your laptop.
ALZAmela models include:
PowerBook G4 flat model
Dimensions: 34 x 23 cm (13.4″ x 9.05″)
Net Weight: 292 gr. (10.3 ounces)
Material: Plexiglas, cut and shaped with laser technology
Color: sand
PowerBook G4 sloping model
Dimensions: 34 x 23.5 x 2.3 cm (13.4″ x 9.25″ x 0.9″)
Net Weight: 300 gr. (10.6 ounces)
Material: Plexiglas, cut and shaped with laser technology
Color: sand
iBook 12 flat model
Dimensions: 27.5 x 22 cm (10.8″ x 8.65″)
Net Weight: 212 gr. (7.5 ounces)
Material: Plexiglas, cut and blended with laser technology
Color: transparent
iBook 12 sloping model
Dimensions: 27.7 x 21 x 2.3 cm (10.9″ x 8.24″ x 0.9″)
Net Weight: 290 gr. (10.2 ounces)
Material: Plexiglas, cut and blended with laser technology
Color: transparent
iBook 14 flat model
Dimensions: 32 x 25.5 cm (12.5″ x 10.05″)
Net Weight: 262 gr. (9.25 ounces)
Material: Plexiglas, cut and shaped with laser technology
Color: transparent
iBook 14 sloping model
Dimensions: 32 x 24.7 x 2.5 cm (12.6″ x 9.25″ x 1.0″)
Net Weight: 206 gr (7.25 ounces)
Material: Plexiglas, cut and shaped with laser technology
Color: transparent
PowerBook G3 flat model
Dimensions: 33 x 27 cm (13.0″ x 10.6″)
Net Weight: 260 gr. (9.2 ounces)
Material: Plexiglas, cut and shaped with laser technology
Color: smoked
PowerBook G3 sloping model
Dimensions: 30.5 x 23 x 2 cm (12″ x 9.05″ x 0.8″)
Net Weight: 260 gr. (9.2 ounces)
Material: Plexiglas, cut and shaped with laser technology
Color: smoked
Laptop Hood for Use in Brightly Lit Environments
The E-2000 Hood from Hoodman

USA utilizes a "popup" patented technology. The hood quickly folds flat for easy portability, then springs into shape. It simply slips over your Laptop's Screen. Once the Eclipse is in place, it not only eliminates glare (even outdoors), it also allows private viewing of your laptop's screen.
Price: $39.95
Apple Offers Mac OS X v10.2 Jaguar CD via Mac OS X Up-To-Date
Apple is offering customers who purchase a qualifying new Macintosh computer on or after July 17, 2002 that does not include Mac OS X v10.2 (Jaguar) the opportunity to upgrade to Mac OS X v10.2 for US$19.95.
The program ends on October 31, 2002. Your order must be postmarked or faxed by October 31, 2002.
A Macintosh computer qualifies for this program if it was sold by an authorized Apple reseller or Apple Computer, Inc., on or after July 17, 2002 and does not have Mac OS X v10.2 included. The combination of your date of purchase and the computer marketing part number is used to determine whether your order qualifies for this program.
If you purchase multiple qualifying products on a single invoice, you can either purchase a Single-User CD Upgrade Kit for each qualifying product, at a cost of US$19.95 each plus appropriate sales tax; or purchase fewer Single-User CD Upgrade Kits and request the Right to Copy for the remaining qualifying products.
For more information, visit<http://www.apple.com/macosx/uptodate/>.
Drive 10 1.1 OS X Disk Repair and Maintenance Tool
Drive 10 can repair almost any drive problem with one simple click of your mouse. Sporting a sleek Aqua interface, this advanced disk repair and recovery product has been designed exclusively for Mac OS X. In addition to repairing drives and recovering data, Drive 10 offers the additional benefit of providing automatic, regular backups of important volume structure data. This feature can make data and drive recovery far easier and more reliable.
New in this version: Optimize and defragment your Mac OS X drive from within Mac OS X. Plus, Micromat has added a whole host of new repair routines that allow you to find and correct drive problems.
System requirements: Mac OS X 10.0 or higher
Drive 10 sells for $69.95 ($40 upgrade)
Miglia Expands Its Storage Range with Catalyst ATA/FW Kit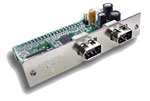 Miglia has announced the immediate availability of the Catalyst ATA/FW Kit. Designed for more technicallyaware users , this kit enables a user to upgrade an external SCSI drive case to the latest Oxford 911 bridge board technology. FireWire cases with first generation converters may also be converted to the FireWire connectivity standard.
A removable front plate allows an easy installation in older SCSI cases that have Centronics type connectors.
The converter supports master/slave mode and is compatible with most recent ATA hard drives and ATAPI devices.
The kit ships with an ATA/FireWire bridge board (with master/slave support), an ATA cable with three connectors, power and a 6/6 FireWire cable. Catalyst FW/ATA KIT carries an suggested retail price of €89 or US$89.
e.Digital's Odyssey 1000 Establishes New Standard in Digital Entertainment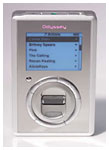 It's sleek, it's powerful, it has the capacity to download 4,800 songs, or 400 CDs, at lightning-quickspeed – and it's PC and Mac compatible. e.Digital Corporation has announced its new Odyssey 1000 digital jukebox and data storage device, its premier digital audio player. Powered by e.Digital's MicroOS 2.0, the Odyssey 1000 combines the best of e.Digital's digital audio technology into one stellar, feature-packed unit.
Jim Collier, President and COO of e.Digital, said, "The Odyssey 1000 sets the standard by which all other portable entertainment products will now be judged. It is the result of our first joint project with our strategic development partner Digitalway. It combines an elegant, world class industrial design from Digitalway's award-winning engineering team with e.Digital's state-of-the-art, patented audio technology. There is nothing else available that matches its elegant looks, full range of features, and cutting-edge Drag 'n Rip technology."
The Odyssey 1000, which will be available to consumers this fall, boasts superb sound quality and outstanding battery life, with a minimum of 13 hours of playback time. The feature-rich Odyssey 1000 has a 20 GB hard drive for MP3 and Windows Media WMA playback and doubles as a data storage unit for movies, spreadsheets, e-books, and more. Its stainless steel, sleek industrial design only enhances the aesthetic appeal of this digital audio powerhouse, which is small enough to fit in a pocket or purse.
The Odyssey 1000's high-speed USB 2.0 connection and remarkable ease of use make downloading and transferring music a breeze. With the Odyssey 1000's USB 2.0 connection, users can transfer an entire CD to their player in about 5 seconds. And e.Digital's Drag 'n Rip technology enables users to transfer music in one easy step simply by dragging tracks directly from a CD directory onto their player's hard drive. Drag 'n Rip optionally enables users to create a mirror library of music on their computer. The Odyssey 1000 also is compatible with Mac iTunes.
Another outstanding feature is the Odyssey 1000's voice navigation capabilities. The Odyssey 1000 uses e.Digital's VoiceNav user interface based on Lucent's speech recognition technology so users can navigate through their libraries of music simply by the power of their own voice. It also has an easy-to-use scroll wheel for effortless manual navigation. In addition, the Odyssey 1000 is a voice recorder that comes with a built-in microphone for hours of voice recording on its massive hard drive.
Collier added that, "This is a product that will have broad appeal to both Mac and PC users. It provides them with a full suite of features and advanced technology not currently available from any other product on the market. It also will be subscription enabled and fully compatible with our subscription content partners, soon to be announced. Its intuitive user interface and ease of navigation will appeal to all age groups. Anyone who likes music and books will love the Odyssey 1000."
Furthermore, the Odyssey 1000 comes with music preloaded by e.Digital's Broadband Entertainment Business Unit so users can immediately start enjoying music on their player. The Odyssey 1000 also has an FM tuner with 12 available station presets and 16 MB DRAM buffering for robust anti-skip protection and increased battery life.
The standard Odyssey 1000 package will include e.Digital Music Explorer 2.0 software for PC (featuring Drag 'n Rip technology), carrying case with belt clip, an installation CD and manual, stereo earphones, USB 2.0 cable with standard and mini connectors, a universal DC adapter/battery charger, and RCA audio cable for home stereo connection.
The Odyssey 1000's Drag 'n Rip technology, voice navigation capabilities, and preloaded content make it absolutely unparalleled among its peers. The much-anticipated Odyssey 1000 will be available to consumers this fall.
The Odyssey 1000 includes the following features:
20 GB hard drive
13-hour minimum playback time
Mac and PC compatible
Mac iTunes compatible
Drag 'n Rip copies music directly from CD to player
USB 2.0 high-speed download
Typical USB 2.0 transfer rate: 8 Megabytes per second (MBps)
Voice navigation using VoiceNav™ technology
Built-in microphone for voice recording
MP3, Windows Media™ (WMA), and WAV file playback
FM tuner with 12 preset stations
16 MB DRAM anti-shock buffering
Five-band equalizer with 5 presets and 1 user-defined setting
Approximate dimensions: 2.87″ x 4.3″ x 0.9″ (73 mm x 110 mm x 22.8 mm)
Blue backlit electroluminescent LCD with adjustable settings
Internal real-time clock
WMA Digital Rights Management (DRM) support
Combined audio out and remote control jack
Multi-language support via firmware upgrade
Playlist creation through user interface
Firmware upgradeable
Lithium-Polymer rechargeable battery charges in 4 hours
Bargain 'Books
There are two different versions of WallStreet running at 233 MHz, the cacheless MainStreet version and the later Series II with a level 2 cache. It's not always possible to determine from the vendor's listing which is being offered, so we've included links within this paragraph to the two models. The same goes for the PowerBook G4/667 (Gigabit Ethernet) and G4/667 (DVI).
PowerBook G4/800, 512/40 GB/Combo Drive, AirPort, factory refurbished with a 1 year Apple warranty/plus factory refurbished Apple 23″ Cinema High Definition LCD Display & Apple DVI to ADC Connector, $6,399
PowerBook G4/400, 128/10 GB/DVD (opened, tested) refurbished, $1,219 (Lowest price I've seen yet for a TiBook)
iBook 500, 128/15 GB/CD-ROM, AirPort, new, never used, 1 year warranty 5 pack, $4,099
All prices below in Canadian Dollars
PowerBook G3/266, 128/4 GB/CD/14.1″, used with 30 day warranty, $999.99
iBook 300, 128/6 GB/CD (with carry bag), used with 30 day warranty, $989.99
PowerBook G3/233, 64/2 GB/CD/14.1″, used with 30 day warranty, $799.99
PowerBook Lombard G3/333, 128/4 GB/CD, USB, $1,699
PowerBook Lombard G3/333, 96/4 GB/CD, $1,679
iBook SE 466, 64/10 GB/DVD, $1,599
searchword: bookrev200207.26