MCE has a Combo drive upgrade for early Titanium PowerBooks, Toshiba's new notebook drive includes a 16 MB buffer, Amazon is taking preorders for OS X 10.2 Jaguar, and more.
Except as noted, prices are in US dollars.
MCE Offers CD-RW/DVD-ROM Combo Drive Upgrade for 550 and 667 MHz TiBooks
MCE Technologies has announced that the MCE CD-RW/DVD-ROM Combo Drive upgrade for the PowerBook G4, previously available only for the 400 and 500 MHz PowerBook G4 models, is now also available for the 550 MHz and 667 MHz PowerBook G4.
The MCE PowerBook G4 CD-RW/DVD-ROM Combo Drive upgrade is designed to replace the internal CD-RW or DVD-ROM drive that shipped in some PowerBook G4 configurations. The MCE CD-RW/DVD-ROM Combo Drive upgrade is available immediately. Customers may have the upgrade performed by MCE directly or by a member of the worldwide network of MCE Authorized Upgrade Centers.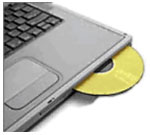 "Our efforts were concentrated on satisfying the needs of the 400 MHz and 500 MHz PowerBook G4 owners first,since they did not have an internal upgrade path available to them," said Arnie Ramirez, President, MCE Technologies. "Now that the Apple upgrade program for the 550 MHz and 667 MHz PowerBook G4 is over, we have received a large number of requests from users to make our drive compatible with their machines . . . which we have done."
The MCE PowerBook G4 Combo Drive upgrade is a slot-loading CD-RW/DVD-ROM drive that replaces the existing CD-RW-only or DVD-only drive that shipped with some PowerBook G4 Titaniums, giving users the ability to record CDs and watch DVDs from a single drive within their PowerBook. The drive writes to CD-R and CD-RW media at up to 8x speed, reads CD-ROM discs at up to 24x speed and reads DVD-ROM discs at up to 8x speed. The drive is bootable, and is compatible with Mac OS 9 and Mac OS X as well as Apple's iTunes, Disc Burner, and DVD Player software. The MCE PowerBook G4 Combo Drive is also compatible with Dantz Retrospect backup software.
The MCE PowerBook G4 Combo Drive has a retail price of $299. To have the upgrade performed by MCE directly, customers can make arrangements on the Internet or by contacting MCE by telephone at (800) 500-0622. Turnaround time is expected to be one to two business days.
Toshiba 2.5″ ATA Hard Drive With 16 MB Buffer Cache
Toshiba has released a new 40 GB 2.5″ hard drive with a whopping 16 MB of buffer cache.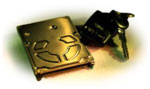 Toshiba America Information Systems, Inc. (TAIS), Storage Device Division has introduced the MK4019GAX 2.5″ 40 GB hard drive.The MK4019GAX offers the industry's highest areal density per platter, at 34.7 gigabits per square inch. The drive's 5400 RPM motor speed, improves system-level performance by as much as 12 percent when compared to 4200 RPM drives.
The MK4019GAX is ATA-5 compliant, supporting high transfer rates of up to 100 megabytes per second.
Features:
40 GB capacity
Rotational Speed of 5400 rpm
Fluid Dynamic Bearing (FDB) motor drive
9.5 mm High
12 ms Average Seek Time
ATA-5 Interface
100 MB/sec. Transfer Rate
16 MB Buffer
300,000 MTTF Hours
The 40 GB 2.5″ Super Slimline (9.5 mm) HDD MK4019GAX sells for about $250.
Trans Intl. (1-714-634-1583) reportedly has a few in stock.
Amazon Taking Preorders for OS X 10.2 Jaguar at $79
If you're bummed about the $129 price tag Apple has put on the Mac OS X 10.2 Jaguar update, check out this $50 Special Offers discount from Amazon.com….
NOTE: Amazon.como has discontinued this promotion.
Apple Wants Portable Feedback From Developers
Apple is circulating following message to Apple developers:
"Portables Team Requests Feedback Apple's Portables development team would like to know how they're doing with the PowerBook and iBook. From your perspective as users and developers, please comment on current PowerBook and/or iBook product features and functionalities that are compelling to PC users looking to switch. Please categorize your comments as hardware, software, and Mac OS, and email to powerbookmarketing@apple.com before August 10, 2002. Make your voices heard."
A tip of the hat to Accelerate Your Mac! for posting this item.
LapBottom Keeps Your Laptop (and You) Cooler
The LapBottom, a simple, comfortable solution

to using your hot running laptop on your lap, now ships with new gripper pads that hold your laptop better and give you an even more secure work surface. In addition, an extra set of thicker pads will be included for those who prefer to use their laptop in a slightly slanted position.
The LapBottom is a product from LapBottom Products designed to enable today's users of high speed, hotter running laptop computers, return to comfortably using them on their laps.

The LapBottom has a comfortably padded underside that stays in place on your lap. The top combines raised ridges and non-slip feet to provide air flow under your laptop while holding it in place. It is made of lightweight and durable materials. About the size of laptops, it compresses to just under an inch thick.
Features:
A comfortable and ergonomic way to use your laptop where it was meant to be.
Added stability at home or while traveling.
The air flow your laptop needs to cool itself and last longer.
Additional padding and protection when included in your carry case.
The LapBottom will not provide you with more work space, a swiveling base, added storage, change the balance of your laptop, nor will it give you a place for your cellular phone.
Available from the Applelinks store for $23.
Willow Eastern Large Display Carry Case for 14″ iBook & Pismo/Lombard G3 PowerBook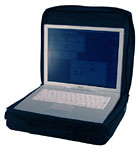 The Eastern Large Display offers a lightweight, compact, highly protective solution for carrying many ofthe large screen laptops plus accessories. The case offers superb protection for all your gear with separate compartments for accessories in the lower level and extra space in the front zippered pocket.
Eastern Large Display Features:
fits many of the large display laptops such as the 14″ iBook, ThinkPad A Series, Satellite 5005, Inspiron 2500, Latitudes among others.
excellent protection for your laptop afforded by 1.2 cm (0.5″) foam, reinforced by corrugated plastic on the front, back and lid plus 4 mm (1/8″) hardboard on the case bottom.
extra protection afforded by cross directional corrugated plastic internal separation dividers.
up to four separate compartments for your laptop, adapter and accessories.
disc and CD-ROM pockets on the laptop compartment lid.
an outer front pocket organizer panel for pens, pencils, chequebook etc.
a zippered external front and back pocket which will fit 2.0 cm (0.8″) of letter sized file folders or other gear each.
a zippered flat front paper pocket.
a convenient flat pocket on the back suitable for maps or magazines
luggage feet riveted through the hardboard bottom of the case which actually keep it up and off the ground.
secure thickly padded briefcase style handle with web anchors quadruple stitched and additionally reinforced by quadruple rivets through high density polyethylene underneath the fabric top panel.
contoured, thickly padded shoulder strap with heavy duty snaphooks for secure carrying.
lifetime guarantee against defects in materials or craftsmanship.
Available Colours: black, charcoal, navy, teal, purple
Pricing: $ 124 Cdn./$83 U.S.
PowerBook G4: Customer-Installable Parts Procedures Tutorials
Apple has posted Knowledge Base article 95131 containing links to QuickTime Movies and written instructions, in both text and PDF format, for installable parts for the PowerBook G4 computer.
Replacement Part Instructions
AirPort Card
Bottom Case
Keyboard
Memory
Modem
Bargain 'Books
There are two different versions of WallStreet running at 233 MHz, the cacheless MainStreet version and the later Series II with a level 2 cache. It's not always possible to determine from the vendor's listing which is being offered, so we've included links within this paragraph to the two models. The same goes for the PowerBook G4/667 (Gigabit Ethernet) and G4/667 (DVI).
These products are used, in good to excellent condition, and covered by a 30-day warranty.
searchword: bookrev20020802