For the first time since the G4 Mac mini was introduced in January 2005, Apple came up with a new form factor for its smallest desktop. Where all previous Minis had been 6.5″ square and 2.0″ tall, the new model measures 7.7″ square and just 1.4″ high. It also uses unibody construction like Apple's notebooks. And for the first time, the power supply is part of the computer, not an external device; the new model is also 25% more energy efficient than the previous one.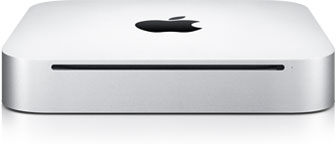 Apple has once again increased the price of the Mac mini. It was increased from its original $499 price for the entry-level G4 model to $599 when Apple moved to Intel in 2006, and now it's been increased another $100 to $699 – ever closer to the slowly decreasing price of the MacBook notebook.

The 2010 Mac mini gains an SD Card slot (in the back) and adopts Nvidia GeForce 320M graphics, the same GPU used in the current 13″ MacBook and 13″ MacBook Pro. There are only four USB 2.0 ports, down from five in last year's model, and FireWire 800 remains (FireWire 400 devices can be used with a FireWire 800-to-400 cable or adapter). For monitors, there's the Mini DisplayPort found in all current Macs and HDMI, the industry standard for high definition TVs, so it supports two displays. Completing the back panel are a power button plus audio in and out ports.
The base configurations runs at 2.4 GHz, and there is a $150 build-to-order option for a 2.66 GHz CPU. 2 GB of RAM is standard, and for the first time Apple officially supports memory expansion to 8 GB. A server version drops the SuperDrive in favor of a pair of 500 GB hard drives, ships with 4 GB of RAM, and runs at 2.66 GHz.
There are two memory sockets, both are filled with matching modules.
The Mid 2010 Mac mini is the oldest Mac mini officially supported by macOS Sierra.
The Mac mini doesn't include a keyboard or mouse. Apple says buyers can plug in their favorite USB keyboard and mouse – or buy Apple's offerings. Mac OS X includes support for remapping the Windows alt and option keys to option and cmd respectively.
Details
introduced 2010.06.15 at US$699 (2 GB RAM/320 GB hard drive) and US$999 (4 GB RAM/dual 500 GB hard drive/OS X Server/no optical drive), 2.66 GHz build-to-order option adds $150 to base model; replaced 2010.07.20 by Mac mini (Thunderbolt) and Mac mini Server (Thunderbolt)
Part no.: MC270 (2.4 GHz), MC438 (2.66 GHz Server)
Model Identifier: Macmini4,1
Mac OS
requires Mac OS X 10.6.3 or later. macOS 10.14 Mojave and later are not supported.
Mac OS X 10.6 Snow Leopard compatibility

Grand Central Dispatch is supported.
64-bit booting supported but off by default.
64-bit software is supported.
OpenCL is supported.

Mac OS X 10.8 Mountain Lion compatibility

AirPlay Mirroring is not supported.
AirDrop is supported.
Power Nap is not supported.
Core System
CPU: 2.4/2.66 GHz Penryn Core 2 Duo
L2 cache: 3 MB on CPU
Bus: 1066 MHz
RAM: 2/4 GB, expandable to 8 GB using two 1066 MHz DDR3 SO-DIMMs. 256 MB of RAM set aside as video memory.
Performance, Geekbench 3:

32-bit single core: 1298 (2.4 GHz), 1377 (2.66 GHz)
32-bit multicore: 2210 (2.4 GHz), 2350 (2.66 GHz)
64-bit single core: 1427 (2.4 GHz), 1555 (2.66 GHz)
64-bit multicore: 2482 (2.4 GHz), 2682 (2.66 GHz)
Video
GPU: Nvidia GeForce 320M with resolution to 2560 x 1600 (Mini DisplayPort) and 1920 x 1200 (HDMI).
VRAM: 128/256 MB DDR3 SDRAM (shared with main memory)
Video out: HDMI and Mini DisplayPort, HDMI-to-DVI adapter included, VGA with optional adapter
Drives
drive bus: 3 Gbps SATA Rev. 2
Hard drive: 2.5″ 320/500 GB 5400 rpm SATA standard; 500 GB available for base model on build-to-order basis
SuperDrive DL: SATA, writes DVD±R discs at up to 8x speed, DL at 6x; DVD±RW at 8x; reads DVDs at up to 8x; writes CD-R and CD-RW discs at up to 24x, reads CDs at up to 24x
Expansion
USB 2.0: 4 ports
FireWire 400 ports: 0
FireWire 800 ports: 1
Ethernet: 10/100/gigabit
WiFi: 802.11n AirPort Extreme built in
Bluetooth 2.1+EDR: standard
SD Card slot: yes
IR receiver: supports Apple Remote (optional)
no internal modem; external USB modem available
Microphone: none
Physical
size: 1.4 x 7.7 x 7.7 in/36 x 197 x 197 m
Weight: 3.0 lb./1.37 kg
Power supply: 85W internal power supply
PRAM battery: 3V CR2032 lithium
Upgrades
CPU can probably be replaced with a faster one.
Online Resources
Keywords: #2010macmini #macmini2010 #mid2010macmini #macminimid2010
Short link: https://goo.gl/5UUrwJ
searchwords: macmini2010, macminimid2010