Your best bet G4 iMacs are the last generation models (1 GHz 15″, 1.25 GHz 17″ and 20″ models), which have better video, support 2 GB of memory, and are the only G4 iMacs to include USB 2.0 ports. (Whether you're looking at flash drives, scanners, printers, iPods, iPhones, or almost anything but keyboards and mice, USB 2.0 makes a big difference.)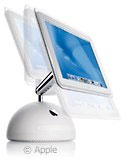 The iMac G4 is an unusual looking computer that comes in three sizes (with 15″ 1024 x 768, 17″ 1440 x 900, and 20″ 1680 x 1050 screens) and four clock speeds (700 MHz, 800 MHz, 1 GHz, and 1.25 GHz). 1 GHz and faster iMacs are fully supported under Leopard, and the slower iMacs are able to run it, although you'll have to get around the installer to get OS X 10.5 on the slower models. We strongly recommend at least 1 GB of memory for Leopard.
Leopard is officially supported on all 867 MHz and faster G4 Macs with at least 512 MB of RAM and the ability to run the DVD-based installer, so you'll need a Combo drive or SuperDrive. Leopard can be installed on sub-867 MHz G4 Macs using a variety of methods. See our article on Unsupported Leopard Installation for details and success stories.
For more on the place of G4 iMacs today, see The Future of G4 iMacs in the Age of Leopard.
Used Macs usually have a 90 day warranty, and we try to note where that is not the case. Prices may not include mouse & keyboard, and we try to mention that as well. For those on a tight budget, the 17″ CRT-based G4 eMac may be a good choice (see our Best eMac Deals for current prices, which range from $50 to $250). For those looking for more power, G5 iMacs start at $350.
Best iMac G4 Prices
15″ 700 MHz Combo, $178

, DV Warehouse

17″ 1.25 GHz, $274, DV Warehouse
Recent Memory Prices
Note that all G4 iMacs have two different memory slots – one for SO-DIMM, which is easily installed by the user, and one for SDRAM, which is more challenging to install. For maximum capacity, you need one of each.
PC133 (700-800 MHz, 17″ 1 GHz): 256 MB SO-DIMM, $13.99; SDRAM, $11.19; 512 MB SO-DIMM, $19.99; SDRAM, $16.99 ($37 for 1 GB maximum RAM)
PC2700 (15″ 1 GHz, all 1.25 GHz): 256 MB SO-DIMM, $12.99; SDRAM, $6.00; 512 MB SO-DIMM, $11.99; SDRAM, $11.49; 1 GB SO-DIMM, $31.99; SDRAM, $19.99 ($52 for 2 GB maximum RAM)
Mac OS Prices
Unless otherwise noted, there is no surcharge for credit card purchases, and shipping is often (but not always) included. Vendors are listed in alphabetical order.
G4 iMacs are used unless otherwise noted. Prices may be limited to quantity on hand. Not responsible for typos. Please email any corrections or additional sources with competitive prices to .
Buying through some of these links benefits Low End Mac. Buying at these prices benefits you.
G4 iMac Profiles
2002: 15″ 700/800 MHz, 17″ 800 MHz (USB 1.1, can boot OS 9, support up to 1 GB of RAM)
2003: 15″ 800 MHz, 17″ 1 GHz (USB 1.1, cannot boot OS 9, support up to 1 GB of RAM)
2003: 15″ 1 GHz, 17″ 1.25 GHz, 20″ 1.25 GHz (USB 2.0, cannot boot OS 9, support up to 2 GB of RAM)
DougDeals is located in Leander, TX.
Ground shipping can add $40 or more.
15″ 700 MHz Combo, 512/40, $178
17″ 1.25 GHz SD, 512/80, $274
Ground shipping can add $40 or more. Prices reflect 10% web discount. 60 day warranty.
The older CRT iMacs – new, used, and refurbished – are listed in our G3 iMac Deals. We also track eMac Deals, which provide the same G4 power as the G4 iMac but with a less costly CRT display, iMac G5 Deals, and Mac mini Deals for those who prefer a compact, modular Mac.
Keywords: #lemdeals #imacdeals #imcg4deals
Short link: http://goo.gl/krGu95
searchword: imacg4deals