I test iOS 8 on my iPhone 4s out in the wild, my first day with the new OS. How does it go?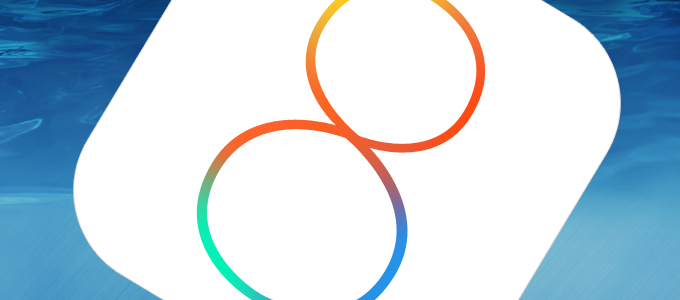 Yesterday Apple dropped iOS 8 on the public, and after a sketchy few hours of failed or slow downloads, I finally got it installed. You can check out my 'first day impressions'.
I then decided to re-install iOS 8 and start afresh – not from a restore. So I sat up until the early morning installing iOS 8 again, putting my apps on, setting them up, adding my music, and tweaking things to how I like them.
Once done, I slipped my iPhone 4s in my Mophie and set both charging overnight, ready for the morning.
Here We Go
8 a.m. and my phone is taken off charge. I did my usual morning routine of checking my emails and Twitter feed from overnight whilst having breakfast.
Then I was ready for a full day 'out in the wild' with my phone. A true test of an iPhone's battery capabilities is to use it on mobile data, as it is a lot heavier than WiFi. Plus, being out meant I needed to fill those boring moments with phone time – checking Facebook and Twitter as well as messaging and emailing people.
Speed
The iPhone 4s is the lowest iPhone to support iOS 8,and whilst I wanted the latest OS, I was a bit dubious as to how the 4s would handle it. This time last year I upgraded an iPhone 4 to iOS 7 and realised how sluggish it was.
iOS 8 is totally different. I have noticed no speed difference from using iOS 7 – this is good for a '.0' release – and I can only think things will get better. I have used it quite heavily today, flitting from app to app and had no issues at all.
Installed apps on my iPhone are Facebook, Twitter, Messenger, BBM, WhatsApp, Google Maps, MacTracker, eBay, PayPal, YouTube, Sky+, Dropbox, National Lottery, Cyclemeter, iFixit, Shazam, Speedtest, XE, Gumtree, and Photoshop Express.
All of these ran in iOS 8 without any apparent issues – with Facebook, Twitter, Messenger, and eBay being used extensively today.
New Features
I was eager to try out the promised new features of iOS 8.
Messages now have the ability to record voice memos and send them to other iPhone users. I sent one to an iOS 6 and iOS 7 device, and this worked fine. It seems to support any device on capable of iMessage, so it should support iOS 5 and the original iPad, but this needs confirming.
The predictive or preemptive text input with the keyboard (left) is something I've gotten used to very quickly. It's new to iOS but has been on other platforms. It predicted which words I wanted very accurately today.
I do agree with reports that iOS 8 was made for larger screens. I did find at times that the extra height of the iPhone 5, 5c, and 5s or the bigger screens of the iPhone 6 and 6 Plus would make it easier to use – especially using the keyboard. My 4s seems a bit cramped, but nothing you can't live with.
The camera has some cool new features, including a timer mode offering a 3 or 10 seconds delay in picture taking and an interesting time-lapse feature (right) that could be used for stop motion too.
The battery usage idea is cool – and yes, another feature taken from Android – where it shows which apps have used your battery (left). This is great for working out why your battery isn't lasting.
An odd addition is Grayscale (right) – turning your phone in to a monochrome device. I presume this is a battery saving option, but just like the invert, you can't screen grab it. It will just take normal full colour grabs.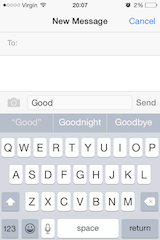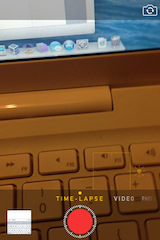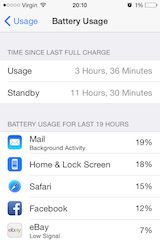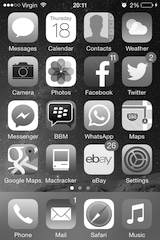 Control Centre has a new look – but is essentially the same.
I haven't been able to test the new widgets feature out in the Notification centre – as apart from Stocks I have nothing I could add to it. Am hoping FaceBook and Twitter will update to include widgets.
Wallpapers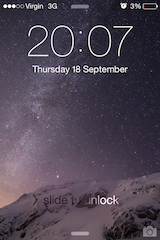 Hardly a new feature, but it is always nice to see what wallpapers Apple have included. However, I have an odd habit of keeping to the default wallpaper.
Battery Life
One of the biggest questions people want to know is battery life. I have to report that I have noticed no difference in battery life from iOS 7 to iOS 8. In fact, I could probably say battery has been a little better than under iOS 7. I almost got to the end of the day without needing my Mophie, and I have used it pretty heavily today and over 3G.
I have also been travelling, dipping in and out of signal, and at times having No Service, which can affect battery life.
Problems
I can't let this review go by without mentioning some syncing problems. My dad called to say he couldn't get his music to sync correctly after the update. Early this morning, I had issues getting it on mine, but eventually it did go.
I decided to replicate his issues, and by doing this I couldn't sync my music either. It seems there is an issue. iOS 8 has space issues. Despite having the exactly the same apps and music and over 2 GB free on my phone, iTunes claimed there wasn't enough space. My iTunes said it needed 5.5 GB extra space, and my dad needed 64 MB extra space.
After multiple attempts at getting this resolved, we decided to backup and restore. This resolved it, and eventually we had everything up and running – but this couldn't go without being mentioned.
Conclusion
I am very happy with iOS 8. I am sure there will be some bugs, but after a very heavy day of fiddling and use, I am extremely pleased with speed, stability, and battery life – especially on an older iPhone.
I recommend iOS 8 despite the few sync issues. Hopefully Apple will resolve these sync issues with either an iTunes update or an iOS update.
---
Follow Simon Royal on Twitter or send him an Email.
Like what you have read? Send Simon a donation via Tip Jar.
---
keywords: #ios8 #ios8oniphone4s #firstday #techspectrum #simonroyal
short link: http://goo.gl/JvBB3k
searchword: ios8