After months of rumors, Apple finally announced the iPhone 6 and the iPhone 6 Plus. Is it what we expected?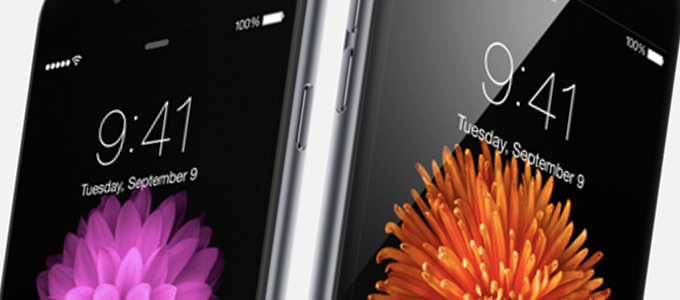 Like any Apple fan eagerly awaiting news, I counted down the hours until the live event, which started at 6 PM UK time on September 9th.
However, within minutes of it starting, the live stream was plagued with drop outs, test card screens, and a foreign voiceover for the first 20 minutes. While the voice disappeared, the other problems carried through out the whole live event.
In a bizarre twist, you needed an Apple device to view the stream, which seemed a bit daft, alienating potential customers.
It seems Apple can't keep their products secret anymore, and most of the leaked images and specs were spot on – or was this a deliberate thing on their part, throwing a few bones to the crowd to divert attention from their 'one more thing' product – not the iWatch, but the Apple Watch.
Screen
In retaliation to Android users taunting our 'small screens' (and yes, I think that's a big reason) Apple released the iPhone 6 with a 4.7" screen and the iPhone 6 Plus with a 5.5" screen. This is upped from the 3.5" screen of the iPhone 4s and earlier, and the 4" screen of the iPhone 5/5c/5s.
The iPhone 6 Plus also has a higher DPI than the iPhone 6 and previous iPhones.
Processor & RAM
Full specs are still not known. Processor speed and RAM were not revealed by Apple at the event and are not mentioned on their site, but a quad-core 64-bit processor with 1 GB RAM at least has to be on the table. We do know they feature an A8 chip and M8 motion coprocessor – stepped up from the A7 and M7 in the iPhone 5s.
Storage
People have been asking for a 128 GB iPhone for a while, and Apple didn't disappoint. The new iPhones are also available in 64 GB and oddly 16 GB, cutting the 32 GB model.
Camera
The camera is still an 8 megapixel (MP) camera, which I did find a little bizarre when others are pushing even higher – but then maximum megapixels has never been high on Apple's list. After all, remember the original iPhone and iPhone 3G with their paultry 2 MP fixed focus camera.
To be fair, camera quality is not all about megapixels, but it does seem strange that they haven't upped it since the iPhone 4s.
It also has a protruding camera, which I am not too keen on. I can see this getting damaged, unless it is meant to be used with a case and have the camera flush with a case.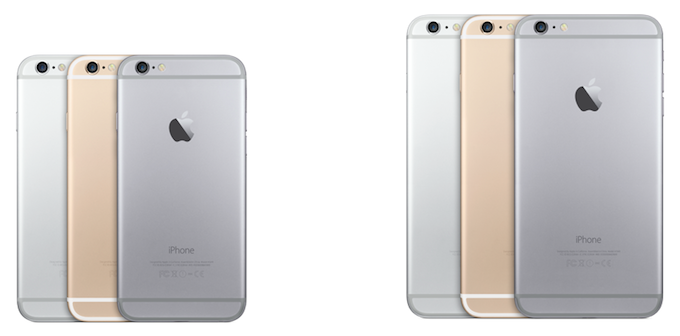 Blah Blah Blah
The rest of the specs were full of Apple super phrases for their take on technology, which to most people means nothing in everyday use.
Dual-domain pixels, fingerprint-resistant oleophobic coating, five-element lens, hybrid IR filter, backside illumination sensor. This may all sound impressive, but it means very little to most.
Requirements
To use an iPhone 6 or iPhone 6 Plus, you will need a Mac with Mac OS X 10.6.8 or a PC with Windows XP SP3 upwards. It is nice to see Apple keeping Snow Leopard in the mix, but I do find it odd Windows XP is supported.
These requirements are the same as the iPhone 5.
Apple Watch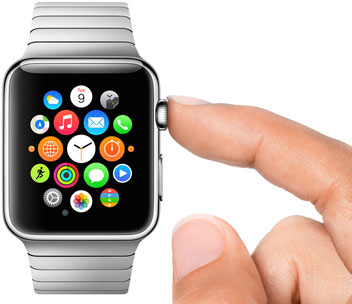 I will touch slightly on the Apple Watch – not the iWatch as rumoured – purely because the new iPhones tie in with it. However, the Apple Watch won't work with an iPhone 4s، as it requires an iPhone 5 upwards.
iOS 8
The new iPhones will come with iOS 8, which in itself looks a great new version, it runs on the iPhone 4s upwards. Okay, some of the new features require the iPhone 6 or iPhone 6 Plus because of the new chips in them for health and NFC – but if these don't interest you, you won't be missing much.
Conclusion
Its a new iPhone, so if you are someone who likes iPhones, then you probably would like one – but apart from the new bells and whistles, which after a few weeks would fade away and you would carry on using your phone as you have done previous – there is little of interest for me.
If you do go for one, the big question is, Which size?
---
Follow Simon Royal on Twitter or send him an Email.
Like what you have read? Send Simon a donation via Tip Jar.
---
keywords: #iphone6 #iphone6plus #ios8 #techspectrum #simonroyal
short link: http://goo.gl/MRllDB
searchword: iphone6