What? It's 2015, and it's iPhone rumour time. Will we see a follow up to the iPhone 5c? Will Apple release a speed bumped iPhone 6 and 6 Plus? Or are they planning something different?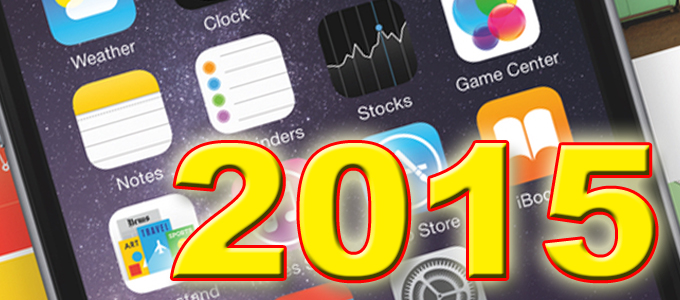 It's that time of year where the dust has settled from the last iPhone launch, and eager fans have already started speculating what Apple will do with the phone range this year.
As it stands, the iPhone 5c is their budget handset, the iPhone 5s is their midrange handset, and last year's iPhone 6 and 6 Plus are their flagship devices.
An iPhone 6c?
In 2013, Apple replace the original iPhone 5 with a colourful new range called the iPhone 5c. What was unusual about this new line of handsets is that the hardware is identical to that of the iPhone 5, with the exception of a slightly better battery and a polycarbonate outer casing.
I was quite dubious as to how popular these coloured handsets would be. It was a dramatic break from the professional look of black, white, or silver that we were used to. It turns out that despite it being a lot less powerful than the 64-bit iPhone 5s, the iPhone 5c has become very popular.
However, when it came to 2014, Apple released some new iPhones without mentioning the iPhone 5c – apart from quietly releasing a much slated 8 GB model in March in some markets. The iPhone 5c currently sits as the budget handset of the iPhone line.
The iPhone 5c was unofficially put out as a quick fix to the iPhone 5, which had higher than usual problems. (I have not had any problems with mine, but I do know people that have.)
Perhaps Apple will slim down their increasingly confusing hardware line, ditching the iPhone 5c as well as the iPhone 5s as we know it. They could then launch an iPhone 6c as a sequel to the 5c, featuring the internals of the 5s in a revamped coloured shell.
This would end the range of 32-bit iPhones, ensure all handsets going forward are 64-bit and have a finger print sensor whilst retaining the popular coloured options.
A new phone with old innards is exactly Apple did when launching the 5c.
An iPhone 6s & 6s Plus?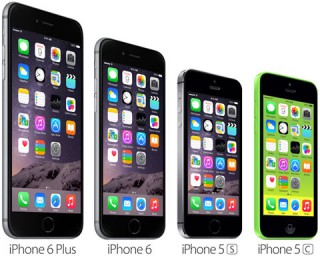 Apple released their first real largescreen handset in 2014 with the 4.7" screen on the iPhone 6 and the even larger 5.5" on the iPhone 6 Plus. The big question is will we see a new version of these handsets in 2015?
There was much criticism of the use of a dual-core processor and only 1 GB RAM whilethe Android world was boasting quad-core chips and more RAM. However, we know Apple play the long game. After all, they only release handsets once a year, so they have to save something for their next release to entice you to upgrade.
Apple's tradition is to have an s model of an iPhone as a huge improvement internally without altering the external design.
The 3GS was much faster than the iPhone 3G, offering a superior processor and camera. The iPhone 4s was much better than the iPhone 4, offering a dual-core processor rather than a single-core. The iPhone 5s was a massive improvement over the iPhone 5, offering 64-bit, an extra co-processor, and a touch sensor.
Will the iPhone 6s and 6s Plus make the jump to quad-core and 2 GB RAM, providing the same kind of speed bump we have seen before? Apple would be foolish not to offer a device with 2 GB RAM.
Simplified Naming
Ditching the iPhone 5c/5s range and offering new 6s range means the naming strategy could be simplified and easier to understand. The iPhone 6c would become their budget model, the iPhone 6 and iPhone 6 Plus would become their midrange handsets, and the new iPhone 6s and iPhone 6s Plus becomes their flagship handsets.
No iPhone 6s?
There is a possibility they will not upgrade both the iPhone 6 and iPhone 6 Plus with a new model this year. The iPhone 6 has proven very popular, but with its controversial bending scandal and its oversized features, Apple needs to do something to improve the iPhone 6 Plus even if it is just to satisfy the media.
Could 2015 see a new version of the 5.5″ iPhone 6 Plus without Apple releasing an update to the 4.7" iPhone 6? While this is possible and it would slim down the current range, it would annoy those fans of the iPhone 6.
While the iPhone 6 and iPhone 6 Plus are identically specced featuring the 1.4 GHz dual-core A8 processor and M8 coprocessor, along with 1 GB RAM and PowerVR GX6450. The iPhone 6 has a 1810 mAh battery vs. the iPhone 6 Plus with a 2915 mAh battery. They could release an updated iPhone 6 Plus with a quad-core processor and 2 GB RAM, giving it a more tablet style power and squashing the sniggers that Apple haven't really offered anything new or wow.
This would give Apple one new updated flagship device.
No New iPhones This Year?
In a surprise turn around, Apple might not release any new devices this year and work on ironing out iOS for its current range.
Apple have been criticised in the past for releasing a new handset every 12 months, especially when they offer four years of support for each handset. This high turnover means people are hesitant about upgrading, and a lot of people I know hold off for the 's' range of each line.
What About iOS 9?
Rumours are Apple have been hard working on iOS 9, aiming to make it the most streamlined version ever. For my thoughts, on iOS9 see my companion article, What Could 2015 Mean for iOS 9.
Final Thoughts
I think Apple will release an iPhone 6c, iPhone 6s, and iPhone 6s Plus. Apple are full of surprises and not known for their predicatibily. They could surprise us.
---
Follow Simon Royal on Twitter or send him an Email.
Like what you have read? Send Simon a donation via Tip Jar.
---
keywords: #iphone2015 #techspectrum #simonroyal
short link: http://goo.gl/irWjAp
searchword: iphone2015