Most of us in the US are familiar with the Big 4 traditional mobile carriers: AT&T, Sprint, T-Mobile, and Verizon. Many are also familiar with their prepaid services – Cricket, Boost, Virgin, and MetroPCS – although you may not know that they are owned by the Big 4.
There are other alternatives, one which I recently switched to and am reviewing today in Why I Switched to Consumer Cellular.

Consumer Cellular is an independent mobile service, one of many, that uses the network of one or more of the Big 4. In the case of Consumer Cellular, they use both AT&T and T-Mobile wireless networks, which should provide plenty of coverage for most users and good 4G LTE speed. You can buy a new phone from Consumer Cellular or bring your own, so long as it works on a GSM network (AT&T and T-Mobile are GSM networks).
The Plans
Plans start at $10 per line and go up from their. The cheapest plan includes zero minutes, and that might be a good way to give mobile network access to a tablet or an older smartphone that you no longer use for phone calls. The $10 package includes no texts and no data; that is an add-on known as a Connect Plan – but I'm getting ahead of myself.
I rarely make voice calls and even more rarely long ones, so I chose the $15 plan that gives me 250 minutes. For those who make a lot more calls than I do, there is a 1,500 minute plan for just $5 more, and Consumer Cellular also offers an unlimited calling plan for $30/mo.
The SIM card is free, and you can order it from Consumer Cellular or get it at a Target store.
If you're using a traditional "dumb" phone or even a smartphone that you are only accessing the Internet over WiFi, that's it. You don't need to add a Connect Plan. For the rest of us, here are the options:
300 texts, 30 MB of data, $2.50
2,000 texts, 200 MB of data, $5
unlimited texts, 500 MB of data, $10
unlimited texts, 1.5 GB of data, $20
unlimited texts, 3 GB of data, $30
unlimited texts, 5 GB of data, $40
This isn't the service you want to use for streaming videos or other things that use a lot of bandwidth, but for lower end users, it should suffice. I signed up for option 2, because I know I need more than 30 MB of data. (After about a week, I upgraded to option 3, because I had already passed the 200 MB mark.) There is an absolute cap of 10 GB, and that's going to be expensive. Don't go there.
And with Consumer Cellular, which is a non-contract carrier, you can change your service options at any time.
Share the Wealth
You can add additional phones to your package for $10 each. All of your devices will share the same minutes, texts, and data bucket. But where many carriers will really stick it to you if you go over your limit, Consumer Cellular does something endearing – it just bumps you to the next plan, adding only $5 or $10 to your bill.
In other words, where Big Mobile has conditioned us to sign up for more than enough just to be on the safe side, you can pick a low-end package knowing that if you do use more minutes, send more texts, or use more data, they will take care of automatically moving you to the appropriate package.
Nice. Very nice.
And if you're a member of AARP, Consumer Cellular (CC) offers a 5% discount that more than covers your annual AARP dues as well as a 45 day trial period (vs. 30 days for everyone else).
The Phones
CC offers old style mobile phones, smartphones, the Ally (think of the old TV ad where someone fell and was unable to get up), and even a ZTE mobile hotspot.
iPhones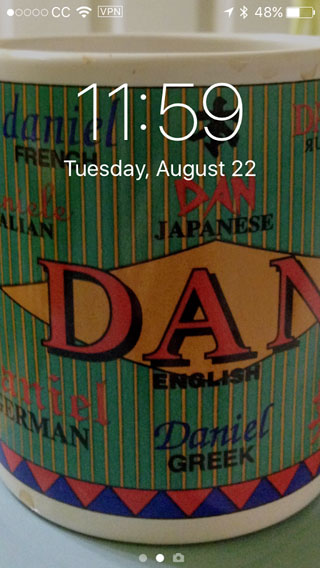 I love my iPhones, which we'll get to in a moment, and I was blown away to see that they still had the iPhone 5S in stock when I signed up (but no longer). That's a big 64-bit step up from the iPhone 5 I've been using for a little over a year. You pay $80, get 16 GB of storage, and it's available in any color you want so long as it's black. I would consider that an amazing deal.
The iPhone SE, just as compact as the 5S, has a $160 price tag. It includes 32 GB of storage and comes in black or rose gold. The SE is a big step up from the 5S with a newer, faster chip – the same A9 used in the 6S and 6S Plus – that benchmarks at twice the level of the iPhone 5S.
Want something larger? I know that I do. I used an iPhone 6 Plus (5.5″ display) for a while and loved the huge display, but for me it wasn't a practical phone, as it's too big to easily slip into many pockets. I want a 4.7″ screen on my next iPhone, and you can buy a 32 GB 4.7″ iPhone 6 for just $200. That's not much more than on the second-hand market!
The jumbo sized 6 Plus is just $250 but only includes 16 GB of storage.
Moving forward a generation to the 2015 models, the iPhone 6S starts at $450 with 16 GB, while the 5.5″ 6S Plus will set you back $650.
The current iPhone 7 is $650 with 32 GB of storage, and the 7 Plus goes for $770, also with 32 GB.
I'm a low-end guy who started with an iPhone 3GS and filled 8 GB fairly quickly. It took a bit longer to fill my 16 GB iPhone 4S, and now my 32 GB iPhone 5 is nearly full. When buying an iPhone, remember that you cannot upgrade storage capacity as you can with many Android smartphones.
If you're patient, wait until Apple begins shipping the iPhone 7S, 7S Plus, and rumored 8 in mid-September. You'll save a lot on the older iPhones at fire sale prices. I hope to get an iPhone 6S at that point.
Android
Speaking of Android, CC has quite a selection. The one that amazes me is the Huawei Vision 3 LTE that sells for just $25 (also now out of stock). Period. Only 8 GB of memory, a so-so camera according to reviews, a quad-core processor, and a 1280 x 720 pixel display make this an attractive first smartphone or smartphone for the kids. Or a spare just in case your regular phone breaks. Swap the SIM card and you are good to go until you can replace or repair your primary phone.
From there we have Samsung and other vendors:
8 GB Alcatel Pop 3 LTE, $70
8 GB ZTE Avid 916, $80
16 GB Galaxy J3, $80
8 GB Doro 824 SmartEasy, $100
8 GB Moto G LTE (3rd gen), $125
16 GB Moto G4, $125
16 GB Galaxy J7, $130
32 GB Motorola G5 Plus, $200
32 GB Galaxy S7, $500
64 GB Galaxy S8, $550
64 GB Galaxy S8+, $640
You can get full specs and user reviews right on the Consumer Cellular website. Models listed are subject to availability.
Wrapping Up
I'll share my experience switching to Consumer Cellular in a separate article. Suffice it to say that I was on AT&T Mobile, CC uses AT&T's network, and I haven't noticed any difference in speed or quality of service.
I haven't received my first bill yet, and it will include taxes and other fees, but it's a lot less than I was paying to have my phone on AT&T. More on that in the follow up article.
Notice: Consumer Cellular has a Refer a Friend program that provides a $10 credit to both users. If you choose to switch to CC, please use me as your Refer-A-Friend with the number 616-406-6663 (the number of my second phone, which I do not use for calls). Thank you!
Consumer Cellular definitely has a lot of low-cost options.
Keyword: consumercellular
Searchwords: consumercellular, lowendmobile
Short link: https://goo.gl/5MMuUF