Mac Observers Gaining on Gnomes Again
9 May 2000

On April 26, Team Lockergnome zipped past Team Mac Observer (TMO) with the addition of 10,977 work units in a single day. It's been a long game of catch-up, but the Mac Observers are closing on Team Lockergnome.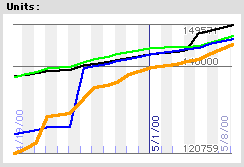 As of Monday, May 8, we were behind by only 1,228 units. At our current work rate, we should catch the Gnomes sometime on Friday.
Team Mac Observer grew to 608 members over the weekend, and Team 6100 (a small, slow part of TMO) now has four members and has completed 3 units in less than a week. Not bad for six-year-old technology!
But we really need more help to move us past Team Lockergnome - and then beyond SETI@Home Poland.
As the SETI Checker chart above shows, Team Mac Observer (orange) has been gaining consistently on Team Lockergnome (blue). With the gnomes averaging 460 units per day and TMO averaging 744 units per day, we will catch up soon.
But the more members we have crunching work units, the sooner that will happen. And then on to SETI@Home Poland (green), which is barely ahead of Team Lockergnome.
If you'd like to help the fastest growing Mac team, join Team Mac Observer as over 100 others have done in the past two weeks.
5/9/00: Team Mac Observer is just 462 units behind Team Lockergnome based on today's statistics. And SETI@Home Poland only had a lead of 1,254 units. Special thanks to the five new people who joined Team Mac Observer yesterday.
5/10/00: We're only 256 units behind, according to the morning update. On the SETI Checker graph, you can't tell which team is ahead.
Recent articles about SETI@home
Links