Mac Observers Edge Out Gnomes
11 May 2000

On April 26, Team Lockergnome zipped past Team Mac Observer with the addition of 10,977 work units in a single day. It's been a long game of catch-up, but the Mac Observers (orange in graph) have finally edged past Team Lockergnome (blue) - by just four work units!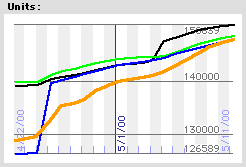 Our next goal: SETI@Home Poland (green), which is ahead of us by 837 units. And after that, watch out! The FreeBSD team (black) is just 2,058 units ahead of that.
Looks like we've got our work cut out for us in the coming weeks, as we strive to climb from 18th place on the club team stats to 16th.
After that, it could be a while before we pass another team. Team User Friendly is currently at 15 with a lead of 13,333 units over FreeBSD.
Team Mac Observer has grown to 620 members, including the special "slow but steady" Team 6100 , which has five members running unaccelerated Power Mac 6100s and has completed 5 units in their first week. Not bad for six-year-old computer and the slowest Power Mac ever!
But we still need help to move us past SETI@Home Poland - and then to catch FreeBSD and move beyond them.
If you'd like to help the fastest growing Mac team (and there are three Mac teams in the Top 20!), please join Team Mac Observer.
Recent articles about SETI@home
Links