Mac Observers Pass Poles
15 May 2000

Last Thursday, Team Mac Observer (orange in chart) slipped past Team Lockergnome (blue) by four work units. On Friday, we moved ahead of SETI@Home Poland (green) to become 17 in the club team standings.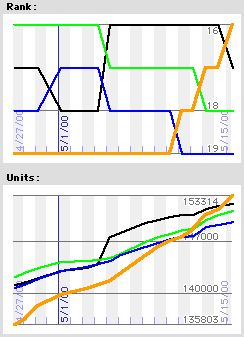 Our next target: FreeBSD (black), which was only 479 units ahead on Sunday morning. If we haven't passed them already, we should pass them on Monday.
Where do we go from here? Next up is Team User Friendly, which stands at 165,774 units (5/14). Team Mac Observer is at 151,363, which means we have 14,411 units to gain - in addition to matching the 547 units Team User Friendly completes in an average day.
That isn't going to be easy. Although our current average is 999 units per day, a good portion of that comes from new members bringing work units into the team. We are averaging more units per day than Team User Friendly, but daily totals vary so eratically it would be hard to predict when we might pass them. I'm guessing that day will be about two months off.
Team Mac Observer has grown to 631 members (including 10 last Friday), including the special "slow but steady" Team 6100 , which has five members running unaccelerated Power Mac 6100s and has completed 10 units since May 2. (We bill ourselves as the slowest SETI@home team, which may be a bit of an exageration. But if you have an unaccelerated 6100 available for use, we'd love to have you join the team.)
If you'd like to help the fastest growing Mac team (and there are three Mac teams in the Top 20!), please join Team Mac Observer.
UPDATE: We did pass FreeBSD on Sunday; I've updated the chart to show that. We're #16 and advancing on Team User Friendly, which currently has a lead of 11,932 units. We're closing by a bit over 500 units per day, so we should catch up in about 2-1/2 weeks - or sooner, as more people join our team.
Recent articles about SETI@home
Links