Observers Closing on Team Nippon
15 August 2000

It's been a long time since Team Mac Observer (orange in graph) has moved up in the SETI@home club team standings - but we're getting close to passing Team Nippon after chasing them for about two months.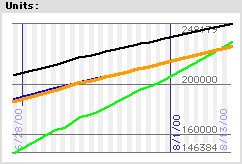 As of Sunday evening, Team Nippon (blue) was in 15th place with 229,717 work units completed. Team Mac Observer was just barely behind at 229,665 units. By the time you read this, we may have closed that 52 unit gap. If not, it should happen very soon.
Beyond this, it's going to be a real uphill battle. At 14th place, Forum Hardware.FR Team (green) has zipped past both Team Mac Observer and Team Nippon. It's unlikely we'll ever catch them. Next up is SETI Switzerland (black), which is averaging a few less work units per day but has a commanding 18,500 unit lead. We're closing the gap at about 170 units per day, but that still puts us over 100 days away from catching up.
We could use some help closing that gap. If you'd like to help the fastest growing Mac team, here's the information on joining Team Mac Observer.
Team Mac Observer has 678 members, including the "slow but steady" Team 6100, which includes seven members running unaccelerated Power Mac 6100s and has completed 109 units since May 2. (We bill ourselves as the slowest SETI@home team, which may be a bit of an exageration. But if you have an unaccelerated 6100 available for use, we'd love to have you join the team.)
Recent articles about SETI@home
Links