Team Mac Observer Reaches #18
4 April 2000 - Dan Knight
It's been a long, slow climb past Team BeOS, but last night Team Mac Observer eked past them. On Monday morning, we trailed by a mere 10 work units; today we are ahead of them by 284 work units.
Team BeOS is composed of 544 members, most (if not all) running BeOS. Their current average is 16 hours, 11 minutes per work unit. Team Mac Observer, with just 440 members, averages just under 15 hours, 30 minutes per work unit. Despite our smaller numbers, the efficiency of the PowerPC let us overtake Team BeOS.
The following screen capture from SETI Checker (freeware) shows how we have slowly narrowed the gap over the past few weeks by turning in more work units per day than Team BeOS.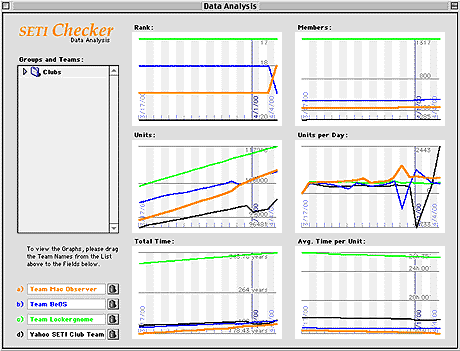 But #18 isn't enough - we want to keep climbing. We want to catch and surpass Team Lockergnome, which is ahead of us by about 6,400 work units. Since they have 1,317 members, it won't be easy. We are turning in a few more work units per day, but the only way we'll move ahead of them is with more members.
If you have a Power Mac or clone (shoot, even if you have a Windows or Linux box!), consider joining Team Mac Observer and helping make waves for the Mac. With enough help, we will be able to pass Team Lockergnome and then take on SETI@home Poland.
But we need your help.
For more details on the SETI@home project, see SETI@home: Join a Team.
Thanks for any help you can provide!

Recent articles about SETI@home
Links