Team Mac Observer Expands
6 April 2000 - Dan Knight
On Tuesday, Team Mac Observer edged past Team BeOS on the SETI@home team rankings. We put out a call for more people to join Team Mac Observer and help us catch Team Lockergnome, which was then ahead by about 6,400 work units.
You heard our cry for help. On Tuesday, 18 people joined Team Mac Observer, bringing with them thousands of work units. (Five more joined on Wednesday.) Combined with exiting membership, that added 3,178 work units and moved us halfway to catching Team Lockergnome, as you can see from the following SETI Checker screen (Team Mac Observer is orange, BeOS is blue, Lockergnome is green, and our next target, SETI@Home Poland, is black):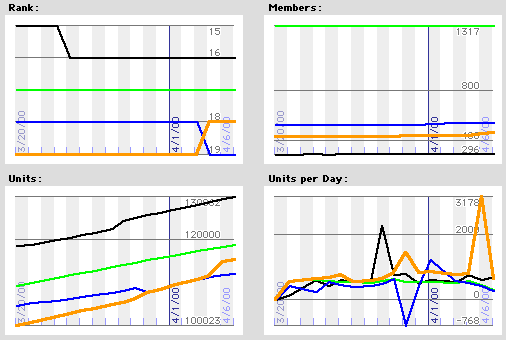 This should keep us closing in on the Lockergnome people, since we're averaging about 200 more work units per day than they are. But at that rate, it will take weeks to catch them.
So we're again inviting anyone interested in searching for ET or promoting the Mac to join Team Mac Observer as we strive to move to position 17 on the SETI@home team list.
For more details on the SETI@home project, see SETI@home: Join a Team.

Recent articles about SETI@home
Links